T-shirt businesses have become one of the most popular custom apparel businesses to start.
Customized and personalized T-shirts are all the rage, which is why this market is exploding.
The best part?
Starting this type of business is actually quite inexpensive! In fact, it is one of the cheapest and easiest businesses to start in, which if marketed correctly, could result in a high return on investment.
Follow these six steps to make sure that you start your T-shirt business in the most effective and productive way possible:
While there are many people in the same business, the way you brand yourself and market your business makes all the difference.
#1: Define your audience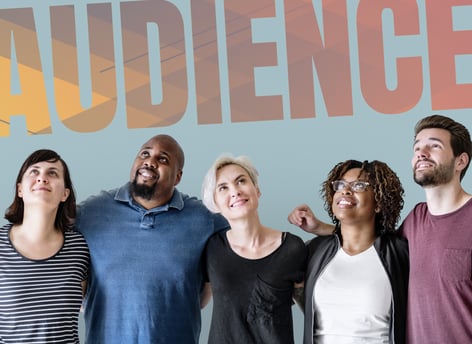 Probably the best way to guarantee success with your T-shirt business is by determining who your audience is.
Knowing who you are creating T-shirts for is crucial to increasing not only your exposure, but your profit potential.
What is one way to make sure that you are designing for the right people?
Create a customer profile. Break down everything about your potential customer.
This includes:
Buying behaviors
Personality
Likes/dislikes
Age
Gender
The more you know about your customers, the more specific you can get with your marketing.
When you are creating your designs, think to yourself: who would want to buy this?
Once you have an image in your head of who that customer is, you can then figure out how they find products they want to buy i.e. social media or word of mouth.
It also helps to choose a specific niche to sell your T-shirts to, so that you have more of an opportunity to stand out.
For example, creating T-shirts for sororities is a niche. You are tailoring your style and design to a specific group of individuals, who are more likely to buy your item.
If you are selling tees with funny cartoons on it, sororities probably wouldn't be the right niche to market to.
Want to know more about the potential markets you could reach? Check out this blog where we share 10 of the top profitable niches in the custom apparel industry!
Customers will make or break your business. If you are not reaching the right people, you won't get the results you want.
#2: Which decoration method will you choose?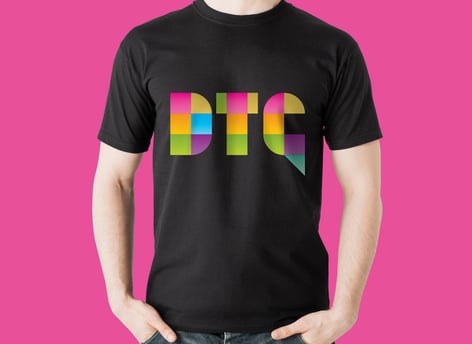 Now that you have a good idea of who your target customer is, it becomes a lot easier to decide which decoration method is best suited for your business.
The most popular decoration methods used for T-shirt businesses are:
DTG
Screen printing
Heat transfer
Each of these methods have their own pros and cons, which you can read all about in this blog!
Granted, there are a few factors you have to consider when choosing between the different types of decoration methods.
The majority of the time, the upfront costs and ease of use become the deciding factors when choosing the decoration method you want to use.
In the case of a T-shirt business, the most cost effective choice is said to be heat transfer. The materials and equipment are quite inexpensive compared to its competitors.
It is also relatively easy to master and operate, which shortens the initial learning curve.
Screen printing, on the other hand, is a bit more costly. You can find yourself spending thousands of dollars upfront to invest in a quality machine and the materials needed to complete a screen printing job.
DTG is best for one-off designs that require a lot of different colors.
The learning curve of DTG is not as difficult and you will be able to charge a lot more for customized shirts.
At the end of the day, the decoration method you choose will depend on your current situation, financial capabilities, and the type of art that you want to create.
#3: Design your T-shirt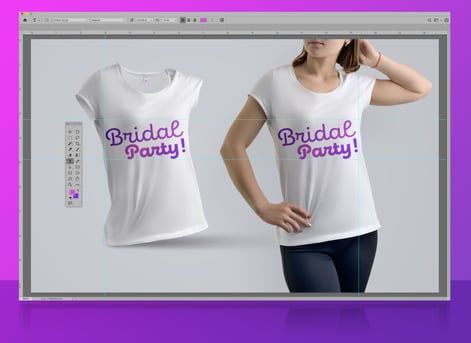 Probably the most important step in this whole process is actually designing the T-shirt.
You can't have a business if you don't have a product or service that people actually want to buy!
While it may seem like a simple task to design a T-shirt, it can actually be quite time-consuming.
You have to ask yourself a few questions first, to make sure that you're designing for the right market:
What does my customer wear?
What type of designs do they like to see on T-shirts?
Are they into abstract or simplistic designs?
Will they find this appealing?
The answers to these questions will guide you in the direction you should take your T-shirt design.
The good thing is that you already know who your target market is, so it makes this part of the process easier.
For example, if you are designing T-shirts for bridal parties, use specific colors, fonts and personalization that cater to that specific market.
Tip: Create a design that allows for easy customization and can be reused many times.
Not only will this help you increase profit potential, but it saves you a lot of production time!
If your main decoration method is embroidery, click here to learn more about Chroma, Ricoma's proprietary embroidery design software!
Another aspect of design that people forget to associate with this step is the material you're going to use for your T-shirt.
You have to take into consideration:
T-shirt fit
Material type
Size
Quality, etc.
The last thing you want is to have an amazing design that loses value because of the type of material it is on.
Although higher quality materials, such as cotton, are more expensive than polyester, for example, it is worth the investment in the long run.
The higher quality your T-shirt is, the more positive feedback you'll receive, which will lead to repeat customers and gain new ones.
To learn more about the most popular fabrics and how to embroider on them, click here to download a FREE copy of our ultimate cheat sheet!
#4: Get opinions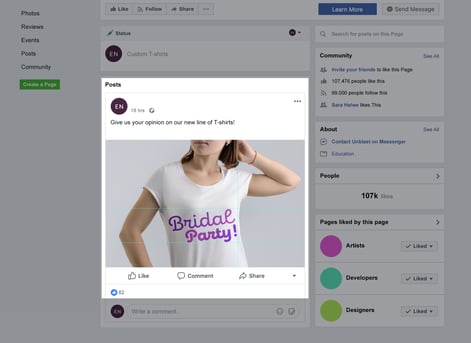 After creating your designs, we recommend taking one extra step before sending everything to be printed…
See what your potential customers have to say about the design!
This is a step that most business owners forget to take. Most assume they know exactly what their customers like, which is why we suggest clicking here to read our blog where we explain why every custom apparel business owner needs to know their customers very well.
Before you invest any money in getting these designs trademarked or printed, take the time to reach out to different people for honest feedback.
It is definitely possible that someone will catch something in your design that you may not have noticed yourself!
Getting opinions from others is also a great way to gauge the reaction and determine how appealing your designs are. If the customers express that they do not like the designs or that it isn't something they would buy it means either:
A. You didn't determine the right audience for your type of designs OR
B. You may just have to make a few tweaks to adjust the design to their liking
It is all about trial and error. It is better to keep redesigning something than to print T-shirts that no one will buy.
We recommend posting on social media or providing samples to your target market and use the feedback to determine how you will move forward. We also have a whole podcast where we explain why sampling is a foolproof method for increasing profitability and you can check it out here!
#5: Where will you sell?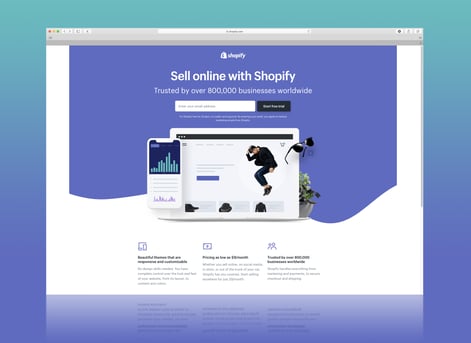 After finalizing your designs, the next step is a big one: where are you going to sell your product?
In the custom apparel industry, there are 3 main ways that business owners sell:
Start an Etsy shop
Build a website on Shopify
Word-of-mouth
Etsy
Etsy is a marketplace for crafters to sell their handmade goods.
This is the perfect place for decorators to get their products on a website where customers are already looking for customized and handmade items.
If you are looking for a platform where you can just create an account for free and easily upload your product information, Etsy is the place to do so.
It is fairly easy to use and since Etsy has millions of visitors every month, you are guaranteed to receive traffic to your shop.
You won't have to drive the traffic yourself, which saves you time and money.
Note: Keep in mind that you will have other crafters selling similar products, which increases your competition.
For more tips on how to sell on Etsy, click here to watch an Embroidery Hub episode where we share five tips to maximize your selling!
This is also a great platform for small businesses who have a limited budget. The overall costs of running an Etsy shop is substantially less than creating your own website.
When building a website, you have to take into account:
Purchasing a domain name
Higher transaction fees
Monthly charge (if using a site like Shopify)
Marketing (to generate traffic)
With Etsy, while you may not have advanced customization capabilities, you don't have to worry about purchasing a domain name. Also, the transaction fees are a lot less (about 10% per transaction) compared to the fees and monthly payments you need to pay with a website.
Shopify
Next, Shopify is an e-commerce platform that essentially becomes your standalone website.
You have a domain name, customizable theme, access to analytics and insights on the backend, creative freedom, etc.
One of the best aspects about Shopify is the creative freedom you have when developing your website.
You are able to not only create your own domain name, but you are able to customize your theme, images, graphics, etc. to your liking.
We recommend using Shopify for your T-shirt business if you already have an established brand.
Why?
It all comes down to one reason: traffic.
When you build your own website, the traffic that gets driven to your site depends on the marketing you do for your business, as well as your SEO knowledge.
Shopify gives you the advantage of guaranteed traffic since it is a well-known site, with high volumes of traffic every month.
But since you have to create your own domain name, you need to generate your own traffic by paying for marketing to increase your business' exposure and profit potential.
Since Shopify gives you a lot of freedom to make more profit with your business, make sure you check out our free webinar where we break down the #1 factor in determining profitability!
Word-of-Mouth
The way that most business owners acquire new customers is through word-of-mouth.
Word-of-mouth occurs when a person passes information about a company or product to another person. That second person is now aware that the brand exists and is more likely to become a customer.
A great way to boost up traffic from word-of-mouth is to offer a referral credit to whoever brings you a new client.
For example, let's say a current customer tells a friend about your services and that friend ends up becoming a customer themselves.
With a referral program in place, you can reward the original customer for bringing you a new client.
Some ways to do this is by:
Offering 15% off their next purchase
$5 off their next purchase
Free product after referring 3 new customers
Why is word-of-mouth an important method of selling?
People are more likely to trust information coming from a friend or family member, rather than someone they do not know.
If you provide good customer service and go above and beyond for your customers, they are more likely to talk about your products, which increases brand awareness.
But be careful! Negative feedback to others is still a form of word-of-mouth, which could affect your business.
Always make sure to create a positive, memorable experience for your customer. The last thing you want is an upset customer telling everyone they know not to buy from you!
#6: Promote your business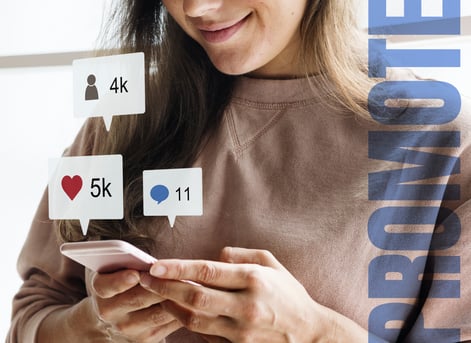 The final step in launching your very own T-shirt business is…
Start promoting!
The only way that you're going to get your brand out there is if you start promoting your products and services. People can't become customers if they don't know that your products exist, right?
As we mentioned above, word-of-mouth is crucial to growing your business. Which is why you have to partake in it too!
Start telling your friends and family that you have started your business and maybe you can get a few sales from those who want to show their support.
From there, they may start to share your business and it domino-effects from there.
Another way to promote your business is to get on social media…and best of all, it's free!
All you have to do is create a free account on various social media platforms, such as Facebook and Instagram. Once your account is live, you can begin sharing content to grow your page and get your name out there.
Social media is a useful tool because you can manage your content, your own way and on your time.
At a craft fair? Hop on Instagram, post a story and tag the location you're in. Click here for more tips for attending a craft show to promote your business!
Launching a new product? Go live and invite your followers to watch the big reveal in real-time!
Want a way to gain followers organically? Use appropriate keywords in your caption, such as:
#customapparel
#smallbusiness
#handmade
#embroidery
#decoratedapparel
There are also so many opportunities to reach people from all around the world through social media.
This means there is a bigger chance for you to reach new customers every single day, if you are consistent with your posting.
Finally, a third way to promote your business is to do some paid advertising.
Whether it is on Pinterest, Facebook or Instagram, paid advertising is an effective way to get your company in front of the right audience.
You can start off small if you don't have the budget with $5 per post, or go bigger and create a marketing budget of at least $500 a month.
Note: If you start off with a smaller budget, you are likely to see results much later. The more money you spend on advertising, the more traffic you can expect to see.
Bottom Line
While we have broken down the six main steps to starting your own T-shirt business, there are definitely sub-steps in between that you will have to take care of along the way.
You have to buy a piece of equipment (if applicable), get materials, trademark your designs if needed, get your branding figured out, etc.
But of all of the decorated apparel methods, the T-shirt business is probably one of the easiest and quickest businesses to start.
If you have started a T-shirt business before, what are some tips you can give to someone who is interest in starting their own? Leave a comment below or let us know on our Facebook group, Embroidery & Custom Apparel Mastery.
Ultimate Embroidery Cheat Sheet: 50 Popular Fabrics & How-To Embroider Them for Best Quality
Did you know that you can improve the quality of your embroidery no matter which fabric you're embroidering on?
To guarantee your embroidery success, we've put together a cheat sheet of 50 of the most popular fabrics used for embroidery and the combination of materials that you'll need to give you the best possible results for your projects.