From October to December, the embroiderer's hustle doesn't stop. With seasonal crafting and decorations for Halloween, Thanksgiving and Christmas, anyone with an embroidery machine will find themselves with plenty of projects and orders to complete!
For now, as we prepare for the madness, we've put together a major list of Halloween ideas to sell to customers, or make for yourself! So grab yourself a pumpkin spice latte and get cozy cause this is a long one!
Some of the Halloween ideas you'll find are:
And so much more!
Halloween is a beloved holiday and true devotees go all out with their decorations and, of course, their costumes! For this list, we are going to break down 50 items into categories!
Halloween Decorations
Turn your home into a haunted house with these spooktacular embroidered decor ideas!
#1: Hoop art portraits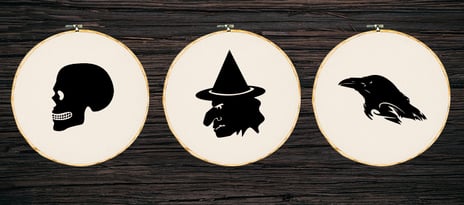 Create old fashioned profile portraits of witches, skeletons and other creatures of the night, to adorn your hallways and living room walls!
Once the design is complete, all you have to do is hoop the fabric with a wooden hoop from Michael's and use a pair of scissors or snips to cut off the excess material outside of the hoop.
#2: Pumpkin hoop art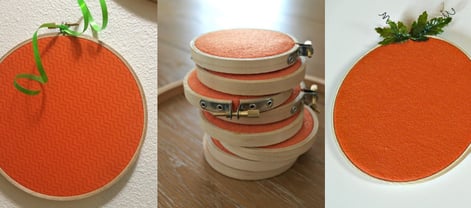 Create adorable pumpkins using the full embroidery hoop and place these kid-friendly decorative pieces anywhere!
Fun tips:
Make several different sizes and colors to make a pumpkin patch.

Spookify them with jack-o-lanterns faces!
#3: Bed sheet ghosts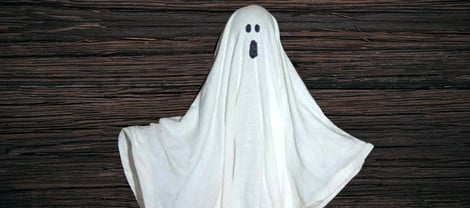 Taking old white bed sheets, you can embroider basic ghost expressions on the center of the fabric and then using batting or a balloon, you can mold the sheet into a ghost for your trick or treaters' amusement!
Batting is a great way to add cushioning and insulation in between the two layers of your fabric. This is why it is commonly used for quilting or molding shapes in fabric!
Home Decor
Add some Halloween flare to your house with these spook-tastic home decor pieces!
#4: Accent pillows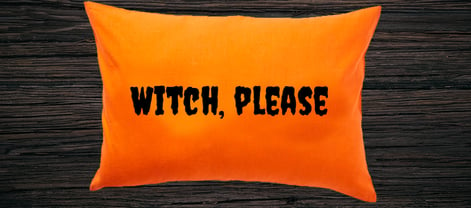 Pillows can be very profitable items to sell and also a great way to get your house in the Halloween spirit in a tasteful way!
Here are some fun quotes to add to your pillows!
"Something wicked this way comes"

"Welcome to our haunted home"

"Come and sit for a spell"

"Witch, please"
#5: Blankets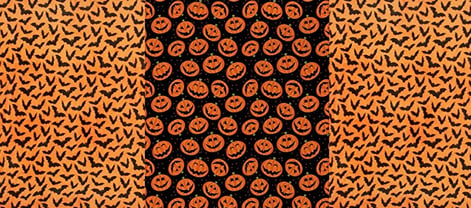 There's nothing better than curling up at home to watch a scary movie. But you'll need a Halloween blanket to use when you have to cover your eyes! For these larger embroidery areas, you can use a sash frame to hoop your garment efficiently. Check out this video for instructions on how to use this TC and SWD accessory!
#6: Tapestries
Old fashioned tapestries can be a statement piece in your haunted house! You can find eerie designs to decorate the tapestry from hoopmade.com!
Creepy tip: Make the tapestry look even older and scarier by embellishing it with fake cobwebs!
#7-10: Kitchen towels/pot holders/oven mitts/aprons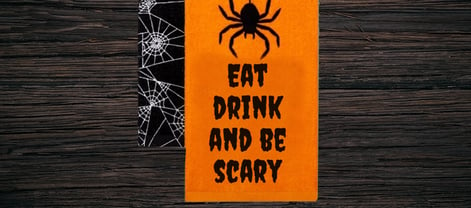 You can find hand towels and other kitchen accessories at the dollar store and flip them to produce 10x the profit! Since customers are always looking to decorate their homes for different seasons, creating Halloween themed kitchen accessory bundles is a great product to offer!
Some designs and quotes you could embroider on these items are:
Witch cauldrons

Candy corn

Potions

"Here for the boos"

"Eat drink and be scary"
To learn more about how to buy cheap blanks and flip for 10x the profit, click here see how to create bundles out of these dollar store finds!
You can also learn how to maximize profit in your embroidery business by clicking here to watch this profit webinar!
#11: Front door mat
Welcome trick or treaters with an embroidered Halloween porch mat and set the mood the moment they reach your door! For these thicker items, we suggest using Mighty Hoops, which will hold down the garment with a strong magnetic force and automatically adjusts to the material's thickness.
Never used a Mighty Hoop before? To find out more about it works, you can click here to watch one of the first Embroidery Hub episodes, where we break down exactly how to us it.
#12: Outside banner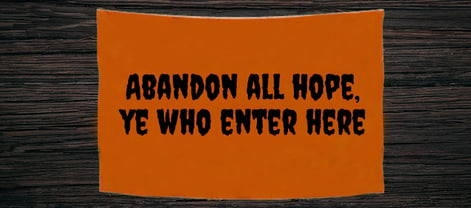 "Abandon all hope, ye who enter here."
Now a sign that reads that outside your house would be cause for a pause. Or you know, you can always just go with "Happy Halloween!"
Depending on the fabric you use to make your banner, you may have to use certain types of tools and materials.
To ensure that you are using the correct materials, click here to download our free ultimate 50 fabrics cheat sheet!
#13: Curtains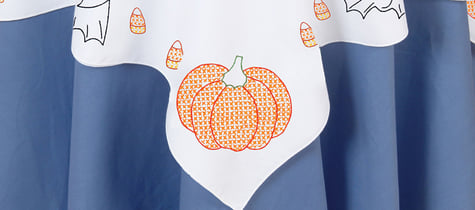 Another statement piece for your haunted house are your curtains! Detail the edges of your Halloween curtains with subtly spooky things like things like:
Table settings
A beautifully horrific table setting for your dining room is another way to transform your house!
#14-16: Table runners/cloths/placemats

Table runners are a great option for utilizing smaller pieces of fabric, while tablecloths can make a dramatic statement. But if you don't want to go the traditional route, you can utilize free standing lace to create spider web runners, tablecloths and placemats and set a table worthy of the Addams family!
If you've never created anything with free standing lace, click here to watch Laura from Embroidery Hub teach you how in this video!
#17: Free standing lace candle covers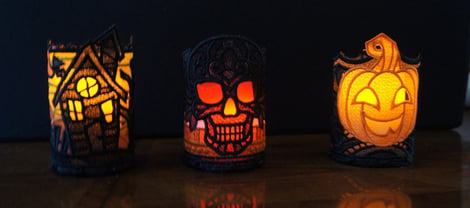 Candles always cast a spell over Halloween decor and can make any room dim and mysterious! Take your decorations up a notch with free standing lace candle sleeves! When creating free standing lace remember:
Use the same color bobbin thread as the top thread!

Use heavy-weight, water-soluble stabilizer!
Costumes
"Clothes make a statement. Costumes tell a story." -Mason Cooley
We've compiled a list of embroidery-heavy costumes so whether you want to buy and embellish or make your own costumes, here's a list of some that will win all of the costume contests!
#18: Witch hats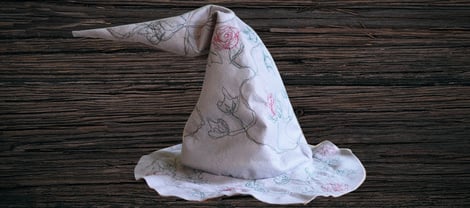 Dressing up as a witch this year for Halloween? Choose your style of stars, cats, pumpkins, or potions to show off witch-y personality! For these type of oddly shaped objects, we suggest using our 8-in-1 hoop!
The optional attachment comes with different sized frames to help you hoop even the trickiest of garments!
Click here to find more information on the 8-in-1 device and how you can get it today!
#19: Wizard robes
Take ordinary black robes and enchant them with your embroidery designs.
From basic scrolls to intricate planets or classic spiderwebs, you can design robes fit for a warlock.
#20-21: Capes
Much like Wizard robes, capes have endless possibilities!
We suggest:
Embroidering superhero emblems to save money on premium costume prices!

Make your Dracula costume stand out by embroidering elegant designs to make it look authentic!
#22: Dia De los Muertos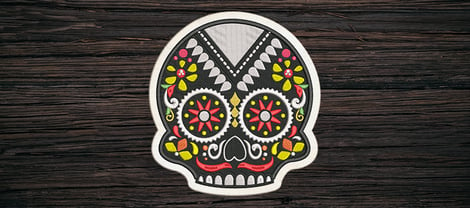 This popular theme calls for a whole lot of customization and beautiful, creative artwork!
We suggest using metallic thread to make your colors stand out! But we know metallic thread can by tricky to work with since the thread is made from fibers that twist and wrap together, making it thicker and more coarse and prone to machine thread breaks!
But don't worry, we're here to teach! Here are some of our top tips for using metallic thread:
Use a needle with a larger eye, like an 80/12 needle!

Slow down the speed of a machine to reduce friction!

Reduce tension on your machine!
For more tips on embroidering with metallic thread, check out our blog where we share everything you need to know before you start your next project!
#23: Witch socks
A witch costume is not complete without some funky socks! If you don't know how to embroider socks without accidentally embroidering the other side, Laura's here to help!
Do you know which special type of accessory you need to use in order to embroider a pair of socks? Watch this Embroidery Hub video to find out which device saves the day!
#24: Butterfly wings
Create your own butterfly or fairy wings for a statement costume! You can take costume store bought wings and take them to another level or DIY it and and cut your wings out of cardboard and line them with your embroidered fabric!
This may be a good opportunity to get in some of that free standing lace practice!
#25-27: Pet costumes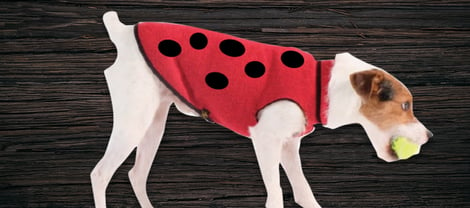 Embroider pet sweaters and outfits with patterns for easy pet costumes!! For example:
Turn a red sweater into a ladybug costume with black polka dots!

Embroider giraffe or cheetah prints on yellow animal clothing!

White Zebra stripes on a black sweater! (And yes we did have to google whether Zebras are white with black stripes or the other way around!)
Each of these ideas can easily be embroidered using felt material and appliqué!
If you want to take it a step further and add animal ears to the costume, you can learn how to create them by watching this in-the-hoop animal ears tutorial.
#28-29: Decade costumes
Decade costumes are other budget friendly costume options mainly because you can create these costumes with items you probably have in the back of your closet!
Have a plain black skirt? Embroider a poodle on the bottom corner, either using appliqué or simply embroidering the full design, and you'll be ready for a sock hop!
Have an old pair of flared jeans? Embroider some psychedelic flowers and peace signs, grab some funky glasses, straighten your hair and you're ready for Woodstock!
#30: Regal costumes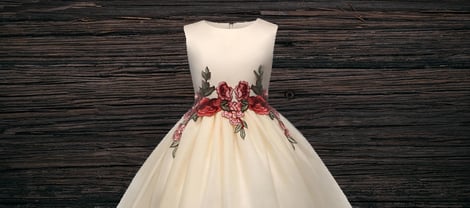 Tired of looking like all the other princesses at the party? With an embroidery machine, you can look like a real princess and stand out from the off the shelf costumes!
Adding matching detailed trims to princess dresses and prince costumes, you'll be the belle of the ball!
#31-33: Occupational costumes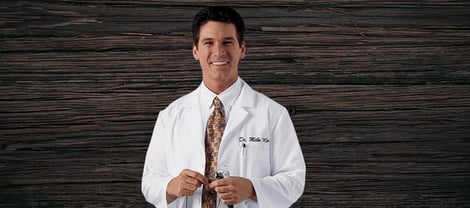 Really want to impress others with your halloween devotion? Embroider your name on occupational themed costumes like:
Doctor lab coats

Police uniforms

Army uniforms
Remember stabilization is the key when it comes to small lettering! Use two pieces of cutaway backing instead of one! For more tips on how to embroider small letters, check out this oldie (but goodie) Embroidery Hub episode!
#34: Clown costumes
These costumes can be a blank canvas for fun embroidery designs, like happy faces, hearts, and balloons! A good way to keep stitch count down would be to incorporate appliqué in your designs!
Our suggestions:
Use scrap pieces of fabric to create the appliqué to save money!

Stitch out the design on your appliqué fabric first to ensure you are cutting the design out in the right size!
Need help with appliqué? We got you covered with a full Embroidery Hub episode.
#35: Belly dancers
These beautiful costumes can go for a pretty penny online! The more intricate and personalized you can make these costumes, the more you can sell them for!
Keep in mind these outfits are not only used during halloween time but for belly dancing academy performances throughout the year as well!
Fun Fact: Did you know 1 in 4 people are willing to pay more to receive a personalized product or service?
#36-38: DIY costumes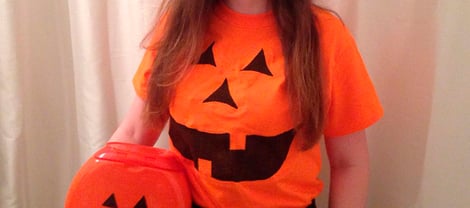 If you're creating costumes from scratch, there's plenty of things you can create with your machine!
Grab an oversized orange t-shirt, embroider a jack-o-lantern face, put on some green leggings and you can carve out time to go trick-or-treating!

Pirate costumes can be made using bandanas and red and black clothing! Embroider a skull and bones symbol on a black t-shirt and go pillage for candy!

Using poly twill appliqué, you can add jersey numbers and your last name to the back of a white tee-shirt, embroider your own cap, grab a bat and hey now, you're an allstar!
Check out our first impression of the Stahls' poly twill pressure sensitive appliqué here!
Free standing lace accessories
There are so many Halloween embroidery designs you can create using free standing lace! Here are just a few of them!
#39: Masks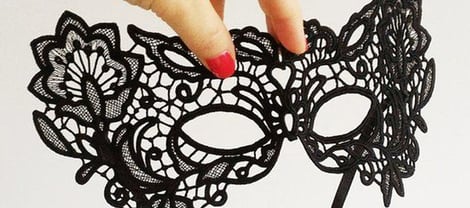 Have a masquerade ball? Showing up in the same mask as everyone else is boring!
Create your own on your machine using free standing lace (we have tons of videos on FSL on our YouTube channel, like this one)!
Not sure where to start? Etsy has a variety of designs to choose from, to help get you started! Click here for a classic masquerade look.
#40: Headpieces
Need the perfect accessory to finish off your ethereal renaissance look? Use free standing lace (it really is so versatile) to create a lace headpiece/tiara!
#41: Earrings
Make some sinister earrings to rock for Halloween! From witch hats to pumpkins, the possibilities are endless! Check out this video to see how to embroider up some awesome lace earrings!
Pro Tip: Before you start embroidering your free standing lace design, make sure that it was digitized to do the job!
The last thing you want is to have the design digitized, and it doesn't come out correctly when you embroider it!
Fashion
Unfortunately, we all can't be in costume all the time. And let's face it- our bosses probably wouldn't appreciate us looking like the Munsters in the office!
But we can incorporate some Halloween embroidery into our everyday fashion sense for some office-appropriate fun!
#42: Shirts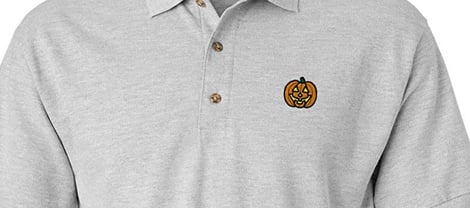 From t-shirts with scary movie quotes to professional polos with Pumpkin logos, shirts are a great item to sell around Halloween! If you're having a hard time getting your more generic items sold online, here's some help!
Make your photos aesthetically pleasing.

Spend time crafting descriptions and tags.

Maximize your reach on social media by sharing what you do!
To learn more about how to sell your craft on Etsy, the top selling platform for handcrafted goods, check out this blog for 5 tips for selling your products on Etsy!
#43: Shoes
Decorate plain vans and converse with skulls and skeletons!
For shoes though, you will need to use a special accessory when hooping for embroidery: the HoopTech clamp!
These clamps are perfect for hooping hard-to-hoop items, such as shoes, belts, clutch purses, and more! These hoops are a necessary accessory in any embroiderer's arsenal.
You can watch how to use the HoopTech clamp on a pair of sneakers by clicking here to watch this Embroidery Hub episode!
#44: Patches
We all know there's a large niche of patch collectors, and they are going to want patches for the Halloween season!
We suggest creating simple pumpkin patches (PUN INTENDED) classic monster patches like Frankenstein, vampires, mummies, and werewolves!
Note: Make sure the designs you are using have been digitized specifically to create a patch!
#45: Sugar skull apparel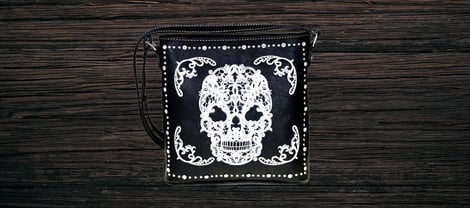 Like we previously mentioned, Dia De los Muertos decor is design and color heavy, and perfect for embroidery! Embroidering beautiful sugar skulls on tote bags, t-shirts or any other flat, can be a great addition to your custom apparel shop around Halloween!
Again, if you chose to use metallic thread for these vibrant designs and you need more help, here's an Embroidery Hub with tips on using metallic thread!
Kids
While we as adults love Halloween we can't forget kids play a pretty big part in that day as well! Here are some projects you can create with help from the little ones!
#46: Trick or treat bags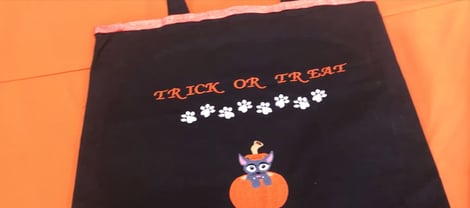 Have your child design their own goodie bag this year! You can embroider their names, and even choose designs that match their costume! Have your child help by cutting out appliqué pieces, ribbons and any other decorative pieces they want to include!
Here's an Embroidery Hub episode where Laura makes her own trick-or-treat bag!
#47-49: In-the-hoop Halloween projects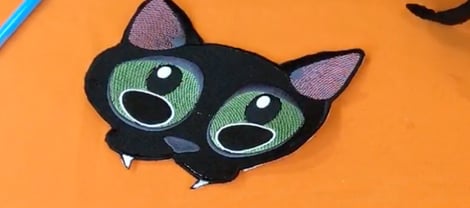 In-the-hoop bats: Using your embroidery machine you can make stuffed animal bats and hang them from anywhere in your home! If you've never created an in the hoop project before, click here for a video to help you get familiar with the process!
Toys: Like the in-the-hoop bats, you can create stuffed dolls using your embroidery machine! Making stuffed cats and witches and pumpkins can be great projects to create with kids that they can then keep as toys and decorations for their rooms during Halloween!
Cartoon masks: Using felt fabric, you can make all sorts of animal and cartoon eye masks! For this specific project, you're going to need the following items:
Water soluble pen

Fabric glue

Box cutter

Ribbon

Snips/scissors/ temporary adhesive spray
Once you've collected all your items, click here to watch this Halloween cat mask tutorial.
#50: Baby Halloween onesies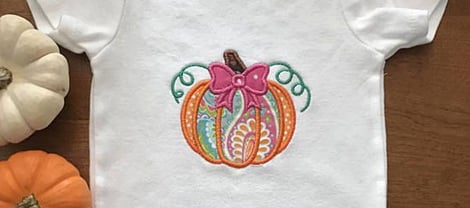 If you're not willing to put your newborn in a full blown costume, an adorable "Baby's First Halloween" onesie will always get some smiles. Taking it a step further, you can get creative and turn your baby into an inanimate object!
We recommend taking a brown onesie and embroidering your baby into a football! Then dress up as a football player and we're sure your friends will get a kick out of it!
Once again, all punts intended!
Bottom Line
There you have it: 50 Halloween embroidery ideas! If you use any of the ideas listed in this blog, make sure to share it with us on Instagram and tag @RicomaHQ or on Facebook and tag @RicomaEmbroideryMachines.
Or you can always leave a comment below or let us know on our Facebook group, Embroidery & Custom Apparel Mastery.
Ultimate Embroidery Cheat Sheet: 50 Popular Fabrics & How-To Embroider Them for Best Quality
Did you know that you can improve the quality of your embroidery no matter which fabric you're embroidering on?
To guarantee your embroidery success, we've put together a cheat sheet of 50 of the most popular fabrics used for embroidery and the combination of materials that you'll need to give you the best possible results for your projects.