One of the most effective ways to grow any business: finding your niche.
If you've never heard of the term, a "niche" market is a smaller, more specialized market within your industry.
Embroiderers specialize in order to better serve their market and provide their customers with higher quality (and more of a reason to return.)
But doesn't that mean you're marketing to less people?!
Yes. But if you're marketing to everyone, you're speaking to no one.
That's why figuring out your niche early on in your business will profit you for years to come, keeping your happy customers returning (and referring.)
Luckily, we have 10 quick suggestions, to shorten your research stage. You'd be surprised just how easy it is for you to service…
And plenty more where that came from! Read on until the end to discover other possible markets you've probably never even thought of.
#1: Greek Organizations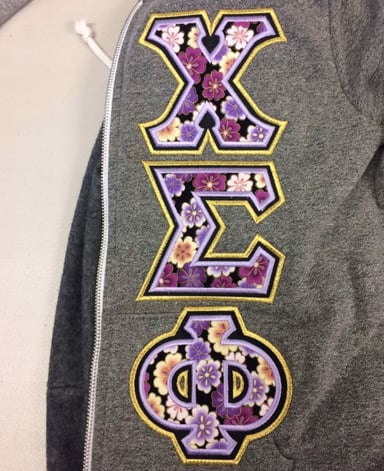 The fraternity and sorority market is one of the most popular markets to form a niche in.
Between all of the different organizations and chapters within each sorority and fraternity, there are many opportunities for you to branch out in this market!
Sororities and fraternities tend to "swag brag," or showcase their pride by wearing decorated apparel that is unique to their organization!
Some of these items may include:
Jackets
T-shirts
Hats
Sweatpants
Typically, Greek organizations blocky lettering, which can call for appliqué to reduce production time and add a personalized touch to your creation.
How it works? With the appliqué process, you are simply applying a piece of fabric to the garment to act as the fill of your design. (You can add patterned or floral fabric like the one in the photo above for a fun touch.)
Your machine is then only responsible for stitching the border of the design and the fabric gets held together by the stitches, leaving it permanently affixed to the garment.
If this is your first time hearing about appliqué, you'll probably need a visual to make sense of the process. Click here to see just how quickly the design was applied in this full-length appliqué tutorial.
A great way to get started in this market is to reach out to sororities and fraternities at your local universities. Once you have a relationship with one chapter, and they share your work, you are sure to start hearing from others who need embroidery done as well.
Click here to learn how a custom apparel business grew their business with the Greek market.
#2: Weddings and Bridal Party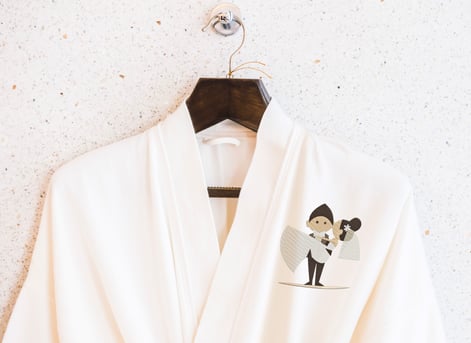 If you can get into the wedding and bridal party market, you are in for an influx of orders.
You're bound to find business creating decorated apparel for the happy couple and their court (and even decorations for the actual wedding).
There are so many ways to use embroidery to make a wedding day even more special. Click here for a list of wedding embroidery ideas for machine embroiderers.
For example, you could make custom-made bride and groom caps, free-standing lace accessories for the bride or embroidered satin robes for the bridal party! Click here to learn what hoop you should use to protect satin fabric in this embroidered satin robes tutorial.
The best part about weddings is, when you do secure your first client, you're bound to get multiple recommendations for the amazing work you've done.
Word-of-mouth is a key networking strategy in this specific niche. Create a high-quality, beautiful design for each of your customers to ensure referrals down the line.
#3: Corporate Apparel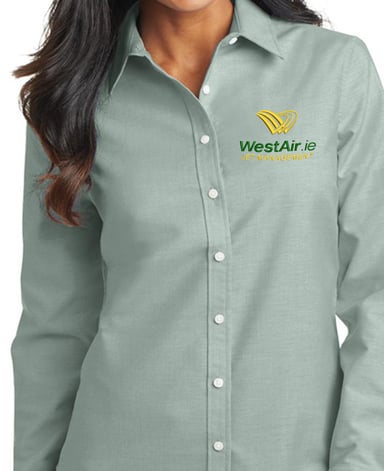 Businesses will always need to showcase their brand in some way through decorated apparel.
Apart from external branding, which is shown on the actual building or marketing collateral, how a business represents their brand in person (polos, hats, t-shirts, etc.) is also JUST as important!
Because of this, branded, embroidered company apparel will always be a niche to expand your business in.
Let's say you build a close relationship with 5-10 businesses in your local area and provide them with outstanding embroidery service.
You will become the go-to embroidery business for these companies. Moving forward, anything that they need embroidered, you will be their main contact.
Just imagine, one of the companies needs embroidered polo shirts for a conference they're attending. Then, they have a company picnic planned in a few months and want to do specialty shirts for everyone.
That's two different orders from one business. With all of the company events occurring throughout the year, you are bound to get numerous orders from a single business.
Not only that, they'll consistently need to reorder as garments get worn out and new hires show up.
There is a wide reach in this market. With hundreds of businesses down every block, you can greatly expand your customer list.
Thinking of getting started in the custom apparel business? Click here to learn the number one factor in determining profitability in this industry!
#4: Athletic Teams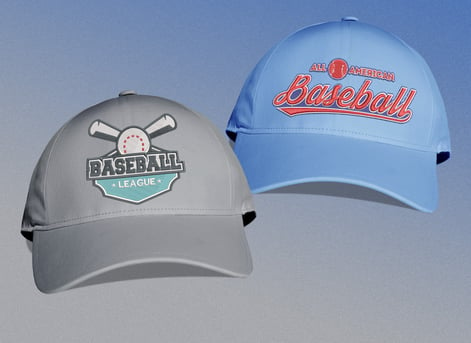 This is probably one of the most popular niche markets to become apart of. School sports teams will always be in need of jackets, embroidered caps, shirts, and more!
Imagine making embroidered caps for a baseball team or custom made bows for an entire cheerleading team? This means completing a large order, increasing your profit potential, and adding another great design to your portfolio!
Customers like to see variety in what an embroiderer can design for them. This niche is perfect for that.
Why?
Teams will most likely have a mascot or a personalized number for everyone on the team. Each design will be different and unique to that team.
Our customer, Jon Kaweblum, is a prime example of someone who found a specialized market within sports teams. He designs and embroiders specially made yarmulkes (yamakas) with clips for a Jewish basketball team.
Jon has become so successful in this market because he found a gap in the industry and aimed to fill it.
You can find out all about his specialty in the embroidery world by checking out his full success story here!
If you can come in and create unique, personalized designs on a variety of garments, it will show off your skill set and what you can create for future customers.
To ensure you're designing all of your garments with the correct materials for optimal quality, make sure you check out this 50 fabrics guide to help you decide which materials work best for these kinds of corporate shirts.
#5: Band Merch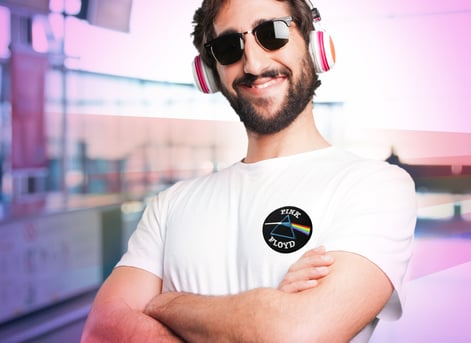 Most of you have been to a concert or two before, and browsed the merchandise table before going inside the venue.
There are always a variety of different garments that are being sold at these tables, starting from band t-shirts to even socks!
In the music industry, there is a high demand for musicians and bands to have their own merchandise setup. They will usually have it outsourced and sent to them, to display at their next event.
The reason why this market is so unique is because so many people in this market love having specialized items to represent their music brand.
Start building relationships with local up-and-coming bands to get the word out.
Take Jeff Rosario, owner of Immortal Prints, as an example. Being in a band and the custom apparel business himself, he saw the demand for personalized, unique garments.
He used his expertise in screen printing and embroidery to expand his customer reach by becoming a go-to decorator for band merchandise.
Jeff has become successful in this niche because, similar to Jon, he found a market that needed to be fulfilled and decided to be the person to do it.
If you want to hear more about his story, you can check out the full case study here!
#6: Pageants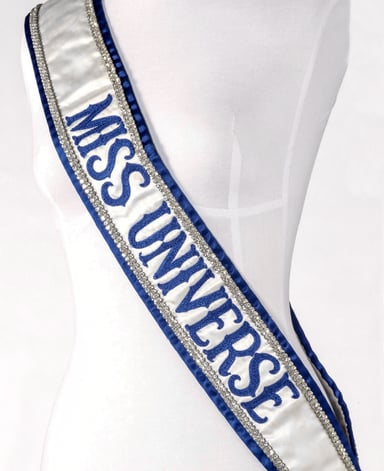 Pageants are known for the beautiful, intricate sashes that contestants wear throughout the competition.
What makes these sashes so unique in the pageant and embroidery world?
The sashes in this industry are personalized to each contestant.
You will also find sashes that are specially made for the winners and runner ups of the competition. Ranging from 1st place to 3rd place, each pageant sash is embroidered or decorated in some way for personalization.
It is important to note that there isn't a hoop that will properly hold a sash in place during the embroidery process.
To get proper hoop tension and avoid shifting the fabric during the embroidery process, use the floating technique. If you have never tried the floating technique before, make sure you watch this video to see exactly how we "float" the sash to get the design centered and secure.
Your work as an embroiderer doesn't stop with the sashes. Just about everything in the pageant world is personalized!
From one contestant, you can expect to embroider their sash, dress, and even a hat they might wear for the talent portion.
When thinking about how you can make your designs stand out, consider using cool decorative items like metallic thread on your designs! This may attract a lot of contestants to your work!
Click here to learn 10 tips for decorating with metallic thread!
#7: Baby bibs, baby blankets, baby… everything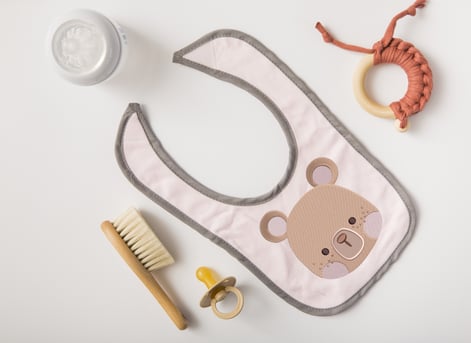 Baby items are always a hit in the embroidery world!
The more personalized, the better. Who wouldn't love to have their little one decked out in personalized gear?!
When thinking about this niche market, think about it like this…
If you build a good relationship with a few moms or moms-to-be, there is a high possibility they will keep coming back to order more personalized items for their babies.
Another thing?
Moms talk. They love to share tips, stores they love, and where to get the cutest items for their babies.
Produce a beautiful item for just one mom and you are sure to get a lot of recommendations your way!
You could also make a lot of connections online by listing a few of your items using Depop, Etsy, Poshmark and other sites like these!
Thinking of getting started in the custom apparel industry, but don't have the right resources to get started? Schedule a virtual demo today to see how our machines operate!
#8: Patches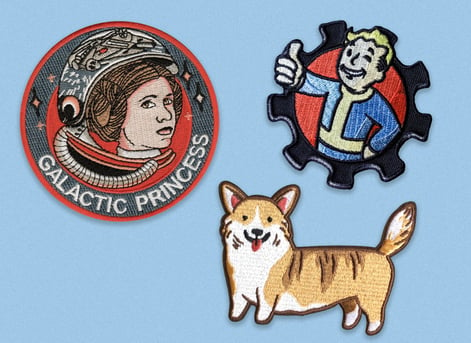 Patches are a hit when it comes to decorating tote bags, jackets, and shirts! It is the perfect way to personalize a garment to your particular style.
Because most patches are small in size, embroiderers are able to make these in bulk, in just one hooping.
The good thing about embroidering patches and applying it to the garment is that it doesn't always have to be custom one-off orders. For example, you can embroider a bulk amount of 200-300 patches for bikers!
There is a lot of flexibility to get multiple patches done quickly and reduce your turnaround time.
If you position yourself as someone who can create custom patches for others, you would be amazed just how many people will find your work interesting and PAY for it.
People are constantly trying to find new and interesting ways to make their items stand out using patch placement techniques!
Keep up with trends so you can create designs that are "popular" at the moment, such as a Star Wars or Avengers patch!
Want to learn more about how to decorate your work with patches? Check out this Youtube video to learn some amazing techniques!
#9: Dance Studios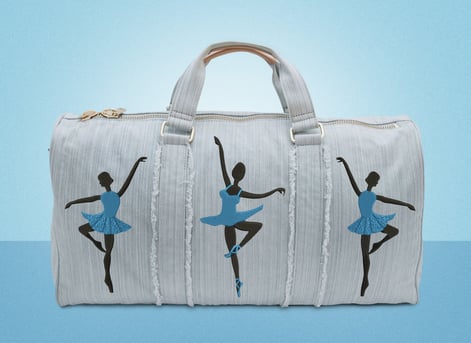 Similar to the sports team market, you can find many dance studios who are looking for embroidered pieces for their team.
Since the team wears the same dance uniform, own the same duffle bags, and use the same bows for their hair, the dancers are sure to mix up the garments from time to time.
This is a perfect market to explore because of that reason. Not only will you receive a bulk order from the studio, but you get to show off your skill set by creating and embroidering personalized designs for each dancer.
Performance apparel companies are getting in on the embroidery business as well.
Performance apparel company, Algy, is a Ricoma customer. They design and manufacture all kinds of recital costumes and team uniforms.
Because of their Ricoma machine, they are able to reach a wide market of dance studios to provide them with high-quality, durable dance costumes and uniforms. They built long-lasting relationships with these studios, to the point where they are no internationally known for their work.
You can check out more of their story here to see how they jumped in on the dance studio market.
#10: Schools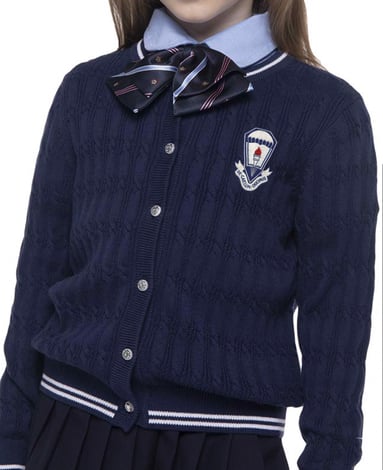 A lot of private and public schools require their students to wear uniforms when they are attending school.
Do you know what this means?
This is your opportunity to build a niche within private and public schools so you can become the go-to company for embroidering their uniforms.
From there, you can build your rapport and find more schools within your area that require these same services.
One of the best ways to embroider patches on the school uniform, to last the whole school year, is to make sure you use a water stabilizer as your backing, such as Aqua top. Then, before placing the felt patch on the stabilizer, put some adhesive spray to keep it in place during embroidery.
Click here to watch the full Embroidery Hub episode where we show you how to embroider patches!
If you supplied a whole school with uniforms, you would be busy for weeks at a time! Not to mention, these kids will also grow, so you're guaranteed to have them require new uniforms year after year!
Ready to start on your embroidery journey and find your niche market? Start here!
Bottom Line
There are multiple ways to stand out and build your name in this industry! However, it does take some research to really see what items are being demanded in your area!
You definitely want to choose a niche you're passionate about, but that will still give you residual returns on your investment and time commitment to this market!
If any of these niche markets interest you, comment down below! Or if you currently serve one of these niche markets, let us know how you got started!
For more embroidery tips and machine embroidery projects, be sure to watch our machine embroidery tutorials on YouTube and join our Facebook community, Embroidery and Custom Apparel Mastery.
The #1 Factor in Determining Profitability: How to price for maximum profit in the embroidery business
Are you an entrepreneur, fashion lover, or embroidery enthusiast interested in starting or growing a profitable embroidery business? Do you want to be successful?
To guarantee maximum profit in your embroidery business, we've put together a webinar discussing the #1 factor in determining profitability. You will learn everything from achieving optimal profit margins for your products to common myths that are costing you money.