Have you ever wanted to start a profitable custom apparel business or side hustle, but didn't know where to begin? With all of the different equipment to choose from, the choice can be overwhelming, which is where we come in.
In this blog, we'll cover the top 5 ways to make money using a heat-press. We'll even rank them from the least expensive to most expensive option so that you can get started making money pressing orders as soon as possible. Below are the methods that we'll cover.
With five custom printing methods to choose from, you're bound to find the perfect way to start that business or side hustle you've always wanted. Continue reading to find out which printing method is best for you!
But before we get into it, let's first go over quickly what a heat press is and how it works.
What is a heat press and how does it work?
Heat press machines are used to permanently imprint designs and graphics onto custom garments by applying heat and pressure simultaneously for a preset period of time. There are a variety of heat presses to choose from, ranging from flat-heat presses that can imprint designs on t-shirts, totes and jackets, to specialty heat presses that can print on mugs, water bottles, decorative plates, caps and so much more.
Here are 5 of the most commonly used heat presses: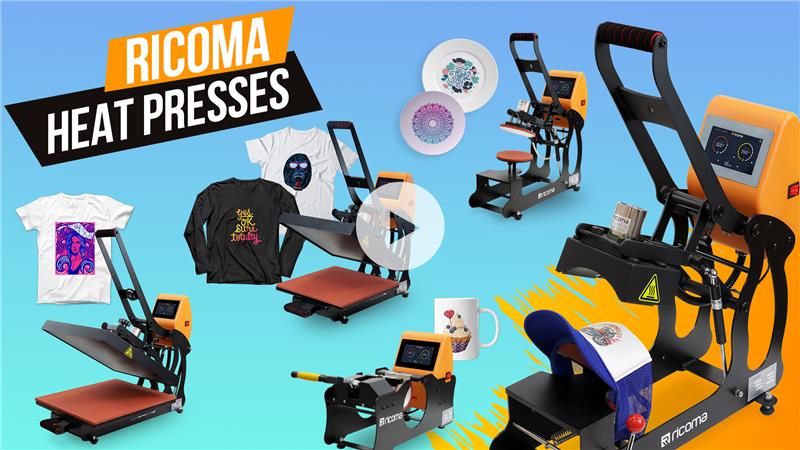 Now, let's rank the different printing methods that you can use to start your own custom apparel business from 1 being the least expensive to 5 being more expensive. We'll also share how labor intensive each method can be. Let's get started!
#1 Buy, Press and Go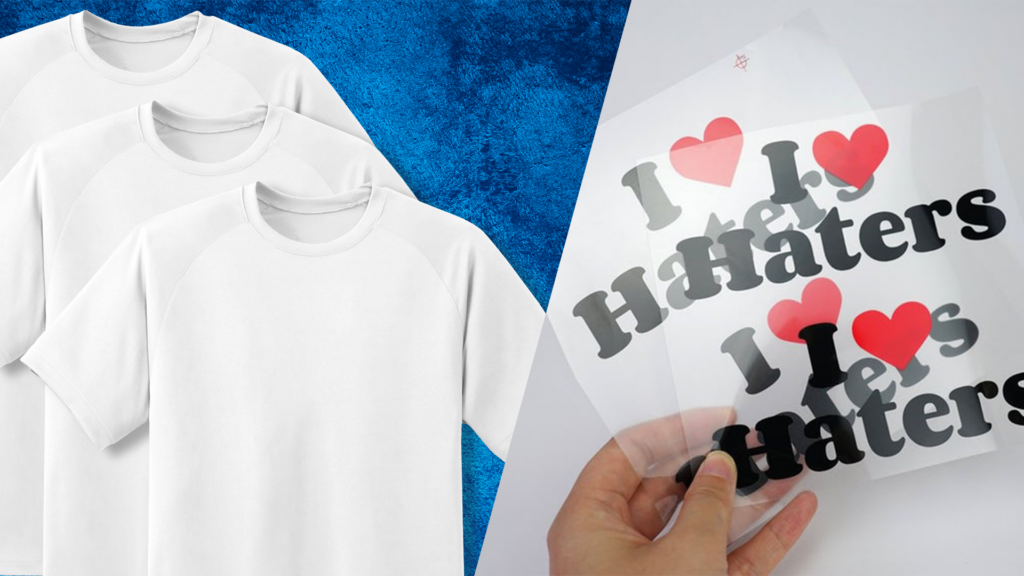 Let's start with the least expensive option.
With this method, you'll be outsourcing your designs, meaning you'll be using preset or ready-to-print designs for your custom apparel products. A simple Google search for "heat transfers" will supply you with a list of suppliers and designs to choose from, which typically range from $2-5 depending on the complexity and size of the design.
These designs come pre-printed on heat transfer paper, which, as its name implies, is a specialty paper that transfers printed designs to shirts and other garments when introduced to heat and pressure.
To complete the transfer, you'll need a heat press that is equipped to handle the type of item you're using. Heat presses typically range between $200-$800 depending on the type and quality.
The third and final item you'll need is a blank garment, for example. On average, wholesale t-shirts typically range between $2-$3 and can be purchased with a wholesale account on sites such as Sanmar, Bella+Canvas, OTTO Caps and many more.
Some sites like JiffyShirts.com offer wholesale pricing without the need to create a wholesale account.
Now that you have all of your supplies, simply lay your garment between the platens of your heat press, position your heat-transfer design and press down. In seconds, the design is adhered to the fabric or textile of choice.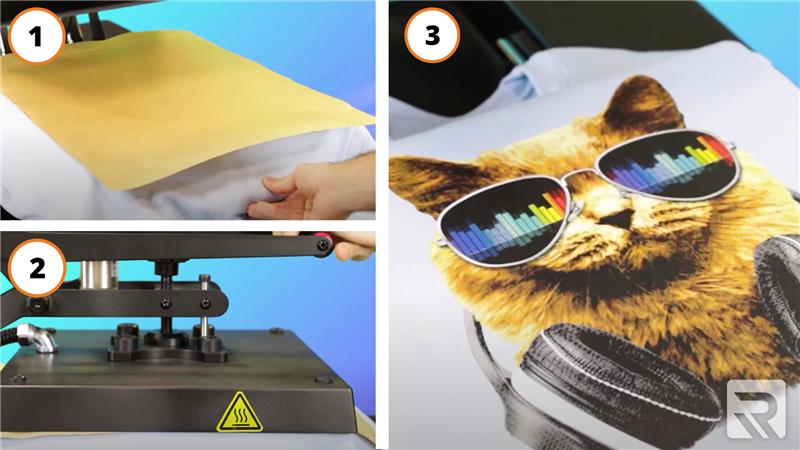 With this method, you're likely to see a return on your investment with your very first order. Take a look at the profit margin formula below to see how.
Recommended heat press:
Ricoma Auto-Open 15" x 15" Flat Heat Press
Price: $799
Ikonix 15" x 15" Flat Heat Press
Price: $469
Labor intensity: Low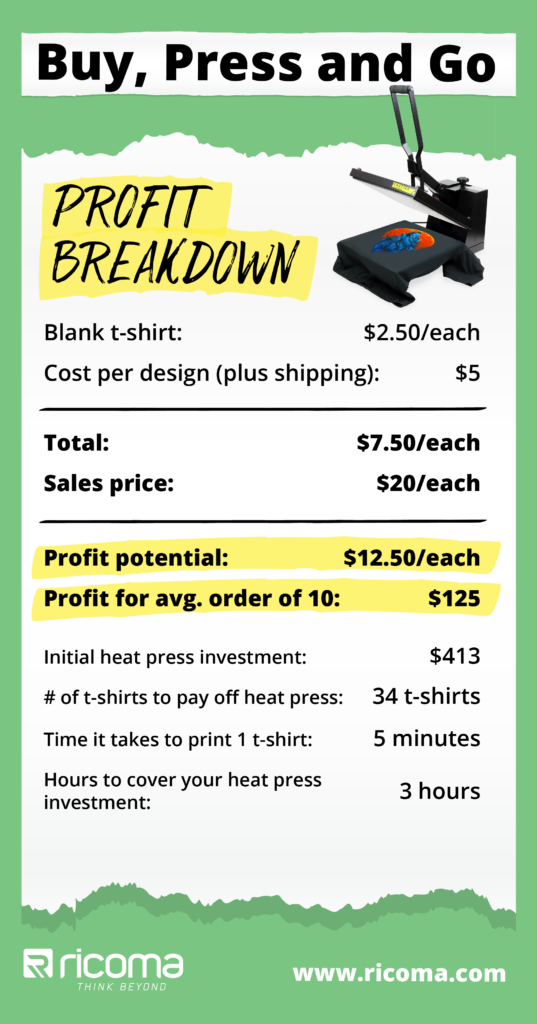 When using this method, be sure to price your products accordingly, taking into account the cost of both the design and blank.
Of course, there are pros and cons to using this method.
Cons:
You'll have to order multiple designs to save on shipping costs. Shipping can get expensive.
One con is the cost of the design. Unlike other methods, which we'll cover later, you'll have to pay for each one of your designs. And while you'll be saving money on supplies, like heat-transfer paper and adhesive sheets, your designs will be limited to what's available online.
That's not to say that this method is not a great introduction into the custom apparel world. It is! And many custom decorators have found huge benefits in using this method.
Pros:
No graphic design experience required
Low monthly expenses
Quick return on investment
Not labor intensive. Just learn how to use the heat press!
For starters, you don't need any artistic or graphic design background to be successful.
Additionally, by limiting your design selections to solely ready-to-print designs, you can lower your monthly expenses as you won't be responsible for printing your own designs, which come with a cost of their own. We'll get to that.
You can also use this method to print vibrant logos, designs and messages onto plates, mugs, caps and so much more using specialty heat presses, such as Ricoma's Auto-Open Plate Heat Press, Mug Heat Press and Auto-Open Cap Heat Press.
That brings us to our next printing method, which requires many of the materials and supplies that we've already discussed, with a twist.
For a limited time only, get FREE SHIPPING on all heat presses on shop.ricoma.com.
#2 Ordering Custom Designs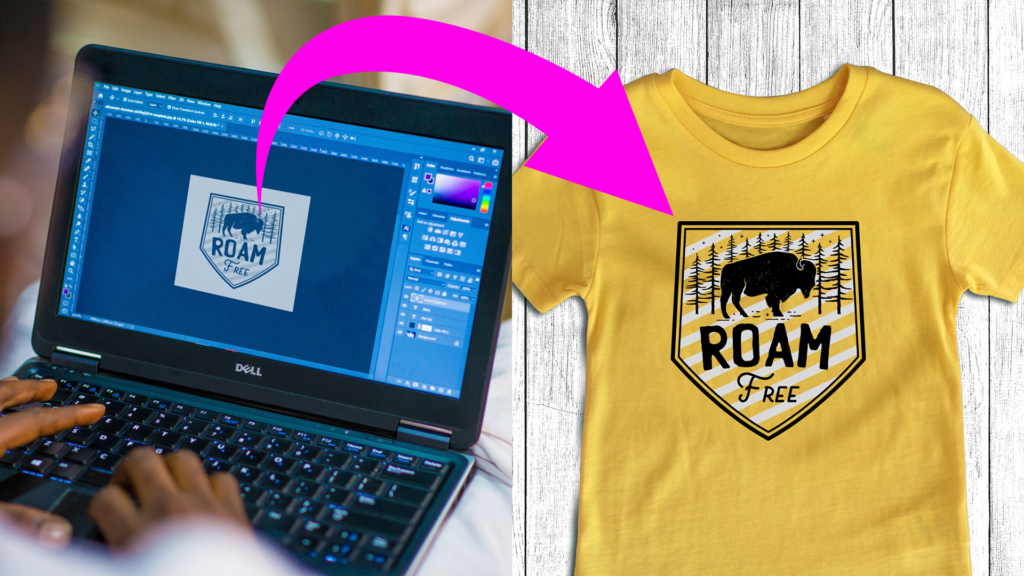 Ordering custom designs, as the name implies, means that you'll be outsourcing any custom designs to a designer or using your customer's artwork to order the heat transfers yourself.
If your client provides you with the design, then the hard work is done for you and you can simply use a site like Etsy to upload the design and place the order.
Typically, a sheet of 8.5" x 11" heat transfer paper with a custom design can cost you anywhere from $2-$5 plus the cost of shipping. This method would then equate to a similar profit potential as the first method.
If your client wants something custom, however, and you don't have graphic design experience, then you will have to outsource this service and will incur design fees, which may cost you up to $30 plus the cost of shipping the heat transfers to you.
In this case, it would only be profitable if you have a large order of identical designs so that you can pay the design fee once and order multiple transfers and apply them to multiple garments.
Let's use a t-shirt as an example to see the difference in average cost between the two methods.
Recommended heat press:
Ricoma Auto-Open 15" x 15" Flat Heat Press
Price: $799
Ikonix 15" x 15" Flat Heat Press
Price: $469
Labor intensity: Low-Medium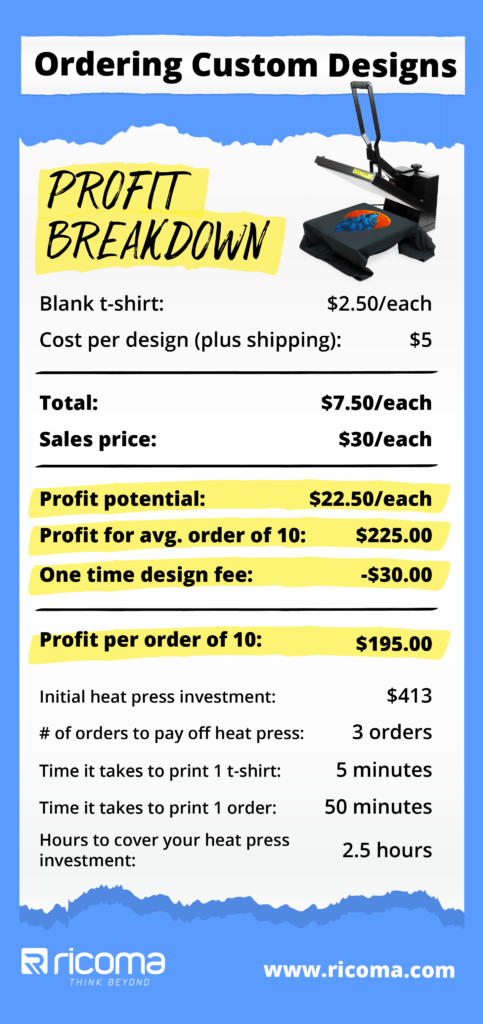 Remember, this method is only going to be profitable if you either:
Have graphic design experience and create the design yourself
Apply the custom design on multiple garments to cover the $30 design fee
Charge your client additional fees to cover the design fee
Below are additional pros and cons for this method.
Cons:
Designs fees can vary and will cut into your profit unless you apply the same design onto multiple garments
Requires additional time even if you are creating the designs yourself or time spent communicating with the graphic designer on what you want
This method does have its drawbacks. Since you will be relying on designers to supply your artwork, it adds extra steps and requires back-and-forth communication with both your designer and your customer to ensure that the design is correct.
In addition, most designers charge an extra fee after two sets of design changes, which can vary depending on the request.
Pros:
Designs will be custom to your client which will allow you to grow your business and build a relationship with that client for future orders
You can still cater to your client even if you don't have any graphic design experience
This method is ideal for larger orders that will use the same design since you can then easily cover the design fee and make a larger profit
When you choose this route, you will also gain an advantage over those who are just buying preset designs online as you will be able to supply your clients with custom designs.
This method is also a great option for people who are just getting started in the custom apparel industry or don't have a background in graphic design.
For a limited time only, get FREE SHIPPING on all heat presses on shop.ricoma.com.
Now, let's dive into the next most popular printing method, heat transfer vinyl, also known as HTV.
#3 Heat Transfer Vinyl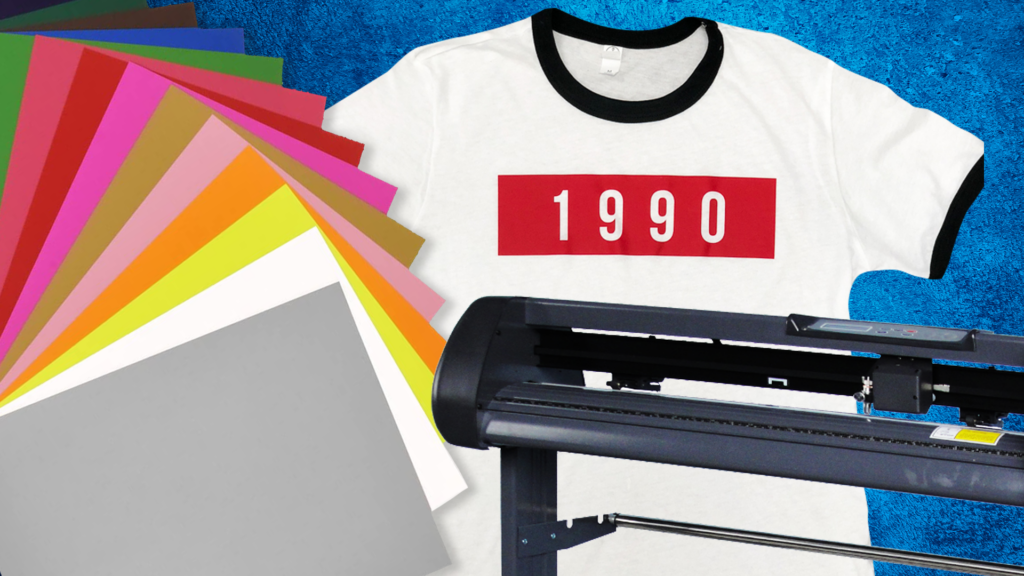 Heat transfer vinyl, also known as HTV, is when you cut out a vinyl design using a vinyl cutter and transfer it onto fabric using a heat press. Similar to the "Heat, Press and Go" method, HTV is another very simple and cost-effective customization method.
For starters, our all-inclusive vinyl cutter packages range from $299 for the 13″ Craft Mini Essentials Bundle to $1,793 for the 25″ RCP-6301 Premium Bundle.
With options to print on a variety of different substrates, including wood, glass, ceramic, fabric and more, you'll be able to offer a wide selection of products. Combine that with the low cost of supplies and materials, and you'll likely see high profit margins.
But before we get into profitability, let's quickly go over the cost of materials associated with Heat-Transfer Vinyl Printing, which will then help us determine our profit.
Besides a vinyl cutter and heat press, both of which come included in our bundles on shop.ricoma.com, you'll also need vinyl, which costs on average $5 per 12 ft x 5 ft roll and blanks. An average wholesale t-shirt goes for about $3-$4.
Lastly, you'll need a weeding tool, which is a relatively inexpensive tool averaging at about $10 per unit. We'll go over this tool and what it's used for a bit later.
Now, let's use the cost of these supplies to calculate your profit.
Recommended heat press:
Ricoma Auto-Open 15" x 15" Flat Heat Press
Price: $799
Ikonix 15" x 15" Flat Heat Press
Price: $469
Labor intensity: Medium-High

Keep in mind that the above formula depends on the cost of your equipment. Choosing less expensive machinery will help you pay off your equipment faster.
Aside from equipment costs, vinyl is also more "labor intensive" than basic heat transfers, which could also add to your production time, especially if you are using multiple colors and creating multiple garments as each design will need to be "weeded" or cut out by hand before pressing.
Here are some additional pros and cons for this method.
Cons:
Extensive weeding process
Must print and weed each color at a time
Typically has a 24-hour curing time
Once you have a design cut, you will need to "weed out" the pieces of vinyl that you do not want to transfer onto your garment. This requires a special weeding tool. The weeding process is unique to HTV and can take a long time if your design is large or complex.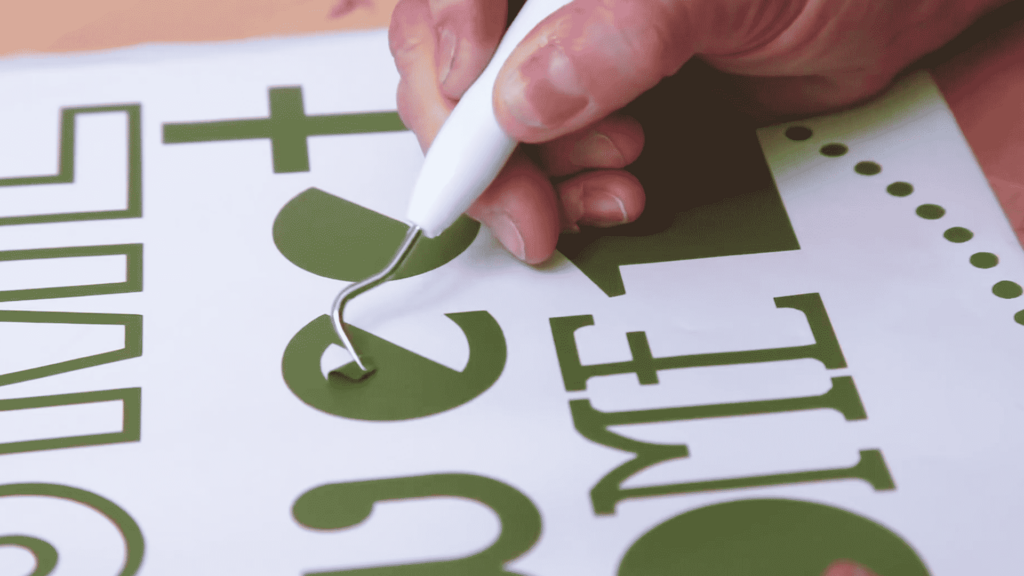 Additionally, you can only use one color at a time for your designs. Vinyl sheets usually come in solid colors, so it can be complicated to layer different sheets and add other colors to your design.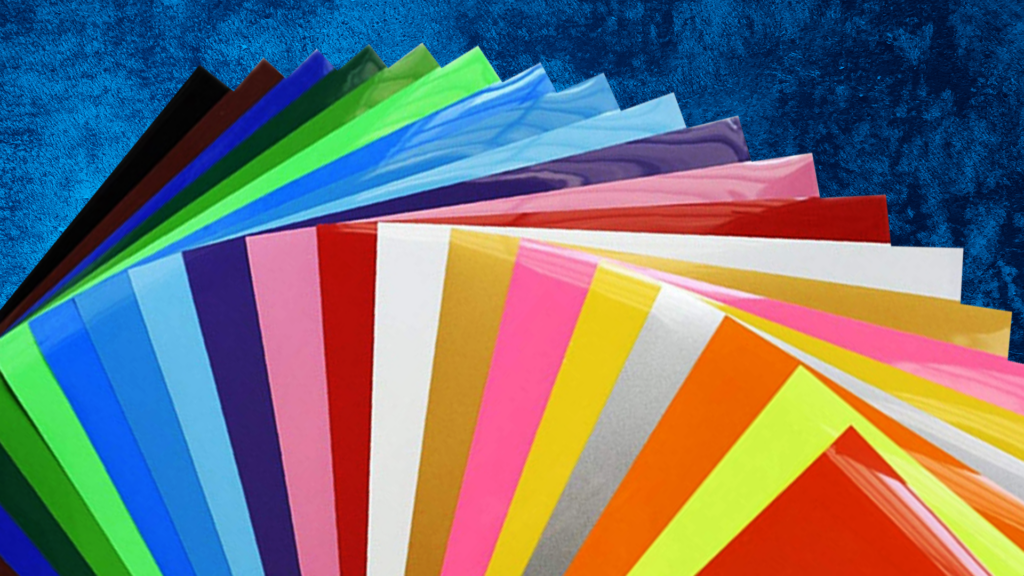 When you transfer the vinyl to your garment using a heat press, you are required to wait a full 24 hours for the transfer to cure before you can fold, wear or wash it.
Pros:
If you have no prior experience printing your own designs, then HTV is one of the more affordable types of printing methods because of the lower cost of entry.
For a limited time only, get FREE SHIPPING on all heat presses on shop.ricoma.com.
Vinyl cutters are typically less expensive than transfer printers or sublimation printers, making it the most popular decoration method for crafters and beginners.
Check out Ricoma's low-cost and affordable vinyl cutters here!
However, because it doesn't lend itself well to printing larger batches more quickly, HTV items are more suited for custom one-off orders or a small batch of similar designs that you can sell on Etsy or another online shop.
Now, if you're ready to explore more serious printing options that will help you increase your order volume, read on to learn more about 2-step heat transfer and sublimation printing.
#4 2-Step Heat Transfer & Sublimation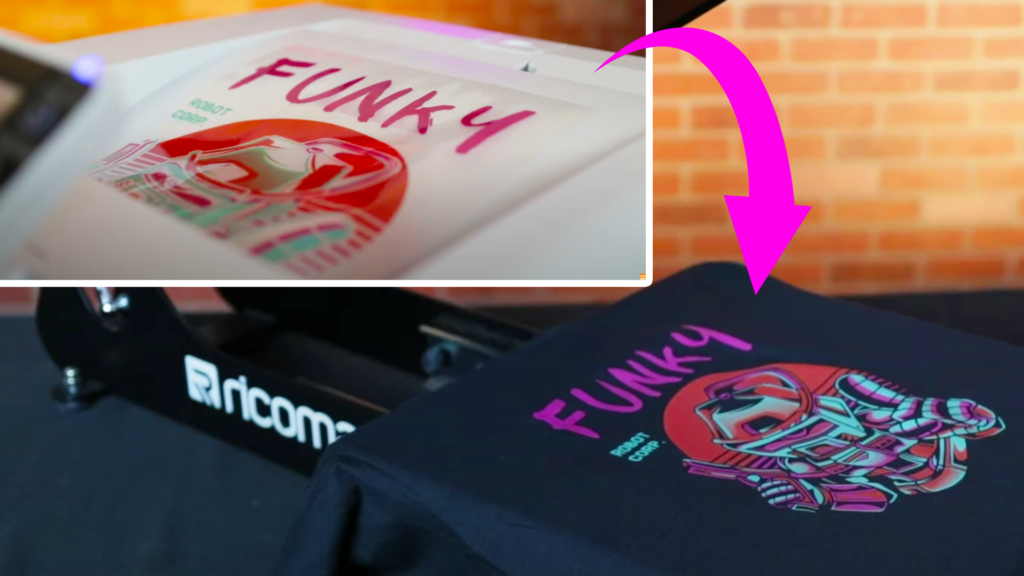 Another type of heat transfer is 2-step heat transfer. As its name implies, this process is called "2-step" because it takes two steps to create the transfer sheet you need to press the design onto a garment.
The second method that we'll discuss in this section is called sublimation. This is one of the most interesting t-shirt printing options available because it does something no other method can—It forms a permanent bond with the substrate you use it on.
Check out this video where we compare heat transfer versus sublimation printing and go over the pros and cons of each.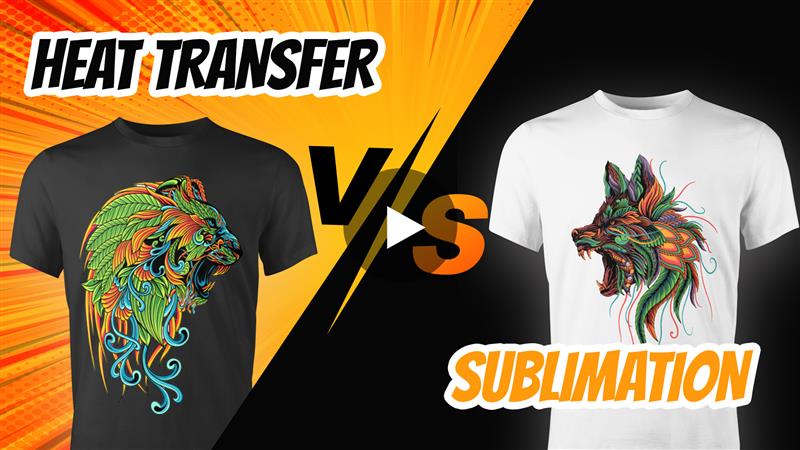 You'll first want to print your design onto clear transfer paper, then heat press the clear sheet with your design on it with an adhesive sheet, or sublimation paper, to create your final transfer sheet.
In the first two examples that we used, this process is outsourced since you'll need to purchase a white toner transfer printer or a sublimation printer to print your own designs onto transfer sheets.
We recommend using the Luminaris 200 White Toner Transfer Printer. Not only can this affordable printer do heat transfer printing, but with its swappable toner system, it can also do regular office printing!
If you'd like to learn more about the Luminaris 200 White Toner Transfer Printer + Heat Press Bundles we offer, click here.
Once the adhesive has been transferred to your design sheet, you can then use your heat press to adhere your design onto your material.
The equipment and supplies needed for 2-step heat transfer and sublimation are very similar in price and sometimes can be done using the same printer.
Below is a breakdown of the costs and profit potential associated with these methods.
Recommended heat press:
Ricoma Auto-Open 15" x 15" Flat Heat Press
Price: $799
Ikonix 15" x 15" Flat Heat Press
Price: $469
Labor intensity: Medium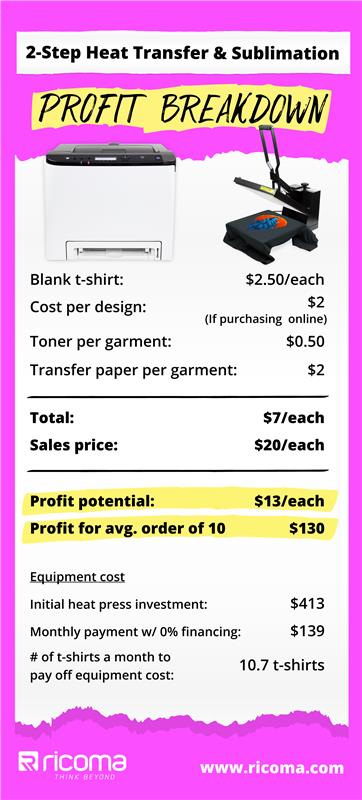 Although the upfront cost of a printer is more than a cutter for HTV, these two processes are better for larger runs, which will yield more profits down the line.
You can see the complete cost breakdown and sublimation process on this sublimation episode of Print Pros.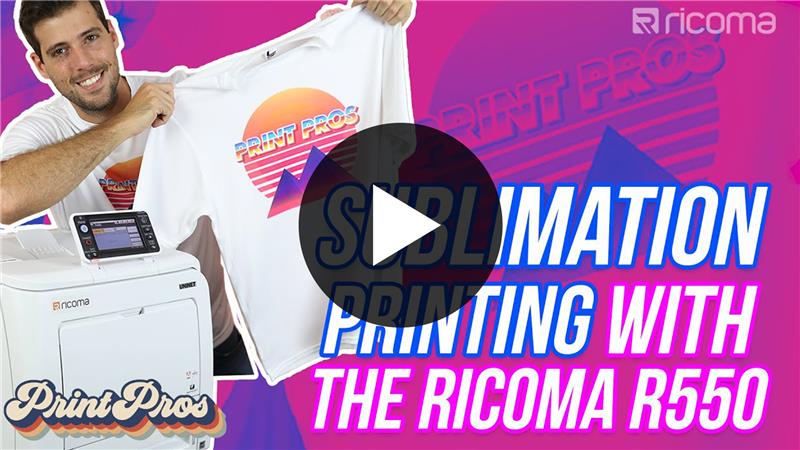 Cons:
Cost of printer is more expensive than HTV or simply outsourcing the designs
Although you are able to download graphics online, you will have to manually input them into the software that comes with the printer and set up the print yourself on the garment
If you do not have graphic design experience, you can still outsource the designs, which will add additional cost to each order. Regardless, you will still need a working knowledge of the printer, rather than just the heat press itself.
Although the cost of the printer is more expensive than HTV, with this process, you will not need to spend time weeding your designs before each print.
You will simply need to program your design into the software and print as many transfers as you need for the order and simply press them onto your garment, which leads us to the pros of this process.
Pros:
Not limited to colors
Always have your printer handy, so you don't need to pay for shipping designs that you purchase online. You can create designs and print them on the fly.
Faster process than HTV and doesn't require a 24-hour cure time
Great for printing larger batch orders
Unlike HTV, these methods also allow you to create multi-color designs while eliminating the time-consuming HTV weeding process.
You'll also benefit from creating custom designs that are permanently bonded to your garment, when using sublimation, which can lead to higher profit margins as you can charge a bit more for your items.
For a limited time only, get FREE SHIPPING on all heat presses on shop.ricoma.com.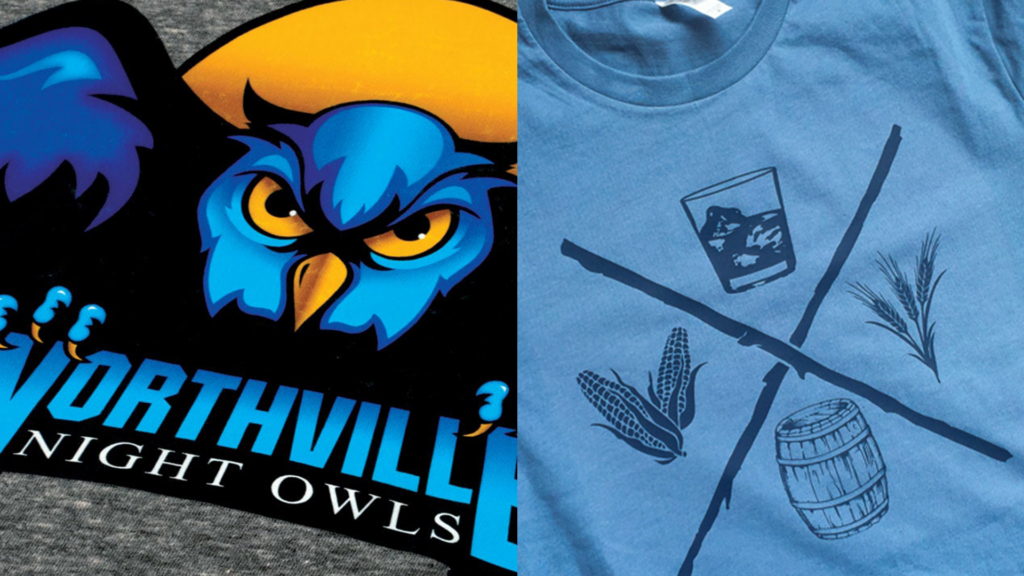 This brings us to our last and final printing method: Direct to Garment printing.
#5 Direct to Garment Printing (DTG)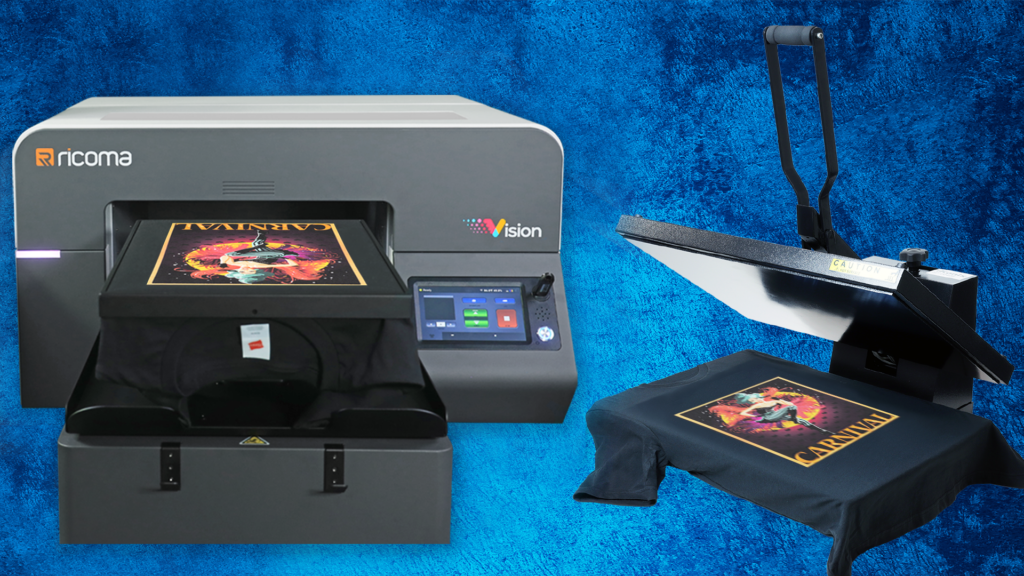 Direct to garment printing, or DTG for short, is one of the easiest t-shirt printing methods since it simulates a regular office printer.
All you need to do is queue the design up in the printing software and load your pre-treated garment onto the printer's platen and then press start. It's that easy.
DTG printers are more expensive than the previous heat-transfer printing options that we've covered, but they are the most straightforward. To get started, you'll need a DTG printer, which can cost anywhere from 16k-20k depending on the brand, but with low monthly payments and 0% financing, you'll be able to pay off your printer in no time.
Not to mention, the package at Ricoma comes with a heat press already included along with all of the other supplies that you'll need to get started.
With this method, the heat press is necessary, but secondary to the DTG printer itself. With some of the other methods listed, the only equipment you'd need is the heat press itself, but with DTG, you'll just use the heat press to cure the garment after the DTG printer is done printing.
Let's take a look at the profit margins you can expect when you invest in a high-quality DTG printer.
Recommended heat press (already comes included with the DTG from Ricoma):
Ricoma Auto-Open 16" x 20" Flat Heat Press
Price: $949 FREE
Ikonix 15" x 15" Flat Heat Press
Price: $519 FREE
Labor intensity: Medium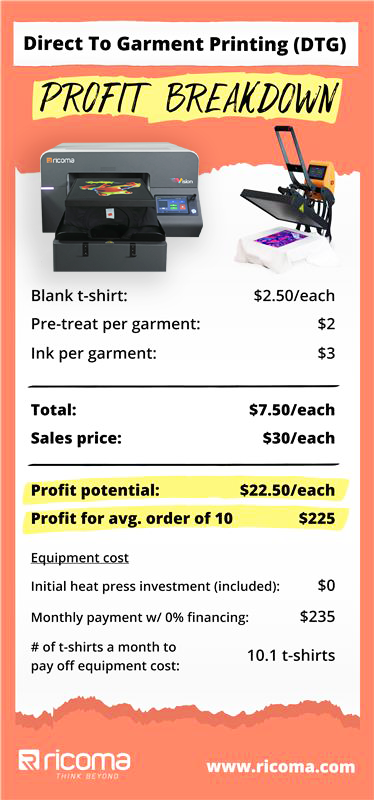 This method is suitable for bulk orders and custom one offs since you can print the same design as many times on different garments as you need or simply print a custom one-off.
With the cost of the printer being higher than the rest of the printing methods mentioned here, it is recommended to secure higher volume orders in order to pay off the investment faster.
Cons:
Higher initial investment
Requires training (which comes included with Ricoma's DTG printer) to operate the printer
Requires some maintenance to keep the printer working properly
Requires pre-treating before printing
Although technically this printer works similar to an office printer, for DTG printing, you will have to pre-treat your garments with pre-treatment fluid. Although pre-treatment and a spray gun come free with your Ricoma package, the process will still add time to your production.
Pros:
Higher profit margins because of quality of prints and technique
0% financing available to cover the printer investment
Everything comes with the DTG including a heat press, pre-treatment and inks
Not as labor intensive as HTV, but still requires the pre-treatment process
Fastest print speeds
Because of the quality of DTG prints and the fact that you can print photo-realistic prints on many materials and both light and dark garments, you can generally charge more for your services, which will increase your profit potential and help you pay off your investment quickly.
Click here to learn more about Ricoma's DTG package that includes everything you'll need to get started with low monthly payments and 0% financing.
Also, DTG printers can print at extremely fast speeds on light garments in less than 28 seconds, so many users will purchase an additional heat press to be able to cure the prints faster when printing bulk orders.
The Bottom Line
No matter which printing method you choose, your profit potential will depend on your margins, cost of equipment and design skills, which will determine whether or not you will need to outsource custom artwork.
Remember, that with all of these methods, you'll need a quality heat press that will allow you to press or cure your designs. Your success will also depend on the heat press you choose, so to help you decide which heat press is right for you, check out this heat press buyers guide.
If you're ready to invest in a high quality heat press to start your printing business, click here and get free shipping on shop.ricoma.com.