Do you find yourself struggling to reach the next level with your business?
Maybe you need help establishing a strong foundation to build your new custom apparel business upon…
Whatever the case may be, every business owner needs a set of rules in place to run their business in the most effective way possible.
But who has time to come up with (and let alone remember) all these rules?!
We get it. That's why we came up with the three simple rules that every custom apparel business should follow.
In this blog, we'll break down these rules and why they're so important to keep in mind.
While there are many more guidelines you can set in place to develop a business plan that is best suited for your company, these are the three most important rules to always keep in mind when making business decisions in the apparel decoration industry.
#1: Maintain strong relationships with your suppliers

As a custom apparel business owner, there are certain key suppliers that you need to have relationships with. Strong relationships with these companies will not only help you grow your business, but provide the support you may need when you're just starting off.
The two most important suppliers to connect with?
Your blank suppliers and your equipment suppliers.
Equipment suppliers are the most important connection you need to have when you are in the custom apparel business.
These are the companies that are going to be your point of contact should you need to purchase a new machine, need support or simply have a technical question.
Take the time to research what type of support and resources these equipment suppliers provide before purchasing from them. This is especially important for individuals who are just starting out in the custom apparel industry, as they may need extra guidance and support.
Here a few things to consider when partnering with an equipment supplier:
Do they have weekend and/or after hours support?
What resources do they have handy to get you started and familiarized with your machine?
Do they offer any training with the purchase of your machine?
In order to get your business off the ground or expand it to the next level, you need to have an equipment supplier who will be able to back you up with whatever you need to succeed. When you're just getting started, you're likely working outside of regular business hours, so your equipment supplier should be one call away (even on weekends) to keep production flowing at all times.
Think of your equipment supplier as a business partner. Choose one that will help you grow your business at the fastest rate (and with the least amount of headaches).
Here at Ricoma, we offer after-hour service, so if you ever need support, just give us a call or email us at Service@Ricoma.com!
After you are satisfied with your equipment supplier and have the right machinery for your business…
The next step is finding a good blank supplier.
Blank garments are normally purchased through a wholesaler, at a discounted price, depending on the number of items you need.
It's important to set up accounts with blank suppliers that you like, so you can take advantage of wholesale prices.
You'll also ensure the same quality garments for your customers and shipping will be predictable so you can estimate accurate turnaround times.
It's important to keep the quality of your apparel consistent, since a lot of your business will be coming from repeat customers.
Click here to watch a video on one of the ways that you can initiate a relationship with a supplier.
Spoiler alert: It's by attending trade shows where they will exhibit.
Why? This is a great opportunity to see and touch their products before you purchase them.
Rather than buying online blindly, you already know what their products are like and if it is the quality you are looking for.
Besides the physical items you can purchase from them, developing a strong relationship with the supplier is beneficial to your business.
Suppliers are more inclined to help you out if you have been a loyal, long-lasting customer with them. They see the value in keeping you as a long-term customer and will be more willing to solve the problem you have and make it work.
Key ways to sustain a long relationship with your suppliers is to:
Pay on time
Visit their warehouse (if possible) for in-person meetings
Buy their products consistently
Keep them up to date on what your business may need in the future
The same concept applies to production supplies such as threads and needles.
Not sure what materials you'll need for certain embroidery projects? Check out our embroidery cheat sheet where we give you everything you need to know about the supplies you'll need for each of your projects!
#2: Know your customers (better than they know themselves)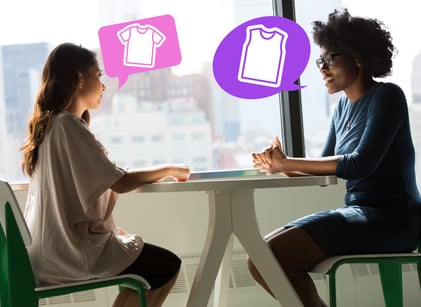 If you feel like your business is all over the place, have you determined your target audience yet?
When you first start your custom apparel business, it is important to determine who your main market is and what their current wants and needs are.
If you aren't getting your products in front of the right customers, no matter how amazing your marketing is, it is not going to convert into a sale.
One of the most effective ways to determine who your customers are is by creating what is called a "customer avatar."
A customer avatar is a profile that draws up every aspect of your target customer that is crucial to your marketing tactics.
This profile lists your ideal customer's current needs and wants, personality traits, goals, and most importantly, their pain points.
Once you have a customer avatar, it will act as a guide to help you make informed business decisions that will benefit your overall profitability.
Taking the time to create this profile will also help you understand your customers better than they understand themselves.
Here's an example:
If you are catering to restaurant owners, be one step ahead of them (and think outside the box).
Ask yourself: What else does a restaurant use other than your average polos and aprons?
Pens to sign bills, which means you can offer them printed pens.
So now it's time to make a business decision and see if a pen printing press would benefit your business.
Sometimes, customers don't realize they need something until the opportunity is presented to them.
That why it is crucial to look at all areas of your business so you can maximize profit at every level. Click here to learn three proven techniques to maximize profit and be well on your way to making $2,000 a week with a single-head embroidery machine.
Once you have established your target audience, you have to nurture that relationship and continue getting to know them.
People's needs and wants change over time. Maybe a new method of custom apparel decorating came out, and that's what your clients want now.
So how exactly can you go about getting to know your customers on this level?
Listen to their needs and wants: People want to be heard.
Ask questions: What are their favorite decoration methods? Which type of garments do they like to wear? Do they prefer simple or intricate designs?
Find where they are: Which social media platform are they on? What social groups are they a part of?
Check out this blog where embroidery pros tell us how they find their customers!
Learning new things about your customers keeps your relationship healthy and moving forward, much like a romantic relationship.
That way, you are never surprised when a customer asks for a specific decoration method.
Plus, they are more likely to keep buying from you if they see that you always go the extra mile to provide them with superior, high-quality service/products.
Need help finding customers for your custom apparel business? Check out part 1 of this video, where we share 3 ways to find clients for your business!
#3: Be a One-Stop Shop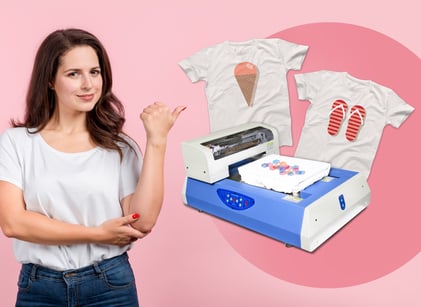 When your customer needs something, be the person that is able to deliver it for them…and then some.
Most people prefer to go to one vendor where they can purchase everything that they need.
One-stop shops create ease and help develop strong customer relationships.
For example, if you mainly focus on custom embroidery, and you have seen a lot of requests for printing on garments, this may be an indicator to look into expanding your business.
Imagine if five people came to you, looking for printing, and you had to turn away five different people, because you only provide one type of service:
That's five sales you just lost
Five opportunities to make profit
Five relationships missed
In order to keep your business running, there comes a time where you may need to expand, to fit the needs of your customers. That's where rule #2 (getting to know your customers) will come into play and inform you on your next big business decision.
Whether it be adding DTG printing to your custom embroidery business, or embroidery to your DTG business, it is something to consider.
When you are a one-stop shop, you end up profiting a lot more because now you have a variety of services to offer, higher opportunity to cross-sell and upsell, and you are unique in your industry.
Bottom Line
All these rules are dependent upon each other to ensure you're successful.
How?
If you don't have support from your suppliers, your quality and turnaround could be affected. This will make it harder to keep your customers happy and get to know them on a deeper level, which will not allow you to make informed business decisions when it comes to growing your shop.
That's why it's important to keep these rules in the back of your mind at all times, so you can be well on your way to having an efficient full-service shop in no time.
Do you have a set of rules that you follow to keep your business up to par? Leave a comment below and share with us! You can also leave a comment in our Facebook group, Embroidery & Custom Apparel Mastery! Maybe your rules can help a fellow embroiderer.
The #1 Factor in Determining Profitability: How to price for maximum profit in the embroidery business
Are you an entrepreneur, fashion lover, or embroidery enthusiast interested in starting or growing a profitable embroidery business? Do you want to be successful?
To guarantee maximum profit in your embroidery business, we've put together a webinar discussing the #1 factor in determining profitability. You will learn everything from achieving optimal profit margins for your products to common myths that are costing you money.