Plus BONUS Content on the Newest Embroidery Machine From Ricoma

There is an interesting phenomenon taking place in the embroidery world. If you haven't noticed, more and more embroiderers are ditching their single-needle embroidery machines and replacing them with its multi-needle counterpart.
While a single-needle machine might be a great option for beginners and hobbyists, what most people quickly realize is how fast they outgrow a single-needle machine.
There are many other reasons why single-needles are becoming old news, but in this article, we want to highlight the top five reasons why you should consider investing or upgrading to a multi-needle machine – even if you're a beginner or hobbyist.
Let's begin with the first reason…
Reason #1: Saves You Precious Time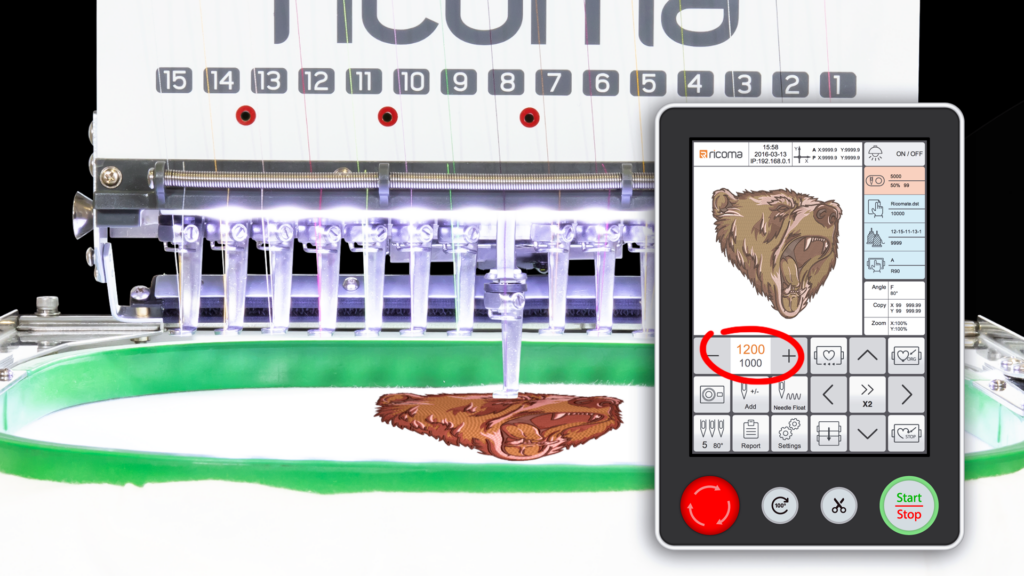 One of the best reasons to get a multi-needle machine is to save time during the embroidery process. There are two time-saving components of multi-needle machines that make them a worthy investment for anyone who's thinking about starting or growing their apparel decoration business or simply making their craft more efficient.
And as you can probably imagine, the first component is more needles!
More Needles
It should go without saying that multi-needle machines save you time because they have more than one needle. If you wanted to embroider a colorful design with a single-needle, you would have to continually rethread the machine.
This is because one needle can only support one color of thread.
That isn't a problem with multi-needle machines like the Ricoma 10-needle EM-1010 or the 15-needle MT-1501, because each needle can be assigned a specific color.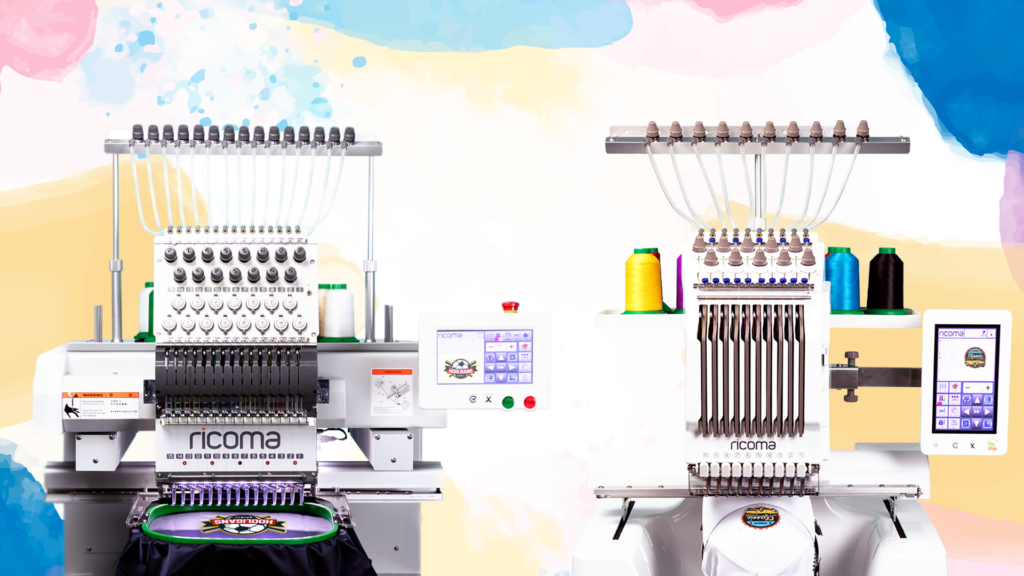 And if you need a special needle for a particular fabric, you don't have to constantly switch the needles like you would with a single-needle machine.
You can have different types of needles preset on your machine for specific projects. For example, on the TC-1501, which has 15 needles, 10 needles can be sharp point needles for embroidering regular garments like jeans, jackets, and caps, while the other five needles can be set as ballpoint needles to embroider knit fabrics.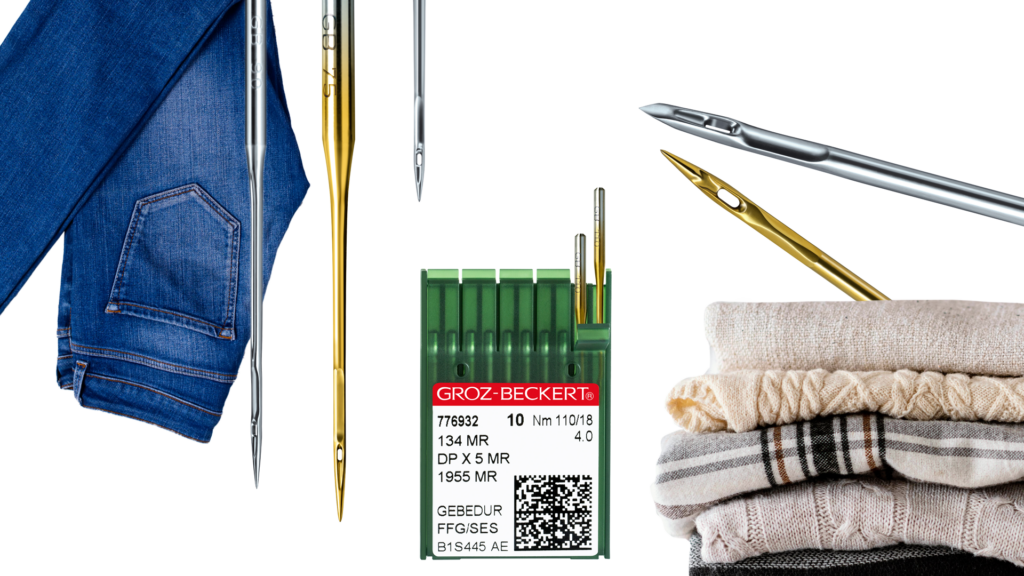 Speaking of more needles, Ricoma has something BIG in the works. Find out more about this new machine here!
Faster Speeds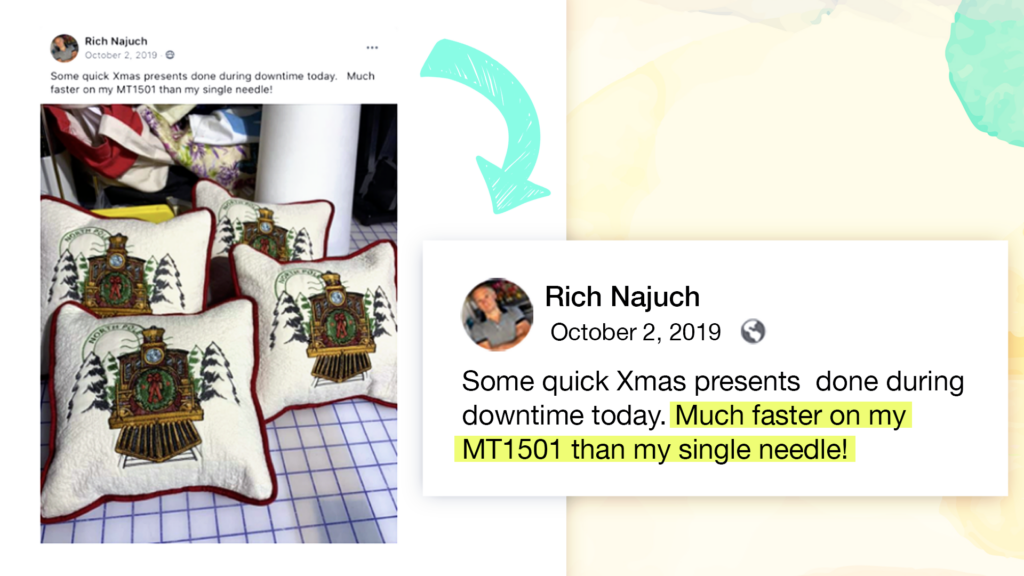 Another great feature of multi-needle machines that will help you save time is their speed. While single-needles typically embroider at about 400-500 stitches per minute, multi-needles like Ricoma embroidery machines can embroider twice as fast at 1,000 to 1,200 stitches per minute. That means you can crank out double the orders in the same amount of time.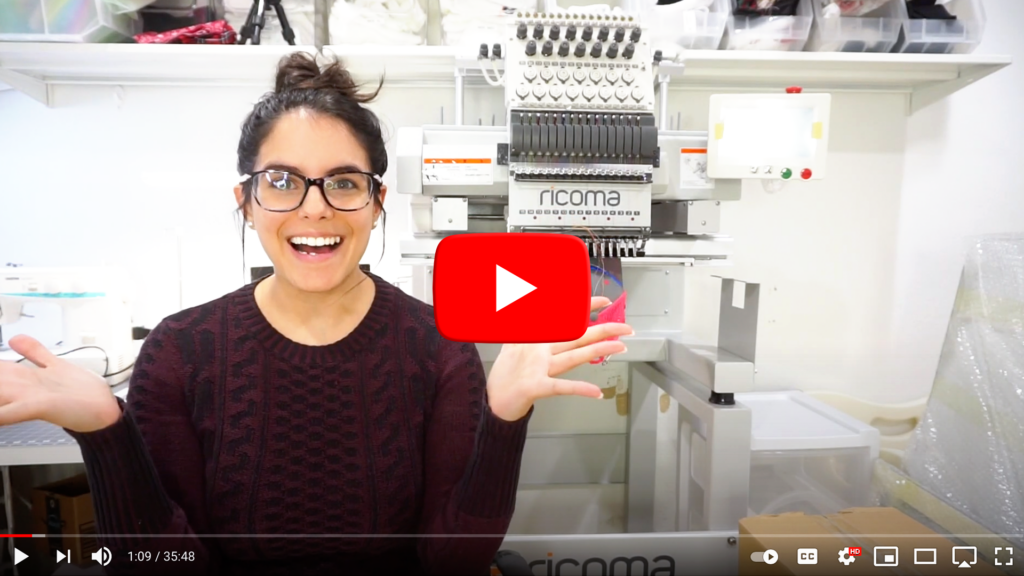 Because of these reasons, YouTuber LittleAlessiaCo, opted for a multi-needle machine to run her Etsy business due to the larger embroidery area, the embroidery speed and the increase in needles. Click above to watch her unboxing her multi-needle machine!
Reason #2: Increase Your Embroidery Potential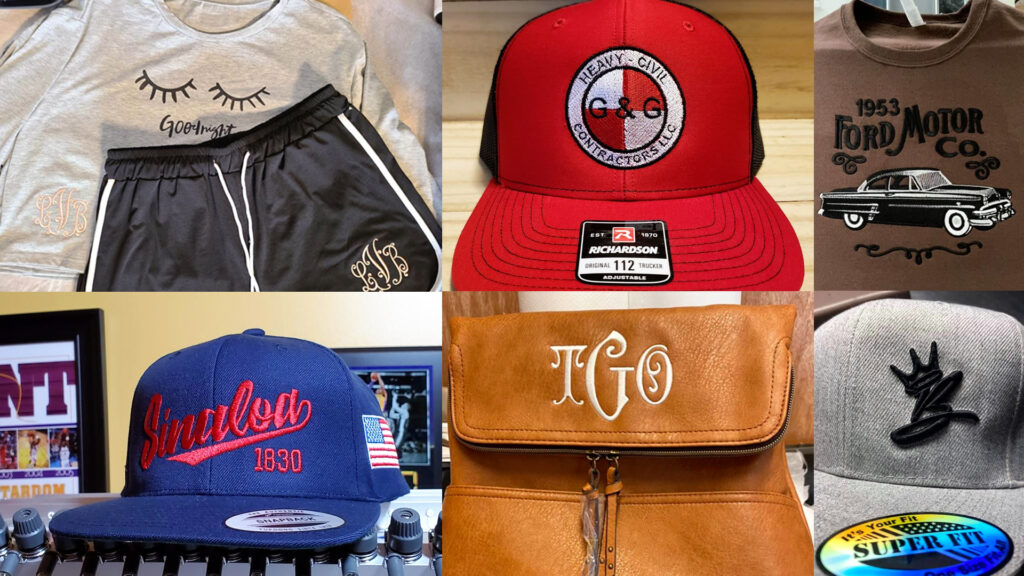 When it comes to single-needles versus multi-needles, multi-needle embroidery machines win hands-down when it comes to the types of items you can embroider.
If you want to embroider many different types of items and not be limited, your machine must be tubular. The term tubular means the machine has a slim, free-standing arm that allows you to insert non-flat items into the machine.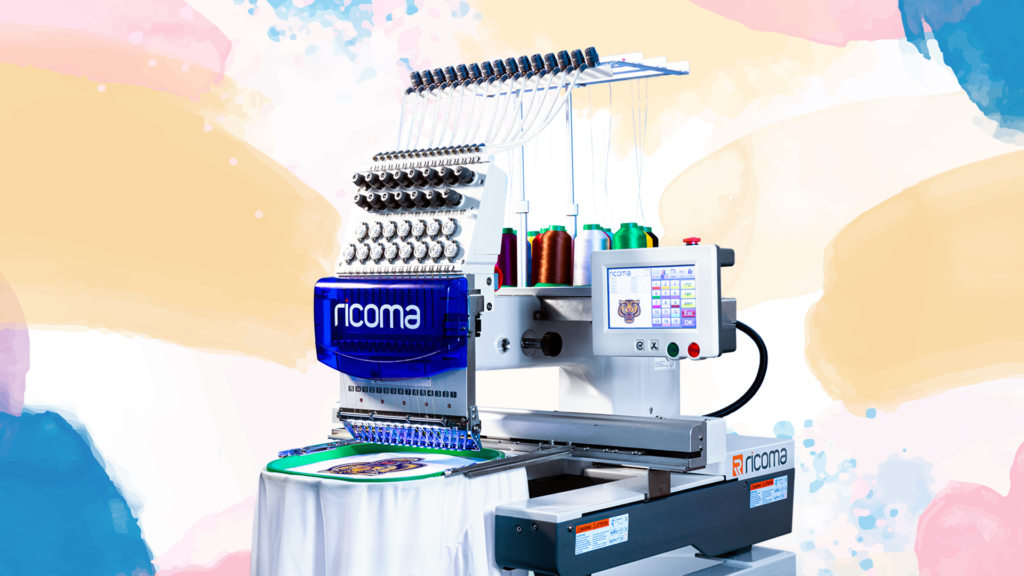 Multi-needle machines are considered tubular machines because they have this arm, and without them, you would not be able to embroider tubular items like hats, shoes, bags, sleeves, pant legs, and so much more – or else you'd embroider through the other side of the garment!
On the other hand, most single-needle machines have a flat bed that only gives you enough space to embroider smaller, flatter garments like t-shirts or non-tubular items.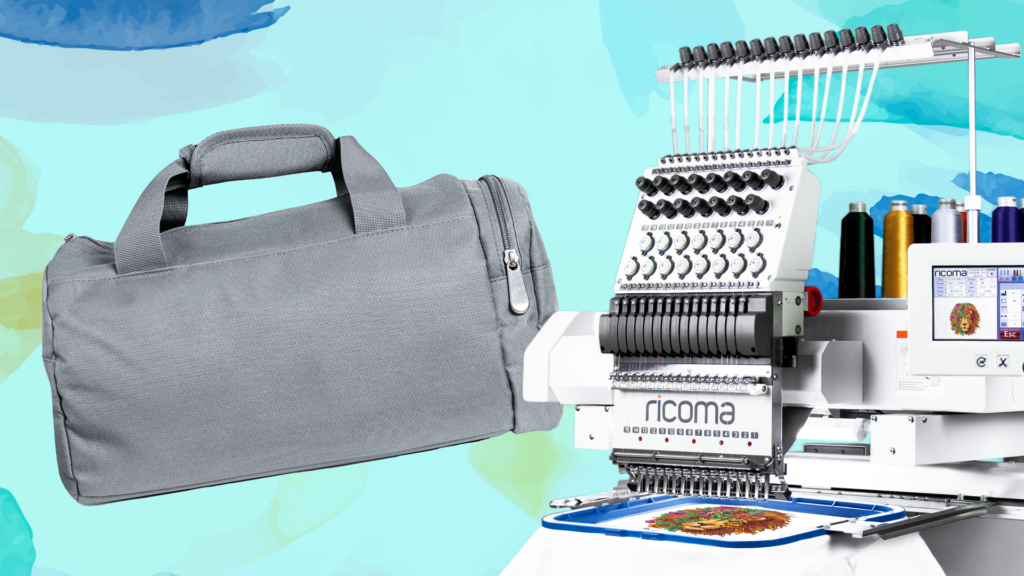 Multi-needle machines also have more clearance under the head, so that you can embroider bulky items like duffle bags and more.
And let's not forget about all the accessories you can add to a multi-needle machine that you can't add to a single-needle.
For example, Ricoma multi-needle machines all come with attachments that single-needle machines can't support like cap attachments, for example.
Other accessories like the robot frame and GEN 2 cap hoop allow you to embroider shoes, caps, and much more. Embroidering these items would be impossible or too challenging on a single-needle embroidery machine.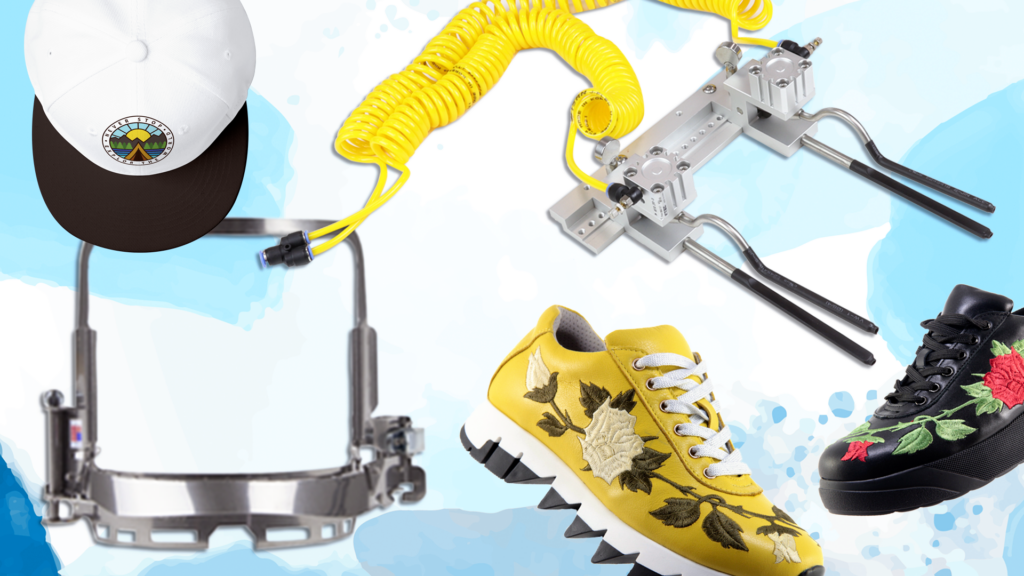 Curious to see the next generation Ricoma machine? Click here to view information on our newest machine model!
Reason #3: Embroiders Larger And More Colorful Designs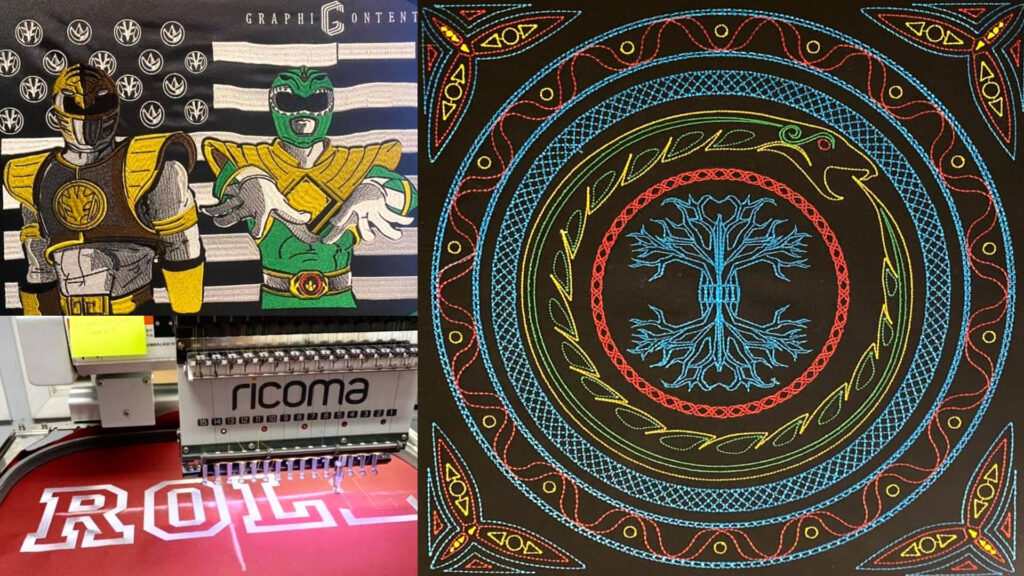 Why be limited to smaller designs with only a few colors when you can embroider large multi-colored designs onto bigger items like jacket backs, dresses, and so much more?
Multi-needle machines have a larger embroidery area and more needles, which means they can create larger and more colorful designs than a single-needle.
A typical single-needle machine can have an embroidery area that ranges from 4×4 in to 6×10 in, but multi-needles can go even bigger.
In fact, Ricoma multi-needle machines range from 12 x 8 inches all the way up to 32 x 20 inches! (And even larger with the extended sash frame).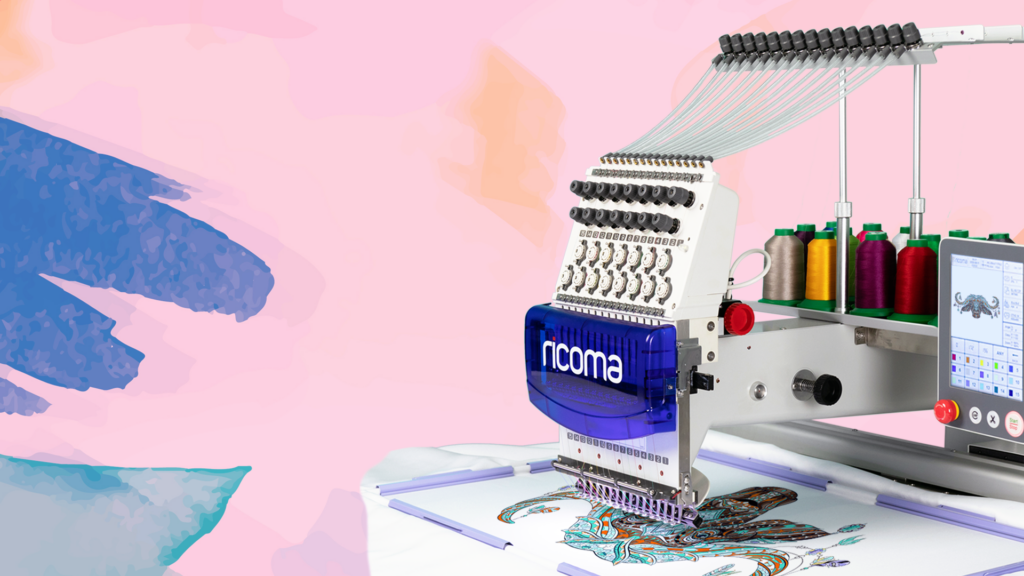 That means that with a single-needle, if your design is larger than the embroidery area, you would have to hoop the garment twice or more to embroider different parts on the same garment!
Also, Ricoma multi-needle embroidery machines support devices that can attach sequins, create boring holes and cording on your designs.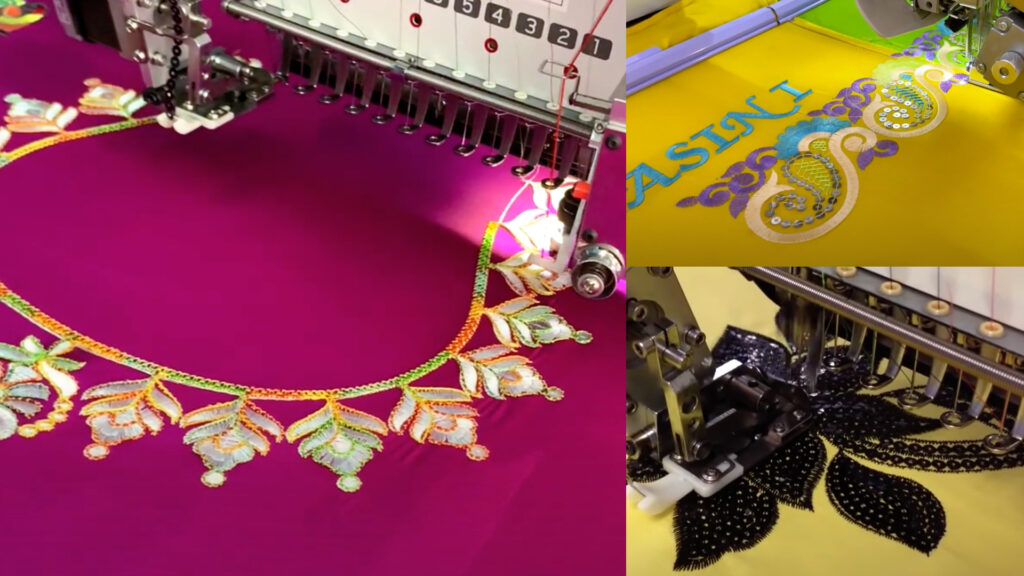 You won't find unique design customization like this available to you on single-needle machines. In essence, the sky's the limit when it comes to embroidering designs on a multi-needle machine.
Looking for a machine that can support a full fleet of colors and large designs? Ricoma's 20-needle machine is just the machine you need! Click here to learn more about the all-new MT 8S!
Reason #4: Great For Beginners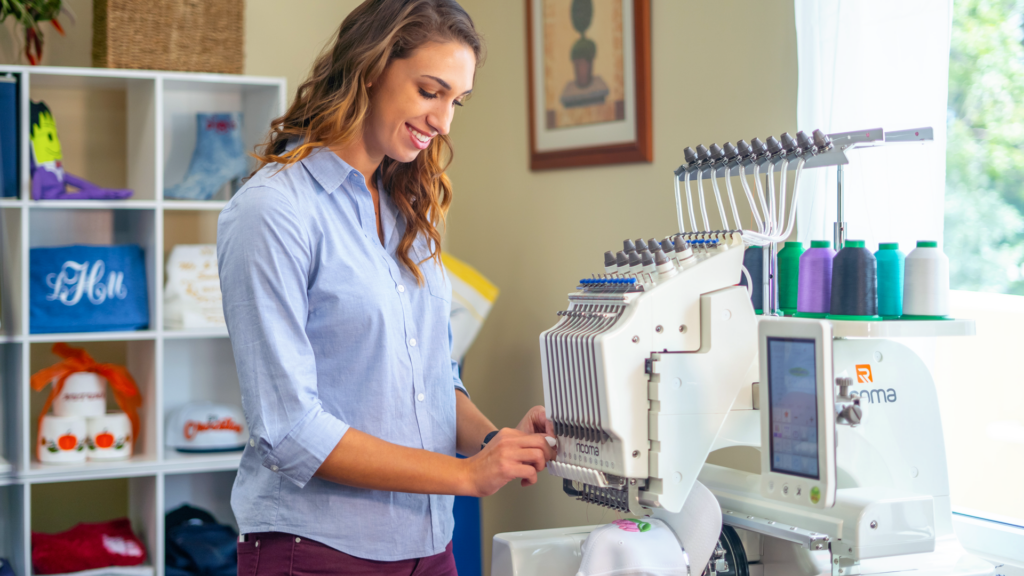 Contrary to popular belief, multi-needle machines are arguably easier to learn than their single-needle counterparts.
Why?
Imagine having no sewing or embroidery experience and then visiting a craft store to choose your first machine or order it online.
Next you receive the machine and are typically stuck with a manual and left to your own devices to teach yourself how to use it. Unless sewing or embroidery is in your family, then for beginners, this process is typically stressful, leaving a lot of single-needle machines sitting in a dark corner collecting dust.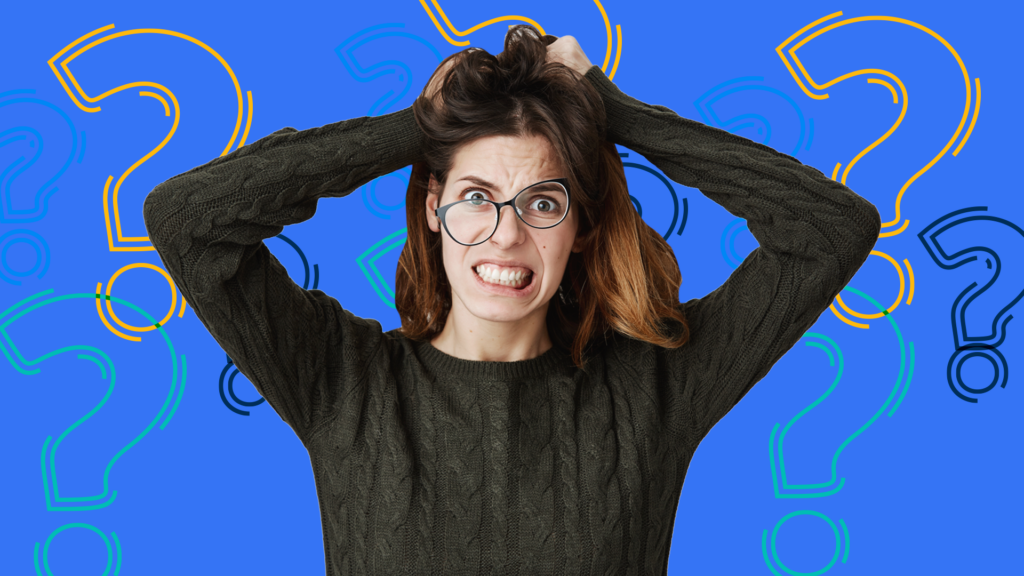 With multi-needles, however, especially from Ricoma, you're provided free pre-training videos and quizzes followed by free hands-on training, access to support groups and other online videos and lifetime support 7 days a week and after hours.
Did we mention this was all free?
So, as mentioned, if you're trying to learn a new craft or want to potentially sell your items for profit, nothing is better than free training and support.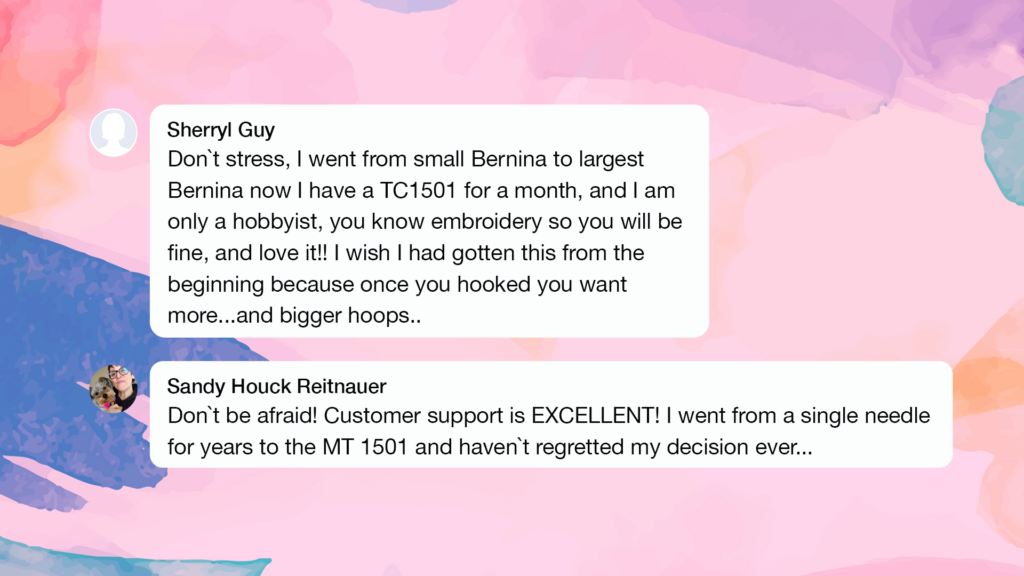 Reason #5: Gives You The Best Bang For Your Buck!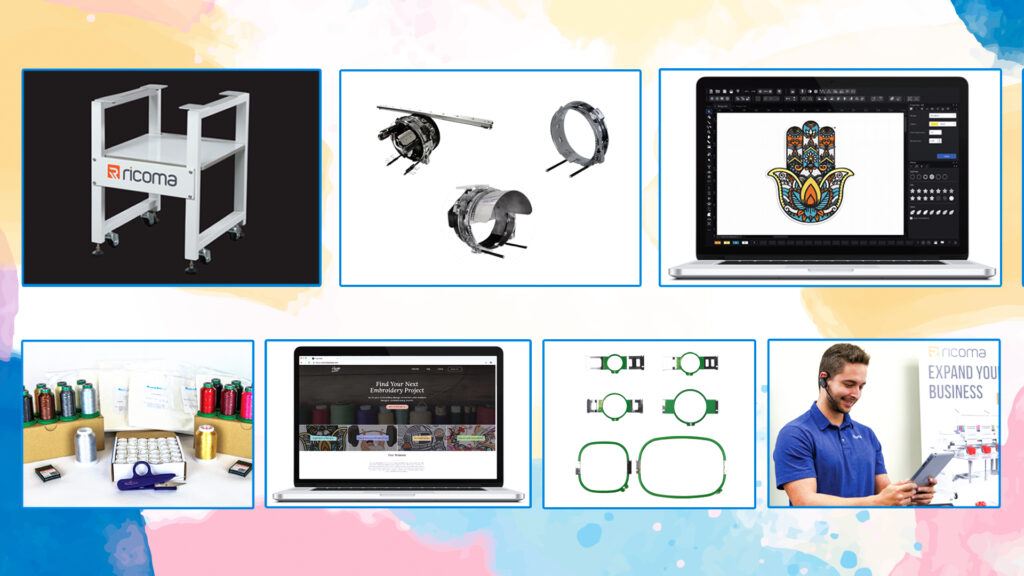 When you purchase a single-needle embroidery machine, you usually don't get everything you need right out of the box. But with Ricoma's multi-needle embroidery machines, you'll get all the supplies you need to start embroidering right away.
What's included
Ricoma machines come with:
A starter kit complete with stabilizer, bobbin, thread, and needles
Various size hoops
A supportive metal stand
A cap attachment for cap embroidery
Three-month subscription to HoopMade's embroidery design library
Chroma professional digitizing software
Free training
Free support 7 days a week and after hours for the lifetime of your machine
And so much more!
These supplies and accessories aren't usually included with single-needle machines, making multi-needles an excellent value for the price and convenient since you don't have to buy everything separately.
Affordable monthly payments
Keep in mind that not all multi-needle machines are alike. Not all companies offer the same training, support, add-ons and accessories. In fact, some companies charge you extra for add-ons and software and make you pay for additional support.
But at Ricoma, we've conveniently bundled everything you'll need in one embroidery package that we offer for low monthly payments starting at only $130/month with 0% financing. That means that you won't pay any interest and don't need a down payment to own your machine.
In fact, most embroiderers are able to cover their entire monthly payment with just one small order, making Ricoma machines one of the most affordable machines in the market!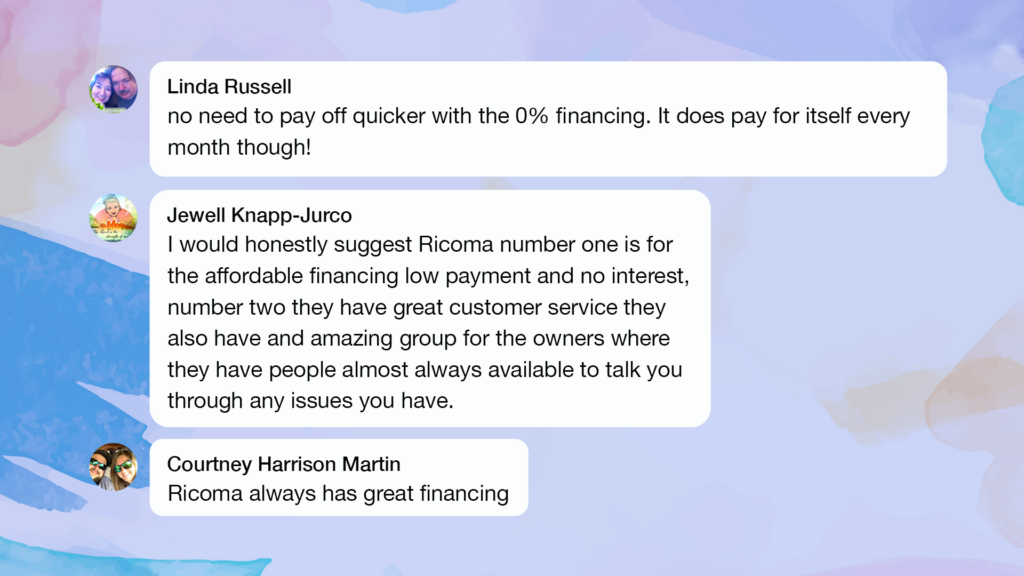 Bonus: Why the MT-8S is the Multi-Needle Machine You Need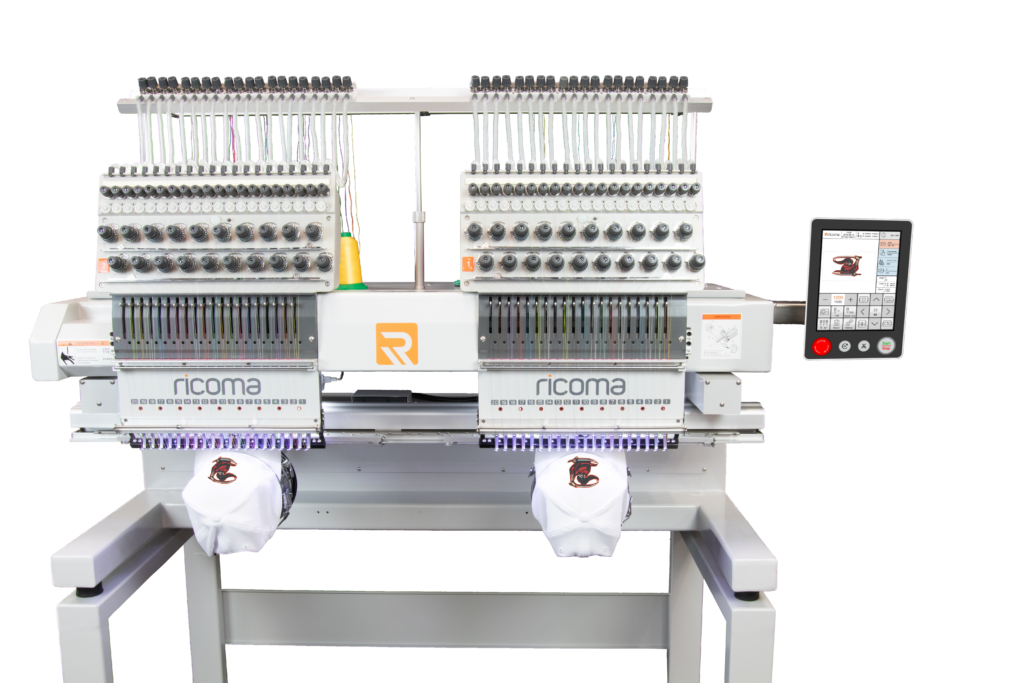 If you're now ready to invest in a multi-needle machine, you don't have to look much further than the MT-8S, Ricoma's brand new machine series!
The 20-Needle Embroidery Giant
As mentioned throughout this blog, more needle options give you the flexibility to embroider bigger and better things.
Now imagine having 20 needles to work with! That's the advantage the new MT-8S series gives you.
Flexible Multi-head Options
On top of being one of the only 20-needle commercial machines in the US market, the MT-8S series comes in a 1, 2 and 3-head model, which is Ricoma's very first 3-head machine release!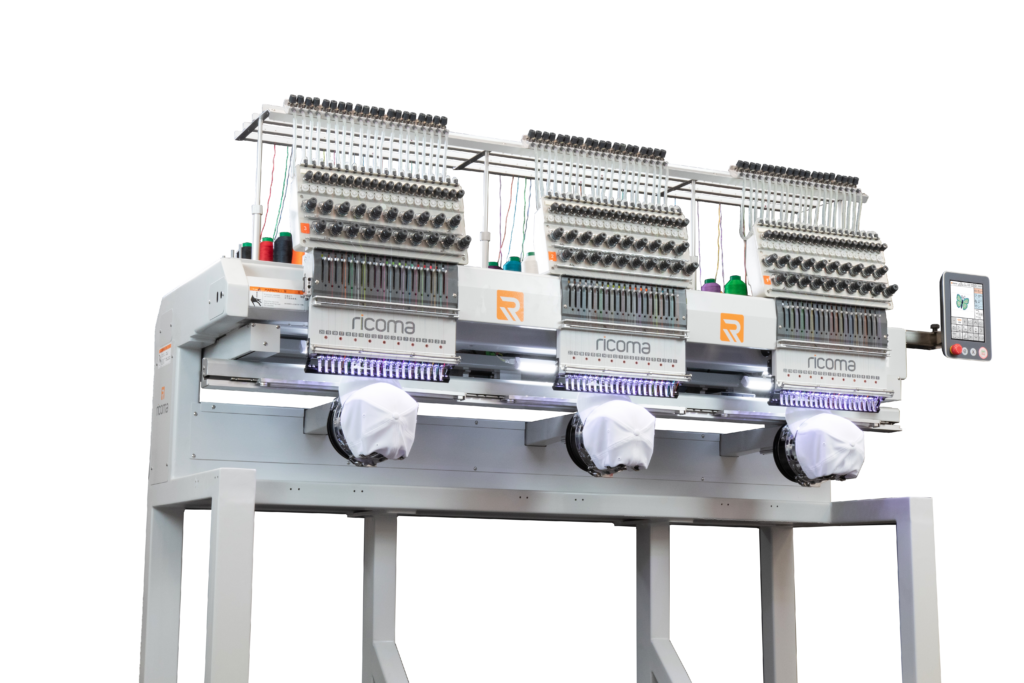 Having these options help businesses increase their productivity with multi-heads if needed, but still allows small-scale embroiders to have the option of just one head.
Innovative Control Panel
In addition to the MT-8S being the ideal multi-needle machine with its flexible 20-needle design, you will also have access to Ricoma's most advanced embroidery machine control panel.
Our 8" high-definition control panel, known as the 8S panel, is Wi-Fi capable, can auto-digitize portrait embroidery and more!
You can learn all about these incredible control panel functions in part two of this blog series: "The Future of Machine Embroidery + the New Machine Your Business Needs."
And if you're excited to learn more about our game-changing new embroidery machine, click here to explore all the amazing features the MT-8S has to offer!
Bottom Line
At the end of the day, single-needle embroidery machines just don't have the same capabilities as multi-needles and most embroiderers quickly outgrow them.
They save you time with their larger embroidery area, faster speeds, and multiple needles. You're also able to embroider larger and more colorful designs on a variety of items. Not to mention that the learning curve is much less, especially when the training and support are included free with your purchase.
If you're ready to start your embroidery craft, upgrade from your single-needle to a multi-needle or grow your craft into a business, then click here to see Ricoma's lineup of multi-needle embroidery machines.
Ultimate Embroidery Cheat Sheet: 50 Popular Fabrics & How-To Embroider Them for Best Quality
Did you know that you can improve the quality of your embroidery no matter which fabric you're embroidering on?
To guarantee your embroidery success, we've put together a cheat sheet of 50 of the most popular fabrics used for embroidery and the combination of materials that you'll need to give you the best possible results for your projects.