Not to be confused with trade shows, craft shows are where artists and makers display and sell their handmade goods. Whether it be at farmers markets, food and art festivals, county fairs or church bazaars, there's a place for embroidered goods at all kinds of craft shows.
If you don't have a storefront, you'll probably need to attend a few craft fairs in your community to start making a name for yourself and boost sales. Before getting started, follow these seven tips to maximize your craft show efforts and ensure you're well prepared for the event!
#1: Do your research
While purchasing a booth at a small craft show is generally inexpensive, craft show costs can still add up. Therefore, it's important to do your research to make sure the show is worth your investment.
If you're on the lookout for good craft shows to attend…
Try connecting with other crafters in your area to find out what shows they recommend. If you don't know any crafters personally, you can simply turn to Facebook support groups to ask for recommendations.
If you're interested in a specific show…
Ask the event's host to provide you with the show's demographics beforehand. That way, you can determine if it's a good fit and bring work that appeals to the show's attendees.
Pro tip: Whether you're interested in a specific show or are looking for recommendations, it never hurts to ask your peers for advice. Specialized embroidery groups, like Embroidery and Custom Apparel Mastery, will help provide you with an embroiderer's perspective.
#2: Keep the season in mind
Timeless pieces like kitchen and bath towels are a must, but you should also keep the season in mind.
If the fair is during spring or summer…
Many craft fairs take place in the warmer months, so you may want to decorate items such as beach towels or back-to-school items like pencil pouches, backpacks and more.
If the fair is during fall or winter…
On the other hand, if you're selling in the fall and winter seasons, carry plenty of holiday apparel, gifts and décor.
Pro tip: You can embroider almost anything as long as you can hoop it and get it flat. For more embroidery ideas, click here to see a list of 101 items you can embroider.
#3: Stock up on inventory
Many embroiderers go to craft shows expecting to get most of their sales from custom orders. While you'll definitely score custom orders from some booth attendees, you'll also want to draw audiences to your booth with a wide range of offerings.
The great thing about selling embroidery at craft shows is that it's lightweight and easy-to-pack. You can pack and transport embroidered goods in plastic bins without compromising quality, unlike other arts and crafts that may be harder to pack and heavier to carry.
Pro tip: Wholesale apparel can run as low as $2 per piece when you buy in bulk.
#4: Bring a sample book
Fliers and business cards are absolutely necessary, but you may also want to take the time to create a physical portfolio of your work.
Sure; you can direct someone to your Facebook or Instagram page to see more of your work (and you certainly should), but having a physical sample book allows potential customers to stay near you during the festival, decreasing the chance of them walking away and spending their money at another booth before they get a chance to check out your full range of services.
Pro tip: You can take your sample book to the next level by displaying both images and stitch-outs, so customers can see the embroidery quality.
#5: Be prepared to accept credit cards
Most of today's shoppers rely on cards, but luckily, you can easily install a credit card reader on your smart phone or tablet.
You can find a variety of credit card readers designed to integrate with popular apps and sites like Shopify, Squareup and PayPal. Click here for more information on purchasing the right credit card reader for you.
Pro tip: If you don't have the budget for a credit card reader at the moment, make sure you have accounts on mobile payment service apps like Square Cash (Cash App) and Venmo.
#6: Bring supplies and designs you can embroider on the spot
It goes without saying that you must create an eye-catching display, but nothing catches more attention than an embroidery machine humming along! In fact, part of the reason why people attend craft fairs is to watch local artists in action.
Come prepared with a library of designs that you can quickly embroider, such as monograms (and make sure you have several monogram fonts for each letter of the alphabet).
Pro tip: Running your machine at the show will surely increase sales, but you'll need a helper to tend to customers while you're running the machine. If a customer asks for a larger piece embroidered, be prepared to take their order and give them an accurate price and turnaround time estimate. Click here to learn how to price your items like a pro.
#7: Offer discounts and freebies!
Don't miss your opportunity to turn booth attendees into customers with discounts and freebies.
Show specials
Get visitors to place their orders at the show with discounted prices only available on the day of the show.
Freebies
Before the event, prepare freebies you can give away in exchange for contact info and a follow. This will help grow your contact list and your social media accounts and give potential customers something physical and of value to remember you by.
In-the-hoop key chains are useful freebies that are inexpensive and easy-to-stitch. Embroider your company name and number on the back of the keychain, so they'll remember where to find you.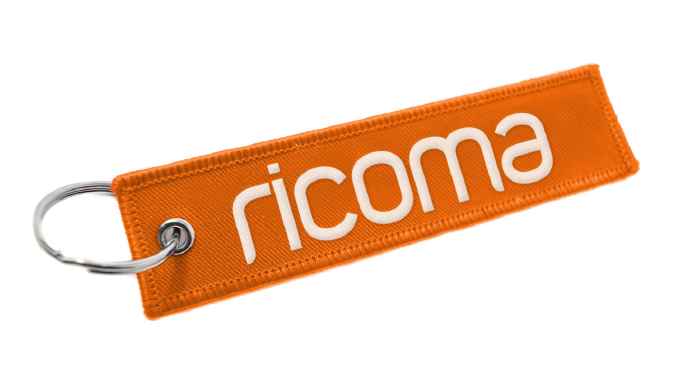 Pro tip: Multi-needle machines are compatible with large embroidery frames that allow you to run multiple designs at once. That way, you can quickly prepare key chains, patches and more without having to insert a new hoop for each design. If you want to see how it works for yourself, click here to schedule a free virtual demo.
What's next?
If you're looking for embroidery craft shows in your area, you can get started by searching through the Art & Craft Show Yellow Pages or Festival Net.
If you're planning on bringing your embroidery machine to a craft show, make sure your machine can keep up with the demand.
Embroiderers with multi-needles have an advantage at craft shows since multi-needles are portable yet efficient enough to embroider multi-colored designs on the spot.
If you're still new to embroidery, you can watch a multi-needle in action during a live virtual demo. In it, you can chat with an embroidery specialist and watch the embroidery process from start to finish. Click here to schedule a free virtual demo today.
Want to see one of our machines in action?
Schedule a free virtual demo if you want to see any of our machines in action. In it, you can ask any questions you have about the industry and see exactly how to start and run an embroidery project in real time.