In the custom apparel industry, there are a variety of decorated apparel methods you can choose from.
If you've considered starting or expanding your business, you may have come across different methods that are used by decorators everywhere.
Determining which method is right for your business is the tricky part.
To make it easier, we've broken down five different decorated apparel methods to help you decide which method would be the perfect addition to your portfolio:
You may be surprised to find out that the method you were looking into, may not be the right fit for your business! Read on to find out why!
#1: DTG (Direct-to-Garment)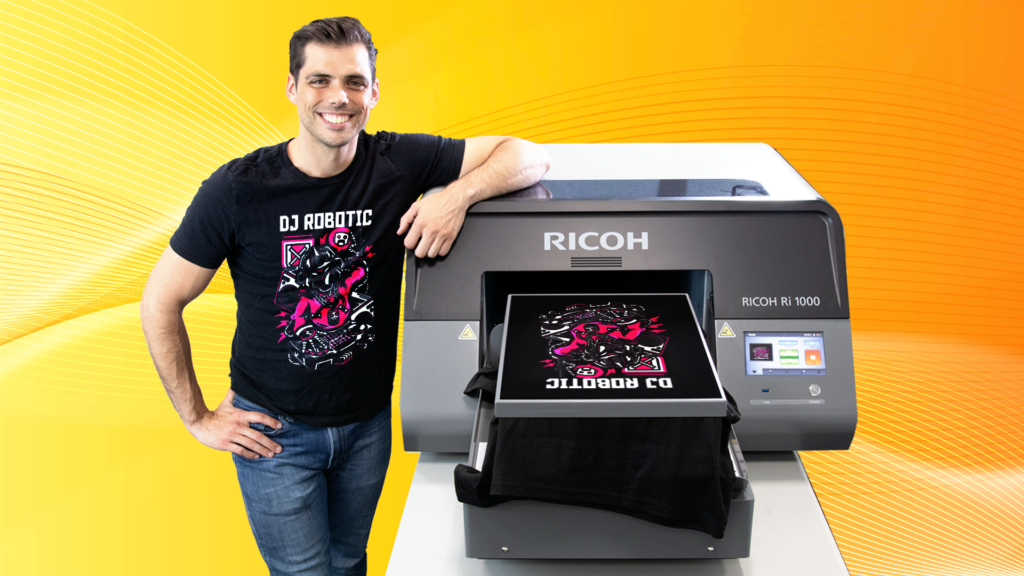 DTG, or direct-to-garment, has become one of the industry's most popular printing methods.
With an easy and quick setup time, embroiderers are beginning to expand their businesses to include DTG.
So, what exactly is DTG?
DTG is a direct-to-garment printing method that uses a printer and special inkjet technology to print your design directly on a piece of fabric. These machines use ink to print high-quality designs on the fabric, much like your home printer does on paper!
Since the water-based ink is absorbed by the fibers in the fabric, DTG printed designs tend to last longer, through multiple washes.
Find out just how many wash cycles it can go through by watching this Apparel Academy episode!
DTG machines are also able to print on a wide variety of items, such as:
T-shirts
Hoodies
Sweatshirts
And more!
Watch us make full-color, high-resolution DTG hoodies with the Ricoh Ri 1000 in this episode of Print Pros.
This method is a favorite of many decorators because direct-to-garment printing allows you to print full-color, high-resolution graphics directly onto your garment with very little set up making it quick and easy to produce small orders on demand.
Once the garment is pre-treated and the design is loaded onto the printer, DTG printing is as simple as placing the garment in the machine and pressing start. In just minutes your blank garments will be transformed into a colorful and long-lasting graphic tees and hoodies.
See the process for yourself in this episode of Print Pros where we walk you through each step of printing a large design on a T-shirt.
Which business is it best for?
This is a great printing method for decorators who are looking to start or expand their custom apparel business.
For example, if any customer wants to place orders with large designs, DTG is a good option to be able to offer and not risk having to turn the customer away.
Why?
Large designs take a lot of filling and with DTG all fill spots are covered quickly in one print job. With embroidery, a high amount of stitches and colors will take a lot of time to fill in the whole area.
With DTG, you are able to pump out a large number of T-shirts with very intricate designs, fairly quickly. Your turnaround time is much shorter and you will have more time to handle other administrative aspects of your business, such as payroll or marketing.
For decorators who are a one-man show, DTG will save you time and money because the machine is easy to maintain and costs are minimal compared to other printing methods.
If you'd like to learn more about the Ricoh Ri 1000 DTG printer and the all-inclusive package we offer click here.
#2: Screen printing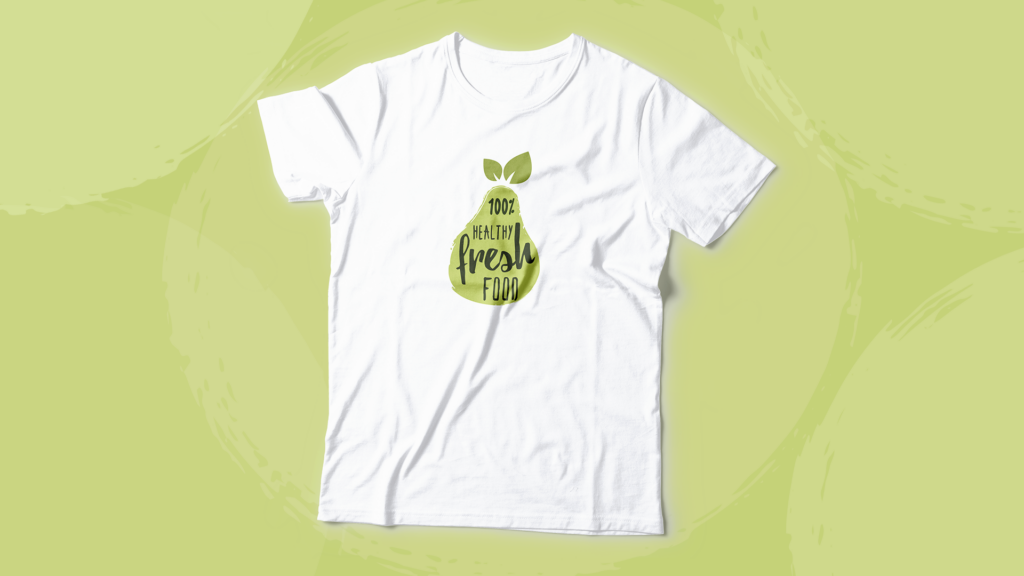 Most decorators in the industry are aware of or have heard of screen printing.
This is one of the more traditional forms of printing on fabrics and is definitely more of a hands-on job.
Screen printing is a direct form of fabric printing, but unlike the DTG printer, there are various elements that go into getting the design on the fabric.
In order to get the design on the fabric, there is some labor and materials involved in the process. At the minimum, you will need:
A mesh screen
A stencil of your design, made from nylon fabric
Ink
A wooden squeegee
UV light
In short, to get the design on the fabric, you have to physically push ink through a mesh screen/stencil, with the wooden squeegee. The ink will fill the open holes in the mesh and get pushed back into the garment.
This doesn't even account for the time it takes to create the design on a stencil, expose it to UV light, and let it harden!
We recommend keeping the designs simple so that you only have to worry about using one stencil for one piece of garment.
It will also save you time and money. You can find more time-saving tips, that could relate to any custom apparel business, by reading this blog!
Also, depending on whether you choose to do manual screen printing or purchase an automatic machine, you have to make sure you have enough space. If you're working in a small garage, a large machine with multiple stations may not be an efficient use of space.
Which business is it best for?
If you are a custom apparel business that receives large orders of simple, solid color designs, screen printing is a great way to pump out these orders, reduce costs, and increase profit potential.
Keeping the design simple is key with screen printing.
While you can have as many colors as you want in your design, you have to be aware that each color requires its own screen. If you have seven colors in the design, you need seven screens.
You have to consider for the example above, that you need to have seven screens available. If you don't have the color available, you will have to purchase it, and that's a minimum of $25 per color.
Then you have to charge the customer for each additional color, which could range from $0.75-$1 each.
The more intricate it is, the more stencils you will need to create, thus increasing time and costs.
Automatic screen printers are also limited to about eight colors at a time, so that is something to keep in mind when accepting a design.
Also, if you want more of a hands-on approach to your work, screen printing is for you.
It is time and labor consuming, but if you have multiple screen printing stations set up and enough materials, you stand to pump out a good number of t-shirts in a day.
Experienced, manual screen printers can do about 100, one-color shirts per hour. In an eight-hour workday, you can do ~800 shirts.
If you have an automatic screen printer, with 12 stations, you can print out ~1,000 per hour. The more stations you have, the higher the volume of shirts you can complete in one workday.
In the world of embroidery, we tested how many caps can be completed in an hour, on a single-head machine. If we had a multi-head setup, we probably could have completed more in one hour!
#3: Heat transfer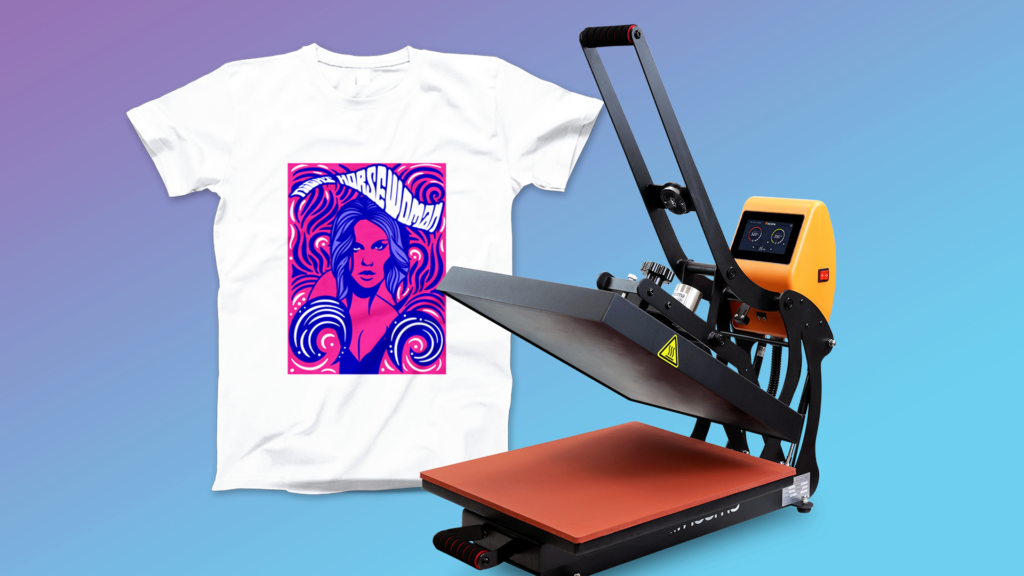 Heat transfer printing entails printing a design on heat-applied paper and transferring it onto the fabric surface via a heat press machine. When completed, you would have applied another layer on top of the fabric you're printing on.
With this printing method, there are two different machines that are required to get the job done:
White-Toner Transfer printer
Heat press
Before getting the design onto the fabric, you have to print the design on a piece of heat-transfer paper, using a transfer printer.
We recommend using the Luminaris 200 White Toner Transfer Printer. Not only can this affordable printer do heat transfer printing, but with its swappable toner system, it can also do regular office printing!
Tip: Make sure that you have enough toner before printing and choose colors that will stand out on your piece of fabric.
The heat-transfer sheet has a heat-sensitive adhesive that, when applied by a heat press, sticks onto the surface of the fabric you're applying it on.
Once you print the design, you can place it on top of the fabric and apply the heat press for the designated amount of time, pressure, and temperature.
Check out Ricoma's line of state-of-art, touch-screen, auto-open heat presses right here.
When finished, you will have another thin layer of material on top of your fabric, which is your design. It does not get absorbed into the fabric which is why it is important to apply it correctly so that it does not peel off.
If done correctly, you should have a clear, good-quality design on your fabric.
Which business is it best for?
Similar to DTG printing, this type of printing method is good for people who are looking to start their own apparel decorating business.
It is also good for someone who doesn't have a lot of space. A heat press and a white toner transfer printer can easily fit in a standard room in an office or house.
Since it is quite a simple method to learn and there are not that many steps involved, it is a great beginner's route.
Click here to watch the Ricoma Flat Heat Press in action.
Also, when you're starting a custom apparel business, you have to take into account any upfront costs. To make sure you're making the most cost-effective choice for your business, contact one of our product specialists who can provide you with resources and tips for getting started.
Compared to other printing methods, heat transfer is considered one of the more cost-effective options.
If you'd like to learn more about the Luminaris 200 White Toner Transfer Printer + Heat Press Bundles we offer, click here.
#4: Sublimation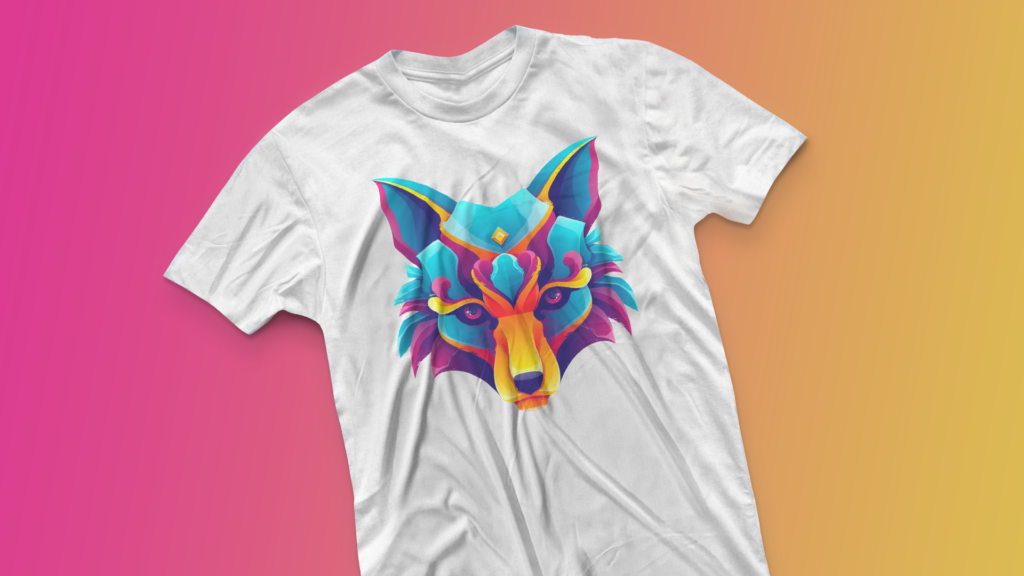 Sublimation is similar to the heat transfer process in the sense that heat is needed to adhere the design to the fabric.
But the overall process is different.
In the sublimation process, you are printing a design on a sublimation transfer paper and using special sublimation ink in your printer.
Here is where the cool part comes in…
When placed onto the heat press, the transfer paper and ink are exposed to the high temperatures of the machine, and the ink is turned from a solid to a gas!
This is how the dye is able to penetrate and get absorbed by the fabric.
To finish the process, the dye will return to its solid state after cooling and will remain permanently on the fabric.
While heat transfer results in adding another layer on top of your fabric, the dye used in the sublimation process becomes a part of the fabric, rather than another layer that you can feel or even peel off after lots of washes.
Want to learn more? Make sure to watch this episode of Apparel Academy where we dive into the differences between heat transfer and sublimation.
Which business is it best for?
This printing method can definitely be a good starting point for a beginner decorator, but the one downfall is that it is more costly than the heat transfer method.
While both printing methods use a heat press, the difference in price is the ink and toner. Sublimation ink can cost about $20 per bottle and buying sets of multiple colors can cost around $115 as opposed to toner that is much more affordable.
Established custom apparel business owners may have the upfront capital they need to invest in the materials and equipment for the sublimation method.
That's why we recommend this printing method to someone who already has a small, established custom apparel business.
If you're a custom apparel business owner that is considering expanding your services, check out the three rules you need to live by to maintain a strong foundation!
Sublimation is also ideal for businesses that make shirts that people will wear for a long time and can hold up longer. The end product with sublimation will always be of higher quality than heat transfer.
Heat transfer shirts will still hold, but if you mostly do shirts that people won't wear as much, such as event tees, then you don't need to invest in the higher quality.
Another thing on their side: they tend to offer one to two different services and have more time to take on another type of decorating method.
#5: Embroidery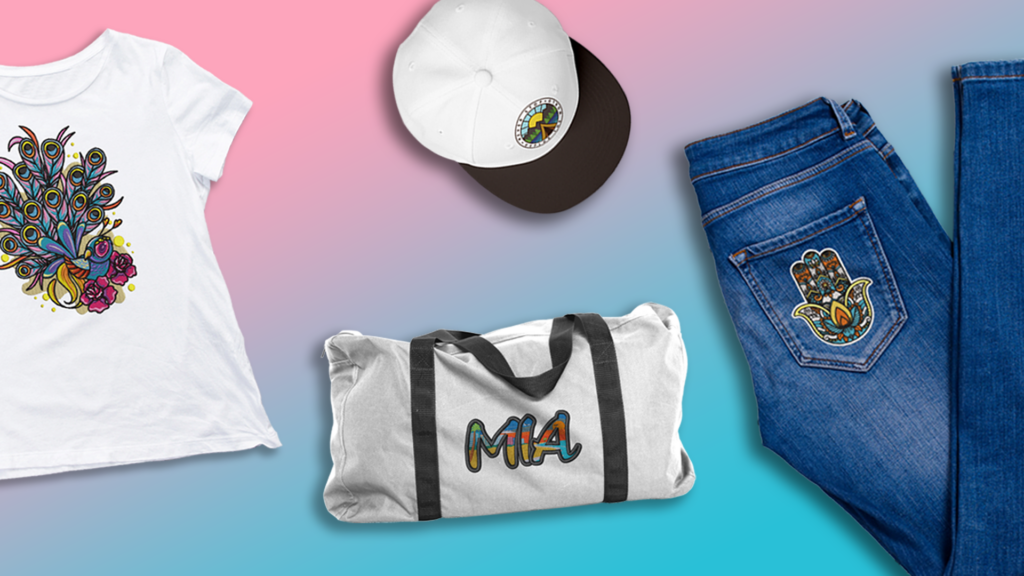 Embroidery is considered one of the most popular and sought-after services in the decorated apparel business.
It is a method in which you can decorate on the largest variety of materials and fabrics, including:
Cotton
Polyester
Leather
Denim
Mesh
Silk
Satin
And more!
We've completed projects on all these materials on Ricoma's YouTube channel and you can watch them all here.
For this blog, we are focusing on machine embroidery, rather than hand embroidery. But the concept of the two remains the same.
Want a full beginner's guide to machine embroidery? Click here!
Embroidery machines automatically create the design on the chosen fabric. Compared to hand embroidery, the stitching is more consistent, neat, and completed easier and faster than if done manually.
These machines come in a variety of forms. Hobbyists most likely own a single-head, 10-needle machine, since they probably don't get as many orders as a full embroidery business. A great starter machine is Ricoma's EM-1010, which can be purchased with no money down, low monthly payments, and 0% financing!
To determine which machine is right for your business, take a look at your budget, volume of orders, and intricacy of designs.
If you'd like help in deciding which embroidery machine is best for you and your business, click here to be connected with our embroidery specialists.
If you have a full-time embroidery business, depending on the volume of your orders, you may benefit from investing in a multi-head machine. Also, if you learn how to price your embroidery work efficiently, you can increase your profit potential exponentially!
Want to see our multi-head machine embroider some of the toughest caps on the market? Click here.
Take loyal Ricoma customer, Rob Walker. Once he saw the sheer number of orders coming in from his customers, he knew he couldn't keep up with just one or two heads.
He expanded to a six-head Ricoma embroidery machine so he can ensure a quick turnaround and smoother production process. You can learn more about his experience by watching this video!
Which business is it best for?
Much like the other methods mentioned above, an embroidery business can be started by anyone. Most of the time, those who start their own embroidery business either are already in the custom apparel industry or do embroidery as a hobby.
If you already own a custom apparel business and are looking to expand to another decorating method, embroidery is definitely a path you can take. The materials and blanks for embroidery are reasonably inexpensive and the upfront cost of any Ricoma machine is $0.
If you need help finding good quality, affordable blanks, here's a list of our top ten favorite blank wholesalers.
Just getting started in the business and working from your home office? With its own stand and compact size, a single-head will fit perfectly. To see the machine running live and how big it is in real-time, you can always request a virtual demo with one of our product specialists!
Before purchasing a multi-head machine, make sure you have the space for it, as these are longer in size and will need pleanty of room to fit.
Bottom Line
At the end of the day, you're not just a decorator…you are a business owner.
Before investing time and money into a printing method that seems like the right fit, do your research.
Take into consideration what other decorators in your position have said, what experts have to say about the method, the products your potential and return customers are looking for, and what benefit it would bring to your business.
Speaking of other decorators, we want to hear from everyone. If you use any of the printing methods we mentioned, share your experience with us! If you haven't incorporated a printing method into your business, are you planning on it?
Leave a comment below or let us know on our Facebook group, Embroidery & Custom Apparel Mastery.
Ultimate Embroidery Cheat Sheet: 50 Popular Fabrics & How-To Embroider Them for Best Quality
Did you know that you can improve the quality of your embroidery no matter which fabric you're embroidering on?
To guarantee your embroidery success, we've put together a cheat sheet of 50 of the most popular fabrics used for embroidery and the combination of materials that you'll need to give you the best possible results for your projects.