Are you ready to take a glimpse into the future of machine embroidery?
Don't worry, we won't ask you to climb into a DeLorean time machine with a mad scientist in order to do that…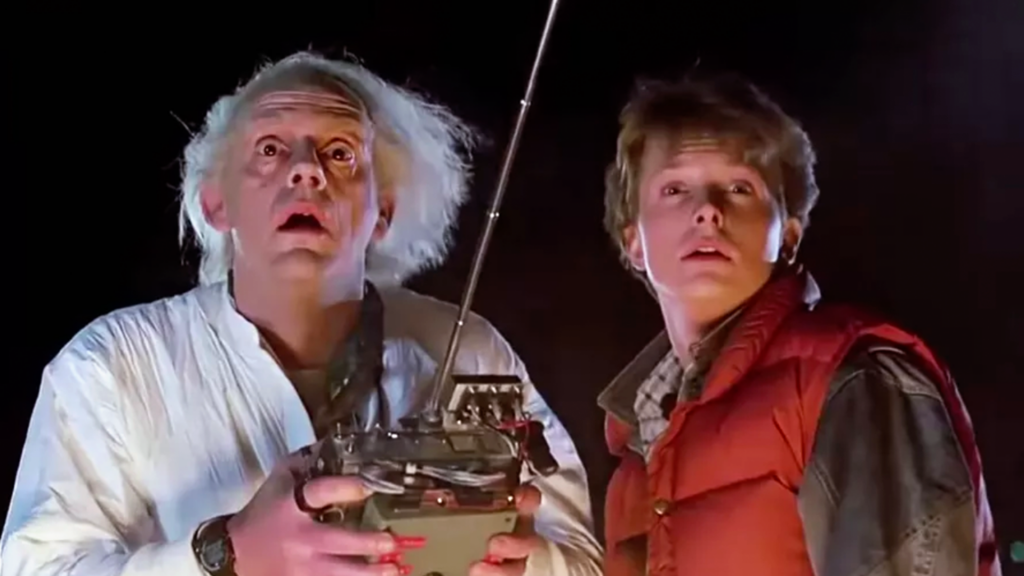 As embroidery experts, we're able to identify the latest trends and foresee the new technology that will undoubtedly change the industry as we know it.
Trends like the rising popularity of multi-needle machines, which we talk about in our previous blog "Top 5 Reasons Why You Need a Multi-Needle Machine – even if you're a beginner," advancements in multi-head machine technology and new machine panel features are all a part of the bigger picture.
The bigger picture being where the embroidery industry is heading and what that means for decorators like you.
Here's a sneak peek of the topics we'll be covering:
We're excited to share our insight on how these trends can help improve your embroidery experience and help your business flourish. So, buckle up and join us on this journey as we head into the future of machine embroidery.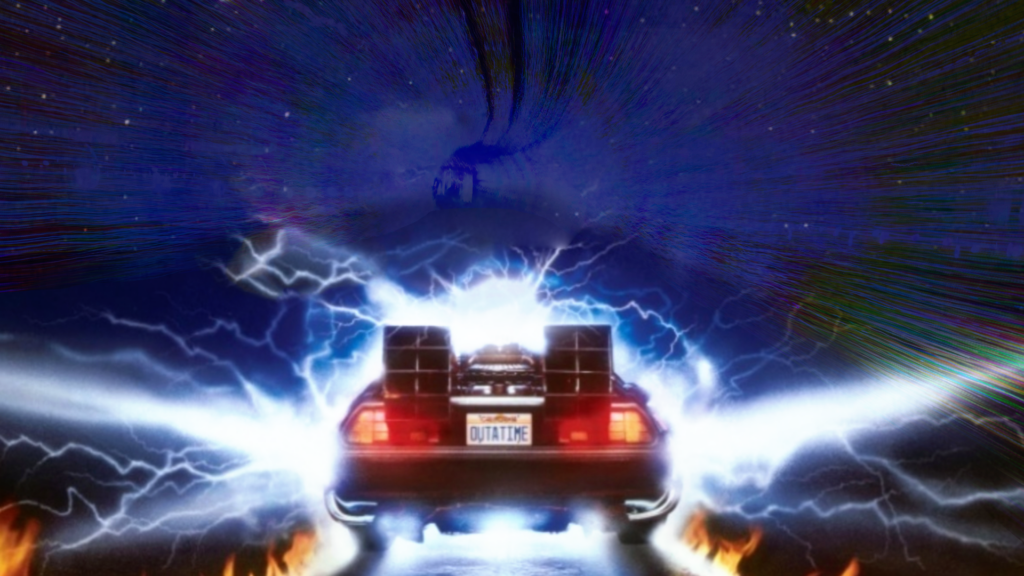 Machines of the Future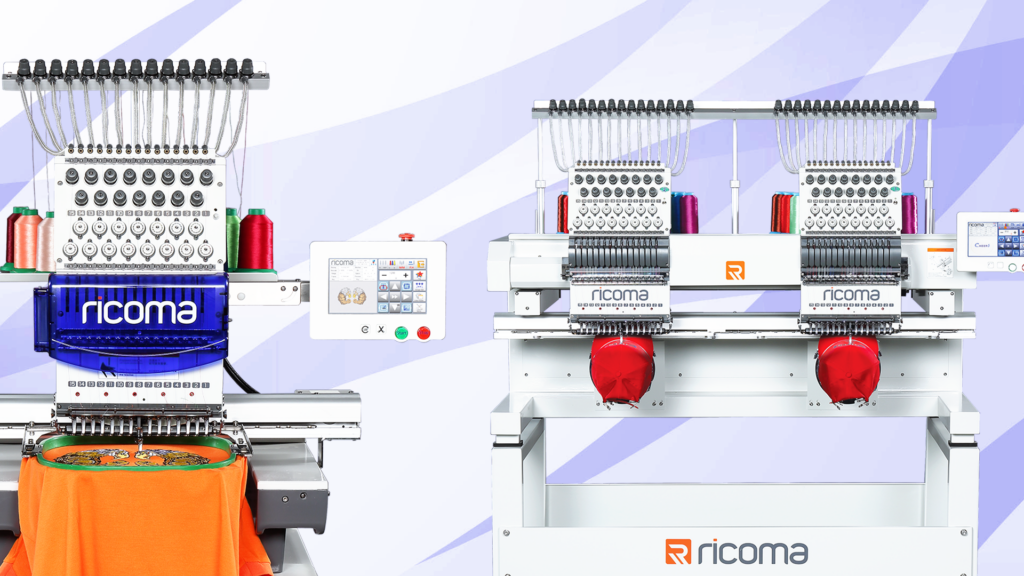 To start, what types of machines actually encompass the future of machine embroidery?
The machines with the latest and greatest advancements that are at the forefront of the embroidery industry are multi-needle machines and multi-head machines. These types of machines help bring in the most profit, increase productivity and enhance the user experience.
How do they do that exactly? Read the sections below to find out.
Why Multi-Needle Machines are Taking Over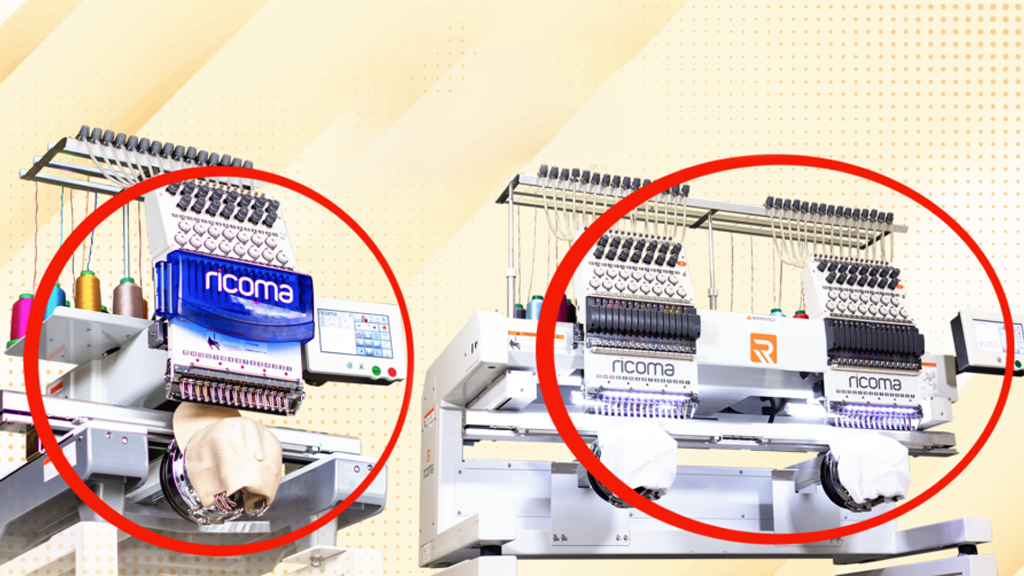 The future of embroidery is looking very promising for multi-needle machines and a little less exciting for single-needle machines.
Over the years, the limitations of single-needle machines in running a business have become apparent, and more and more small business owners are catching on.
You don't just need to take our word for it, you can see the reactions of embroiderers and business owners just like you about upgrading to a multi-needle machine below.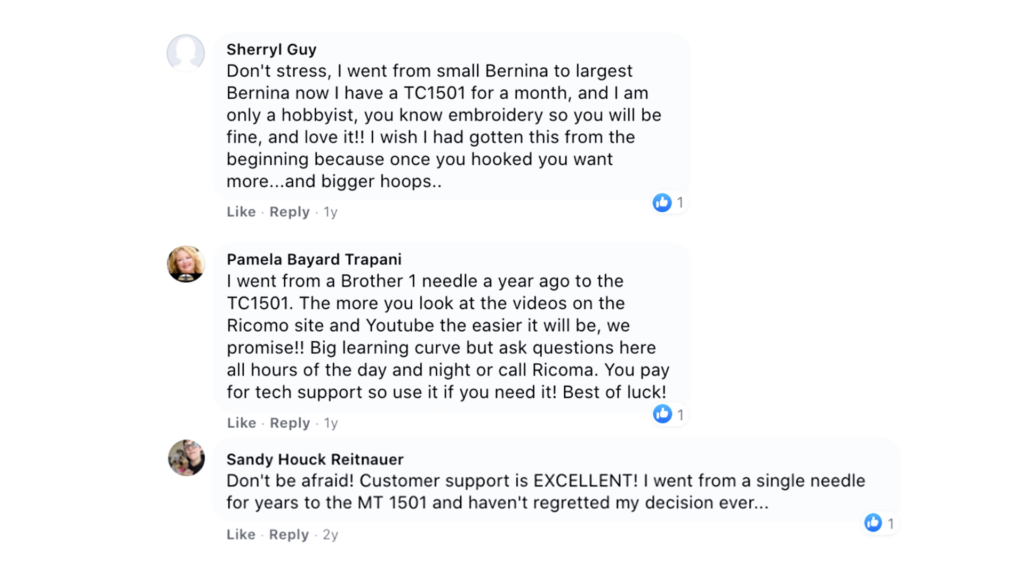 As the comments suggest, multi-needle machines really give you an advantage when embroidering, especially when embroidering for a profit.
With a multi-needle machine, you can embroider multiple colors without having to manually change the thread each time, which saves you time during embroidery.
You can even preset different needles and threads on the needles that you're not utilizing so that when you need to embroider fine details on specialty fabrics, you can simply assign those details to other needles without having to stop your machine.
The more needles you have, the more projects you can prepare for and the more time you will save. That is why a machine like our new MT-2001-8S is such a great option. With 20 needles at your disposal, you can do more than ever before!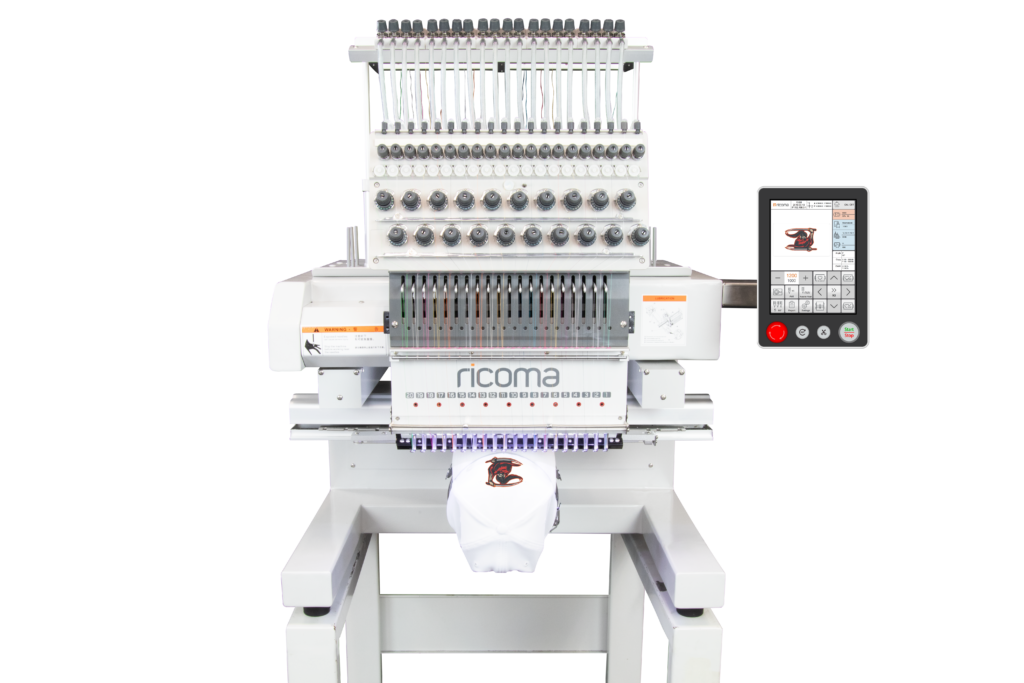 As far as multi-needle machines go, the MT 8S is definitely ahead of the game in providing all the versatility embroiderers need to complete highly-detailed projects.
And finally, multi-needle machines get you the most bang for your buck. With free training included, starter kits filled with supplies, lifetime support and all of the accessories you need to start embroidering right away already included with your purchase, multi-needle machines are no brainers.
Especially when you consider that Ricoma multi-needles start at only $130/month with 0% financing and literally everything included.
If you're looking for the next best multi-needle machine, click here to check out our brand new MT 8S machine series that has a whopping 20 needles for you to work with!
More Heads are Better Than One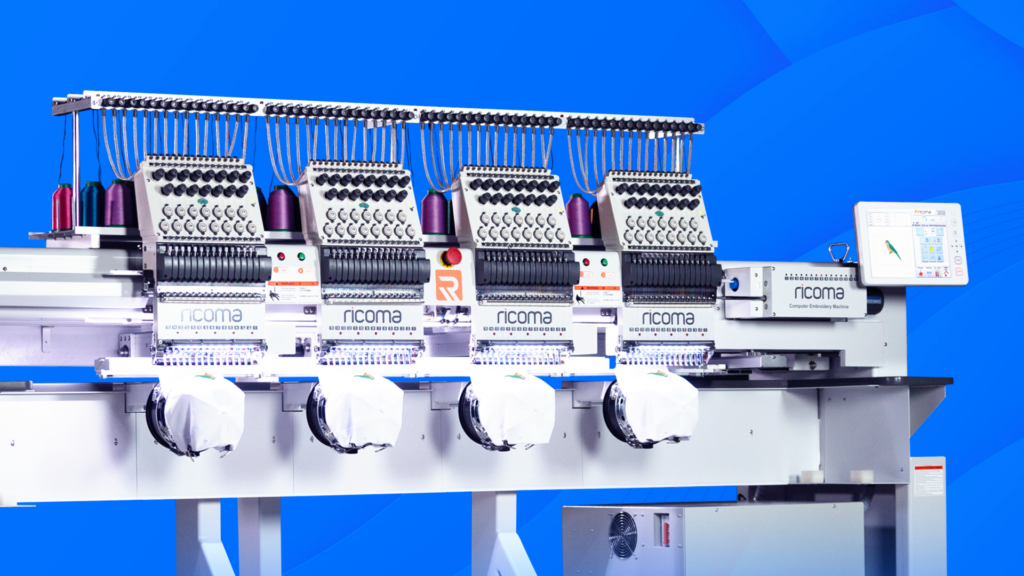 Not to be confused with multi-needle machines, multi-head machines have two separate embroidery heads, each with multiple needles, that can embroider multiple garments at the same time.
Multi-head machines have become a go-to for scaling even home-based embroidery businesses because of how efficient they are at boosting productivity. You can see some comments from customers that are enjoying their multi-head Ricoma machines below: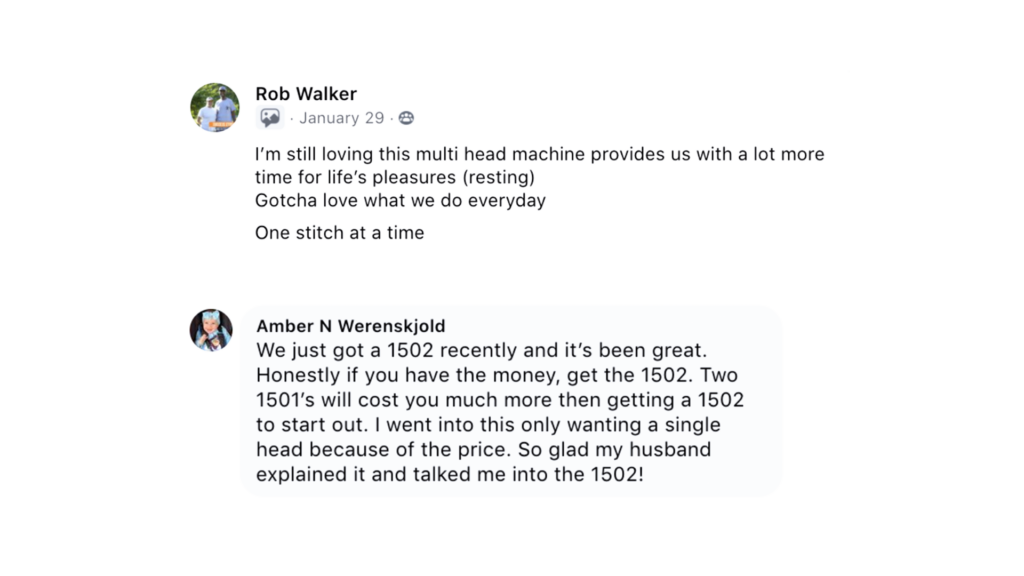 If you receive bulk orders regularly, a multi-head would be the perfect tool for you.
Imagine embroidering 2, 3 or even 4 polos all at once instead of having to do a 50-polo order one by one on a single-head machine.
It's no wonder so many shop owners rave about how helpful multi-head machines are to the productivity of their embroidery business. Time is money, and a multi-head machine will certainly save you plenty of time on large bulk orders.
Not to mention, multi-head technology is improving year by year.
In fact, Ricoma's 2-head MT-2002-8S, 3-head MT-2003-8S and the CHT2 series of multi-heads are the quietest multi-heads in the business, which is inspiring more and more decorators to grow their businesses, inside their homes!
This would have never been possible with older technology as the sound of multiple heads embroidering would have deafened everyone inside.
The newer generation of multi-heads is also becoming more and more user friendly. The panels are getting larger and the technology is becoming comparable to most single-heads on the market.
Even features like the 270-degree cap rotation is making its way to the new generation of multi-heads.
And as powerful as they are, future multi-heads are being built to use even less power than ever before, in fact, some even as little as single-heads.
If you love all the advantages of owning a multi-head machine, you'll love our brand-new MT 8S machine series even more! Check out our very first three-head mode here!
Even though multi-needle and multi-head machines are definitely stand-out trends in the embroidery industry, there's still one big aspect left to cover: panel features.
Features, Features and More Features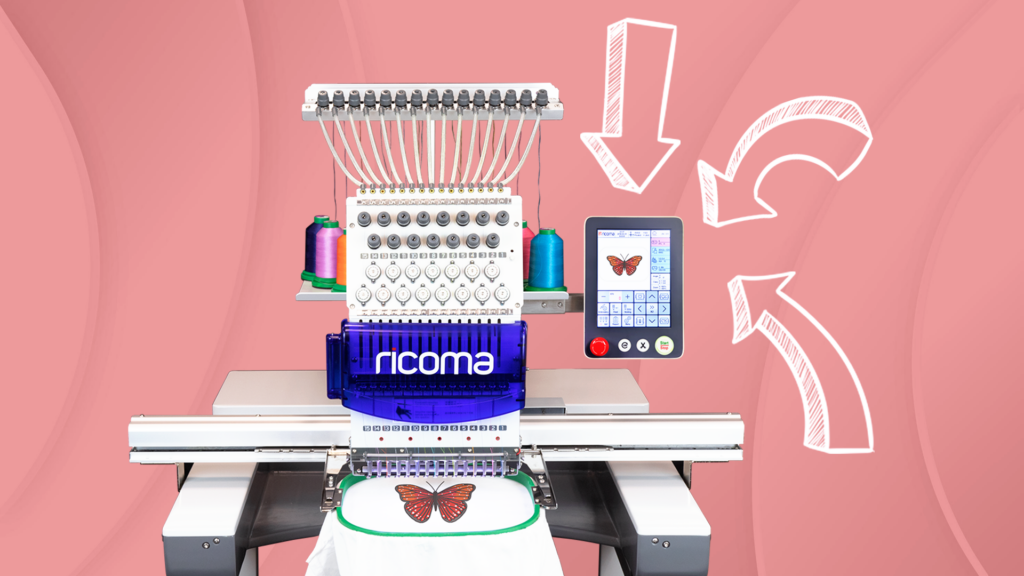 The number of needles and heads are not the only things on the rise in the embroidery industry, the number of features and functions a machine can perform has also increased.
Embroidery machines used to be very simple and not as computerized as they are now. In fact, some older machine manufacturers still require users to hook up a computer to even run their machine, which limits mobility and is frankly cumbersome and more expensive.
However, all Ricoma machines have high-performance control panels, making them easier to use, more portable and more efficient than ever.
In fact, Ricoma control panels are becoming more advanced year after year, but none are more advanced than the 8" high-definition touch screen panel, or 8S for short.
The 8S panel is only available on newer Ricoma models such as the SWD-1501 and our newest machine series, the MT 8S series.
The 8S panel is the latest and greatest innovation in panel technology because of these features below.
Compatible with Optional Camera Positioning Device
The 8S panel makes it possible to use an optional camera position device with your machine that helps you place your project perfectly by making it easier to see it from all angles even under the head of your machine.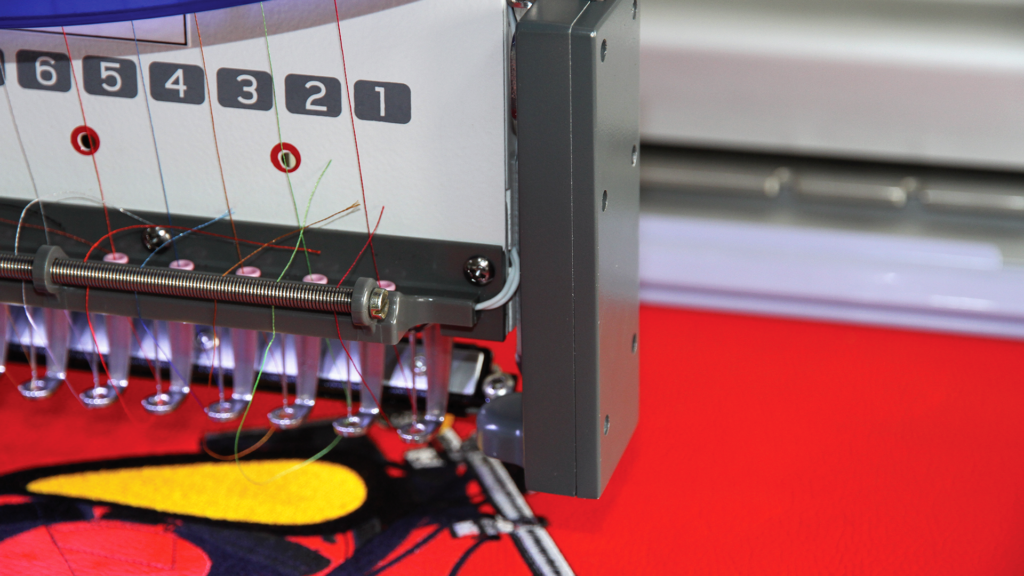 3D Design View for Better Visibility
The 8S high-definition touch screen panel has higher graphics that enhance the 3D design view so you can see your design preview in more detail.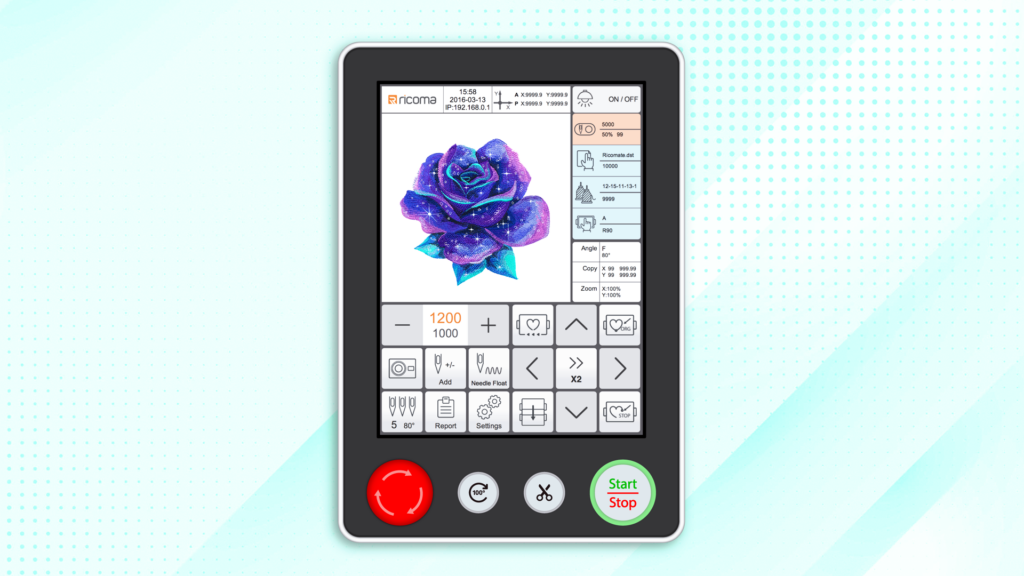 Built-in File Management System
The file management system lets you sort and organize all the embroidery files you have saved on your machine's memory. This makes it easier to access your most popular embroidery designs without having to transfer them via USB every time, making your business more efficient.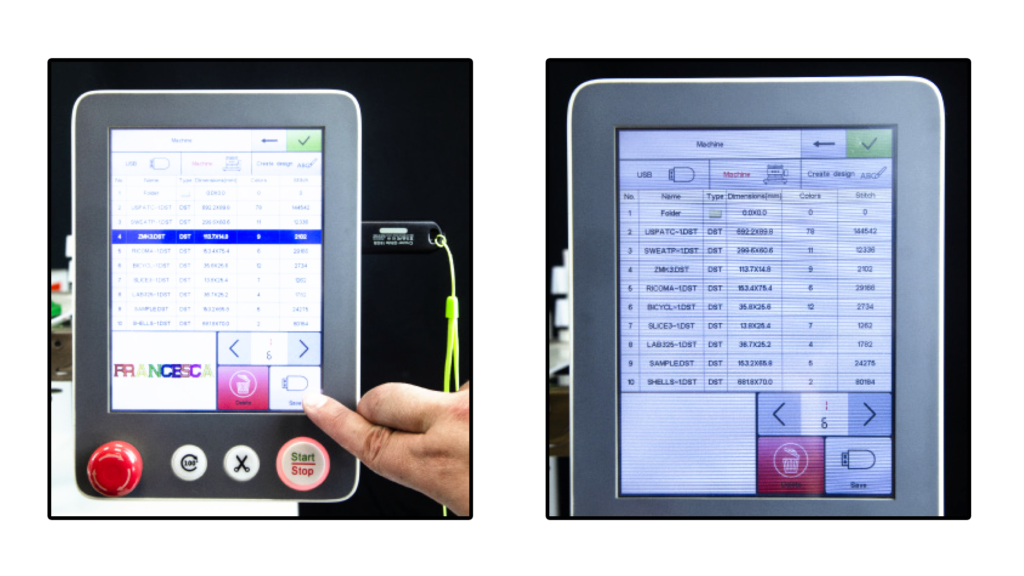 Compatible with Optional Laser Trace Device
The 8S panel also makes it possible to use a laser trace device on your machine, which is helpful for pinpointing exactly where your needle will land.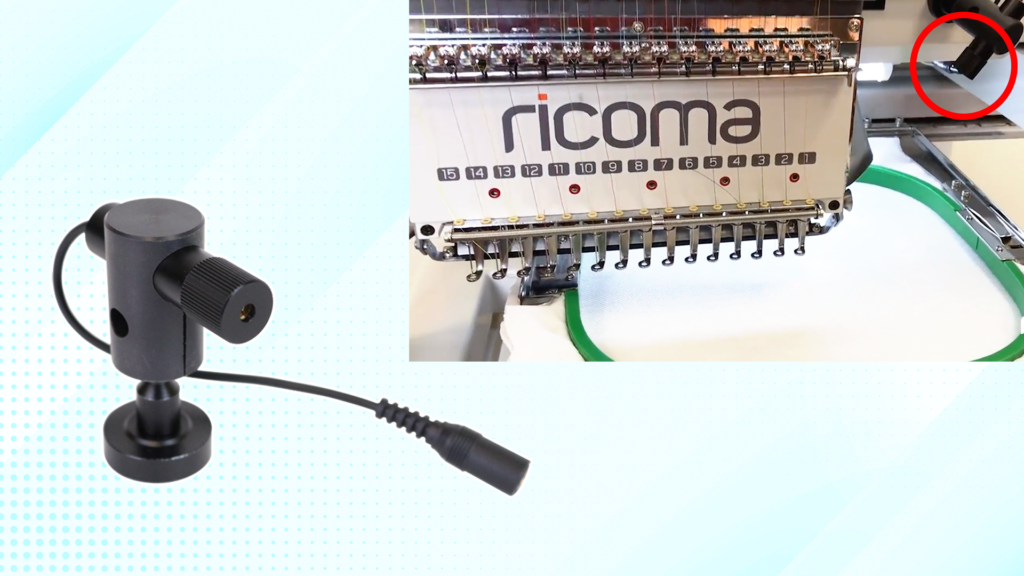 Portrait Embroidery
Perhaps one of the most impressive features of the 8S panel is that it can auto digitize any jpeg or jpg file. This means you can send a high-resolution image of a person to your machine and your panel will digitize it for you into the perfect piece of portrait embroidery. To see how that works, you can watch our Portrait Embroidery episode on Embroidery Hub.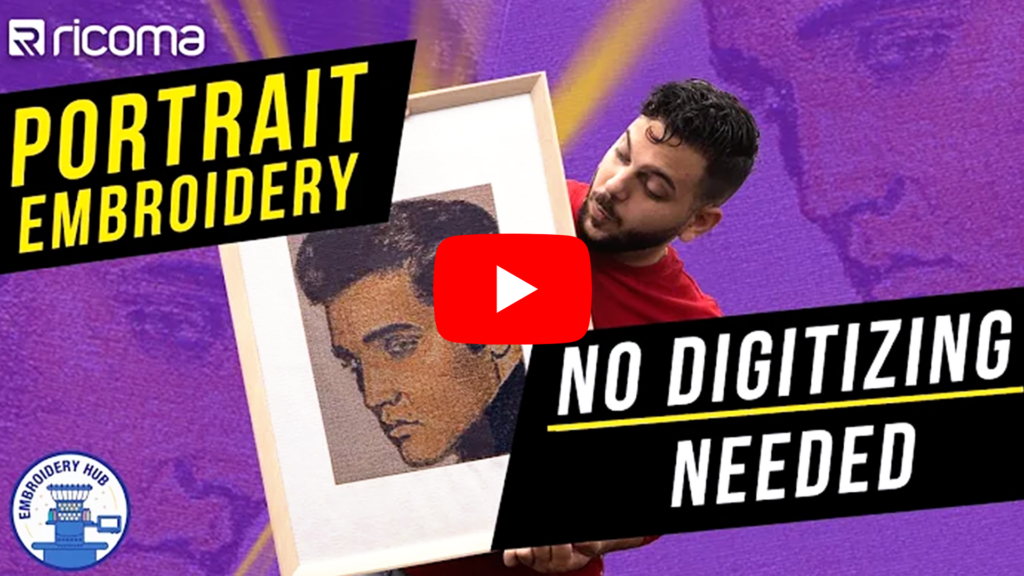 Networkable and Wi-Fi Capable
The 8S panel is the only panel that allows you to use a Wi-Fi connection to send embroidery files directly to your machine to the Chroma digitizing software that comes with the machine without needing a USB and vice versa.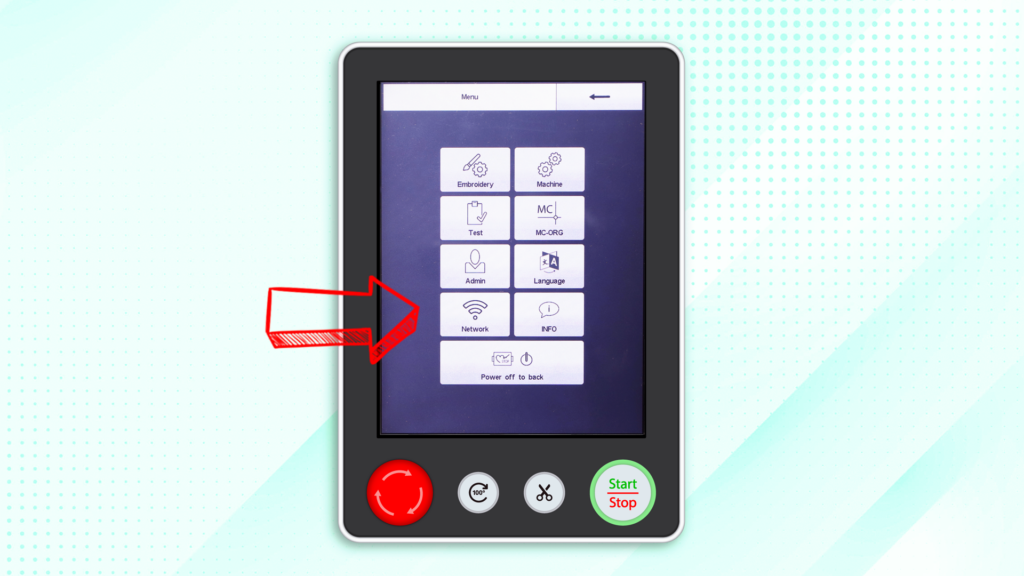 With the 8s panel on our new MT 8S machine series, you can also wirelessly transfer designs between machines with this panel.
For example, if you have more than one MT 8S model, let's say a one-head and a two-head, you can have them wirelessly transfer files to one another and set them up to embroider the same thing.
If you want to experience all the incredible innovations of our 8S panel for yourself, click here to view our new MT 8S and see all the features the 8S panel has to offer!
Bottom Line
Whether you're looking for more control over your designs with the latest panel features, or want to increase the intricacy of your embroidery with the help of a multi-needle machine, your overall embroidery experience will be made easier and more enjoyable with the help of these features of the future.
With the release of our incredible MT 8S series, now is the perfect time to make a move if you have been thinking of entering the world of embroidery, or upscaling your current embroidery business.
With the flexibility of 20 needles, the latest in machine panel features and the ability to increase productivity with multi-head models, the MT 8S series truly embodies the future of machine embroidery.
Supplies are limited, so be sure to get your hands on this machine of the future before it's gone!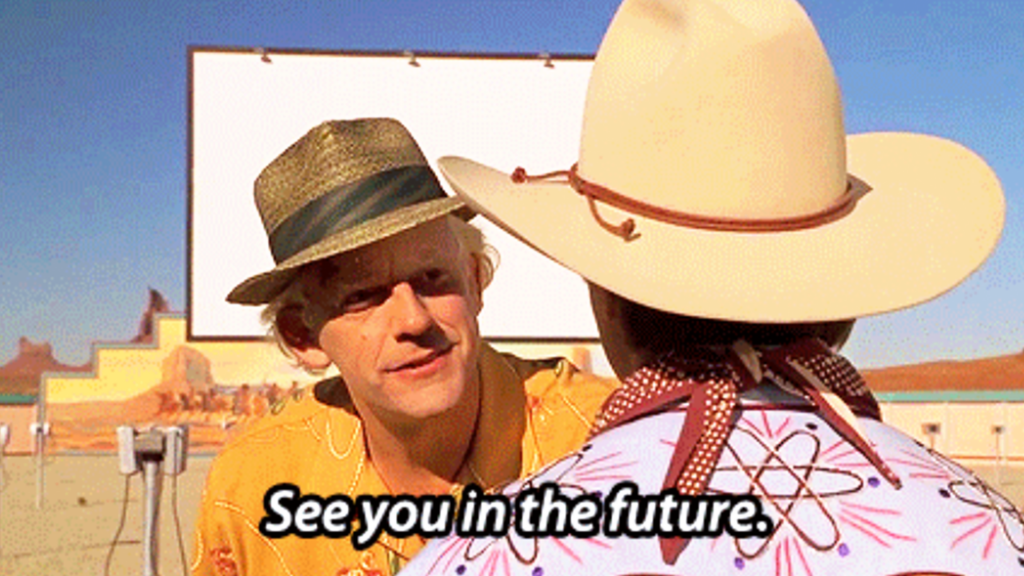 Ultimate Embroidery Cheat Sheet: 50 Popular Fabrics & How-To Embroider Them for Best Quality
Did you know that you can improve the quality of your embroidery no matter which fabric you're embroidering on?
To guarantee your embroidery success, we've put together a cheat sheet of 50 of the most popular fabrics used for embroidery and the combination of materials that you'll need to give you the best possible results for your projects.