Whether you're interested in learning a new craft or starting a business, serious crafters and entrepreneurs alike turn to one critical embroidery tool:
A multi-needle embroidery machine.
With high speeds and ample embroidery areas, multi-needle embroidery machines are perfect for creating one-of-a-kind projects AND benefiting from large orders.
But you don't have to take our word for it…
Below are embroiderers just like you who create all kinds of projects on their multi-needle embroidery machines. Read on to see how these hobbyists and embroidery business owners answer your most common questions:
In this article, you'll learn how regular folks like you turned into embroidery professionals in no time.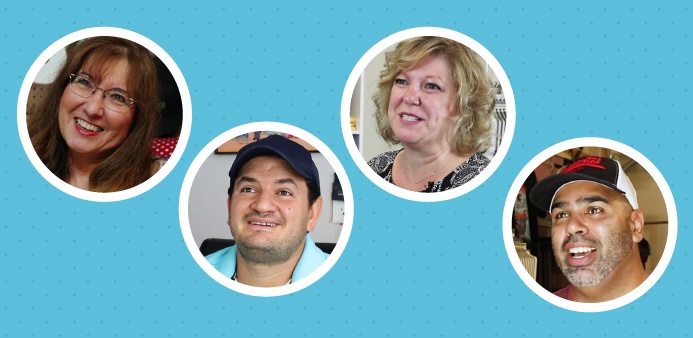 #1: How do you get started with embroidery?
Generally, multi-needle users fall under the following categories: hobbyists, entrepreneurs or, a mixture of both, craftypreneurs.
Hobbyists
Meet Linda Russell
Many hobbyists, like Linda Russell, get into embroidery through the love of sewing or other crafts. For people like Linda, embroidery is a creative outlet that allows them to create unique pieces for themselves, their friends and family.
Craftypreneurs
Meet Danielle Lawrence
Danielle Lawrence, owner of Bommas Creations, stitches for business and pleasure from home, where most embroiderers get started. According to Danielle, she has an entire floor dedicated to embroidery. But luckily for those limited on space, many multi-needles are compact and portable enough to fit in small workspaces.
Entrepreneurs
Meet Jeff Rosario
While most entrepreneurs start from home to reduce overhead costs, screen printing and heat transfer business owners weave embroidery into their businesses to provide a one-stop shopping experience for their current and future customers. That's one of the reasons why Jeff Rosario, owner of Immortal Prints, decided to add a multi-needle to his screen printing business.
A longtime musician and drummer, Jeff now creates screen printed and embroidered tour merchandise for all kinds of musicians. When he realized custom gear was a fundamental part of a band's merchandise table, he knew he could do a lot with his network.
Meet Jon Kaweblum
Jon Kaweblum, owner of Custom It, got started with machine embroidery through sports. Jon coached a Jewish basketball team and saw the need for embroidered headwear. Now, Jon creates everything from custom Yamakas and hats to bags and shirts.
#2: What type of machinery do embroiderers need?
Deciding what embroidery machine fits your needs mostly depends on how often you plan on using your machine and what projects you plan on creating.
While single-needle machines are great for the occasional one-color embroidery job like a monogram or an applique, multi-needle machines are built to run around the clock.
Many embroiderers, like Danielle and Linda, start off with single-needle machines, but quickly outgrow them due to their limitations. Unfortunately, most single-needles don't have the sewing area or capability to embroider on certain garments.
The best part about upgrading to a multi-needle? For Danielle, it was being able to run a multi-colored design without stopping the machine once.
Lightweight and compact, the 99-pound EM-1010 is the perfect choice for hobbyists and entrepreneurs starting at home or in a small shop.
Unlike other compact machines, the EM-1010 redefines home embroidery with commercial features like 10 needles and a maximum speed of 1000 stitches per minute to embroider quickly and efficiently.
If you want to see the EM-1010 in action, click here to schedule a virtual demo. In it, you can watch the machine swift through multi-colored designs in minutes while getting your questions answered by an embroidery specialist.
#3: What type of projects can you embroider on a multi-needle?
While single-needles tend to be more limited, multi-needles are capable of embroidering a wider variety of projects in a fraction of the time. Here are a few projects you can easily embroider with the EM-1010.
A longtime seamstress who runs a sewing and embroidery shop in Puerto Rico, Ileana Figueroa easily sews stuffed animals from scratch using the EM-1010's 12-by-8-inch hoop.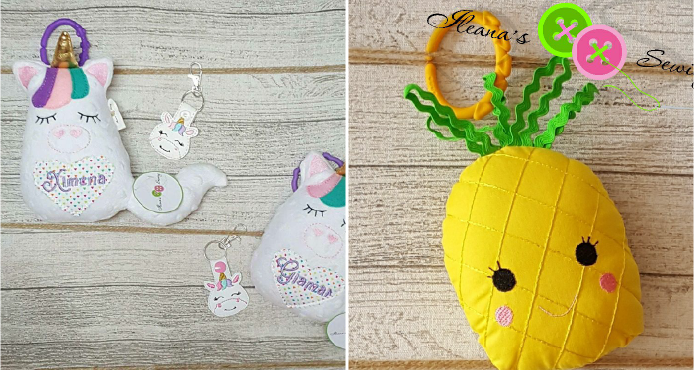 Flags
DeAnna Mason, owner of OtterStitches Machine Embroidery, embroiders large designs on burlap flags in about 30 minutes.
DeAnna also quickly embroiders on fabric and leather bags using the hoops included with her EM-1010.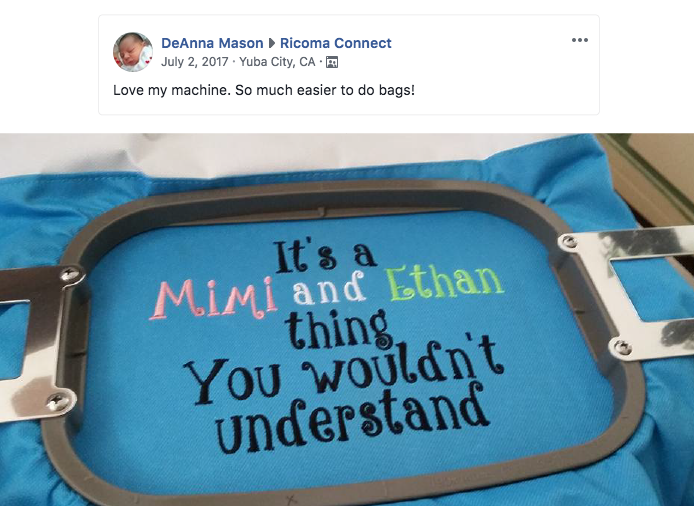 Hoodies
Hector Garcia, an entrepreneur who started an embroidery business without any embroidery experience, decorates hoodies for his clothing line, Rebellious Entrepreneur Co.
Hector was able to stitch his company's logo on the sleeve and hood of this jacket with the 8-in-1 hoop set, a commercial attachment only available on select multi-needle machines.
Unlike single-needle machines, multi-needle machines are compatible with cap attachments that allow you to embroider on the curved surface of caps. Chris Schranz, owner of Buffalo Stitchery, embroiders all kinds of Buffalo-themed hats with the help of his EM-1010.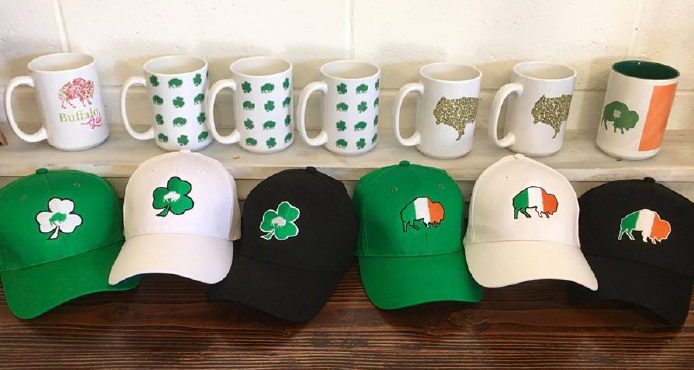 While some companies charge extra for cap attachments, Ricoma includes a cap attachment with the purchase of an EM-1010. Click here to see what other tools are compatible with the EM-1010.
And the list goes on and on!
You can embroider boots, shoes, duffel bags – you name it. The EM-1010 is compatible with commercial attachments that makes it possible to embroider on virtually anything from sunhats to clutches.
Click here to see what else you can embroider with a multi-needle machine.
#4: What type of support is available to embroiderers?
While many embroiderers come from sewing or embroidery backgrounds, business embroiderers tend to jump straight into multi-needle machines without any experience. Most embroiderers are able to master the craft by taking advantage of the following resources.
Manufacturer/dealer support
With free hands-on training and support, the transition from single-needle to multi-needle is seamless for Ricoma users like Jon and his staff.
You can see how easy it is to operate a Ricoma multi-needle when you schedule a virtual demo. In it, you'll watch an embroidery specialist start and run a multi-color design in real time and get your questions answered right away.
Facebook groups
Many embroiderers also seek support from embroidery communities on Facebook such as Ricoma Connect and Embroidery and Custom Apparel Mastery.
Ricoma takes Facebook support to the next level with its private customer group, Ricoma Connect. In this group, customers are able to interact with one another and learn the ins and outs of their specific machine from other machine owners.
Embroidery and Custom Apparel Mastery
Other public groups like Embroidery and Custom Apparel Mastery (ECAM) help embroiderers learn more about the craft and share ideas with one another. From a simple left-chest logo to embroidery on leather, you can always count on ECAM members to chime in and help you perfect your craft – given that you have the right equipment to get the job done.
Online resources
There are plenty of blogs and videos in the embroidery space that cover the best practices for embroidering a wide variety of projects. Ricoma consistently publishes machine embroidery tips and video tutorials to support the embroidery industry. Click here to check out a wide library of machine embroidery content.
#5: Is the embroidery business profitable?
Though the amount you'll make per hour depends on your machine's output, it's undeniable that embroidered apparel has a high return. Here are the facts:
Embroidery business fact #1
Embroidery supplies are relatively inexpensive compared to other industries, especially if you're a business owner.
Caps, for example, tend to yield a high profit margin. In fact, many wholesale caps that start as low as $2 can be resold for up to $20 depending on the embroidery design.
With a tax ID, you can benefit from wholesale prices and waive any taxes on your end. Instead, your customer pays the taxes.
Embroidery business fact #2
Golf shirts alone comprise of 53% of all garments embroidered, followed by caps at 21%.
Many crafters and/or custom apparel business owners transition to embroidery when they realize how high the demand is, especially in the uniform and workwear market.
With a multi-needle machine, you can complete a multi-colored left-chest logo on a shirt in under 10 minutes.
Embroidery business fact #3
You can get started for a little over $100 a month when you finance with Ricoma.
This allows you to get started without large upfront costs and easily pay off your machine with as little as one small order each month.
#6: How do embroiderers find their customers?
Luckily for business owners, word of mouth will always be powerful. That's how Danielle Lawrence was able to score several large accounts that consistently bring in repeat business. However, embroiderers can find customers online and in-person through the various platforms and methods listed below.
Danielle gets a boost in online sales with Etsy, a popular platform where crafters can list their handmade products for free. For Danielle, Etsy is a simple and inexpensive way to reach buyers outside of her area.
Many embroiderers build connections that lead to sales on Facebook groups. Sometimes, if a business cannot fulfill an order, they will turn to Facebook groups to find embroiderers who will step in and complete the order for them.
Like many other embroiderers, Danielle also attends craft shows and farmers markets in her area to sell to local patrons and market her business to future customers.
Sampling
Others get their orders by sampling – a tried and true method for acquiring local business. Sampling is when you create a sample of your product for a local school, business or organization and send it to clients for free. Many times, the customer will need something embroidered for an upcoming event or the following school year. If they are impressed by your quality, they will keep you in mind.
Sampling is when you create a sample of your product for a local school, business or organization and send it to them for free. Many times, the customer will need something embroidered for an upcoming event or the following school year. If they are impressed by your quality, they will keep you in mind.
Bottom Line
As an embroiderer, you don't have to separate business and pleasure. Whether you're sewing for fun, for business or both, the EM-1010 is the perfect addition to your home or shop regardless of your experience, space or budget.
If you're looking to start a business with embroidery, the EM-1010 has the capability to embroider a wide variety of garments in record time.
If you're looking for an exciting hobby, the easy-to-master EM-1010 can create projects you've never dreamed of – without breaking the bank.
If you're looking for a crafty side business, the EM-1010 can easily pay for itself while leaving money in your pocket AND time for personal embroidery projects.
If you're looking to expand your custom apparel business, the EM-1010 is the tool you need to start transforming your business into a full-service, one-stop shop.
Click here to schedule a free virtual demo to see for yourself. In it, you'll chat via webcam with an embroidery specialist and watch the entire embroidery process from start to finish.