When most people think of embroidery, they often picture a typical uniform shirt or custom memorabilia. But once you dive into the world of embroidery, you quickly realize you can embroider on virtually anything.
In fact, if you've ever wondered if you can embroider something, the answer will always be:
If you can hoop it, you can embroider it.
While the list can go on forever, we narrowed it down to 101 items.
Spoiler alert: Some of them may surprise you – especially #89 and #101
Sort through this list to gather some ideas for your next embroidery project, and click on the links to follow along with video tutorials.
Headwear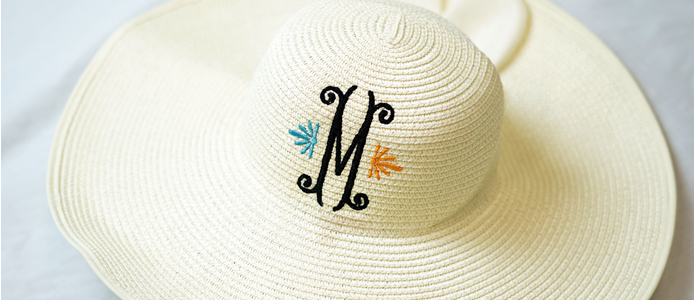 Visors
Graduation caps
Trucker hats (even the mesh sides!)
Bucket hats
Kippots (Yes – yamakas!) Click here to meet our customer in Florida who embroiders custom yamakas for basketball teams.
Pro tip: Multi-needle embroidery machines are compatible with commercial-grade accessories like cap attachments that allow you to embroider on the curved surface of caps. You can also embroider on other types of hats using machine embroidery clamps or the 8-in-1 Hoop Set.
Click here to see how it works.
Home
Table runners
Kitchen towels
Rugs and mats
Coasters
Curtains/Shower curtains
Pillowcases
Bed sheets
Fleece blankets
Pro tip: Embroidery is usually found on home décor like tablecloths and blankets. You can embroider large areas with Ricoma's Extended Table that increases the sewing field to 48 by 14 inches, the industry's largest embroidery area.
Footwear
Canvas slip-ons (Vans)
Ballerina flats
Sandals
Slippers
Pro tip: Unusually shaped goods are impossible to hoop with traditional hoops, but luckily, you can get a firm hold on thick shoes like cleats with the Robot Frame. You can also embroider boots with machine embroidery clamps like the Manual Robot Frame.
Apparel
T-shirts and tank tops
Uniform shirts (mechanic, military, and more)
Pants
Jeans
Button-ups
Sweaters, hoodies and cardigans
Blouses
Jackets
Track suits
Overalls
Dresses
Skirts
Pajamas and night gowns
Pashminas
Blazers
Sports bras
Underwear
Pro tip: Most apparel is flat and, therefore, could easily be embroidered with standard embroidery hoops. However, different fabrics require certain embroidery techniques and materials to achieve the best finished product. Click here to download a list of 50 popular fabrics and the best embroidery materials and practices for each.
Outerwear
Bathing suits
Pool towels
Ponchos
Rain coats
Gloves and mittens
Scarves
Leg warmers
Vests
Ski jackets
Coats
Pro tip: Embroidery on outerwear like raincoats can compromise the apparel's function. You can cover the needle penetrations on water-repellent garments with a special iron-on stabilizer that seals the needle's punctures.
Children's apparel/accessories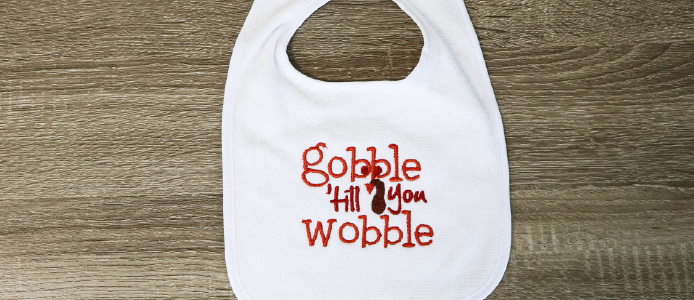 Diaper bags
Pro tip: Some baby clothing is too small to embroider on a traditional hoop. That's where the 8-in-1 Hoop Set comes in. These versatile hoops are slim enough to embroider on sleeves, children's apparel and more!
Click here to see how it works
Bags
Backpacks
Makeup bags
Suit cases
Laptop, tablet and phone cases
Golf bags
Glasses cases
Wine bags
Lunch bags
Coolers
Pro tip: Most bags are thick and, thus, difficult-to-hoop. Magnetic hoops like Mighty Hoops are designed with powerful magnets that instantly cling together to hoop even the toughest of fabrics.
Did you know? The Ricoma MT Series machine is designed to embroider on bulkier items mentioned above.
Click here to see the MT-Series embroidery machine in action.
Accessories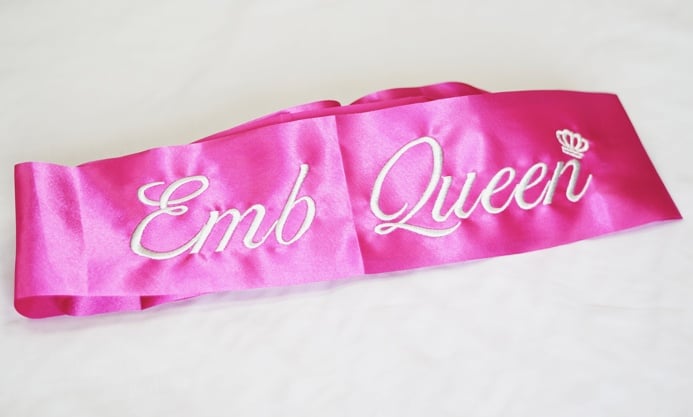 Chokers
Socks
Ties
Capes
Veils
Key chains
Wristbands
Koozies
Pro tip: You can embroider accessories like leather belts with the Belt Hoop, a hoop specifically designed to hold belts firmly as the machine embroiders.
Miscellaneous
Business cards
Flags and banners
Tutus
Car mats
Wood (Seriously! Just ask our customer, Linda Russell. Don't try this at home, folks!)
Folding chairs
Mats (Beach, yoga, pre-school)
Book covers
Pro tip: You'll often hear embroiderers say, "If you can get it flat, you can embroider that." That's because embroidering miscellaneous items is all about trial and error. That's how Linda Russell managed to embroider on wood using her Ricoma MT-1501.
Pet
Pet beds
Leashes
Pro tip: Like children's apparel, pet apparel is easier to embroider with the help of specialty accessories like the 8-in-1 Hoop Set.
Holiday/Special Occasion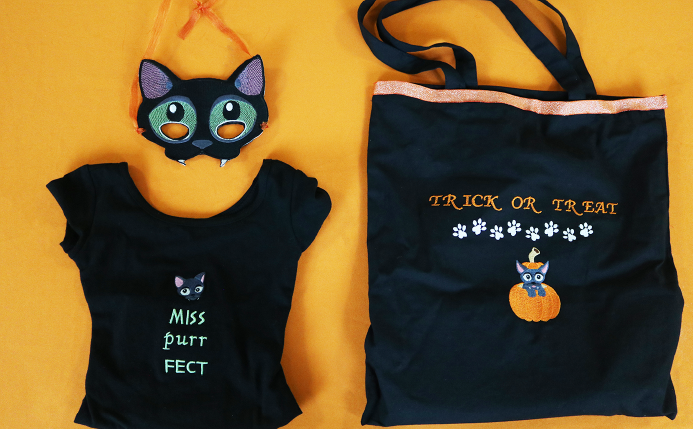 Stockings
Santa hats
Cloaks
Graduation gowns
Pro tip: The holidays are a great time for embroidering costumes, home decor and gifts. For more on holiday embroidery, check out our Halloween embroidery ideas or our 99 holiday embroidery ideas.
And there's WAY more where that came from…
Quite frankly, we're really just scratching the surface. For even more embroidery tips and tutorials, visit our YouTube channel.
If you're interested in seeing how real embroiderers stitch these items and get even more embroidery ideas, join our Facebook group, Embroidery and Custom Apparel Mastery. In it, you'll catch embroiderers posting all kind of projects from belts and leashes to sweaters and socks. You can even ask them how they did it, and they'll be more than happy to help!
You can also schedule a free virtual demo to see the embroidery process from start to finish. During your personal session, you can get all of your embroidery questions answered and even ask an expert how you can embroider any one of these items. Click here to schedule your one-on-one virtual demo.
Want to see one of our machines in action?
Schedule a free virtual demo if you want to see any of our machines in action. In it, you can ask any questions you have about the industry and see exactly how to start and run an embroidery project in real time.