Cap embroidery is a great way to generate more profit for your custom apparel business. And if you know how to do it well, you'll not only maximize your earning potential, you'll also gain a competitive edge in your target market.
So, if you're interested in mastering the art of cap embroidery, you've come to the right place.
In this blog, you'll hear from six Ricoma customers who have become experts in cap embroidery and are sharing their tips for success with you today.
The types of cap embroidery that you will learn about in this blog are:
Soon you'll be embroidering caps like the ones featured here—while having fun and making money at the same time! When it comes to mastering cap embroidery, Ricoma customer Patrick Felix said it best: "Have fun, have patience and it will all come together!"
Standard Cap Embroidery
If you're new to cap embroidery, we can understand why you might find it a little challenging at first. However, you'll soon discover that standard cap embroidery is actually the easiest to do compared to the other two which may require a bit more practice to master. That is why doing standard cap embroidery with your Ricoma machine is a good way to hone your skills and perfect your craft. Once you get the hang of it, you'll begin producing high-quality caps like the ones featured below.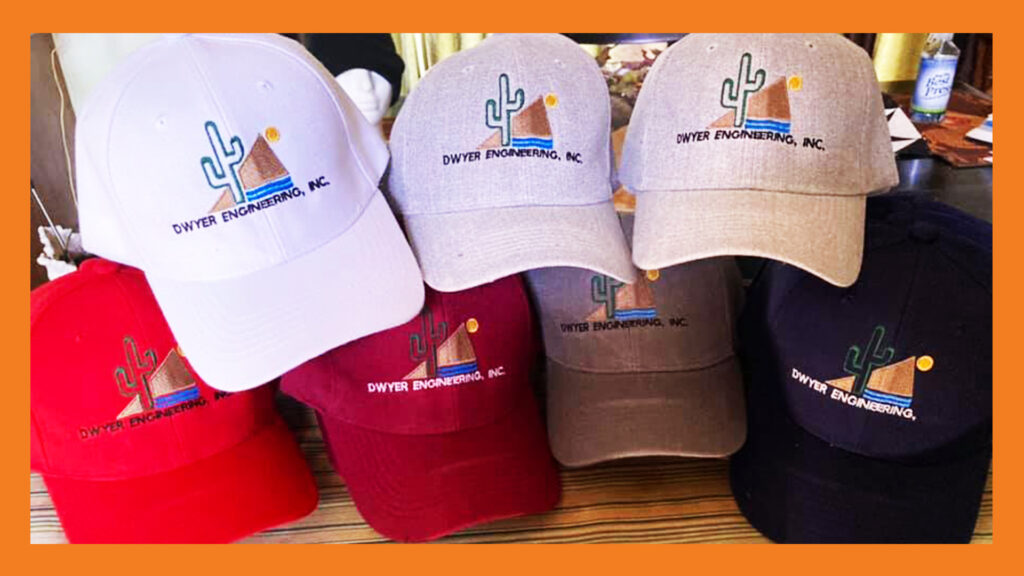 Debbie Malonson, owner of JIL Embroidery and Quilting, created these crisp, clean caps for her clients using her EM-1010. She completed this 80-cap order using the Gen 2 hoop, a tool she said helped her succeed.
The HoopTech GEN 2 makes it possible to sew closer to the bill of your cap. It's easy to use on all styles of caps, including visors.
Ricoma's Pro Tip: Do not place your design lower than 1/2 inch from the brim of the cap or you'll risk needle breaks.
Click here for 5 tips that will save you time and money when embroidering caps.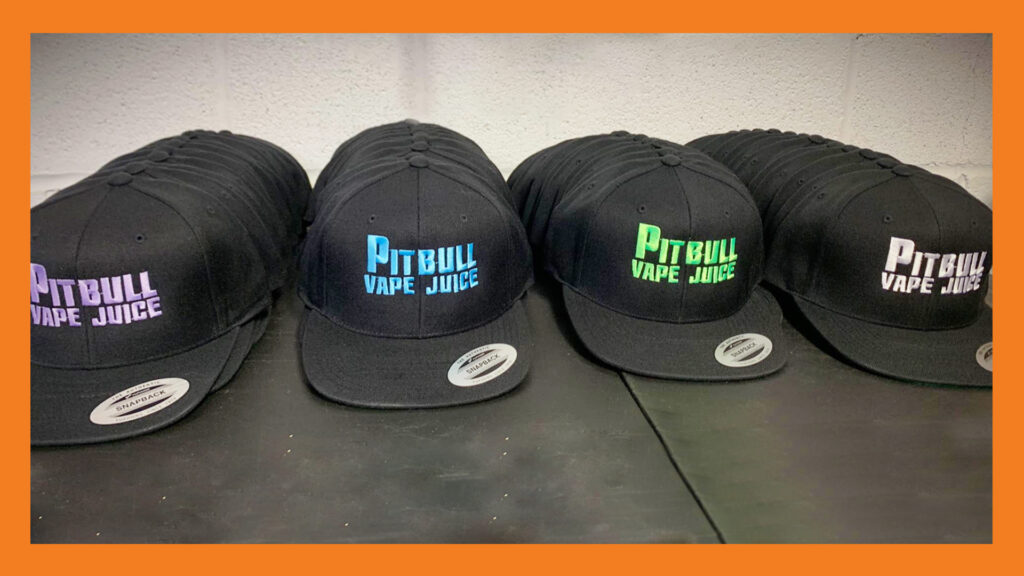 Owner of Hustle Threads and Ricoma's EM-1010, Rocco Famolaro is known for producing flawless caps. He says it's thanks to a trick he uses to avoid loss of registration on small letters: removing the underlay stitch.
Ricoma Pro Tip: All embroidery designs should be digitized with the type of garment you're embroidering in mind. A design digitized for flats will not produce a high-quality design on a cap since it doesn't take the curved surface of the cap into consideration.
According to Rocco's advice, you need to adjust the fabric you're using along with the following design settings to produce the best quality of stitching:
Pull compensation
Density
Underlays
Stitching sequence
Click here for 7 costly mistakes to avoid when embroidering caps.
"Through your journey, you will learn many tricks that best fit your needs. Whatever you do, don't quit. Keep learning every day and Hustle on," said Rocco.
Structured Cap Embroidery
Structured caps are made out of heavy, thick material in the front, whereas unstructured caps are made out of loose material. This is because structured caps are reinforced with a sturdier fabric, making them more rigid. An unstructured cap has no reinforcement, which why the front of the cap caves in when you remove it from your head.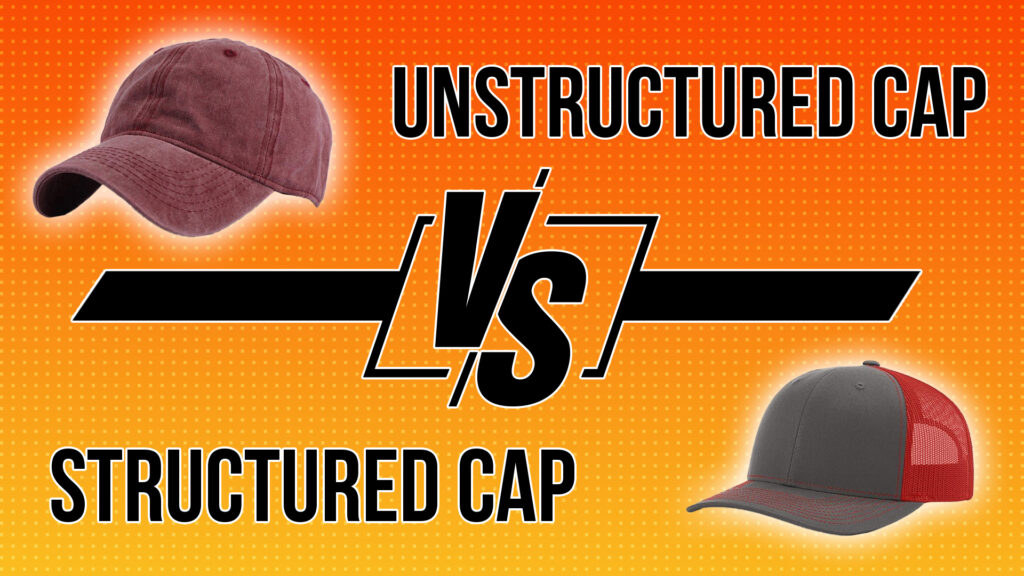 Now that you understand the difference between structured and unstructured caps, let's talk about embroidering on structured caps.
Many custom apparel decorators work with the Richardson line of structured caps. For example, Corey Pendergraft uses his Ricoma MT-1501 machine to produce brilliant designs on Richardson 112 caps. In fact, a large percentage of his revenue comes from structured cap embroidery orders.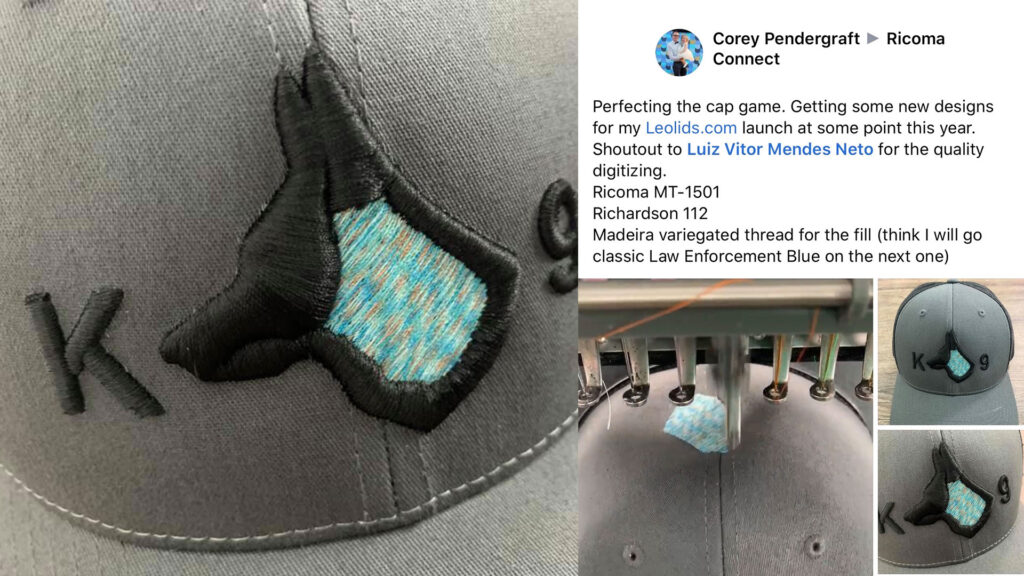 "I would say that 80% of my embroidery related work has been caps. The #1 requested brand of cap is Richardson, and the 112 model is by far the most popular," said Corey.
With the demand for structured caps so high, mastering these garments is crucial to an embroiderers' profit potential.
"The top two things I can't stress more is having quality digitizing and a proper hooping technique. I use the factory hoops that came with my MT-1501."
Ricoma Pro Tip: The goal in hooping caps is to make the surface as flat as possible for smooth embroidery.
Need help embroidering Richardson caps on your Ricoma machine? Click here to check out our Richardson 112 episode on YouTube where we embroider the caps using the 3d puff technique at 1,000 spm speeds.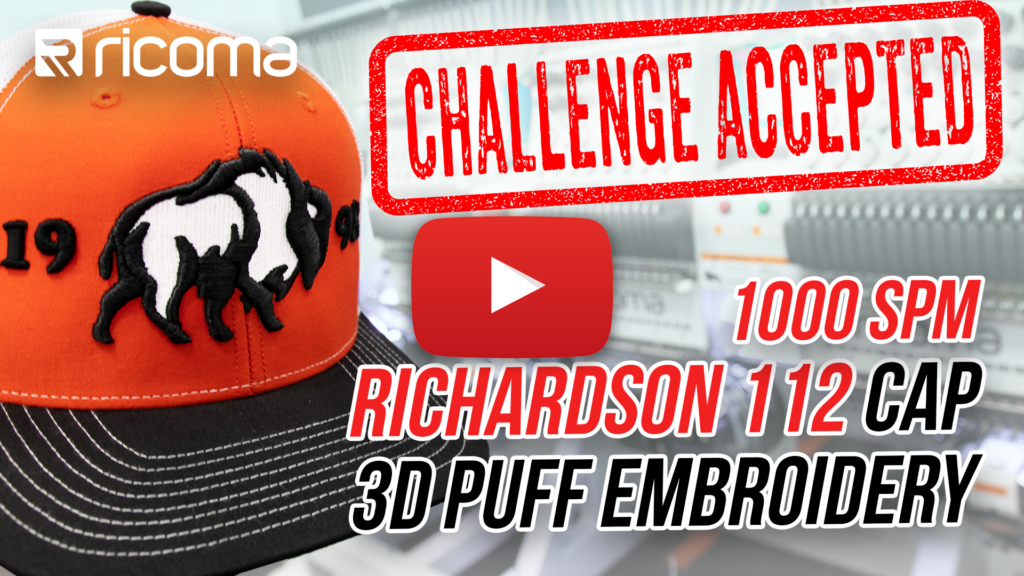 Another customer who's become a pro at embroidering structured caps is EM-1010 owner, Trisha Dommer.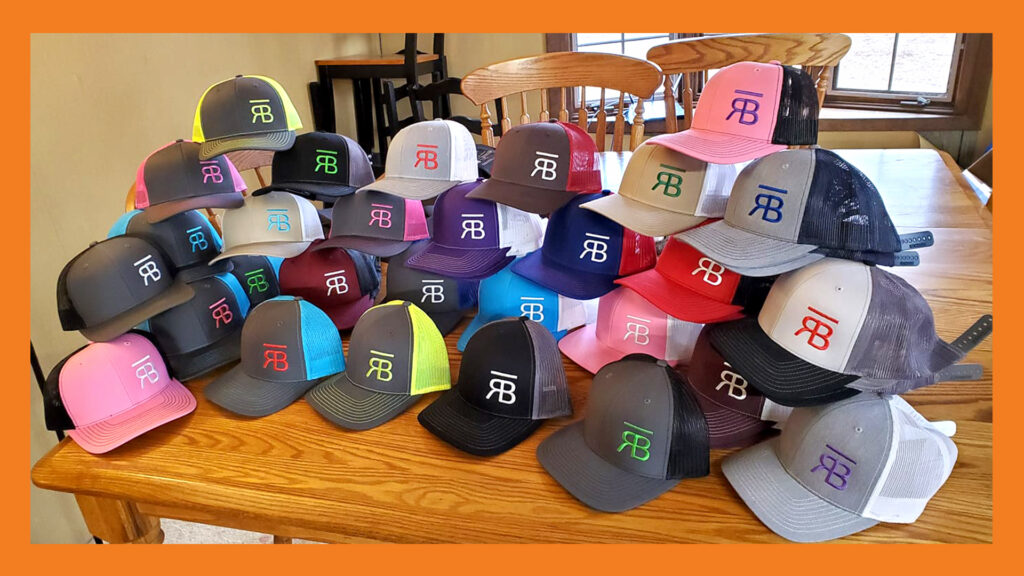 Just like Corey, Trisha also believes "hooping is a big key to successful embroidery on Richardson hats," as well as:
Using titanium needles
Slowing down the machine to help the details of the design pop
Not using backing
Structured caps are made of such thick fabric, they don't need extra stabilization.
"What I think makes it difficult for a lot of people on the Richardson hats is the will and drive to learn, have patience, overcome and achieve it," said Trisha.
Start profiting off structured caps like these pro customers and learn more about our machines from our product specialists right here.
3d Puff Embroidery
As the name implies, 3d puff embroidery is where the lettering or a piece of the design on a cap "puffs" out, creating a 3d look. You see this type of embroidery a lot on baseball caps, snapbacks and fitted structured caps. Adding depth to your cap designs with 3d puff is not only highly profitable, but it also makes your work stand out from the rest.
Mastering 3d puff embroidery takes time and practice, but it will help you win more customers as you will be offering a service that many of your competitors haven't taken the time to learn.
But don't just take our word for it. Ricoma customer Patrick Felix put in the work to learn how to do 3d puff embroidery—and his work speaks for itself. Hear what he had to say about mastering 3d puff embroidery…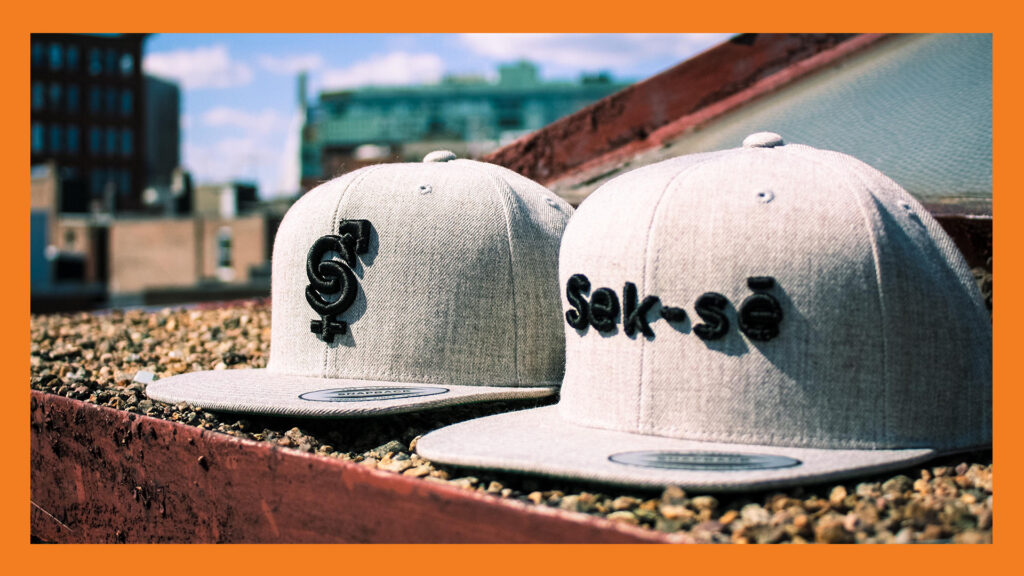 "I taught myself how to digitize 3d design files and after numerous trials and errors, I started to understand what happens at every step of the way in the digitizing process," said Patrick.
Proud owner of an EM-1010, Patrick says it's important to get to know your machine. "Get to know the sounds and watch where the needle seems to get caught up in the design so you can tell where the digitizing needs to be adjusted," said Patrick.
He suggests slowing down the machine at first if something seems off and paying close attention to where your design begins to lose registration."No need to run the machine at 100 miles per hour right from the start."
Want to watch our experts complete 3d puff embroidery? Click here.
Christopher French, owner of an MT-1502 (our two-head model) also agrees that digitizing is the most important aspect of 3d puff.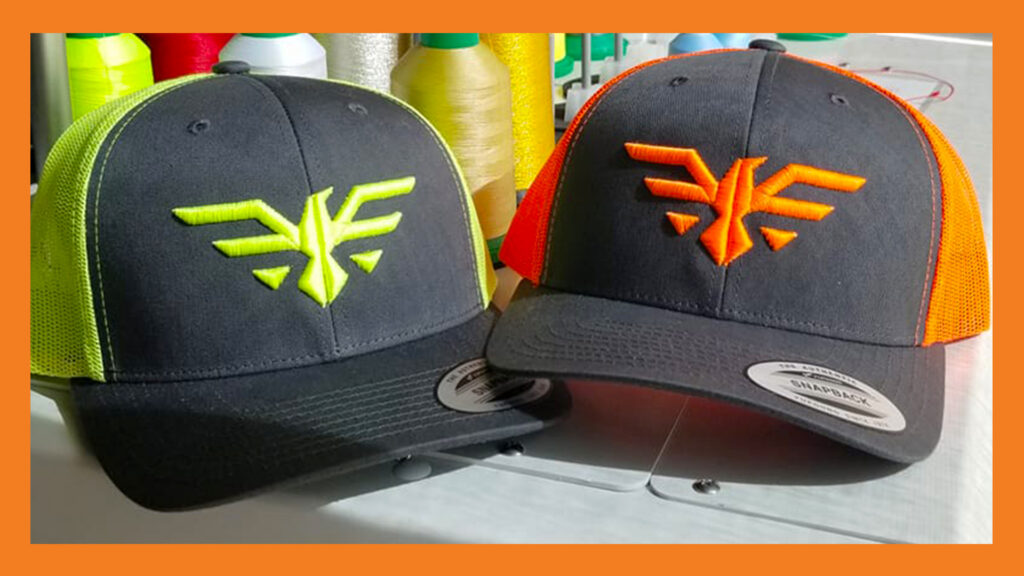 "The digitizing is the night and day difference," he said.
According to Christopher, when he receives a design back from his digitizer, he will make any necessary edits to the file within the digitizing software before he starts embroidering.
Click here to learn more about Ricoma's proprietary digitizing software and become a digitizing pro yourself.
Christopher also suggests the following:
Matching the foam color to your thread.
Using 80/12 needles which work best for cutting into the foam without leaving extra poking out.
Matching foam thickness to the width of the stitches you are working with.
Ricoma Pro Tip: If you are embroidering with a thick layer of 3d foam (typically 2 to 3 millimeters), consider raising your presser foot to 1.5 to 2 millimeters to accommodate for this extra layer. Check out this episode of Embroidery Hub where we embroider 3d puff on four caps at the same time with our CHT2 four-head machine.
Bottom Line
Cap embroidery is an easy way to grow your custom apparel business, attract more customers and generate more sales. By simply applying some of the tips and techniques you learned from our six cap-embroidery aficionados, you'll be ahead of the competition in no time.
You can start by learning how to do standard cap embroidery since it's the easiest of the three discussed in this blog. Then, work your way up to structured cap embroidery and eventually to 3d puff. Once you've mastered all three, you can proudly join our Ricoma cap-embroidery rockstar alumni!
And remember: embroidery may not be one-size-fits-all, but it can certainly help you to create one-size-fits-all products that your customers will love (see what we did there?).
Click here to learn more about the machines used to make the caps featured in this blog!
Ultimate Embroidery Cheat Sheet: 50 Popular Fabrics & How-To Embroider Them for Best Quality
Did you know that you can improve the quality of your embroidery no matter which fabric you're embroidering on?
To guarantee your embroidery success, we've put together a cheat sheet of 50 of the most popular fabrics used for embroidery and the combination of materials that you'll need to give you the best possible results for your projects.