Is your home full of crafting supplies? Do you love the idea of creating personalized gifts for friends and family?
Then it's probably safe to say that you're always ready and willing to jump at any opportunity to express your creativity.
In this blog, we're going to tell you about one of the most popular, not to mention profitable, creative outlets that is perfect for crafters and hobbyists alike.
Embroidery is the next big thing!
Whether you craft for fun or for profit, embroidery is a great way to take your passion for creating personalized goods to the next level.
In fact, we've put together a list of our top 5 reasons why every crafter should start dabbling in embroidery.
But, before we can get into any of that, you're going to need a crash course on the basics of machine embroidery and the different types of machines that are out there.
What is machine embroidery?
When most people think about embroidery, they often picture something like this…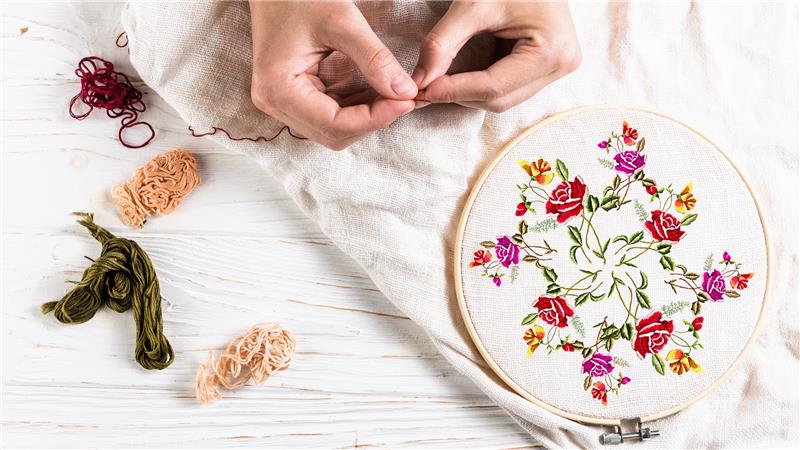 What most people don't know is, depending on the size of the design, these intricate patterns can sometimes take hours if not days to complete.
Now, imagine creating something like this in just a few minutes.
That's machine embroidery in a nutshell.
Commercial and semi-commercial embroidery machines are capable of embroidering multi-colored designs with precise stitches on a variety of items that would be too difficult to do by hand, all you have to do is press "start."
For example, you can embroider on caps, shirts, jackets, towels, bags and just about anything with even a small starter machine like the EM-1010.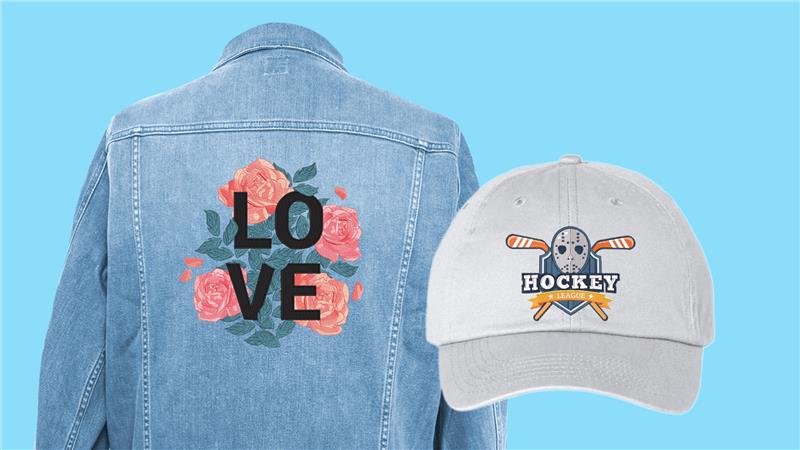 In fact, if you're just getting started, you can choose a premade design from sites like Hoopmade and Etsy, or if you're feeling adventurous, you can try your hand at creating your own design using Ricoma's Chroma digitizing software.
Click here to download a free trial of Chroma today.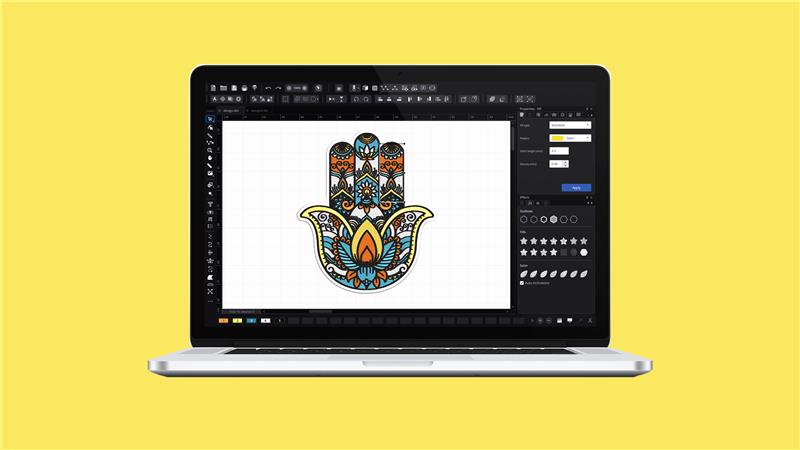 But let's not get ahead of ourselves.
Once you've selected your design, all you have to do is save it to a USB drive, upload it to your embroidery machine and your machine's built-in computer will turn it into a custom embroidered masterpiece.
Not only does this make embroidery super easy to learn, it's also one of the most efficient and cost-effective ways of creating personalized merchandise. Not to mention the most profitable.
But we'll get to that later.
For now, let's quickly go over the main differences between single-needle and multi-needle machines.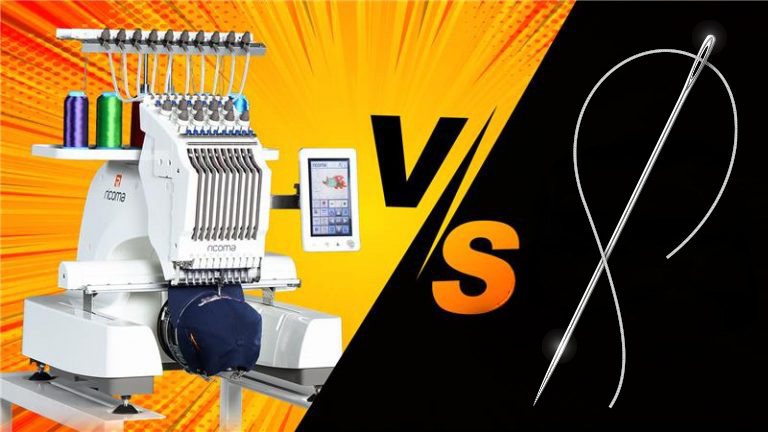 As their name implies, single-needle embroidery machines only have one needle, so you'll need to rethread your needle for every new color. As you can imagine this is very time consuming and is only a slight upgrade over hand embroidery.
On the other hand, most multi-needle machines range from 10 to 20 needles and are tubular, which means that you can embroider just about anything that you can hoop without worrying about embroidering through the other side like with single-needle machines.
It's pretty safe to say that multi-needle machines are clearly the winner here, but if you need more convincing, check out this blog to learn 5 reasons why you need a multi-needle machine – even if you're a beginner.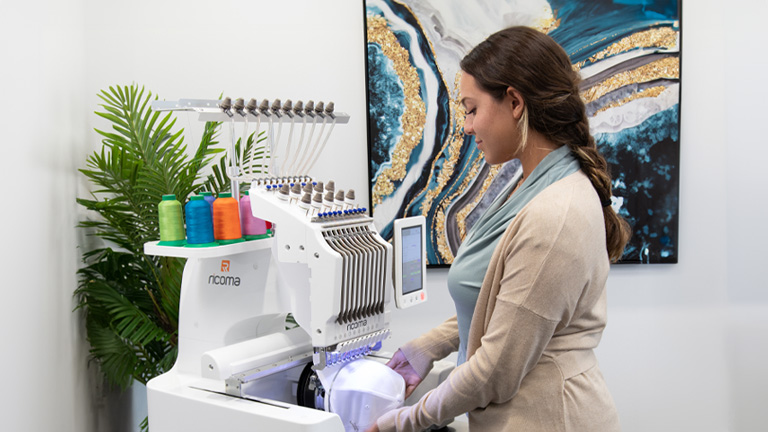 With a multi-needle machine, it's easy to embroider anything from simple, single-color designs on polos to multi-color, popular designs like 3D puff on caps.
Here's how it works.
Find a design you love online or create your own
Upload your design to your machine
Thread your machine with the colors you'll be using for your design
Hoop your garment
Press "start" and the machine will automatically stitch each color until it's done!
In minutes you'll have a custom embroidered design that your friends, family and potential clients will love.
For a more detailed explanation on how machine embroidery works, click here to watch this episode of Embroidery Hub and follow along as you learn how to embroider the perfect left-chest logo.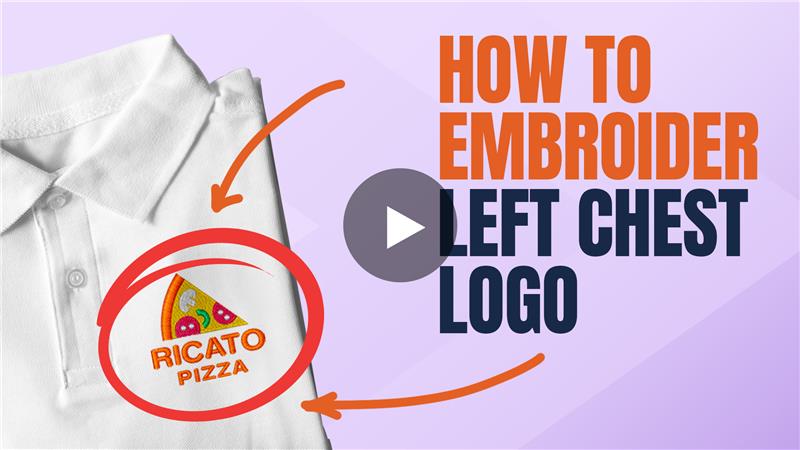 But left-chest logos are only a small fraction of what you can create with a multi-needle embroidery machine, which brings us to the first reason why you should invest in one of your own: you can customize anything!
Click here to browse our wide selection of semi-commercial and commercial multi-needle embroidery machines.
Reason #1: Customize t-shirts, caps and everything in-between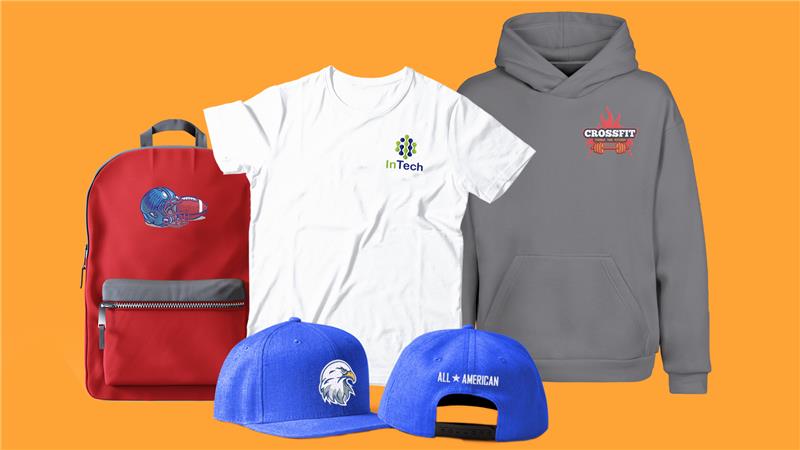 There's a saying in embroidery that "If you can hoop it, you can embroider it."
This is true for most garments like polos, jeans, sweatshirts, hoodies, caps and more, but there are some items that don't require a hoop at all.
For example, other common embroidery accessories, like the robot frame, sash frame and clamps allow you to customize things like shoes, purses, tablecloths and so much more.
Click here to learn how to embroider clutches using our semi-commercial EM-1010 embroidery machine.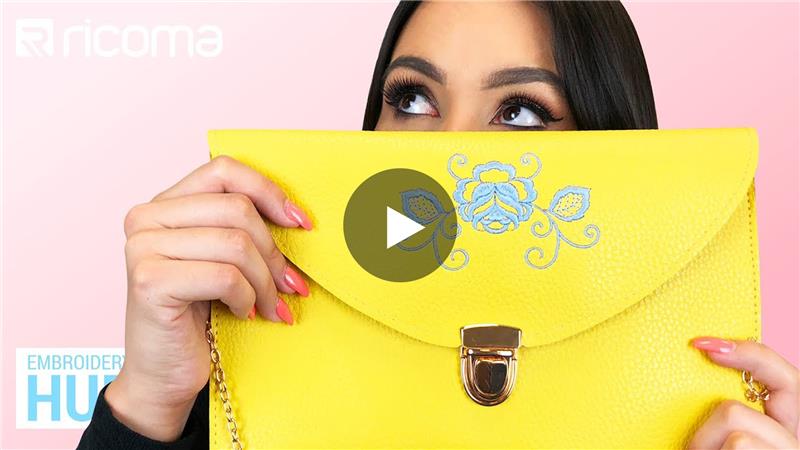 When it comes to embroidery designs, like the one above, you can either purchase ready-to-embroider files from sites like Hoopmade or Etsy, or contract someone to create custom designs for you.
With a bit of graphic design experience, you can even make designs yourself using a technique known as digitizing.
Whether it's a logo, letters, numbers, icons or images, you can create it using the Chroma digitizing software that comes with every Ricoma machine for free.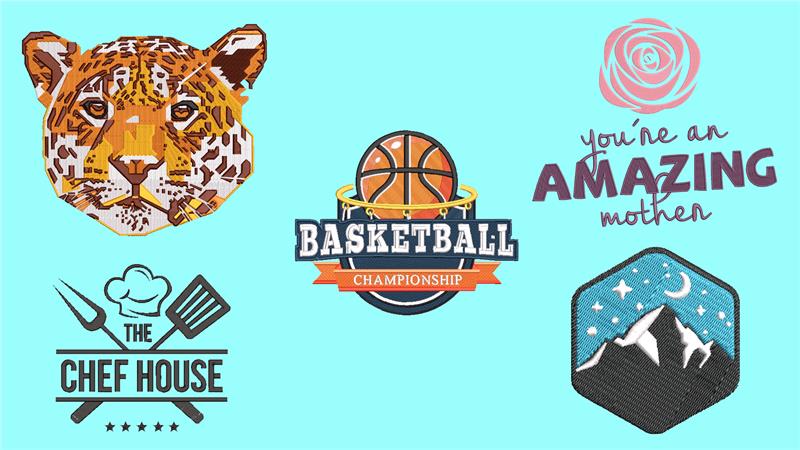 For beginners, Chroma has an auto-digitizing feature that is perfect for creating simple, less-intricate designs.
To use auto-digitizing, simply import your design into Chroma, click on the prompt that appears on your screen and watch as the software automatically converts your file into a series of stitches that you can save as an embroidery file in seconds.
In addition to customizing apparel, you can even make items from scratch like you would on a sewing machine.
This technique, known as in-the-hoop embroidery, is perfect for quick sewing on your embroidery machine — especially if you don't have any sewing experience.
In-the-hoop embroidery is a great way to get more uses out of your already capable embroidery machine and opens the door to a whole new world of DIY crafts. These include stuffed animals, masks, pouches and so much more!
Click here to learn how to make a stuffed toy from scratch with JUST an embroidery machine.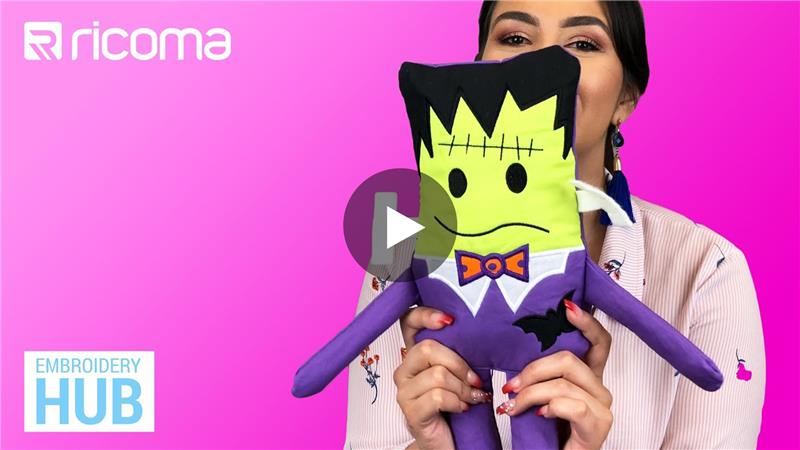 Of course, if you already have a sewing machine, or some other form of apparel decorating method, like heat transfer printing, you can combine those skills with embroidery to take your creativity to new heights!
For example, you can create a custom jacket by first using heat to transfer the design onto the jacket and then jazz it up with an embroidered name, message or logo above it.
These are called mixed-media designs.
Click here to download a free mixed media design and follow along with Willy as he shows you how to combine printing and embroidery to create a stunning custom hoodie.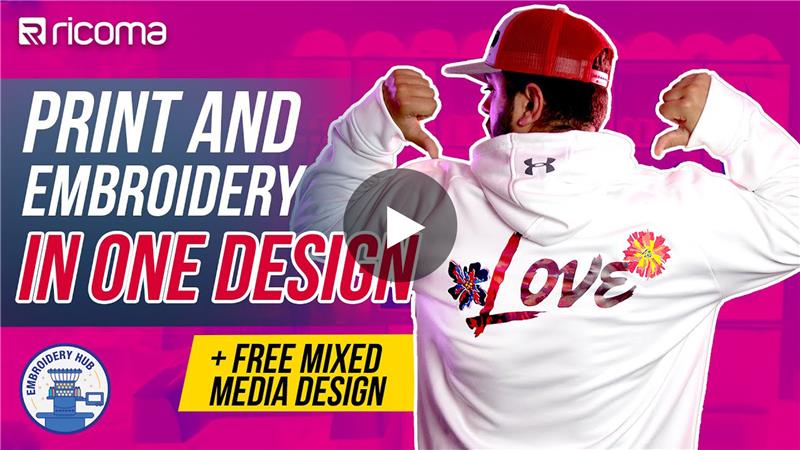 Mixed media designs are also a great way to save time and money when creating custom apparel, whether it be for friends and family or a lucrative side hustle.
That brings us to our next section: save time and money.
Reason #2: Save time and money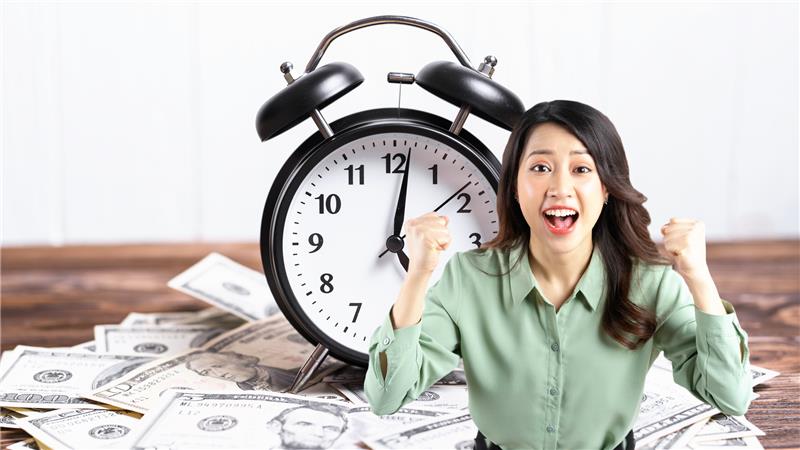 If you're the type of crafter that likes to get things done as quickly and efficiently as possible, then an embroidery machine is a no-brainer.
There are two main, time-saving components that make multi-needle machines a worthy investment for anyone looking to improve their efficiency or start a small business or side hustle.
More needles
Faster speeds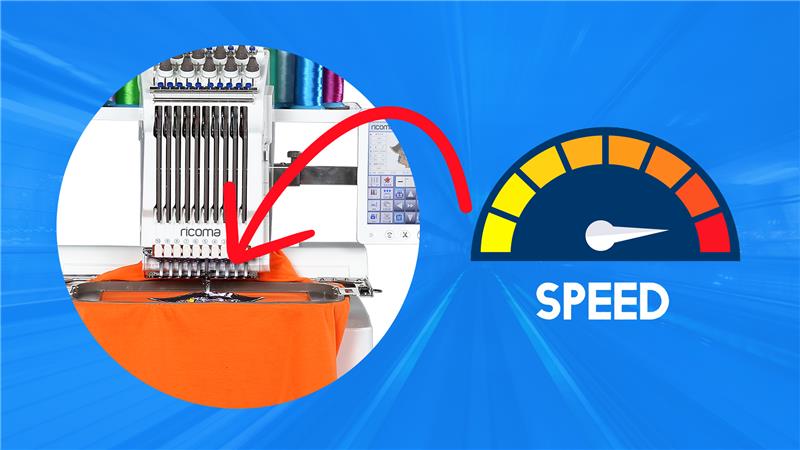 It should go without saying that you can save time embroidering with a multi-needle machine because as its name implies, it has more than one needle.
That means each needle can be assigned a specific color, needle or thread weight, minimizing the amount of time it takes to prepare your machine for the task at hand.
For example, on the new 20-needle MT-2001, you can assign the first 10 needles to be sharp point needles for embroidering regular garments like jeans, jackets, and caps, while the other 10 can be set as ballpoint needles to embroider knit fabrics.
To learn more about the different types of embroidery needles and what fabrics they are best used for, click here to watch this episode of Embroidery Hub.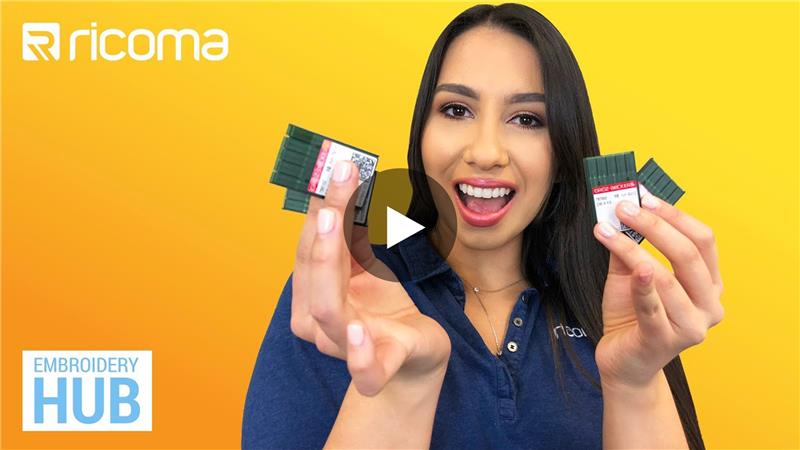 But needles would be useless without a powerful motor.
Picture this.
If you have a single-needle embroidery machine, you can typically embroider between 400-500 stitches per minute. With a multi-needle, like the EM-1010 or MT-1501, you can embroider twice as fast with speeds of 1,000-1,200 stitches per minute.
That means you can embroider a custom cap in less than 5 minutes!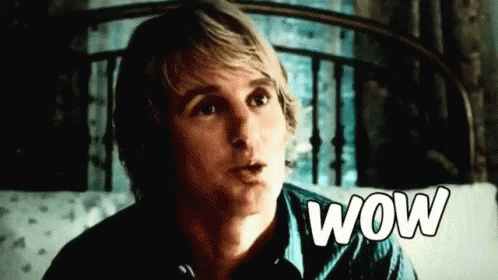 But that's not all.
You can double or even triple that with a multi-head embroidery machine.
Not to be confused with a multi-needle machine, multi-head embroidery machines have multiple sewing heads with multiple needles on each head.
This makes embroidering large orders a breeze.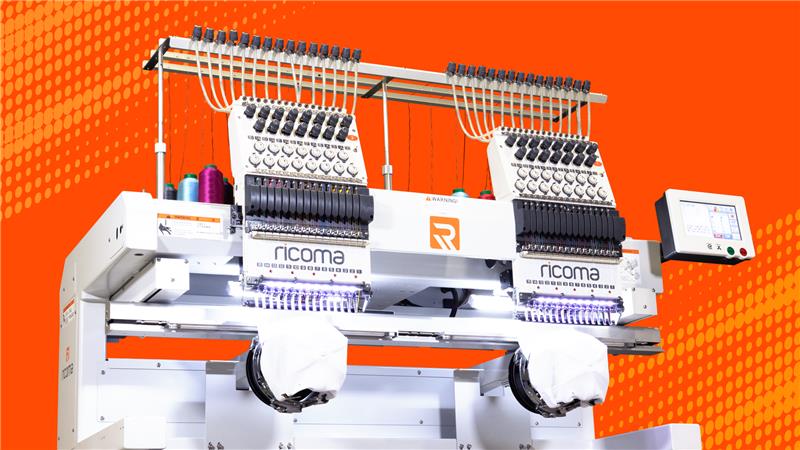 Now that you have a better understanding of machine embroidery and what you can expect should you choose to invest, let's talk money.
Believe it or not, embroidery machines are much more affordable today compared to past decades.
In fact, our embroidery machine packages are the most affordable on the market with 0% financing and low monthly payment options starting at just $130/month. So, you don't need to put down a huge chunk of change to start an embroidery hobby or explore embroidery as a craft business option.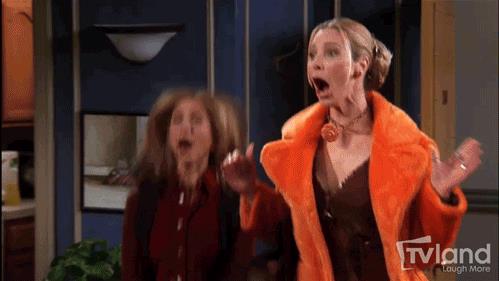 And to sweeten the pot, all Ricoma embroidery machine packages come with everything you need to get started, including cap attachments, hoops, software and unlimited lifetime training and support 7 days a week and after hours.
Also, embroidery supplies, like thread, needles and backing, which is used to support your fabric while the machine is embroidering, are typically very inexpensive.
On average, you can expect to spend about $0.15 per project on supplies.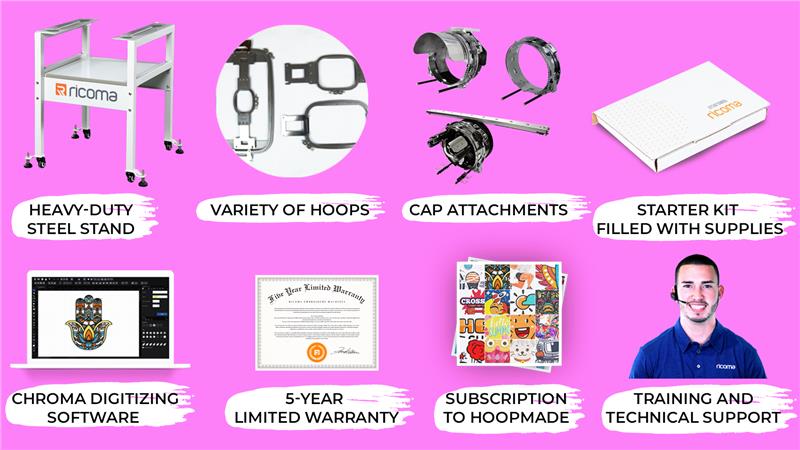 All these factors make starting an embroidery hobby or business more affordable than ever!
Pro Tip: To make embroidery even more affordable, you can buy blank t-shirts at a local thrift store or dollar store. This allows you to practice and test your designs on inexpensive clothing before embroidering and potentially ruining your garment and costing you money.
Speaking of money, if you're in it for the profit, be sure to check out this episode of Embroidery Hub on how to make 10x profit with these dollar store finds.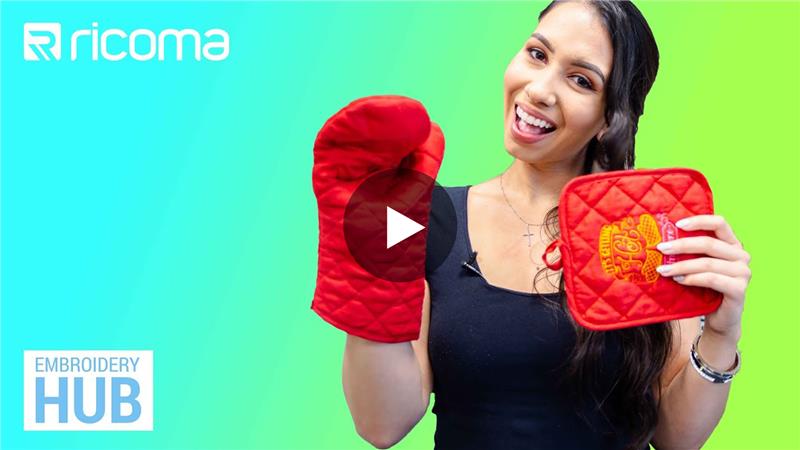 The great thing about most of these items, besides the fact that they only cost $1, is they don't take up a lot of space, which oddly enough is another reason why you should invest in an embroidery machine.
Click here to browse our rockstar lineup of embroidery machines to start earning a profit today.
Reason #3: Embroider from home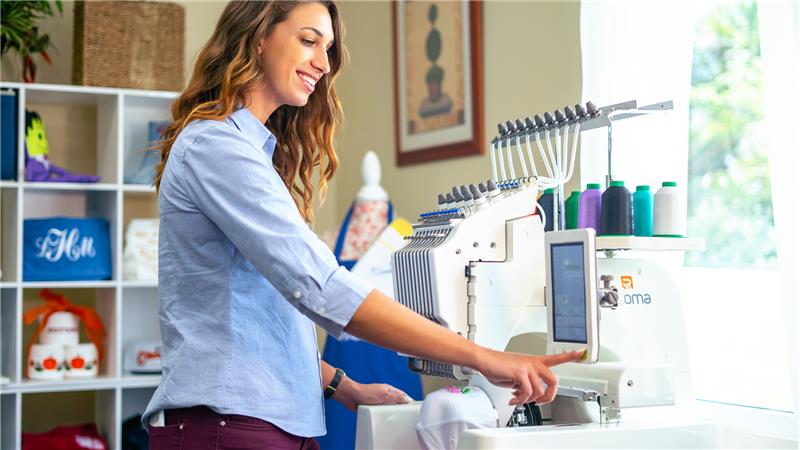 When it comes to space, you don't need much of it to start embroidering. In fact, most people start their embroidery businesses from their spare bedroom or home office.
So long as you have a small area to place your machine, its stand, accessories and supplies, you'll be well on your way to joining them.
To give you an idea of how big a space you'll need, the EM-1010 is only 23.6" x 22″ and weighs approximately 99 pounds.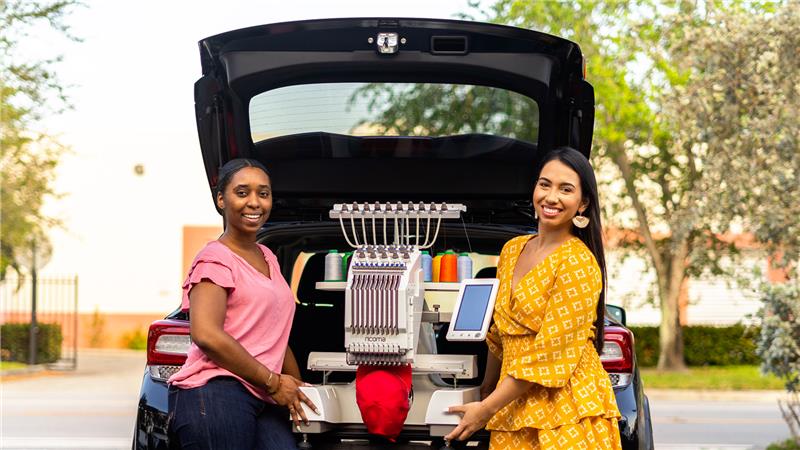 And all Ricoma machines come with a heavy-duty steel stand to minimize vibration and maximize stability, ensuring your projects stitch without a hitch.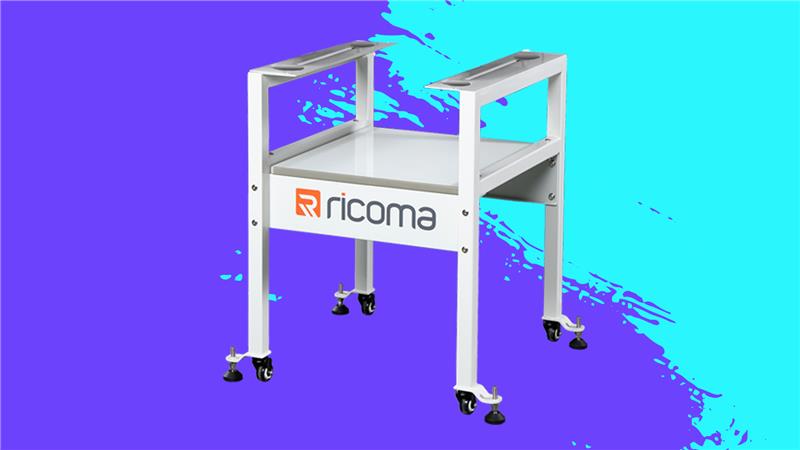 These stands also comes with wheels, which makes it easy to move your machine if need be.
Additionally, the EM-1010's ultra-slim design allows for it to pass easily through standard sized doors, so you can even take it for a spin at a local craft fair to drum up some business.
Whether it be a farmers' market, food and art festival, county fair or church bazaar, there's always a place for embroidered goods.
Click here to learn 7 tips to help you maximize your craft show efforts and ensure you're well prepared for the event!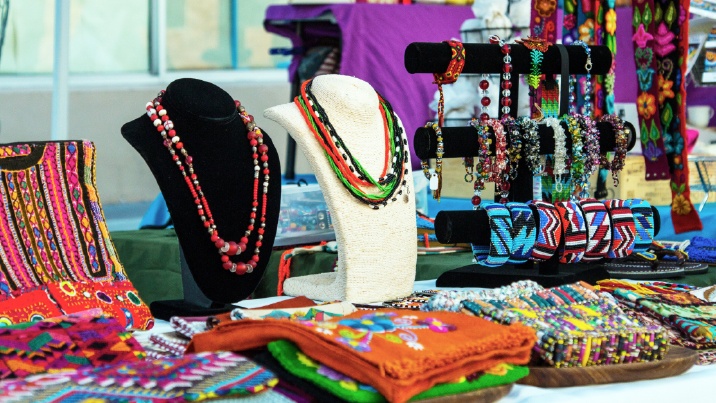 If you're eager to get started selling your crafts, but don't know how to use an embroidery machine, don't panic.
In this next section, we'll go over how you can go from beginner to pro in just a few months.
Reason #4: Go from beginner to pro in no time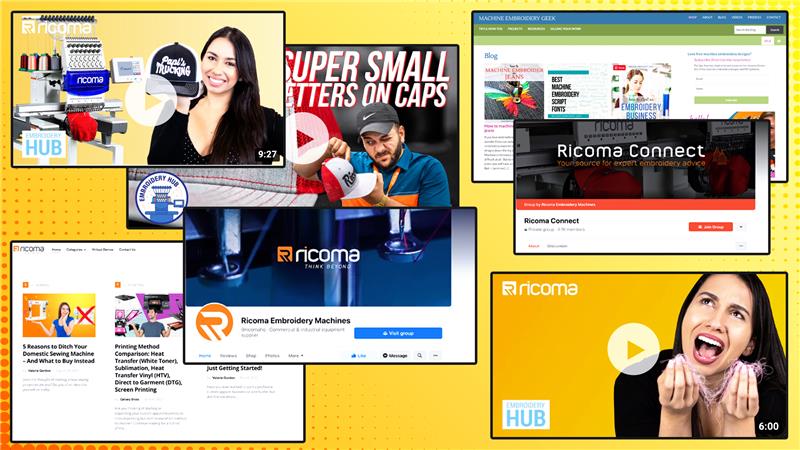 To quote Ricoma CEO Henry Ma, "embroidery is NOT plug and play, but it's not rocket science either." What he means by that is, it takes time to learn but with the right attitude, practice and the right resources, it's easy.
On average, it takes most people a few months to master embroidery, but for others, it can take as little as a few weeks. It really depends on how much time you can devote to learning the craft.
However, as a crafter, you already know you're never done learning regardless of how many years you have in the business.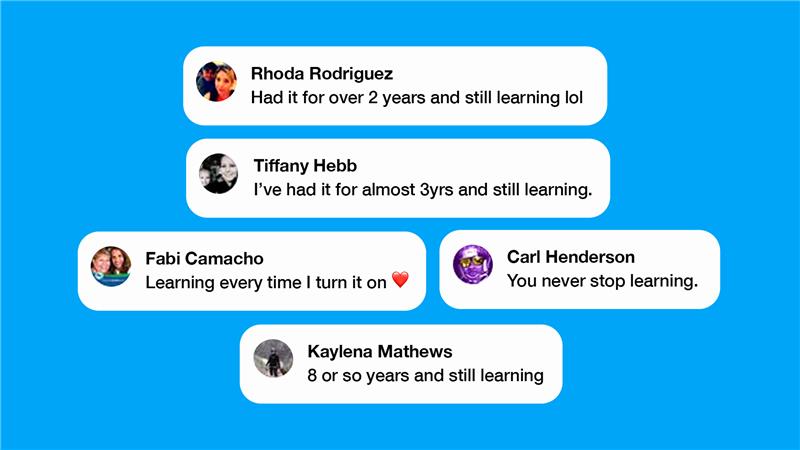 These crafters and business owners all have one thing in common: the willingness to invest in their education.
That's why they've all chosen to join our Facebook support group, Embroidery and Custom Apparel Mastery. Here they can connect with the broader community of decorators, ask questions, receive advice and get inspired.
Click here to join the community now!
Ricoma also offers free training and unlimited lifetime technical support 7 days a week and after hours, so you never have to worry about getting lost using your embroidery machine!
In fact, if you purchase one of our multi-head machines, we come to your location for two days to show you how to use it.
This kind of help is difficult, if not impossible, to find anywhere else.
But our goal is to provide you with the best resources so you can experience the full potential of owning a Ricoma embroidery machine. So, in addition to training and support, we also have online embroidery tutorials and advice on our YouTube channel.
Here you can learn anything from routine maintenance on your machine to cap embroidery and other special projects.
Click here to learn how to embroider your very own cap using our entry-level EM-1010 machine.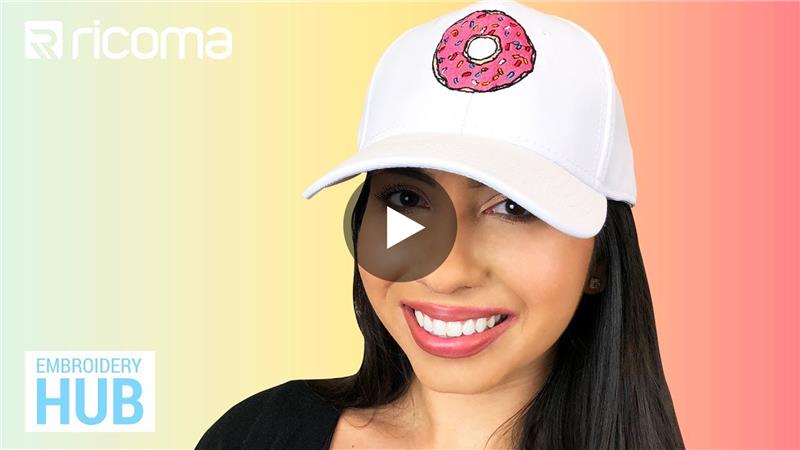 Ricoma has two YouTube shows geared towards helping newbies and experienced embroiderers perfect their craft: Embroidery Hub and Apparel Academy.
Embroidery Hub provides entertaining tutorials on how to complete all types of projects, as well as tips and tricks to improve your embroidery skills. While Apparel Academy offers free business advice from Ricoma's CEO himself, making it the perfect show to watch if you want to start an embroidery business!
Click here to subscribe to our YouTube channel and get notified when we post new content!
These are just a few of the many resources we have to offer.
If you're interested in exploring all of the resources available to you, check out this blog where we go over the 9 resources that will make you an embroidery expert.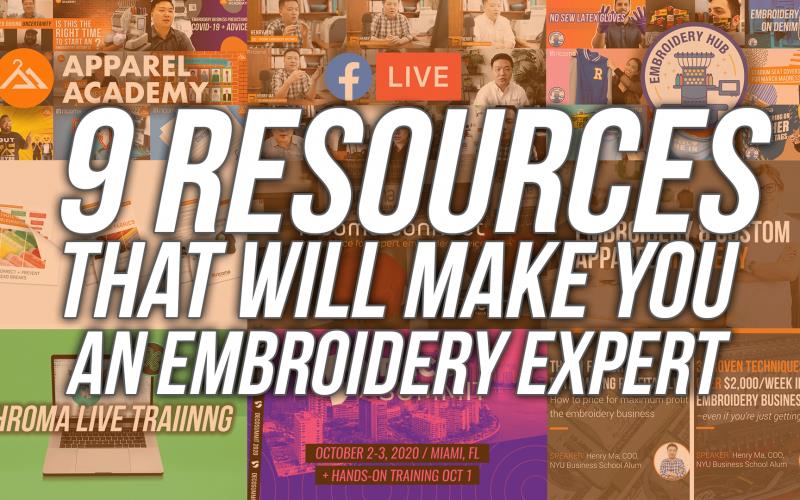 That brings us to the fifth and final reason why you should invest in an embroidery machine: you can start a business or side hustle.
Reason #5: Start a business or side hustle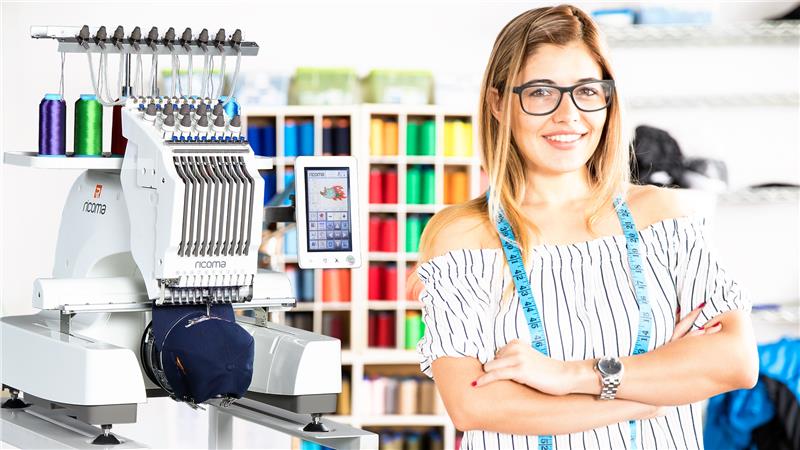 We've saved the best for last. Embroidery is a very lucrative industry that can lead to you starting your very own side hustle or business.
When most business owners think about personalizing something for their business, whether it be their company's logo on a cap or polo shirt, their first thought is to embroider it.
Embroidery is by far the most popular custom apparel decoration method, so you'll have absolutely no problem turning your hobby into a lucrative startup business.
Here are 5 reasons why embroidery is the perfect side business.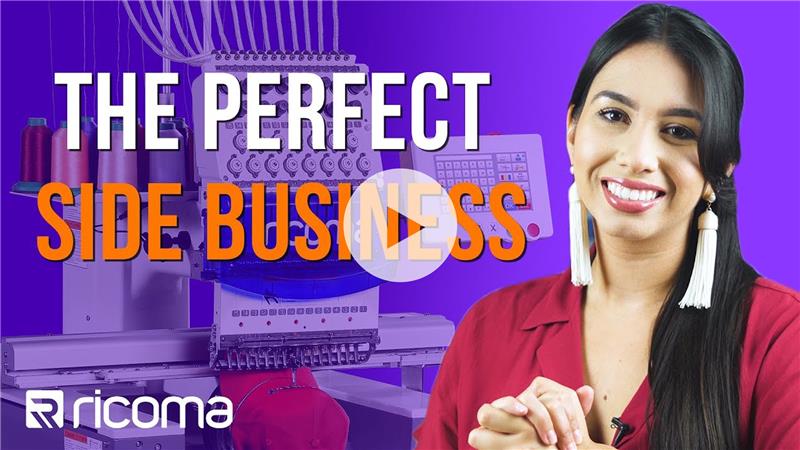 As the most profitable form of apparel decoration, embroidery will have you ditching your long commute for a home office in no time.
Let's break down some numbers.
The cost of a blank cap is approximately $5. You can embroider a simple logo on it in about 5 minutes. Now, add in $0.15 for supplies and $2 for labor, the total cost of embroidering the cap comes out to $7.15.
You can easily sell this cap for $25, which means you could make just under $18 on an embroidery project that took just minutes to complete!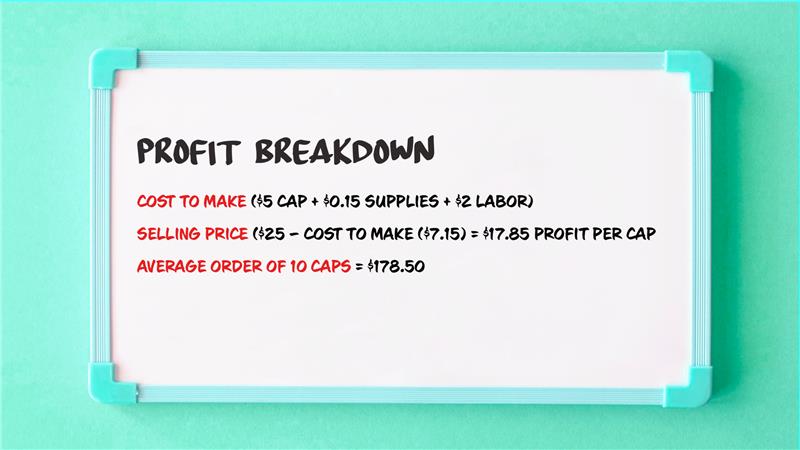 That's more than enough money to cover the cost of your monthly payment and you can pocket the rest.
All in all, embroidery is a versatile crafting hobby that allows you to easily make extra cash, which is something many other hobbies can't boast of!
Click here to start your custom apparel business or side hustle with a Ricoma embroidery machine today!
Bonus: Why the EM-1010 is the best entry-level embroidery machine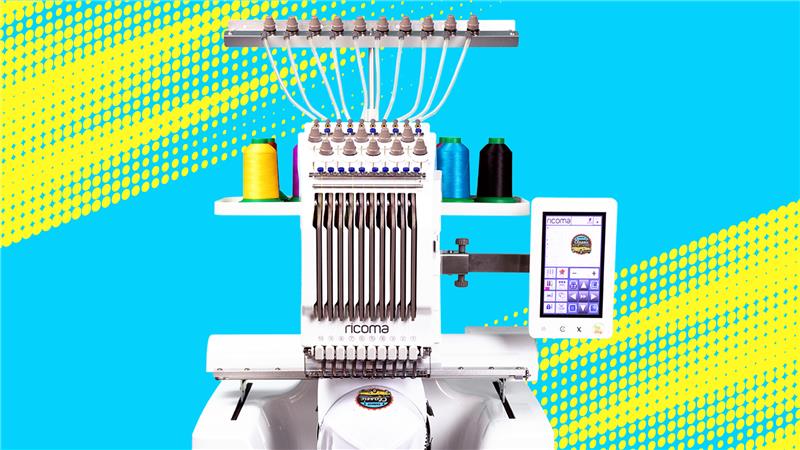 If you're ready to create amazing embroidered projects, look no further than the Ricoma EM-1010.
While most entry-level machines either have one needle or between 5-6 needles, the EM-1010 has 10 needles, so you can comfortably embroider colorful designs without having to continuously change the thread.
As mentioned earlier, the more needles you have, the more colorful your designs can be.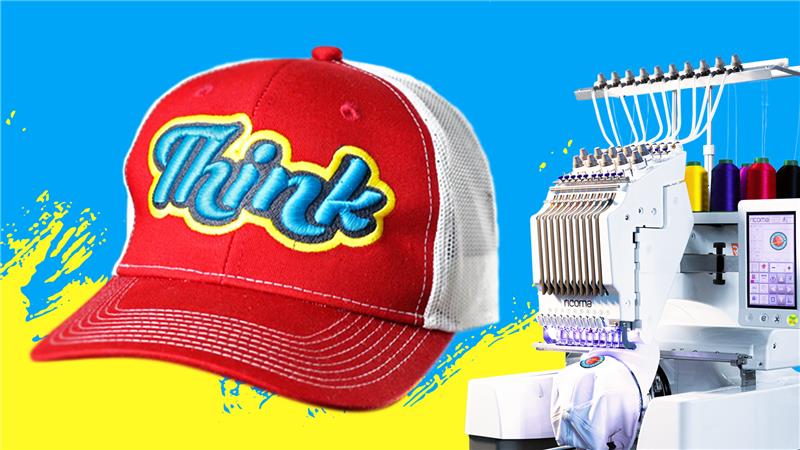 So, why settle for a subpar machine when you can have a machine that can do everything a fully commercial machine can?
For example, even though this 10-needle machine is more compact than others, you can still embroider caps, thanks to the machine's special sewing arm. This allows you to insert caps and bags onto the sewing arm, similar to placing a new roll of toilet paper onto its holder.
Follow along with this video and learn how you can embroider caps on the EM-1010 with ease.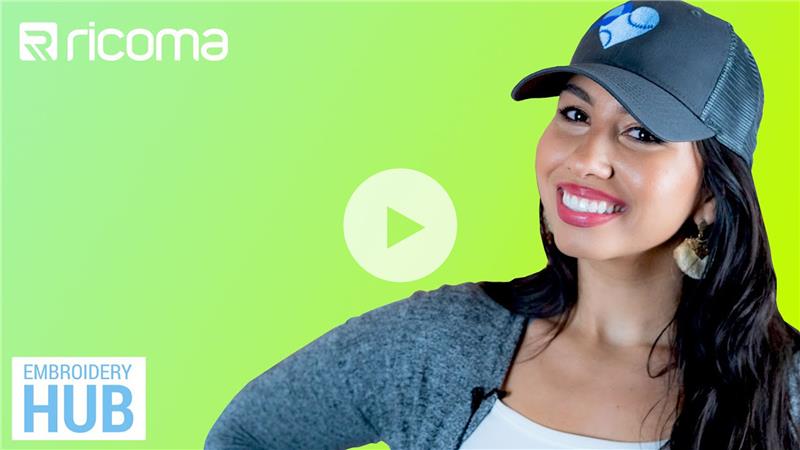 Most entry-level machines don't have this arm, which limits you to only embroidering items that can lay completely flat on the machine's base, like shirts, towels blankets, etc.
That's why Ricoma's EM-1010 is the best starter machine. It allows you to easily embroider colorful designs onto a larger variety of items at speeds of up to 1,000 stitches per minute.
Not to mention, the EM-1010 comes with everything you need to get started, including the stand, hoops and cap attachments all FREE, which could cost you thousands of dollars with other brands. This makes this 10-needle machine more affordable than other multi-needle machines.
If you're interested in learning more about Ricoma's semi-commercial machine, click here to schedule a free virtual demo.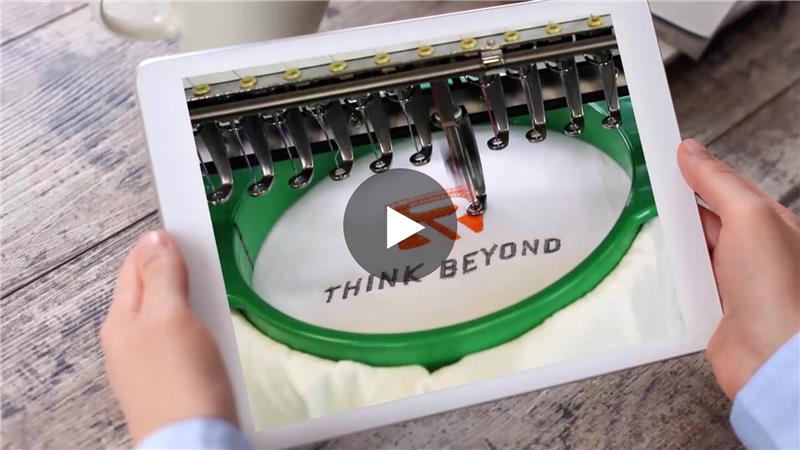 During the call, we'll show you anything you'd like to see on the machine. We'll even run a design, so you can get the experience of watching the machine live without having to spend any time or money going to a trade show.
Bottom Line
Machine embroidery is a fun, creative, easy-to-learn and profitable hobby that anyone can get into. So, whether you're thinking about trying embroidery or already dabbling in the craft, we challenge you to find an awesome embroidery project you'd be excited to create from this ultimate list of embroidery ideas.
And if you're ready to start embroidering on an awesome machine, click here to check out Ricoma's lineup of high-quality and easy-to-use embroidery machines!
Do you want a master class in everything machine embroidery?
Click here to watch this Ultimate Machine Embroidery Guide for Beginner's video! It will teach you everything you need to know about machine embroidery, from the process itself to the materials and supplies you need to get started.