For many crafters, Etsy is an inspiration powerhouse — a mecca for creatives.
It's the perfect place for someone to showcase their most creative items and build a name for their brand.
It's also the perfect place for embroiderers.
Most embroiderers start Etsy pages to not only list their items online for the convenience of their current customers, but to get their products in the hands of new customers, quickly and efficiently.
So if you're thinking of starting an Etsy page for your embroidered goods or if you already have an Etsy shop and you're looking for more avenues to sell, continue reading to the end!
Because in this article we'll reveal…
#1: Research the demand for your items on Etsy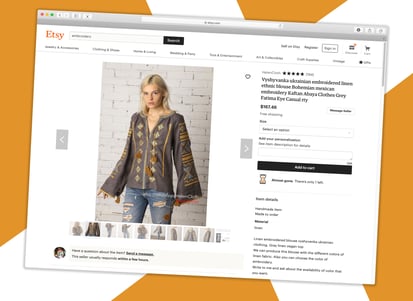 Take the time to research and evaluate what items are generating the most profit on Etsy.
Here's a great article to start with.
Then, see how you can connect those bestsellers to embroidery and incorporate it into your offerings.
We compiled some of the bestselling categories the article mentions and included what this means for embroiderers….
If any of these categories sparks your interest, think about how you can branch out and relate embroidery to each.
If you're also wondering what kinds of fabrics to use for each of these items or how to put a spin on theses popular, existing products, check out this cheat sheet on 50 popular fabrics and how to embroider them for best quality!
#2: Make your photos aesthetically pleasing
As you know, most prospective customers want to see what your product looks like before committing to a purchase — especially if this is the first time they've interacted with your product.
While the quality of your product must be great, if you want that to mean anything to potential customers, you need the two main elements of a great photo:
Good lighting and great photo composition.
By photo composition, we mean the way that items are spaced out in photos to look aesthetically pleasing.
Take a look at the example below: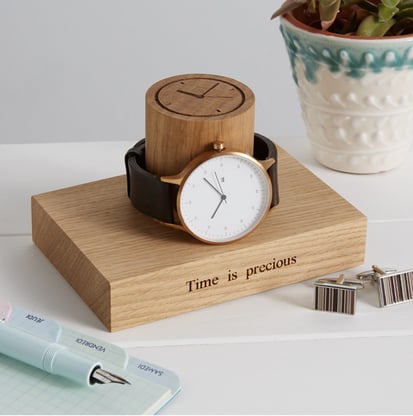 Notice how the photo fills the space of the frame. It's also taken from the foreground, which adds depth, especially with the way the props are positioned.
Meanwhile, the photo has a clear focal point. We're aware the watch is the item being sold, but the seller added props to fill the space.
These elements improve the impact of the photo. Click here to read 10 great photo composition tips.
Lighting is also key.
Luckily, today's technology allows you to use your smartphone to capture your work's beauty in ways you probably couldn't before.
Some good photo editing applications?
VSCO, Whitagram or Snapseed will allow you to quickly edit brightness and contrast for your next product post directly on your phone.
You may also want to look into investing in a product light box. These mini photography studio kits allows you to take standalone photos of your product. This is an affordable way to make your product come alive.
Pro tip: You can also position your embroidered piece so that the natural light hits from behind and reflects naturally onto the garment.
You may also want to lay your products flat onto a backdrop or up against colored construction paper to create a unique effect when capturing your photographs! (This construction paper is beyond affordable.)
Before you know it, just by practicing a few of these suggestions, your Etsy profile will become like an online photo album of your best work, and ultimately attract more people to your page.
#3: Maintain good rapport with customers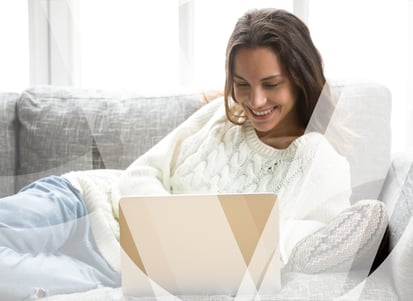 The engine behind any business? Happy customers.
Why? Happy customers return and refer.
Here are some simple, genuine ways to keep your Etsy shoppers happy even after the sale:
Offer promo codes and referral credits. You can ship your item with a package insert that offers a returning customer discount and/or a referral incentive. That way, they'll keep coming back for more items, and tell their friends about it, too.
Check in after the sale. Send your customers a quick tailored thank you note or email asking how they liked their apparel. Mention the specific piece they bought, if time permits. Etsy customers shop on Etsy because they like the personal feel it offers.
But how do you get them to trust you before the sale?
There are hundreds of Etsy users, so you need to be willing to put in work that other shop owners may not care to.
Ongoing work like maintaining an open line of communication with your customers will pay off in the long run.
For example, if your customers are inquiring under your post in a comment, be sure to respond publicly with helpful information!
That way, potential customers can see there's a real human behind your page.
Consider this: If your response to a comment on your page is information you do not wish to share with others, don't move the conversation to a private message until you have responded to the comment publicly.
Simply comment back publicly telling the customer that you will private message them, so other customers can see you're a responsive seller.
Want to know more about authentically engaging with your customers?
Learn more about marketing your custom apparel business and connecting with your online customers here.
The goal is to attract new customers, bring back previous customers, and have them feel satisfied with their experience.
As a result of maintaining these positive relationships, you would be able to ask customers if they could kindly leave a review.
It's all about cultivating a positive experience…
…from the moment they first land on your site to the moment they've received their product.
Pro tip: You can go the extra mile and ask happy customers to leave a review on your Etsy page in exchange for a free item or a discount on their next purchase. The more reviews your Etsy page receives, the more credible your page will appear and the higher you will rank on Etsy's search.
Read this article to learn more about positioning your online store in the right way to be recognized by Etsy.
#4: Spend time crafting descriptions and tags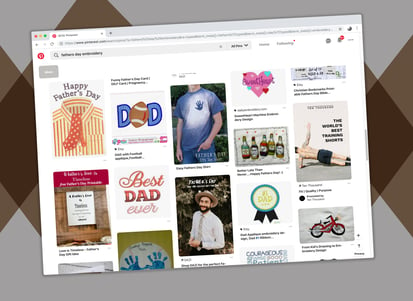 A good description does more than identify what the product is, and how it works.
It goes into specifics about the product itself.
When considering what to include in your description, be sure to include details customers need to know about your product.
Here are some questions customers may have that you should include:
Is your product customizable? For instance, can it be personalized or monogrammed?
What material is your product made of?
Can it be gift-wrapped?
What are the dimensions of your product?
What is your return and exchange policy?
When will the items be shipped?
All of these details are very important when considering what your customer will see when they land on your page.
As for keywords and tagging…
You want to ensure you're utilizing keywords and tagging your products with words that not only perfectly describe your product, but will make your product reachable when searched for.
Etsy works by picking out your best keywords and utilizing them in the title. In fact, according to the article…
The title is the most important place to have those keywords.
A way to do keyword research is cross referencing searchable tags using Pinterest.
How? Once you start typing into the Pinterest search, suggested searches will appear in the drop down.
While you can perform keyword research directly on Etsy, Pinterest is just an additional avenue for researching tags and keywords used by makers and crafters like yourself!
From there, you can narrow your options and choose your keywords and optimize your post for better reach.
Learn more about how to boost your sales on Etsy from this article, which breaks down how to use Pinterest for keyword research and how to match your title to your tags effectively.
And don't forget tagging!
Tags are short phrases that describe your product.
Let's say you were listing an embroidered wallet for Father's Day.
Some of the popular tags you could use are "embroidered wallet" and "wallet embroidery," which both appear on Etsy's list of suggested searches when you type in a search.
While these are essential tags to include, you also want to reach customers who probably didn't come to Etsy looking for something embroidered, specifically.
In that case, you may want to use the tag "personalized wallet" as well.
You can even use the tag "mens wallet" or "wallet men" to target customers who just want a men's wallet but don't know they want an embroidered wallet yet.
While tags like "mens wallet" are more general (and specific tags are known to help you succeed on Etsy), it's still a good idea to include a healthy mixture of general tags.
Etsy allows 20 characters per tag and recommends using all 13 of your allowed tags. In fact, Etsy tells sellers exactly what their search engine wants to see here.
#5: Maximize your reach with social media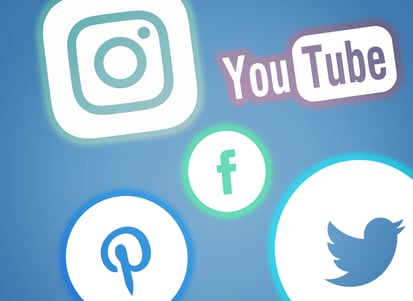 One of the most effective ways to boost your product findings on Etsy is by leveraging your existing audience.
Not only can this potentially convert your existing followers to customers…
…but it will ultimately attract more website traffic to your shop.
While this does not automatically equate to more purchases, you will be able to use the backend of Etsy to see which products are being viewed the most, and where most of your visits are coming from.
This can inform you on what products people like the most, or even what type of images are working.
If you don't have an existing audience…
That's OK!
Start building an account right away and begin adding friends and family. Once you've added everyone you can think of, share posts that link to your Etsy account.
When you do so, Etsy carries over primary item details like the item price, image and details used. This feature saves a lot of time in social media content creation and effectively promotes your content on the other channel!
Pro tip: If you want learn more about how other decorators price their items on sites like Etsy and the #1 factor to consider when pricing, check out this article!
Another way to learn more about taking your shop to the next level is by using online forums, blogs and groups to ask pertinent questions.
There are so many useful tips and hacks on Facebook, especially where you can voice your opinions and learn from other Etsy shop owners! Check out our Facebook group Embroidery and Custom Apparel Mastery and join our online community of embroiderers who discuss new and innovative ways to sell their embroidery!
This will not only connect you with passionate embroiderers like yourself… but will also give you new ideas as you further your experience in this industry.
Bottom Line
Etsy is a multifaceted platform that allows sellers to be very successful if they implement certain strategies to make their shop more reachable.
We hope these tips helped you learn how you can be a more effective seller on Etsy, while maintaining positive relationships with your customers and…
…finally earning your Etsy bestsellers' badge!
Have additional tips about how to sell on Etsy? Let us know in the comment section below and join our Facebook group Embroidery and Custom Apparel Mastery to learn more about how embroiderers are selling their items.
Ultimate Embroidery Cheat Sheet: 50 Popular Fabrics & How-To Embroider Them for Best Quality
Did you know that you can improve the quality of your embroidery no matter which fabric you're embroidering on?
To guarantee your embroidery success, we've put together a cheat sheet of 50 of the most popular fabrics used for embroidery and the combination of materials that you'll need to give you the best possible results for your projects.