Weddings are a chance to celebrate infinite love between two people.
You, as the embroiderer, can make this moment memorable for all by creating a special memento or takeaway for not just the bride and groom, but everyone who attends.
Personalized items are key to creating an experience that a couple and their guests will never forget.
Some unique items you can expect to see on this list are:
Read on below to see the full list of all the ways you can "tailor" the big day.
#1: Napkins

Embroidering a metallic border design or a monogram on the corners of a napkin is the perfect gift for guests to remember the couple's anniversary for years to come. On their anniversary, the couple can even bring out these napkins as a reminder of the special day.
Know the color theme of the wedding? Consider choosing a napkin color that matches, then use the accent color for the actual embroidered letters and numbers within the date.
A few things that you may need to create a beautiful design are:
#2: Napkin Holders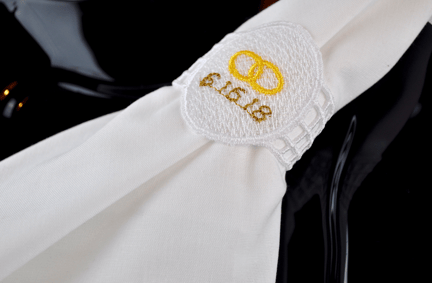 If the bride is going for a classy, simple look, embroider free-standing lace napkin holders to honor the special day!
Another idea: Embroider the initials of the happy couple, along with the wedding date.
When embroidering these napkin holders, be sure to use a water soluble stabilizer to ensure that you have a stable surface to embroider on.
While it does give stability when embroidering the design, the stabilizer will be washed away when you are finished, leaving you with just the thread.
Tip: Try using two sheets of wash soluble stabilizer to make sure you have plenty of stability while embroidering!
For more tips on embroidering free-standing lace designs, check out our Embroidery Hub episode!
#3: Wedding gift bags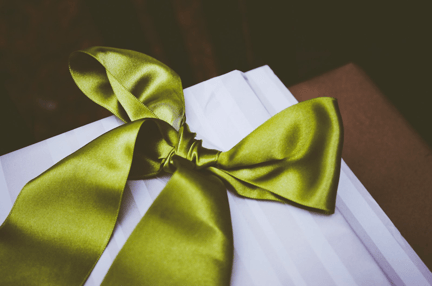 You can create embroidered satin bows to wrap around centerpieces or decorations.
Satin is more prone to puckering, which is when the fabric pinches up around the embroidery design.
One way to prevent puckering is by using either one sheet of cutaway backing or two sheets of tearaway backing. This will help ensure the fabric remains stable and doesn't shift around as the needle embroiders through the fabric.
Pro tip: To get rid of puckering, you can apply heat to the fabric to even it out, as long as you do not apply too much heat over the stitches.
Learn more about embroidering this type of fabric so you can design these cute bows for your next event!
#4: Handkerchiefs for parents and grandparents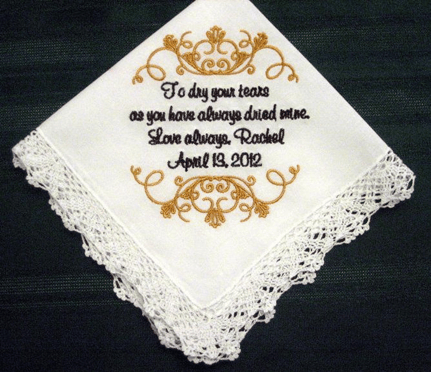 Help the couple show their appreciation by designing an embroidered item specially made for the parents or grandparents of both sides of the family.
We suggest a handkerchief, but just about anything that can be embroidered will be worth the thought.
The best way to make it personalized is to embroider their initials, line the item with a quote they always say, or simply put the date of the wedding.
Click here to learn how to embroider small lettering.
#5: Ring bearer pillow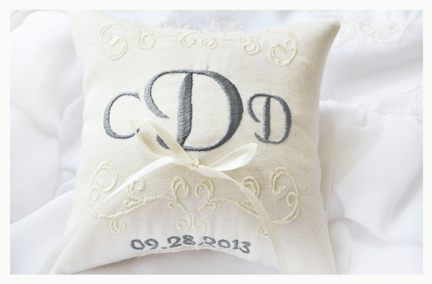 A special keepsake that not many people may think to embroider is the ring bearer pillow. While this may be slightly difficult to accomplish, it is definitely possible to achieve. If executed correctly, it can be such an elegant memento for the couple to keep.
Embroider the date and a special message within the pillow itself, using the wedding's accent colors, to stand out.
Keep in mind: The design will need to be embroidered on the fabric first, and then it will need to be sewn together. A pillow cannot be put through the machine, as embroidery items usually need to be flat.
Use our embroidery cheat sheet to find out the best materials to use for this pillow!
#6: The bride's garter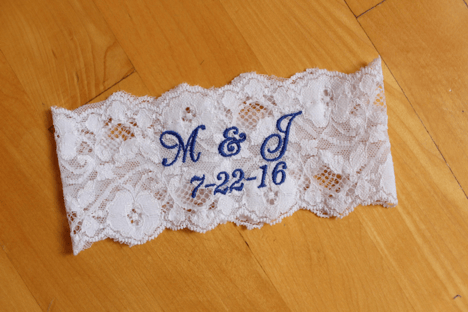 Not usually thought of as something to embroider for a wedding, adding some flare to the bride's garter is sure to make her wedding day special and memorable. Although it may not be entirely noticeable to many who attend the wedding, it will be a special keepsake for the bride.
When embroidering the garter, since it is a delicate fabric, it is best to use a water soluble stabilizer to a provide a stable backing on which to stitch your design. The best part is that there is no need to tear away the back; put your fabric in water and it dissolves right off!
Apart from the garter being something that the bride keeps and cherishes forever, the embroidered portion of the garter can also be captured in pictures and videos as well!
#7: Free-standing lace earrings for bridesmaids' gifts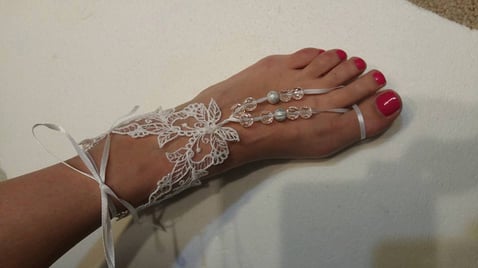 Metallic jewelry is expected as a bridemaids' gift. Why not help the bride stand out by creating a free standing lace earring for her bridal party to wear or free standing lace sandals.
One of our valued customers and free-standing lace expert, Linda Russell, shared the above picture of her beautiful free-standing lace sandals! How perfect are these for a beach wedding?!
This will definitely set your portfolio apart from other embroidery companies, especially since wedding ideas today have become very modernized.
Check out this video where we show you how to create free standing lace earrings!
#8: Embroidered burlap cover for mason jar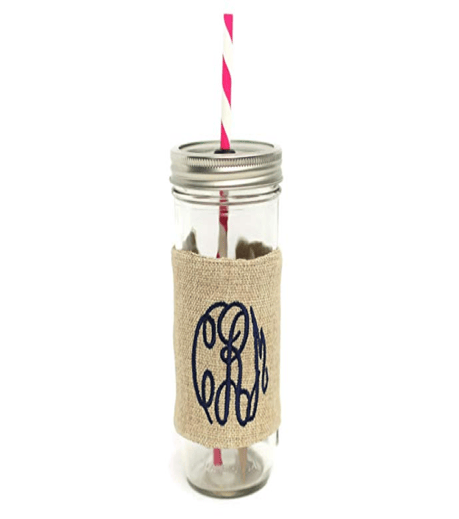 Embroidering items for a rustic or farm style wedding? Burlap is your friend. Make your client's vision of a rustic, chic wedding a reality by embroidering a burlap mason jar sleeve with their wedding date or initials.
Seeing as burlap material is a lot easier to use when sewing, this is a simple and elegant way to make the drinking glasses stand out. Did we mention that it also helps minimize condensation on the cup? Definitely photo worthy!
These mason jars can also be placed on the tables for guests to take home with them. Fill them up with butter creams or candies to add an extra treat!
#9: Table numbers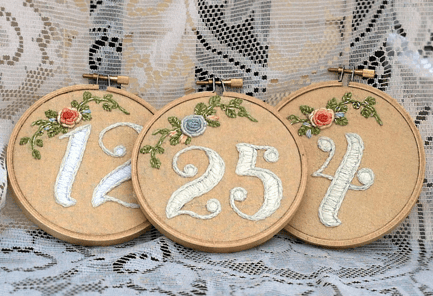 Every table needs a number so the wedding guests know where they are seated. Why not change up the way the numbers are displayed by designing embroidered table number hoops! This is sure to make the table decorations stand out.
One of the best types of material to use for these hoops is duck canvas because it is a tightly woven fabric. It is known for its strength and sturdiness, which is essential for getting a clean and intricate design.
As for the wooden hoops, you can find them at Michael's!
We recommend displaying the number in the accent color or adding a floral pattern around it, to create a more memorable design.
For example, check out these embroidered table numbers that we found on Etsy! Although these are hand embroidered, you can easily machine embroider them by adding the design to the fabric, and cutting it to put into one of the wooden hoops!
#10: Embroidered caps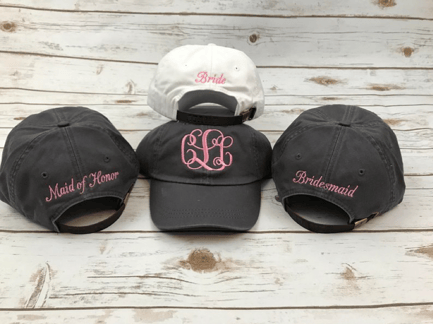 You might be thinking, what can we possibly do with caps that will have any relevance to a wedding? Hear us out.
A perfect way for a bride and groom to get everyone on their feet at the reception is to have some great music, lights, and party hats. This is where you come in- design a cap that signifies the special occasion AND looks so cool, that everyone will want to get up and grab one to take home!
Start the festivities early for the bride by designing cute caps for her and her friends at the bachelorette party. Check out our guide to ensure that you aren't making these mistakes when designing the stellar wedding caps!
Bottom Line
Whether you are designing napkin holders or burlap cup sleeves for your customer, it is important to use the best products to create the best results. Here at Ricoma, we have all of the tools you need to deliver outstanding and beautiful designs for a couple's wedding day.
Visit our blog today for more embroidery tips and tricks!
Ultimate Embroidery Cheat Sheet: 50 Popular Fabrics & How-To Embroider Them for Best Quality
Did you know that you can improve the quality of your embroidery no matter which fabric you're embroidering on?
To guarantee your embroidery success, we've put together a cheat sheet of 50 of the most popular fabrics used for embroidery and the combination of materials that you'll need to give you the best possible results for your projects.