While some say you can't mix business with pleasure, that's far from the truth for crafters.
For a time, sewing, embroidery and craft-making were thought of as strictly recreational. But today's crafters have turned these skills into both a creative past time AND a legitimate source of income.
In fact, nearly $44 billion is generated from the craft industry in the U.S. alone. That's a 45% increase from the year 2011.
Embroiderers take a nice chunk of that $44 billion, too. Embroidery is the number one apparel decoration method, generating nearly half of the revenue in the decorated apparel industry!
So where is this increase coming from?
More home embroiderers are starting to sell their products.
The embroidery industry has plenty of perks.
Why home embroiderers are selling their products
For starters, they already have a demand. Embroiderers get frequent requests from friends, family and even friends of friends. Once they start doing a few favors here and there, they start to notice how large their network actually is and realize they can sell their items for profit.
They already have startup supplies. Embroiderers with single-needles typically come from sewing and craft backgrounds, so they usually have plenty of supplies such as fabric scissors, thread, stabilizer and more. Accumulating so many supplies over the years eliminates startup costs, making it easier to make a profit without breaking the bank first.
And, most importantly, they love what they do. For years, crafting has been considered a therapeutic creative outlet. If it can also shave off a bill, then it kills two birds with one stone.
While these personal circumstances almost always lead to the choice to pursue embroidery for profit, there are also other reasons why embroiderers love the industry.
#1 Embroidery materials are inexpensive compared to other businesses. Luckily, embroidery materials can cost as little as $0.16 per average design.
#2 There's an extensive market for embroidered goods. There will always be a demand for embroidered goods due to their "professional" appeal.
#3 There are plenty of resources available for selling handmade products. Online marketplaces like Etsy have simplified the sales of handmade products and granted the opportunity for everyday crafters to enjoy the fruit of their labor!
#4 Efficient machinery is more affordable today. Efficient embroidery machines are more accessible today than ever, as commercial grade equipment can easily pay for itself.
#5 Unmatched industry support. Anyone can learn how to embroider because of the vast network available to embroiderers online.
In this article, we'll dive deeper into these benefits and why they make embroidery the perfect side business.
#1: Embroidery materials are inexpensive compared to other businesses
Having the flexibility to work from home gives hobbyists the comfort of knowing they don't have to incur additional costs, so they can choose to do it part-time or only on busy seasons.
Many embroiderers benefit from generating extra income without dealing with the stress of running a full business. Those who do transition into a full business do so because of the low cost of materials compared to other businesses. Because of this, embroiderers can produce a 60% profit margin or more on their items!
In fact, the total cost of thread, stabilizer, needles and bobbin for an average design is only $0.16. Meanwhile, wholesale blanks can run as low as $2 a piece or less.
The average cap, for example, costs about $2 and takes no more than 15 minutes to hoop and embroider. After embroidery, this cap can be sold anywhere from $15 to $20 depending on the size of the design. If you produce four caps in one hour, you're looking at about $50 to $70 an hour AFTER costs have been subtracted.
While caps are undeniably profitable, what other types of products do embroiderers sell?
#2: There's a huge market for it
Have you ever met a bored embroiderer? The great thing about embroidery is that there are so many ways to personalize items. Click here to see a list of 101 items you can embroider!
Typically, embroidery projects fall under one of two categories: custom one-off projects (personalized) or bulk uniform orders (non-personalized).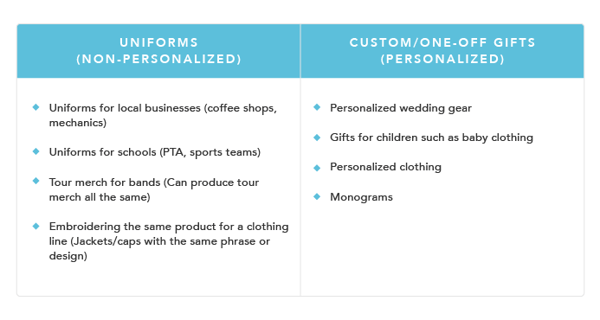 Bulk Uniform (non-personalized)
Bulk uniform orders are ideal for embroidery businesses because they are able to use the same design and materials across multiple items. The same applies to home-based embroiderers who can make anything from tour merchandise for bands to statement pieces for a clothing line, such as dad hats with sassy quotes.
Bulk uniform orders can be resold to many and do not require additional digitizing.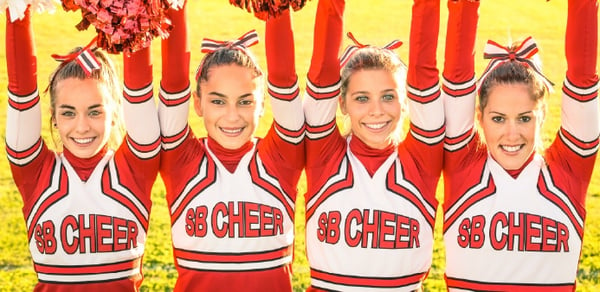 Custom one-off projects (personalized)
Some startup embroidery businesses steer away from customized apparel since they have to digitize a new design for each item. While some businesses do not consider this profitable, this couldn't be any further from the truth, especially for home embroiderers with more flexible schedules.
In a digital world where everyone has access to the same goods, buyers are willing to pay a premium for customized accessories. Many of these buyers are millennials, who are famously known for buying local and handmade products. As a result, everyday crafters are able to charge what they deserve.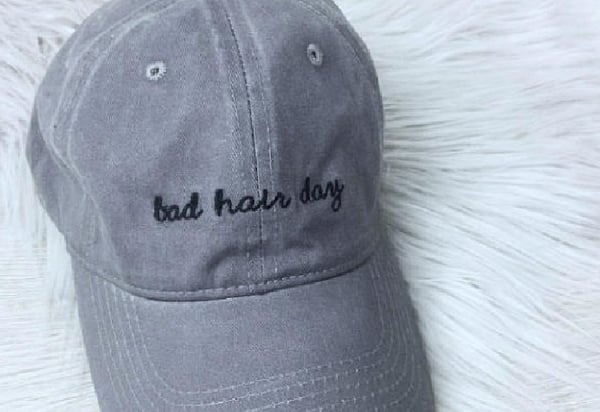 Meet Heather Rachel
Heather is a home-based embroiderer who sells a mixture of personalized and non-personalized items through her online Etsy shop, Dearly Threaded.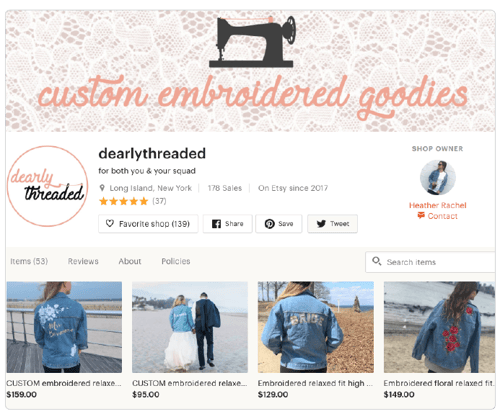 Heather offers floral denim jackets with the same design, but she also offers personalized jackets, as you can see with her "Mrs. Boneman" jacket.
Click here to check out other embroiderers who decided to turn their embroidery hobby into a business.
But Etsy isn't the only place home embroiderers are selling their products. Check out some other platforms below dedicated to the sale of handmade products.
#3: There are plenty of resources available for selling handmade products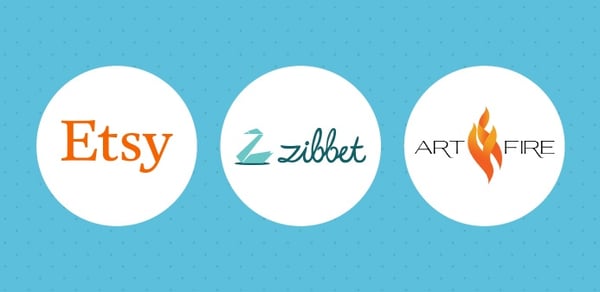 Online marketplaces
With a steady increase in active buyers since its launch and 33 million buyers in 2017 alone, Etsy has provided a platform for crafters to easily sell their work from home.
With Etsy's booming popularity, other online platforms dedicated to the sale of handmade products like Zibbet and Artfire are also being filled with embroidered products. Zibbet, for example, is a marketplace powered by a global community of independent artists, crafters and vintage collectors.
ArtFire.com is a marketplace, craft and maker community where people from around the world come together to buy, sell and interact.
With a mixture of online places to sell their products, embroiderers are listing products on a combination of these online platforms. This takes the stress off of marketing and advertising, allowing you to list your products on a virtual storefront where the customers "walk-in" and come to you if your product is most relevant to what they're searching for.
Craft shows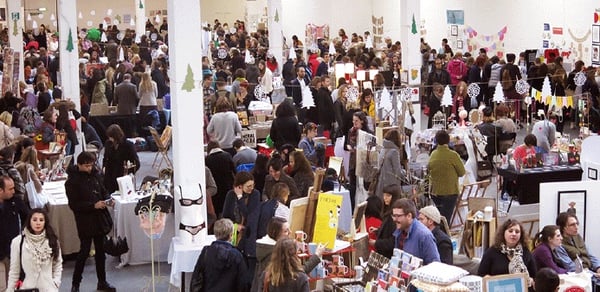 If you go to your local farmers' market or craft shows, you'll most likely find home-based embroiderers selling their best pieces to locals. Embroiderers attend craft shows to interact with people in person, get to know what people want, and even explore new interests.
#4: Efficient machinery is more affordable today
Generally, an embroidery machine classifies as home or commercial depending on how many needles it has.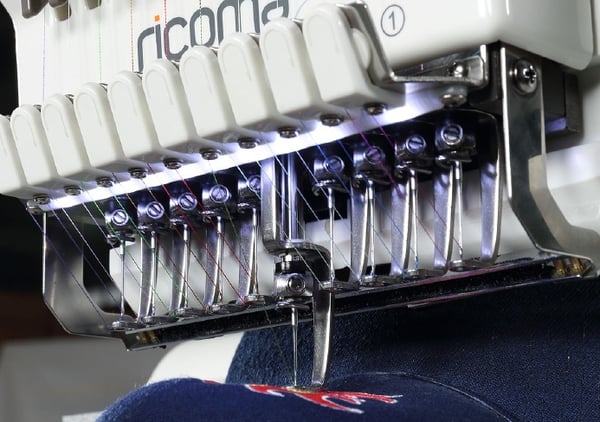 The most common home embroidery machine is the single-needle machine, due to their inexpensive price tag. However, those looking to make a profit off their embroidery will benefit most from a multi-needle.
While some hobbyists choose to jump into a fully commercial machine to make a profit off their crafts, many choose to meet in the middle with a 10-needle home embroidery machine. These machines have the same capabilities as commercial models, but are more affordable, making it suitable for both hobbyists and entrepreneurs transitioning into embroidery.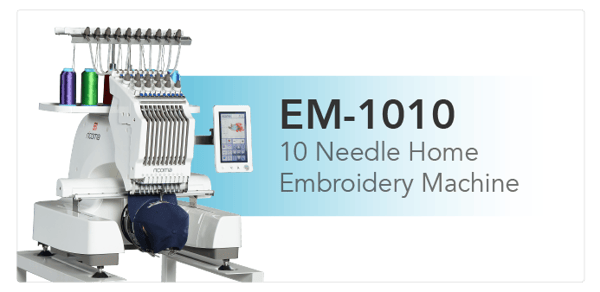 So what capabilities do multi-needle home and commercial models share?
Quick color change: Having 10 or more needles will drastically reduce the time it takes to complete projects, since the operator doesn't need to change the spool for each color change.
Commercial accessory compatibility: You can embroider on anything from caps and jackets to luggage and purses with the right equipment and tools. Many multi-needle home models are compatible with cap embroidery attachments that allow users to embroider on the curved surface of caps. Some are also compatible with commercial accessories like Fast Frames and Mighty Hoops, which make it faster and easier to embroider on a large variety of items.
Speed: Many multi-needle home embroidery machines also run at up to 1,000 stitches per minute, which is the average speed of many commercial embroidery machines on the market, allowing you to complete projects much faster than on a single-needle machine.
Custom apparel businesses get started with 10-needle models because of their commercial capabilities. Meanwhile, these machines are compact enough for hobbyists to fit in a small home studio or office. The additional efficiency features also give home-based embroiderers time to work on personal projects for themselves, friends or family, and also leaves them time to embroider other creative projects for a profit.
#5: Unmatched industry support
Many other industries require background knowledge or expensive training in order to start a business. However, in the embroidery industry you can quickly learn the ins and outs of the craft and business without any prior experience.
Below are three helpful resources available to machine embroiderers:
Formal machine embroidery training: Some companies include training and technical support with the purchase of a machine, so you can learn how to use the machine right away and are able to ask questions after you get started. This type of support isn't common in other industries. In fact, you can even schedule a live virtual demo to learn more about the embroidery process from start to finish and get all of your questions answered. Click here to schedule a live virtual demo.
Facebook groups/forums: You can join a number of different embroidery forums with thousands of members who post their tips and questions day in and day out. Click here to join our Facebook support group for embroiderers.
Helpful content: Although it's a niche field, there are actually plenty of detailed videos and blogs (like this one) created by industry leaders who are willing to share their expertise.
Bottom Line
Unlike other businesses, embroidery is a business you can either choose to do on the side or jump into full-time. With a wealth of resources and affordable, efficient machines on the market, there's no better time to get started with machine embroidery.
Thinking about starting a business with embroidery?
If you're thinking of starting a business (or a side business) with embroidery, there are several steps you need to take beforehand to ensure you succeed. Luckily, we've compiled these into a 7-step guide for starting an embroidery business. Click here to read the guide and follow as you go along. Spoiler alert: Anyone can do it!