Whether you're just starting your embroidery business or you're a veteran in the embroidery world, sourcing good materials can be difficult…
Let's say you're looking for wholesale napkins for a wedding. You find some cheap napkins that look good…but is it cheap because it's truly a good bulk price OR is the material low quality?
You won't know until it gets shipped to you and by then, it may be too late to find another wholesaler, should it not be up to standard.
Well, we don't want you to struggle any longer! We've done the work for you and have compiled a list of wholesalers that we believe supply a variety of high quality items.
Here's a sneak peek of some of the wholesalers who made it on the list. Recognize any of them!?
Keep reading to find out who the other five wholesalers are!
#1: AMANN USA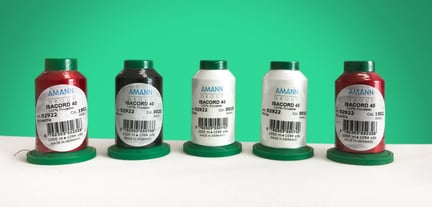 Known for being one of the leading international manufacturers in the sewing industry, we had to include AMANN USA on this list. Some of their most popular items include sewing and embroidery thread, as well as their high quality embroidery needles.
At AMANN USA, you are sure to find everything you need to complete a sewing project, from stabilizers to fabric markers.
Our favorite item from AMANN USA is their 100% polyester thread, which provides the durability and quality we want for our embroidery designs!
#2: SanMar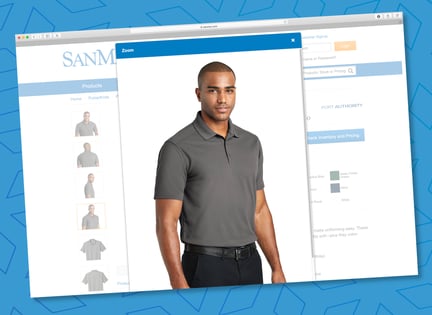 Need some new apparel supplies for your next client? Head to SanMar for high-quality polos, caps, t-shirts and more! With reasonable prices, you are sure to increase your profit potential on your next design.
SanMar even has bags, if you want to customize one with a colorful, intricate design. Check out this video here where we show you exactly how you can embroider on a duffle bag!
Known for their high-quality polos, we personally love their Polyester golf shirts. The material is easy to embroider on and a perfect gift for the active people in your life!
#3: OTTO Cap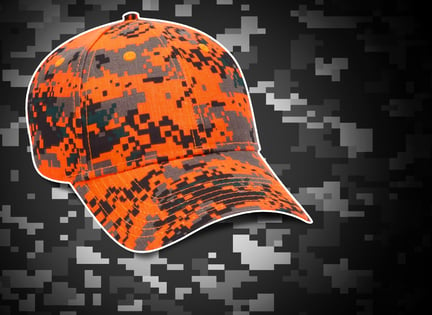 Caps for days! This next wholesaler is known for providing custom apparel businesses with premium quality headwear. OTTO Cap distributes a wide variety of caps, such as "dad" hats, visors, military hats, and even beanies!
One of the great things about OTTO Cap's Structured hats is the quality of the material.
While structured caps can be more difficult to embroider on, these hats provide the support you need to get a sturdy surface for your design to be applied to.
OTTO Caps are very machine embroidery friendly, compared to other wholesaler caps. Because of the way they are designed, these caps work well with embroidery machines.
Before you embroider your caps, check out our guide to make sure you are not making these costly mistakes!
#4: Enmart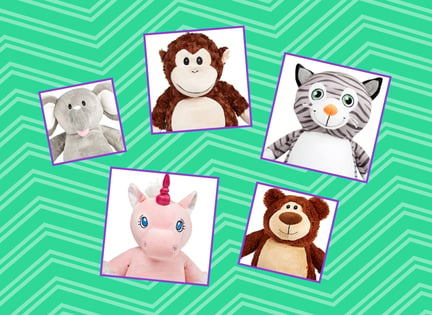 Ever wanted to try embroidering on a stuffed animal as a gift? Enmart carries plush animals with removable stuffing pods, perfect for applying your design on the front of the bear or rabbit!
We love the ease of being able to easily hoop the stuffed animal, without having to worry about damaging the stuffing inside.
For information on which materials you should use on your next plush animal embroidery, check out our embroidery cheat sheet!
They also hold blankets and scarves; perfect for embroidering for the winter time! They're reasonably priced as well, with their fleece scarf selling at about $4.
#5: Bella Canvas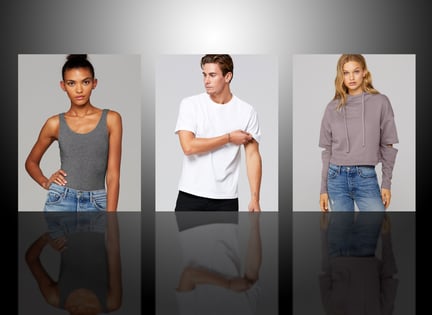 Bella Canvas is a great wholesaler to look into if you're looking for stylish, retail-quality clothing. They are perfect for those who decorate for their own clothing brand or custom apparel business.
Their inventory includes:
tank tops,
long sleeves
crop tops for women
and so many more trendy items!
One of our favorite aspects about Bella Canvas is that they add an edgy twist to your average custom apparel blanks. Whether you're working with their crop tops or cut-off sweaters, you'll stay on trend while creating your next embroidered project for your clothing brand or client.
They also have a variety of fashionable colors to choose from, from lavenders to "millennial pink."
#6: Allstitch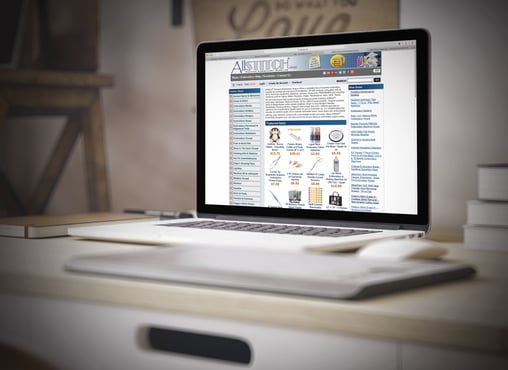 Embroidery galore!
Allstitch has everything you need to get started on your embroidery journey. Known for providing discount machine embroidery supplies, Allstitch is one of the best wholesalers to search through when trying to purchase embroidery supplies as a beginner.
When you first start your business, you will have to purchase quite a few supplies to begin. With Allstitch, you can expect good quality items for great prices!
Our favorite product from Allstitch is their "Cover-a-Stitch" which is a type of polyester, fusible backing used to cover the back of stitches.
This prevents the threads from coming in contact with skin and causing irritation. Check out our episode of Embroidery Hub where we use the Cover-a-Stitch on a baby bib!
#7: Textile USA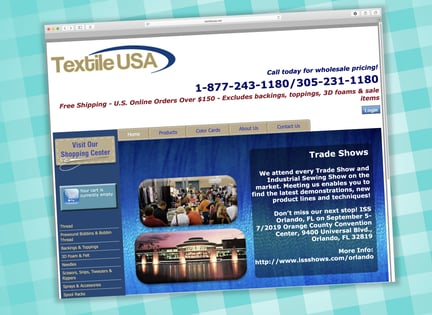 Next on the list is another wholesale business that has all the tools you need to start your embroidery business. Textile USA is known for carrying the largest inventory of wholesale items to supply their customers in the custom apparel decorating industry.
Some items to consider picking up from Textile USA for your next project are:
Bobbin
Needles
Thread
Stabilizer
Adhesive Spray
These are some of the basic items that you will need in your embroidery arsenal, and Textile USA supplies it at a reasonable price!
Our favorite product from Textile USA is their "Polyester Continuous Filament Bobbins with Sides." These are available in black and white, and provide the durability you need to design a high-value product.
#8: Bulkapparel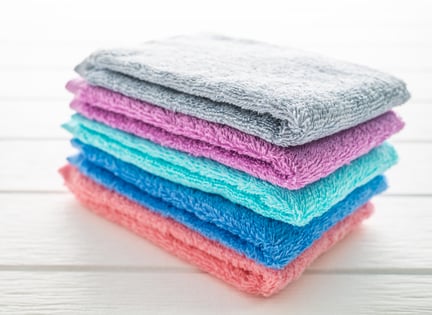 Bulkapparel.com carries a variety of branded t-shirts, pants, jackets, and more.
Looking for reasonably priced towels to embroider for a client? Bulkapparel.com sells towels with prices starting as low as $1.15 apiece!
An item that you don't see very often on wholesale embroidery sites are men's swim shorts. This makes Bulkapparel.com stand out to us because they are providing embroiderers with unique products that may not be found anywhere else.
You can even upsell the towels we mentioned above, with a pair of their men's wholesale swim shorts, that you can embroider with the person's initials.
Check out this video where we dive into best tips for embroidering on textured fabrics!
#9: Thread Art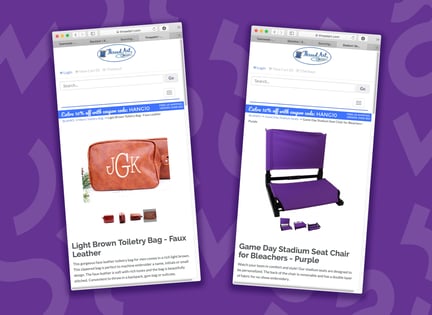 Thread Art has everything you need to stock up on your embroidery supplies. So, if you're running low, be sure to check out all of the items they have to offer!
FYI, Father's Day is coming up, which means it is the perfect time to embroider a special gift for the dads in your life! Thread Art has you covered!
You have a lot of great options to embroider the perfect gift for him!
But make sure you're using the right embroidery products for these types of materials! Check out our embroidery cheat sheet for all of the tips on producing a high-quality design.
#10: Sulky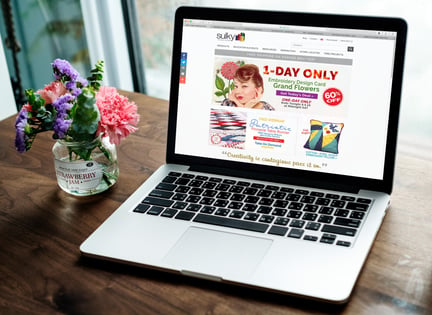 Last, but definitely not least, we have included the wholesaler Sulky. While they don't carry hoops meant for machine embroidery, they do have the supplies you need to make any embroidery design!
It is a great place to purchase items that you may be running low on, but don't necessarily need to buy a bulk order of.
The last item on our list of favorites is one of the best in the game.
Sulky's Ultra Solvy™ water soluble stabilizer provides the firmness any embroiderer needs when designing free-standing lace items, cutwork, hoopless machine embroidery, and more!
This is an important item to have when working with embroidery, to ensure that you have a stable surface for your design.
Bottom Line
Finding a wholesaler that prices their items well, and provides good customer service, is something that is important to every custom apparel business. As business owners, who need to turn their products around quickly, you depend on these wholesalers to deliver accordingly.
While this list nowhere near covers the sheer number of embroidery wholesalers that exists, we do hope that you have found one that you like!
If you have any suggestions for good wholesalers to add to this list, let us know in the comments below! Be sure to join our Facebook group, Embroidery & Custom Apparel Mastery, and share your favorite wholesalers there as well! Sharing is caring!
Ultimate Embroidery Cheat Sheet: 50 Popular Fabrics & How-To Embroider Them for Best Quality
Did you know that you can improve the quality of your embroidery no matter which fabric you're embroidering on?
To guarantee your embroidery success, we've put together a cheat sheet of 50 of the most popular fabrics used for embroidery and the combination of materials that you'll need to give you the best possible results for your projects.