So you want to know how to make money in the custom apparel business, but before we get ahead of ourselves, let's take a step back.
After all, if you don't know how the business works, how do you expect to get started?
In this article, I'm going to share the 5 industry fundamentals we make sure our clients understand before they get started in the custom apparel business. (And yes, this all ties into how to make money, in case you were wondering.)
The top 3 apparel decoration methods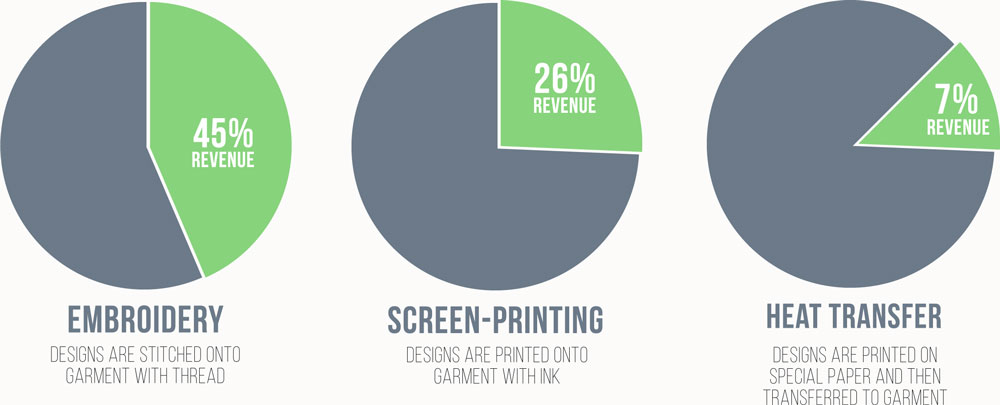 Before you start a custom apparel business, you should know which apparel decoration methods are the most profitable. The chart below lists the top 3 apparel decoration methods that generated the most revenue in the U.S. in 2014, according to Statista.com.
The most popular method, embroidery, topped the charts by almost twice the amount of screen printing and six times the amount of heat transfer. According to a March 2017 Fox 34 article, embroidery continues to hold the highest percentage share in the total decorated apparel market. Check out the stats below.
The top 3 apparel decoration methods
| Methods | Percent Value | How it works |
| --- | --- | --- |
| Embroidery | 45% | Designs are stitched onto garment with thread |
| Screen Printing | 26% | Designs are printed onto garment with ink |
| Heat Transfer | 7% | Designs are printed on special paper and then transferred to garment with heat |
Now, we're not just saying this because we sell embroidery machines. (We also sell heat presses so we'd pretty much be self-sabotaging if that were the case.) There's actually a bunch of reasons why embroidery remains at the top of the charts, and is actually expected to increase 11% from now until 2021.
It's a stand-alone service. An embroidery business can be just that: an embroidery business. However, screen printing and heat transfer businesses don't last too long without an embroidery machine. If you can print t-shirts for your clients, they're probably going to want an embroidered cap to go along with it. And not many people will print a hat (it just looks silly.) That's not to say these businesses can't stand alone, but most of the time, they'll need an extra form of decoration to boost their sales. Most apparel decorators agree that heat transfer is more of a supplement to your business than a core business. And screen printing, while it can certainly sustain itself, is very often paired with embroidery equipment. A large percentage of our clients introduce embroidery to their screen printing business to boost their sales.
The service has a higher perceived and real value. For that reason, garments can be priced at a much higher price point than a screen-printed or heat-transferred t-shirt. The higher perceived value stems from the human logic that embroidery gives your garment a cleaner and more professional look. It also lasts longer than other decoration methods because it won't get worn out with frequent washing (as with other forms of decoration). Because embroidered goods are sold at a higher price point, if you start off with screen printing, you're going to need to get very high-volume orders in order to make a decent profit. If you can do that, great. But with embroidery, you can produce more profit off very small orders because the perceived value of the product is higher due to its professional appeal.
It's less labor-intensive. With embroidery, there's no need to swap colors for every new color in the design. With screen printing, you need to manually roll a new squeegee over each additional color. For this reason, the pressure and speed the operator applies directly affects the quality of the design. On the other hand, heat transfer is less labor intensive than screen printing. In this process, the operator applies the design onto special paper, and then transfers it onto the garment using a heat press. However, the heat transfer method is usually a supplement to an existing business rather than a core service.
Pricing items for maximum profitability
Now that you are aware of the most profitable method, it's time to start thinking about the cost of the materials you'll need to start making money. We're going to use a small order of 50 embroidered polos as our example. Imagine you are selling polos to a local business of 25 (2 shirts per member.) Now, let's break down the costs of this example using real numbers.

| What you'll need | Cost of each material | Cost of materials |
| --- | --- | --- |
| One 500-sheet pack of stabilizer (backing) | $10 | 50 sheets = $1 |
| One 1000m cone of thread | $8 | 2 cones = $16 |
| One 144-piece box of bobbin thread | $25 | 8 pieces = $1.38 |
| One polo | $4.46 | 50 polos = $223 |
| Digitized logo | $5 | One-time fee = $5 |
Optimal profit margin = 50% to 65%
At a cost of about $5 per item and a profit margin of 60 percent, the price per item will be = $12.50 per item. Therefore, the profit per item will be $7.50.
$7.50 x 50 = $375 (profit)
But that's just the profit after deducting the price of materials. Now, we'll have to work in labor fees, which when built-in, will increase the price per item.
To work labor cost into price, consider how much you want to pay yourself or your operator for labor.
Let's say: $10 an hour. If each garment takes about 8 minutes to complete, you can make about 7 garments in an hour. Therefore, you can produce 50 garments in a little over 7 hours. (Let's round to 8 to account for any downtime or preparing of garments.)
Old total price without labor: $12.50 (item price) x 50 = $625
Cost of labor: $80 ($10/hour x 8 hours of work)
New garment price with labor built-in: Additional $1.60 per garment = $14.10/garment
New total price with labor: $14.10 (item price) x 50 = $705
$705 (revenue) – $246.38 (cost) = $458.62 (new profit)
After working in the cost of materials and labor, embroiderers usually charge an additional setup fee.
Let's take a look at an example of charging a one-time setup fee, which is usually $50 to $60 for medium to large orders.
Our final price was $705 with labor. A setup fee will add another $50 to the customer's order, boosting the total price of the order to $755.
Note: A setup fee usually accounts for the digitizing, the time it takes to set up each garment for embroidery and other factors that affect the cost of doing business. However, proceed with caution. Setup fees of $50 are usually added to orders with minimum quantities of about 12. These fees are generally accepted when ordering a large amount of shirts for a small price each (such as $12).
If you're embroidering a small order or custom order, you should consider:
Working the setup fee, labor and any extra cost into the price of the garment
Charging a lower, more reasonable setup fee that accurately reflects any extra costs that you haven't already worked into the price of the garment. (Such as $10 for a small order depending on your specific cost of doing business and what costs have already been worked into the price of the garment.)
There are two opposing viewpoints in the decorated apparel industry about setup fees or "hidden" fees:
Some say you should charge the setup fee separately in order to be upfront and honest with your clients about the cost of digitizing, labor, setup time and more.
Others say you should present one all-inclusive price in order to not confuse the client who may think they're getting a shirt for $12 and end up paying $15 for each shirt after setup fees.
The reality is, if you work in all the costs correctly in both scenarios, the result will be the same. It's more of a matter of how you choose to approach your pricing structure.
At Ricoma, we always like to present an all-inclusive price. That way, there are no surprises when the customer thinks they're getting an embroidery machine that embroiders flats and caps for one price, and then ends up having to pay an extra $1000 for a cap embroidery attachment.
However you choose to work in the labor and setup costs, you should keep in mind the size of the order, the amount of time it will take you to complete, the complexity of the design and other factors that will make the process more timely or costly. Our particular example is a low price.
In fact, some embroiderers charge close to $20 for polos depending on the quantity ordered, the quality of the fabric and other factors that affect the cost of doing business. Therefore, there's room for extra profit – but I like to keep my examples low.
With a similar order as the example above, you can easily make an average of about $450 in pure profit in less than one workday. But the best part is: That was an example of a routine, small order. We have new customers who take orders in the 200s and 300s. These large orders produce far more income and can be achieved with the implementation of a few techniques that you can use to attract customers and keep them buying.
You can learn all this in our free webinar, 3 proven techniques to make over $2,000/week in the embroidery business – even if you're just getting started! Sign up here to learn the 3 proven techniques to make over $2,000/week in the embroidery business.
The most profitable markets in the apparel decoration industry
If you've heard about the top markets in the decorated apparel industry, "local businesses" and "school organizations" may ring a bell. However, within those two markets, there are a number of markets you can sell your products to. Check out some of the popular businesses or organizations you can consider targeting in your area.
Note: Half of custom apparel orders come from local businesses, so you'll surely find success locally which is where most people get their first customers when they're starting up.

| Top markets | Submarkets | Items you can sell |
| --- | --- | --- |
| Local businesses | Restaurants Coffee shops Plumbing Landscaping Mechanic shops Bakeries | Polos, caps, button-ups, aprons, gloves |
| School organizations | Sororities Fraternities Dance teams Color guard teams Football teams Cheer squads Baseball teams Softball teams PTA Chorus club Band | Shirts, caps, warmups, jackets, duffle bags |
While those are very lucrative markets where you can surely find success, you don't have to limit yourself to just that. Consider this list of markets that you've probably never thought of.

| Market | Items you can embroider |
| --- | --- |
| Bands/Musicians | Tour gear such as caps, shirts, koozies and more |
| Motorsports enthusiasts/bikers | Patches for biking events/hangouts, headwear, bandanas, shirts |
| Baby gifts | Stuffed animals, blankets, bibs, onesies, bags |
| Kitchen | Gloves, oven mitts, decorative towels, napkins |
| Home | Decorative towels, curtains, bedding, pillows, pillowcases, sheets |
| Bath | Bath towels, robes, hand towels, slippers |
| Fashion | Jeans, caps, hoodies, shirts, chokers, patches, jackets |
The importance of a niche market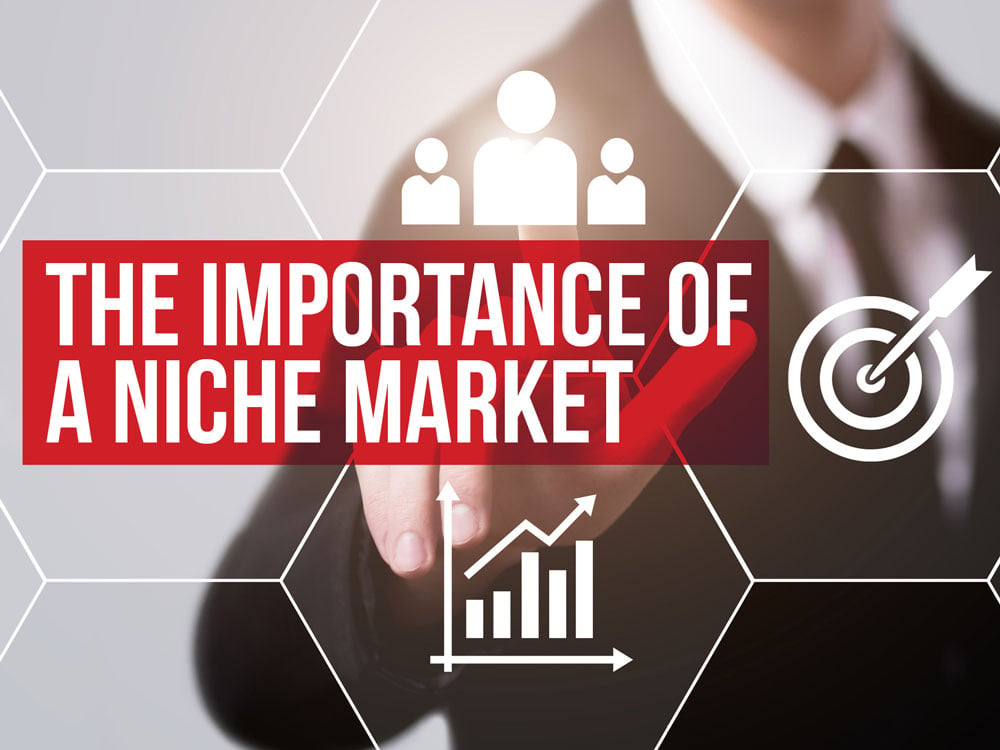 At first, many embroiderers take any job that presents itself. But after a while, they determine what market their product best fits in and develop a niche.
The reason it's important to have a niche is because it creates the highest value for your target market. Creating a product that speaks to a certain market will yield more results than a product that speaks to just anyone. Another advantage of having a niche in the decorated apparel business is that you could reach maximum efficiency in terms of production (because you'll master how to embroider the specific items you offer and how to complete those projects the fastest.)
More importantly, the people in your market are getting a product that's tailored specifically for them. Eventually, you'll start learning what that group of people wants and needs – and you'll seamlessly retain and attract clients in that market by simply meeting those needs.
How should you do this?
Choose a profitable niche and run a subset of advertisements that directly reflect their needs. When your service speaks directly to your target niche, you'll be recognized as a specialist or expert for that service. That niche will feel more confident in your capabilities to produce quality products for them.
That's not to say you have to turn away other clients or that you can't be clear that you'll also offer additional services. Again, with embroidery this comes later on in the game, but it's always important to know this at first so you can be aware of which markets you're attracting and where to shift your focus to produce the best results.
The fundamentals of marketing your custom apparel business
Marketing, even in its simplest form, is essential for attracting new clients and retaining existing clients. One of the simplest, most effective ways embroiderers get clients is through sampling. If this concept is unfamiliar to you, it's actually very easy to understand. You just go to a local school or business (or whoever you wish to sell your products to), and give them a sample of your work. It's that simple.
For instance, you can embroider a left-chest logo for a local business and present it to the owner. If he or she likes it, they'll think of you when they need company shirts – or (even better) they'll decide to get new company shirts because they liked it so much.
When sampling, be sure to do the following:
Bring a physical sample of your best work (with the company's logo embroidered on it preferably)
Bring a handout, flier or brochure that lists your services
Bring a business card that includes ALL your contact information – including your social media accounts and website (if you have one at the moment.)
Ask them to join your mailing list so you can send them promos (and take down their number while you're at it.) Even if you don't have an official list since you're starting off, store these contacts manually and be sure to follow-up with them with promo info.
Take sampling a step further by keeping up with events to see when a customer is hosting a business event. When you know they'll be hosting an event, make an event tee or cap as a gift and offer a promo based on their event. Offer it as a way for the company to have uniform staff shirts for the event and/or to have giveaways for their attendees. For example, if this company is attending a trade show or hosting an in-house event, they'll probably want merchandise to give to their customers.
They'll be happy you took the extra time to learn about their business, and if they like your work and are looking for someone to create gear for their next event, you'll be a clear choice.
Click here to watch an Apparel Academy episode where Henry breaks down why sampling is the #1 time proven method to get more customers!
Other simple must-haves:
Quality. The quality of your work will always remain above all. When your work is good, a customer wearing your work will act as an advertisement of your service. When someone asks where your client got their custom apparel, the client will direct new business your way.
Portfolio. Embroidery is a visual industry. For that reason, it's important to be able to demonstrate your work either with samples of your work, a catalog (physical or digital) or a portfolio. This one may seem like a no-brainer, but I can't say how many times people have showed up with a business card and no visual proof of their work. Another tool for hosting your work is social media, which can act as your online portfolio. However, you'll probably be doing in-person marketing at first, so it's important to still have physical proof of your work.
Online presence. 81% of shoppers conduct online research before buying a product, and 75% of buyers visit a company's social media account before making a purchase. Therefore, it's important to build an online presence. Posting attractive photos of good quality work and telling everyone you know to follow you on social media is a good start. Get others to share your work by giving them an incentive. For instance, host a social media contest. There are a bunch of incentives you can give your followers, and it only takes a second of their time to share. This encourages them to buy again and spreads the word about your business to others.
Idea 1: "The first five accounts to repost a promo post will receive a free tee or 10% off their next order."
Idea 2: Tell existing customers to post a photo wearing your work, and tag you for a free item in their next order.
Email Marketing. Unfortunately statistics show that the majority of people landing on your website will not buy your product right away. Follow-up is a necessary and proven method that is used to convince your prospects to buy from you and nothing is more effective than the power of email. Email service providers like MailChimp or Constant Contact are affordable and easy-to-use email marketing tools that allow you to follow up with your prospective buyers and customers.
Bottom Line
So there you have it. Those are the 5 industry fundamentals you must know before launching a custom apparel business – but you're not done yet.
I know what you're thinking.
"You mean to tell me 3,000 words later, I'm still only scratching the surface?!" Yes and no.
Yes, because there's more awesome content (that will help give you an edge over your competition) coming your way…
And no, because you're already one step closer to your goal of making money with embroidery.
Next, we'll introduce three types of offers you can implement in your business that will turn prospects into customers and turn regular orders into highly profitable orders. We'll teach you how to find clients, how to make them an offer they can't refuse, and how to get your clients to buy from you over and over again.
3 Proven Techniques to make over $2,000 a week in your embroidery business
Are you an entrepreneur, fashion lover, or embroidery enthusiast interested in starting or growing a profitable embroidery business? Do you want to be successful?
To guarantee maximum profit in your embroidery business, we've put together a webinar discussing the top three methods that business owners are using to convert prospects into repeat customers!