If you've been in the custom apparel business for a while, you know there's always something new your business can benefit from.
That's why you should make it a priority to research new items to integrate into your current offerings.
Luckily, we did the research for you!
In this article, we'll share five popular embroidery items to consider adding to your business.
You'll also learn some of our best advice for embroidering…
1. Fashionable totes for everyday use
3. Robes (monogrammed and bath)
4. Caps
5. And towels!
Read on to discover how these five items can help your business and how you can introduce them into your lineup as soon as possible.
#1: Totes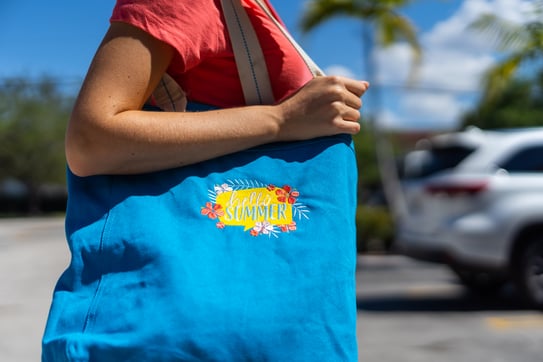 Tote bags or canvas bags, as they are more commonly known, are good examples of embroidered items that have grown in popularity for types of items you can embroider.
Not only are they cute and sporty, but can be very useful for groups like sororities who host events like weekend mixers at the beach.
You can find zippered tote bags for as low as $4 and resell them for $20 to $30 depending on the size of the design.
If you've never embroidered tote bags, don't worry. It's actually much easier than you'd imagine. Check out this video to learn how to successfully embroider your next tote bag!
Pro tip: Having blank totes in stock can be a perfect way to upsell and bundle orders with a matching accessory like embroidered towels during the summertime. Click here to learn how to present value bundles to your customers to maximize your sales.

#2: Polos and Button Ups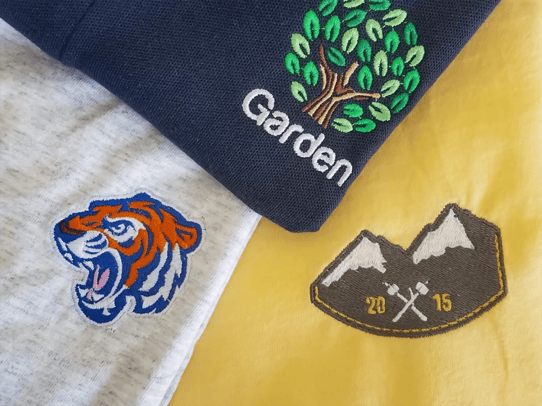 Polo shirts and button ups are, undoubtedly, among the most popular embroidered items.
In fact, they'll never go out of style because every local business or school needs it. Click here to watch a video on how to get perfect placement on shirts.
Your average polo shirt can be sourced for $5 each and resold for $15 to even $30 depending on how large the design is or if the buyer wants their design placed on multiple areas of the shirt.
Although you may want to keep your custom apparel business custom, it's safe to say that the most profitable embroidery orders will always be bulk uniform orders.
Pro tip: A lot of embroiderers take on bulk uniform orders to pay the bills and take on custom one-off projects to feed their passion and expand their skill set.
#3: Robes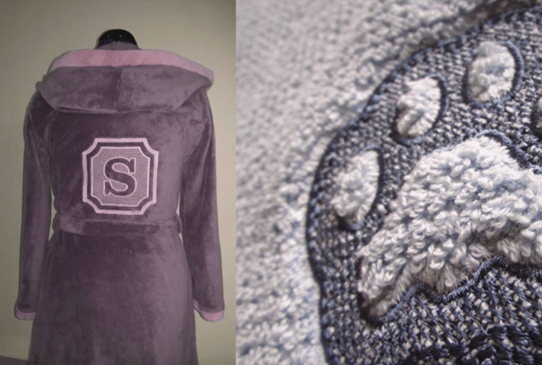 Monogrammed robes are a unique and spectacular gift for couples, yourself, or even bridal parties!
Bride and bridesmaid robes are a great way to get your foot into the wedding industry, where customers are willing to pay a premium for quality.
You can find blank satin robes for a little over $13 and resell them with embroidery for $35.
If you're not sure how to customize robes for various occasions, click here to see what we used to embroider satin robes using our 1501-TC commercial embroidery machine.
Pro tip: You can even find very low cost satin robes on sites like Alibaba.com.
#4: Caps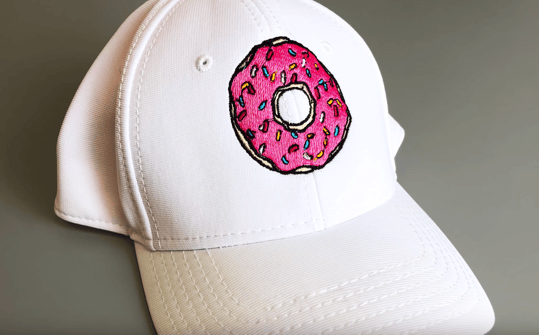 Many embroiderers, even those with years of experience, completely avoid embroidering caps because it requires special practices.
Seeing that some embroiderers refuse to work on caps, you can definitely reap the rewards of your labor by capitalizing on this niche.
In fact, caps are one of the most highly requested and profitable embroidered items, costing only $2 to $3 to source.
You can resell caps for $20 to even $40 depending on whether the customer wants to place multiple designs on the hat.
Pro tip: With the right knowledge, cap embroidery is easier than you think. If you want to learn what you're doing wrong with caps and discover secrets that not even seasoned embroidery vets know, click here to download a guide that covers 7 common cap embroidery mistakes and how to avoid them.
#5: Towels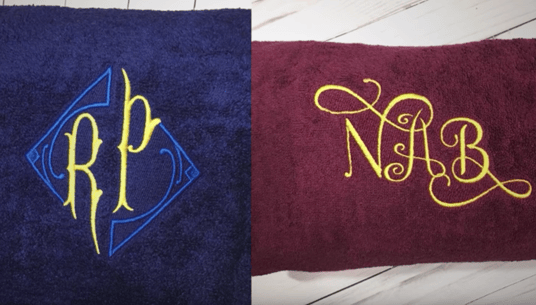 Towels are insanely popular among embroiderers. Bath towels, and towels, pool towels — you name it!
If you're not sure what materials to use to achieve high quality towel embroidery, check out this embroidery cheat sheet that lists the best materials to use with different types of fabrics including terry cloth (towels).
Despite towels being one of the easiest items to produce, they can easily be resold for five to seven times their cost.
In fact, towels can be sourced for $5 to $8 and resold for $25 to $35 depending on the size of the design.
Pro tip: If you're able to source towels in bundles, you'll minimize your cost and maximize your sales even more.
Bottom Line
If you've found a new product you'd like to offer, test your customer base by offering a limited amount to start.
If your new product is popular, it's definitely time to expand and offer more unique items!
Questions on how to embroider these items? Leave a comment below and join our Facebook group, Embroidery and Custom Apparel Mastery, to engage with other passionate embroidery enthusiasts who discuss topics like this every day.
Are you curious how Ricoma can help your custom apparel business?
Schedule a call for a Quick 30 minutes "Embroidery Talk" with our specialists to see if you're really ready to start or expand your business. Our specialists can help you…
Find helpful resources to kick start your embroidery education
Answer any questions regarding pricing your items for profit and sourcing materials
Help you compare and contrast different machine types and branch in the industry
Help you determine which machine would suit your business based on your current and future goals