It's the most wonderful time of the year for a reason! The holidays are a time to celebrate, create and (most importantly) give.
If you're looking for holiday embroidery ideas to create for yourself, friends or family, these 99 timeless holiday embroidery ideas will keep you busy for years to come! 
Thanksgiving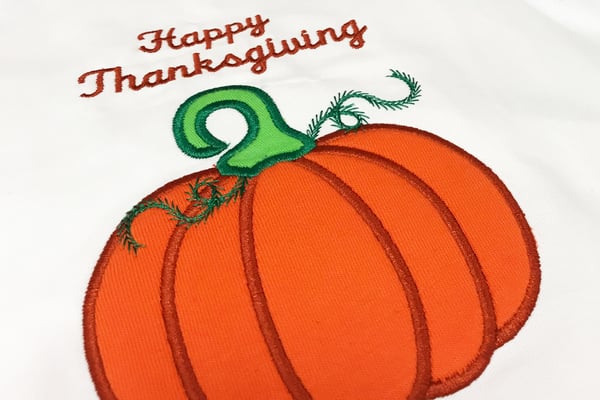 1. Bibs
2. Koozies
3. Coasters
4. Turkey/fall leaves table runner
5. Happy Thanksgiving tablecloth
7. Thanksgiving kitchen towels
8. Thanksgiving/fall throw pillow
9. Baby's first Thanksgiving onesie
10. Table mats
11. Apron
12. Oven mitts
13. Appliqué turkey (different colored fabrics for each feather)
14. Free standing lace candle sleeve
15. Fall bath towels
16. Pumpkin burlap flag
17. Thanksgiving-themed kitchen rugs
18. Thanksgiving/fall burlap flag
Christmas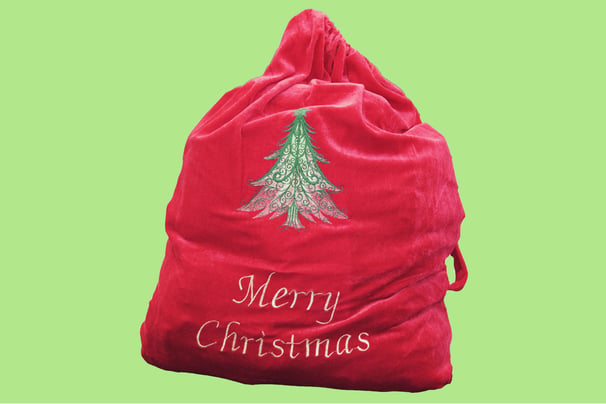 21. Ugly Christmas vest
22. Free standing lace snowflakes
23. Free standing lace ornaments
24. Free standing lace angel ornaments
25. Free standing lace christmas tree star
26. Free standing lace christmas tree ornament
27. Free standing lace ornament cover
29. Santa Hats 
30. Santa suits
31. Santa belt
32. Christmas pajamas
33. Gift bags
34. Santa bags
35. In the hoop stuffed animal (reindeer, santa, elf, snowman, gingerbread man!)
36. The last supper quilt/wall hanging
37. Baby's first Christmas onesie
38. Slippers
39. Fuzzy socks
41. Table Runner (Wreaths, poinsettias, mistletoes
43. Pet knit/ugly Christmas sweaters
44. In the hoop pet booties
45. Christmas throw pillow
46. Christmas pillow case
47. Christmas kitchen towels
48. Christmas quilt or blanket
49. In the hoop candy cane holder
50. In the hoop santa tote/goodie bag
51. Gift ribbon
52. Monogrammed appliqué santa (christmas trees, reindeers and more!)
53. In the hoop stuffed ornament (snowmen, christmas trees, gingerbread men, candy canes)
54. Free standing lace coffee mug sleeves
55. Santa's milk and cookies placemat
56. In the hoop gift card holders
57. In the hoop baby booties
58. Wall art (nativity scene)
59. Monogram appliqué beanie (santa, Christmas tree, reindeer and more)
60. Gift tags or luggage tags
61. Scarves
62. Reindeer stuffed animal
63. Embroidered decorative toilet paper
64. Mittens/gloves
65. Decorative bath towels
66. Free standing lace snowflake table runner
67. Dog/cat beds
68. Decorative tissue box covers
69. Wine bags
70. Robes
71. Snuggies
72. Hooded towel (Santa, reindeer, elf)
73. Christmas-themed kitchen rugs
74. Christmas keychain
75. Free standing lace angel christmas tree topper
76. Free standing lace Christmas tree earrings
77. Christmas comforters
78. Free standing lace snowflake bookmark 
New Years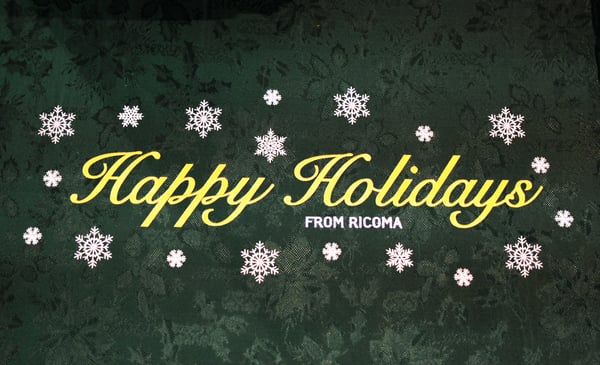 79. New years sashes
80. New years hats
81. Free standing lace party masks
82. Face masks embroidered in the shape of the year
83. Baby's First New Years onesie
84. New year's champagne bags
Hannukah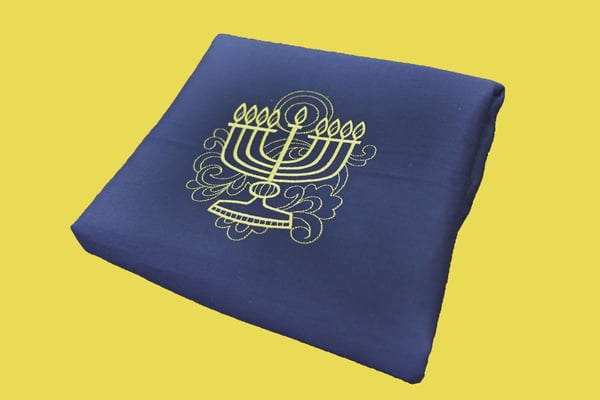 85. In the hoop dreidel
87. Menorah napkins
88. In the hoop menorah keychain
90. Baby's First Hanukkah onesie
91. Star of David Yamaka
92. Dreidel keychain
93. Free standing lace Star of David earrings
Kwanzaa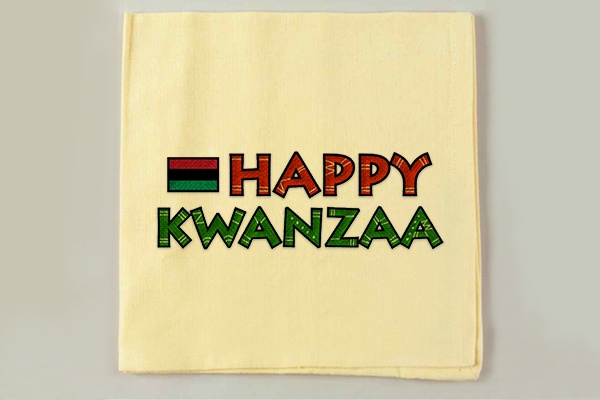 95. Baby's First Kwanzaa onesie
96. Kwanzaa flag quilt
97. Kwanzaa flag banner
98. Kinara (Seven-pronged candle holder) napkins
99. Straw table-runner (mkeka)
Want more machine embroidery ideas?
Quite frankly, we're really just scratching the surface. Dive deeper with these resources. 
If you're interested in seeing how real embroiderers stitch these items and get even more embroidery ideas, join our Facebook group, Embroidery and Custom Apparel Mastery. In it, you'll catch embroiderers posting all kind of projects from belts and leashes to sweaters and socks. You can even ask them how they did it, and they'll be more than happy to help.
For full embroidery video tutorials, visit our YouTube channel.

You can also 

schedule a free virtual demo

 

to see the embroidery process from start to finish. During your personal session, you can get all of your embroidery questions answered and even ask an expert how you can embroider any one of  these items.  

Click here to schedule your one-on-one virtual demo.

 
Ultimate Embroidery Cheat Sheet: 50 Popular Fabrics & How-To Embroider Them for Best Quality
Did you know that you can improve the quality of your embroidery no matter which fabric you're embroidering on?
To guarantee your embroidery success, we've put together a cheat sheet of 50 of the most popular fabrics used for embroidery and the combination of materials that you'll need to give you the best possible results for your projects.