Thinking about venturing into digitizing but have no idea where to begin?
Well, today is your lucky day!
We're going to talk about a premier embroidery software called Chroma that was designed to make digitizing easy, fun, and accessible!
In this blog, we're going to tell you all about Chroma, it's features, and what it means to us.
So, let's get started!
Chroma is Ricoma's newest embroidery design software, which was created specifically for digitizers, both beginners and pros.
If you're a digitizer or own an embroidery business, and are thinking about venturing into digitizing, Chroma should be on your must-have list!
Whether Chroma finds you as an experienced digitizer, or as a novice, there's something in this embroidery software for everyone.
Chroma was designed to make intricate designs come alive and we're going to show you how.
In this blog you should expect to learn:
Let's say you're starting out as a beginner…
Chroma is perfect for you because it can be used to automate the digitizing process, making it easier for you to combat the learning curve.
A lot of people start out having a huge fear of digitizing, mainly because they've never done it before, or they think digitizing is too difficult. Nevertheless, this should not prevent you from trying your hand at it!
Using Inspire, the most simplified version of Chroma's offerings, you can allow Chroma to do the hard work for you, through its auto digitizing feature!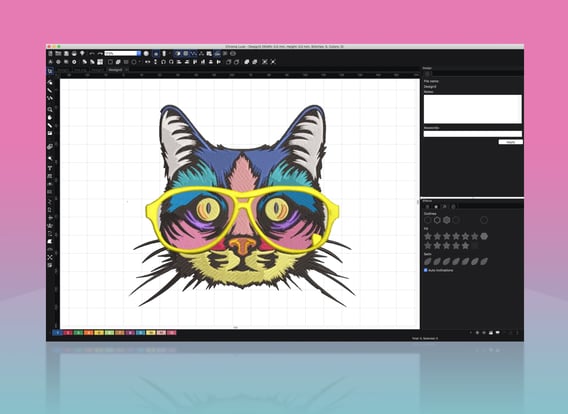 For the advanced users…
Chroma's built-in styles, customization tools, and hotkeys will help make the digitizing process simple and more efficient, as well as make for a more manual experience as you digitize and design!
This is the perfect place to make your design come alive through your very own creativity and skills.
Let's say you've envisioned a design and you'd like for it to come to fruition. You can design your vision, right then and there in Chroma!
Chroma works well for both advanced digitizers and novice users because it was designed with two elements in mind: ease of use AND speed.
Based on your individualistic needs and desired level of design capabilities and experience, you can use Chroma at 3 different levels.
If you're feeling overwhelmed or intimidated about getting started with digitizing, we have the solution! Start with a free trial of Chroma's lowest tier!
As you know, getting into digitizing should be a paced process…
Hence, we don't expect you to be manually designing anything right away!
This is why Chroma is broken into 3 main tiers which allows you to choose your comfort level, based on experience!
As the tiers go up, so do the number of features and flexibility to design manually!
Chroma can be accessed through 3 tiers: Inspire, Plus, and Luxe. Each level is compatible with Mac and PC.
Not exactly sure what we mean by tiers? Well, think of it like different levels of access to various features. Not to worry, we're about to go into full detail about each!
Ready to learn more about the three tiers Chroma offers? Request a quote here today and one of our product specialists will be happy to assist you!
Inspire
Chroma Inspire is the basic access to the software.
Some of the features include being able to auto-digitize, edit designs, create lettering, convert elements of your design to different stitch types, resize designs, and even rearrange color stops!
Let's take it to the next level!
Plus
With Chroma Plus, you have access to all of the same tools as Inspire, hence full access to create digitized designs and lettering.
However, with Plus and Luxe, you can manually digitize and design, leaving it open to freedom of expression, skills, and artistry as you digitize!
This easy-to-use digitizing software allows you to digitize designs from start to finish and personalize your designs to your liking with an extensive font library, fill selection, and more!
Luxe
This is the most advanced version of Chroma!
With Luxe, you can access the software's full range of tools!
This means, if you're ready to take your digitizing to the next level by creating advanced digitized designs, using an extensive range of preset fonts, fills, and exclusive design features – Chroma Luxe is for you!
Now, let's get into the moment you've been waiting for…
Here are the top 3 features we love about Chroma!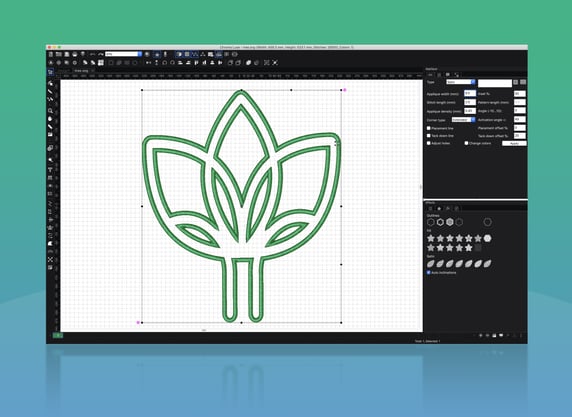 #1: CHENILLE COMBINED WITH NAMES AND NUMBERS
A perfect tool for sports teams!
The names and numbers feature allows you to easily apply stitch fills to multiple names and numbers and export them as separate files with the click of a button!
#2: APPLIQUÉ
Never tried appliqué, but always wanted to? Don't worry, Chroma has it all!
With Chroma, you can easily convert letters to appliqué with predefined appliqué fonts, as well as convert designs to appliqué with the easily accessible satin and run stitch feature.
#3: TEXT EFFECTS
Create beautiful custom monograms using the preset monogram font option and create unique text designs on shapes, paths, and spirals!
You can add lettering on multiple paths such as:
vertical lines
arcs
spirals
pre-digitized small lettering and puff fonts
appliqué fonts
TrueType fonts
Feeling creative?
You can also transform, stretch, rotate, and slant text using handles built into this software.
Bottom Line
We all know venturing into the unforeseen world of digitizing and ultimately creating your own designs can be intimidating and somewhat daunting, but always remember, practice makes progress!
You don't have to be perfect at digitizing right away to invest in a software that will ultimately help your business in the long run!
To learn more information about Chroma, visit the Chroma page and download our brochure so you can take your digitizing skills up a notch!
If you're currently using Chroma as a digitizing software or are planning on trying it out, let us know in the comment section below! Be sure to join our Facebook group, Embroidery & Custom Apparel Mastery, where you can share your experiences with other embroiderers venturing into digitizing.
Are you curious how Ricoma can help your custom apparel business?
Schedule a call for a Quick 30 minutes "Embroidery Talk" with our specialists to see if you're really ready to start or expand your business. Our specialists can help you…
Find helpful resources to kick start your embroidery education
Answer any questions regarding pricing your items for profit and sourcing materials
Help you compare and contrast different machine types and branch in the industry
Help you determine which machine would suit your business based on your current and future goals