Word on the street is you're looking to start a custom apparel business, but don't know where to begin.
For years, the demand for custom apparel has skyrocketed and it's only getting more popular.
But that doesn't answer all of the questions that are probably floating around your brain right now…
The three that instantly come to mind are…
How hard is it to get started?
How much does the equipment cost?
How profitable is a custom apparel business, REALLY?
Let me start by saying, you can easily make over $1,000 a month with just one simple tool.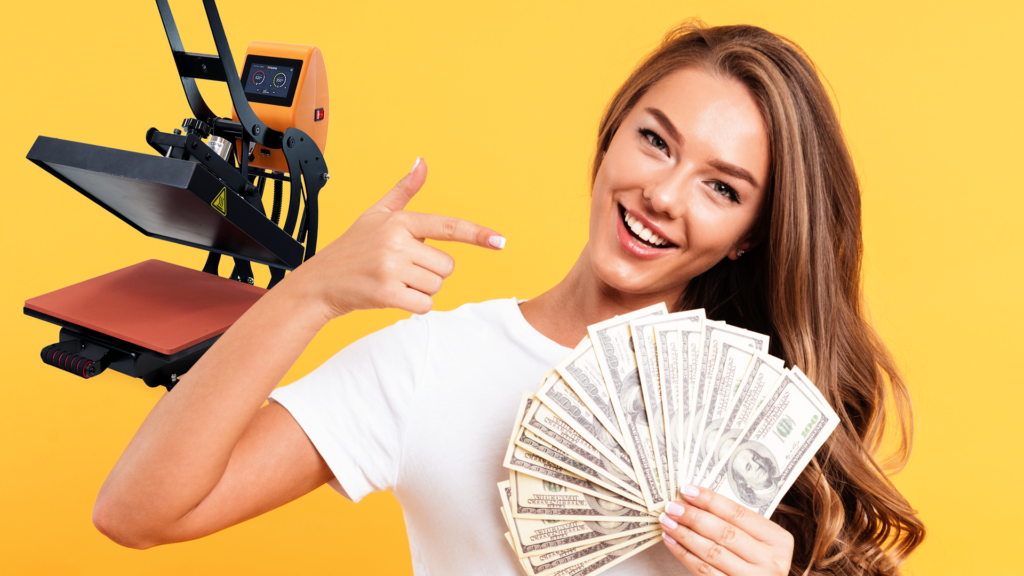 A heat press is the only tool you need to transfer eye-popping designs onto caps, t-shirts, hoodies, blankets, mugs and so much more.
Heat presses are also the perfect introduction into the custom apparel and garment industry because they're easy to use and don't require ANY prior apparel decoration experience.
Still have questions?
We don't blame you…
In this blog, we'll cover how heat presses work and 3 reasons why Ricoma's user-friendly, affordable heat presses are the perfect tool to kickstart your custom apparel business or side hustle. The best part is, heat presses give you the flexibility to even start your business from the comfort of your own home! (More on that later.)
Before we do a deep dive into each reason, here's a quick rundown of what a heat press is and how it works.
What is heat transfer printing?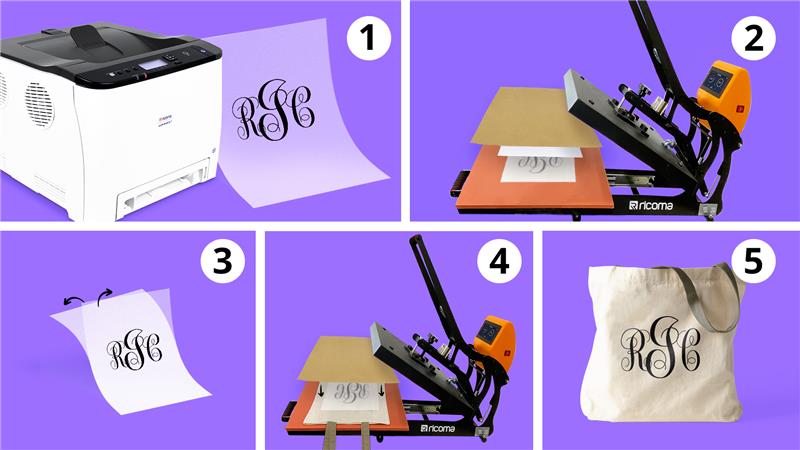 Heat transfer printing is the act of adhering a printed design onto a garment using pressure and heat.
You can do this by either printing a design onto a sheet of transfer paper or buying ready-to-press designs online.
Click here to discover 5 ways to make money with a heat press machine even if you're just getting started!
If you plan to make your own designs, all you have to do is transfer them onto adhesive paper, peel away the adhesive sheet and press the design onto the garment using your heat press.
When buying pre-made designs, the hard part (if you can call it hard) is already done for you.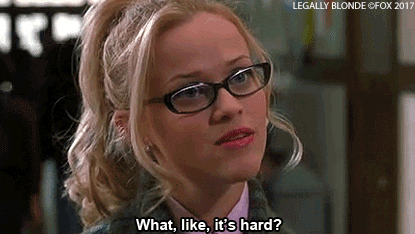 All you have to do is line up your design, press down on the handle and in seconds you'll have a custom t-shirt, cap or mug that your customers will love.
In fact, here's a quick video that shows you just how easy this is.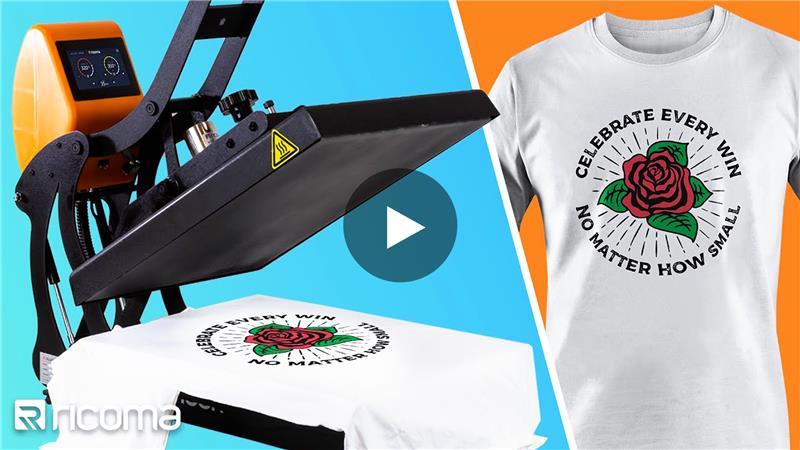 Now that you know how heat presses work, let's take a look at the first reason why heat presses are the perfect tool to start your custom apparel business: low start-up costs!
#1 Low start-up costs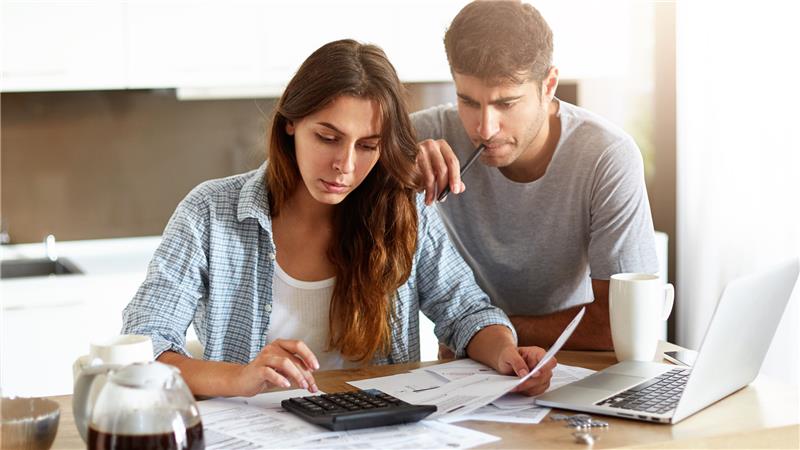 As we all know, the biggest driving factor when starting any business is…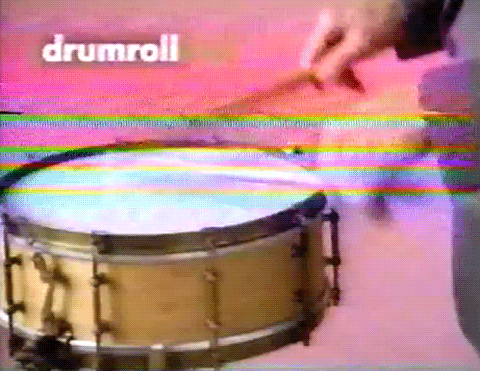 …start-up costs.
There's a lot to consider when starting a custom-apparel business, including equipment costs, supplies, inventory, rent and marketing.
Let's face it, the list seems to go on forever.
But what if we told you that you can cut your start-up costs in half without having to compromise on the quality of your end product?
On average, our high-quality heat presses range from $239 for a standard mug heat press up to $899 for an advanced auto-open flat heat press.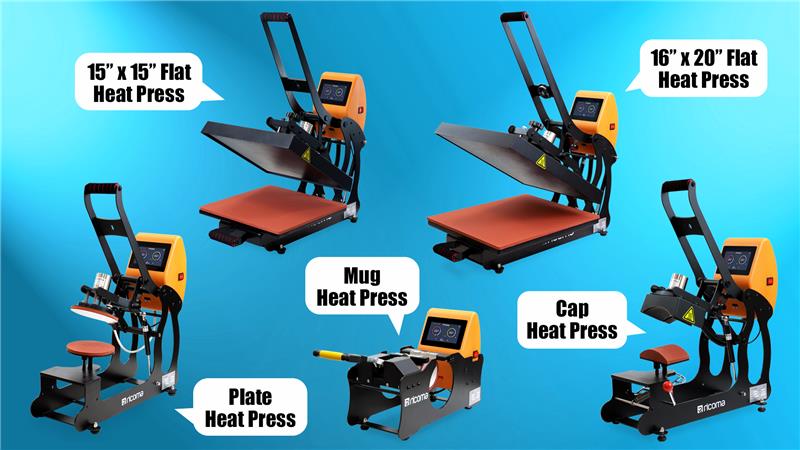 That's nothing, especially when compared to screen printing, which is another common decoration method for custom apparel start-ups.
Click here to read our Heat Press Buyer's Guide that walks you through all the different types of heat presses to choose from.
But unlike heat transfer printing, screen printing requires multiple color stations, screens, exposure units and more, which can range anywhere from $400 to $30,000. Not to mention, it's pretty messy.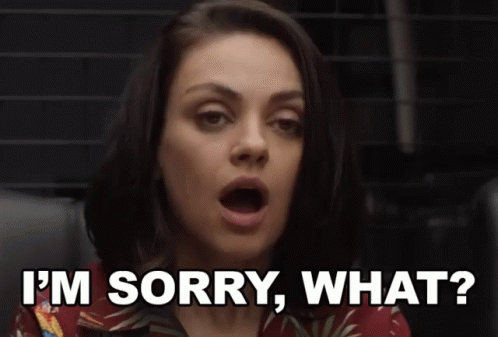 The only added expenses with heat-transfer printing are transfer paper, adhesive sheets and blank garments.
On average, a blank t-shirt costs between $2-$3, and transfer paper costs about $1 per sheet, but we'll get to that.
Let's take a minute to recap.
Click here to save hundreds on shipping on all heat presses on shop.ricoma.com for a limited-time only!
With start-up costs as low as these, you'll see a return on your investment in no time flat!
If you're ready to get started, click here and browse our selection of high-quality flat and specialty heat presses!
Or click here to check out our heat press buyers guide to learn more about the different types of heat-presses and the amazing things you can create with them.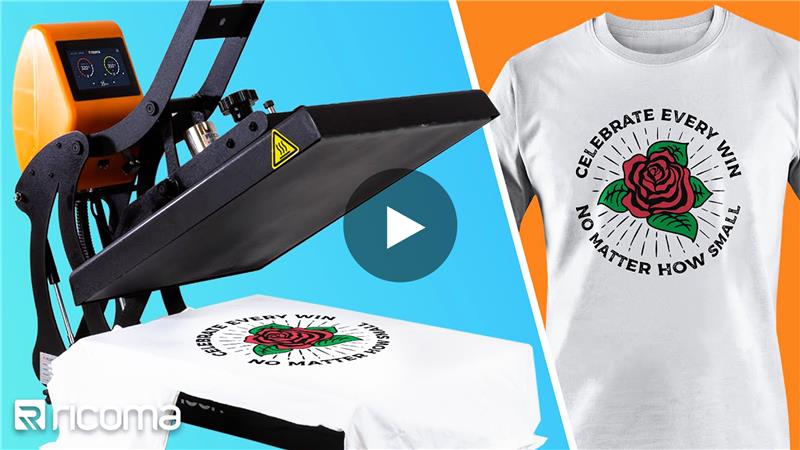 If you're not quite sure if heat-transfer printing is right for you, then keep reading. In the next section, we'll discuss the second reason why a heat press is right for you: supplies are affordable.
#2 Supplies are affordable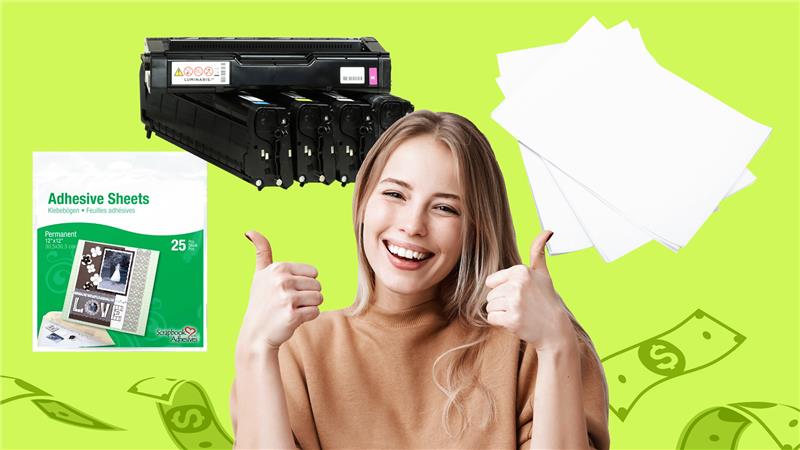 There are just three simple and inexpensive supplies needed to run your heat-transfer printing business successfully.
Transfer paper
Adhesive sheets
Printer toner
This helps keep your recurring expenses to a minimum.
Take a look at the breakdown below to get an idea as to how much these materials cost.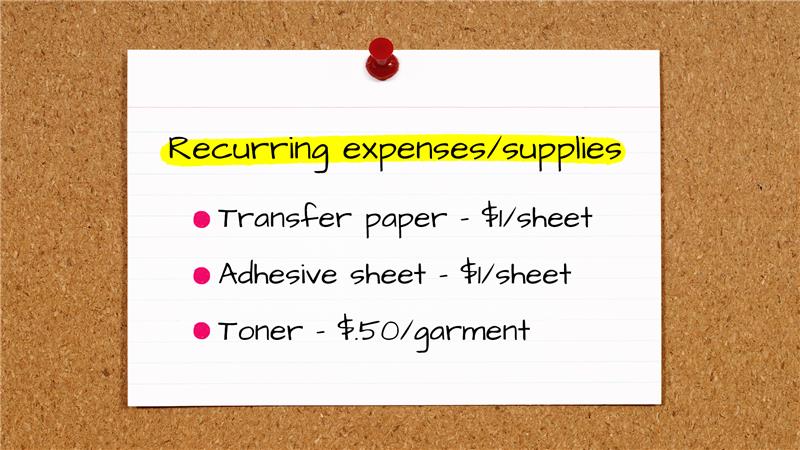 With minimal recurring expenses, heat transfer printing is not only a practical first step into the custom apparel industry, but it's also easy to maintain your business once you get started.
Still on the fence about starting a heat-transfer printing business?

Check out this episode of Apparel Academy and let Ricoma CEO Henry Ma tell you why heat transfer printing is one of the easiest, most cost-effective ways to customize apparel.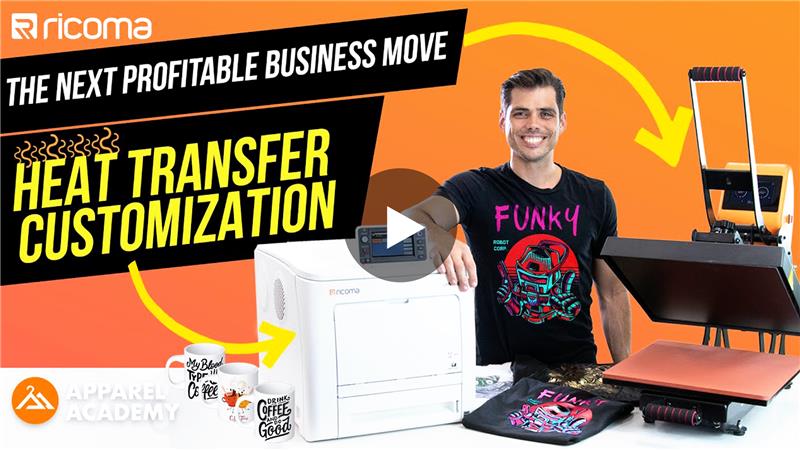 Already convinced?
If you're ready to start printing custom t-shirts, caps and more, then click here to secure your Ricoma heat press now.
And if you want full control of the design process, click here to invest in the Luminaris 200 White Toner Transfer Printer.
In the next section, we'll discuss the third reason why our easy-to-use heat presses are the ultimate money-making tool, especially when you're just starting out.
#3 Simply put…profit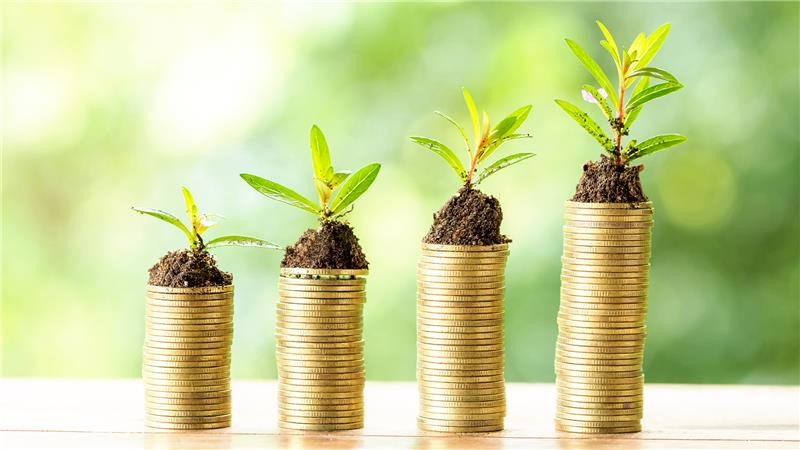 We've saved the best for last…but there's an important reason for that.
All of the information we've covered up to this point is crucial for determining profit.
Here's why the cost of supplies is important.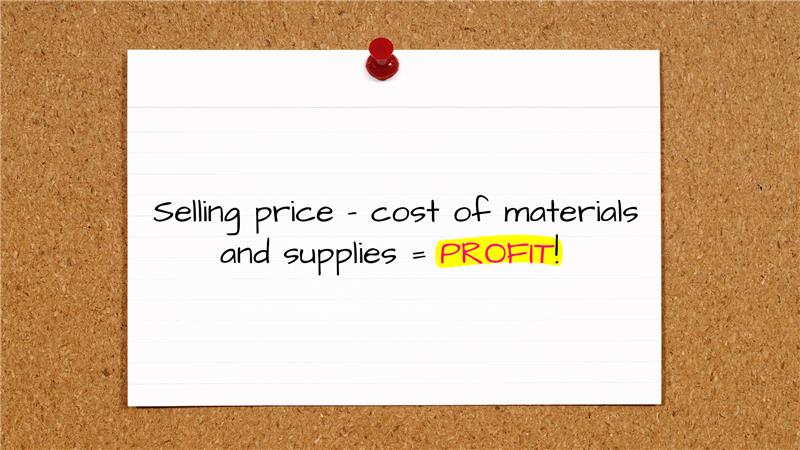 Of course, the selling price of your product depends largely on two factors:
The complexity of your design
The garment or item you're selling
For instance, most custom t-shirts sell for $20-$25, whereas you can easily get $25 or more for a personalized cap or mug. Hoodies on the other hand can sell for $35-$40.
Regardless of what substrate you choose to print on, you can use the following formula to determine your profit: selling price – cost of materials = PROFIT.
For this example, let's say we're transferring a full-color design onto a standard t-shirt.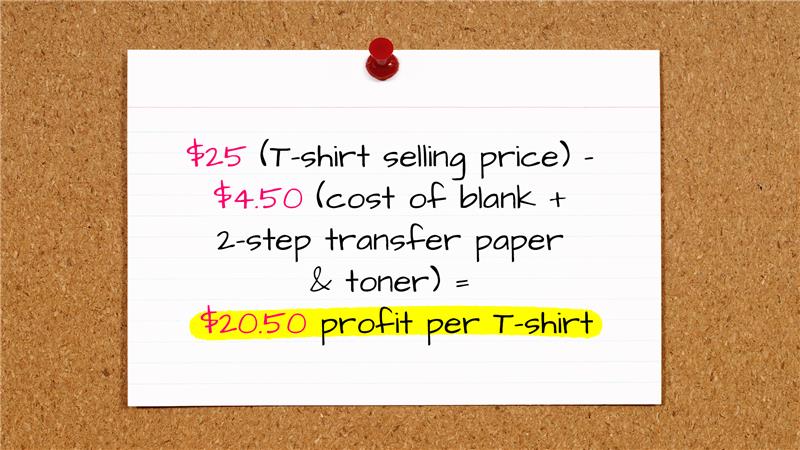 Now that we've covered why the cost of supplies is important, let's backtrack.
Here's why the initial cost of equipment should be an important consideration when starting a printing business.
Initial cost of a heat press:
Ricoma auto-open 15" x 15" flat heat press
Price: $799
iKonix 15" x 15" flat heat press
Price: $469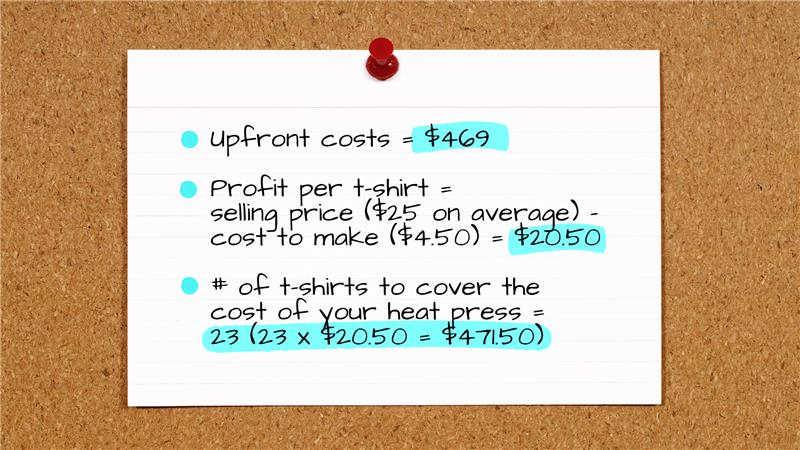 The example above shows that you will need to print a total of 23 t-shirts to cover the entire cost of the printer assuming each t-shirt will equal a profit of $20.50.
But how long will it take you to press 23 shirts?
On average, if you're using pre-made designs, it takes about 10 seconds to do the initial press to flatten out your garment and then an additional 30 seconds to press your design onto the garment, making the total a whopping 40 seconds! And if you take into consideration the warm up time for your press, you're looking at any average pressing time of 2 minutes.
That means you can make 23 t-shirts in just 46 minutes!
If you're ready to start capitalizing on the custom apparel industry's hottest trend, click here to secure your heat press and get FREE SHIPPING (for a limited time only)!
BONUS! You can even work from home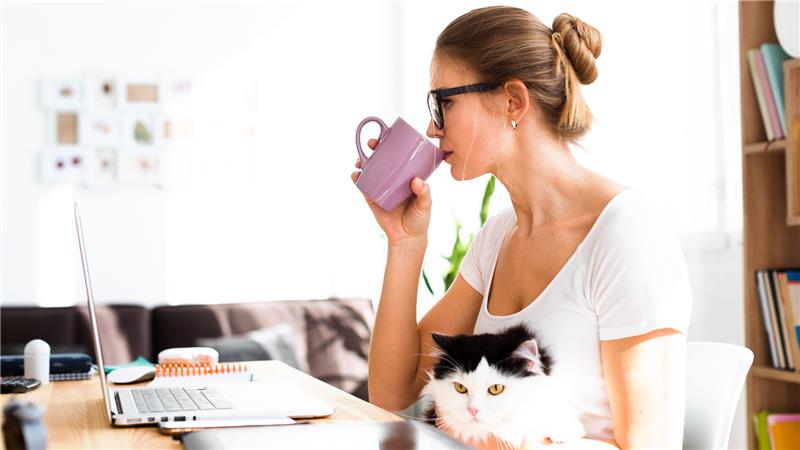 In today's world, everyone's looking for a way to make money from home, especially because you can use that money you'll save on renting a space to invest back into your business.
With that in mind, below are the three main components that make our heat presses the ultimate work-from-home custom apparel tool.
They can fit almost anywhere!
They are easy to move from room to room
They are energy efficient compared to larger apparel decoration equipment
All of our heat presses are compact and portable, which means you can easily work out of your spare bedroom or home office.
In fact, our mug-style heat press weighs as little as 20 pounds so, needless to say, it won't take up much space in your room.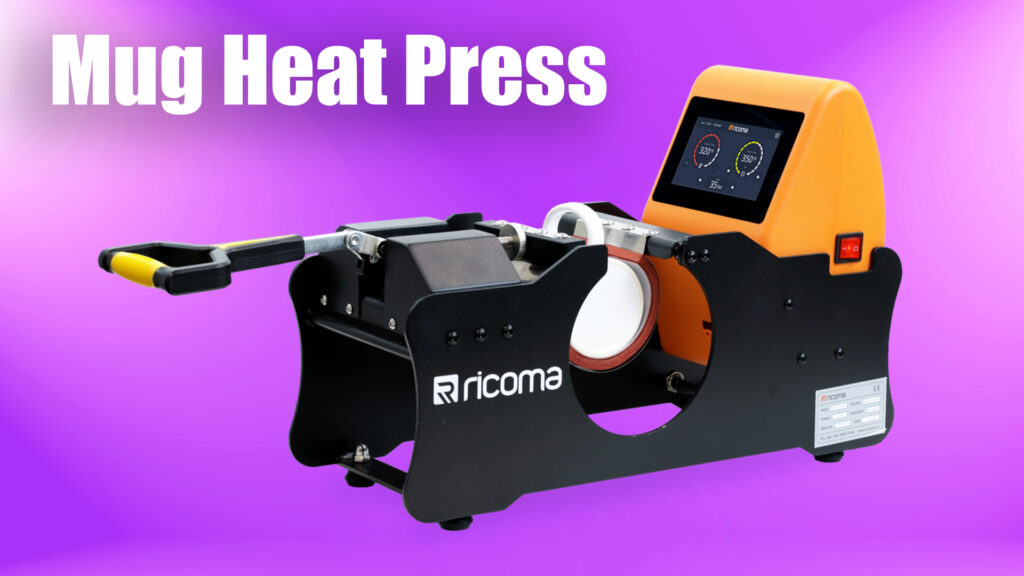 Thanks to its light weight, you can even transport your equipment to your local craft fair to drum up some extra business!
Now, on top of all that, our high-quality heat presses are also energy efficient. Every heat press on shop.ricoma.com consumes only 110V of power, meaning it can be plugged into a standard household outlet without overloading your electrical system.
All of our heat presses also feature low power consumption ratings from 0.3 kw for our mug heat press to 1.5 kw for Ricoma's 15" x 15" auto-open flat heat press.
Electricity use over time is measured in Watthours (Wh).
One kWh is one kilowatt generated or consumed for one hour. For example, if you use a 40-Watt (0.04 kW) light bulb for five hours, you have used 200 Wh, or 0.2 kWh, of electrical energy.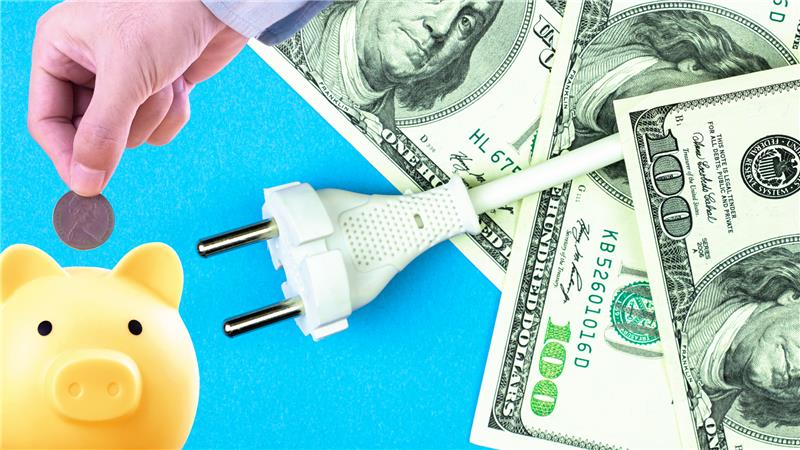 Not only can you save money on your electric bill each month, but thanks to the size and portability of our heat presses, you can also save on rent.
Most other custom apparel printing methods, like screen printing, require you to rent an office or commercial space to run your business.
That's at least $1,000 that you're essentially throwing out the window each month!
Not only that, but thanks to their size and portability, it's easy to expand your heat-transfer printing business with a cap, mug or plate heat press – all without having to expand your business into the living room.
When you expand your business to include these specialty heat presses, you'll also attract a wider audience with the ability to produce even more custom creations, like decorative plates, drinkware and the ultimate moneymaker: caps.
Click here to browse our selection of specialty heat presses and start or expand your printing business today!
Are you ready?
We started this blog with three questions so it's only fitting that we end it the same.
Are you ready to start a business with low start-up costs and minimal recurring expenses?
Are you ready to make money?
Are you ready to work from home?
If you answered, "yes" to any or all of these questions then you're well on your way to launching your heat-transfer printing business.
Join thousands of other decorators who have taken the jump and enjoy the ease of creating unique masterpieces for happy customer after happy customer!
If you're ready to dive into the custom apparel world and start working from home, then click here to get started with one of Ricoma's easy-to-use heat presses!