To some, owning a business in the heart of New York City may be a long-term feat. For performance apparel company Algy Costumes, it was just the beginning.
What started in the 1930s as a Manhattan shop attracting walk-in Broadway acts has turned into an international name serving performers across the globe. Initially specializing in sequin embroidery, the business currently designs and manufactures all kinds of recital wear and team uniforms. Now, Ricoma has supported the expansion of Algy Costumes' team uniform market.

Headquartered in South Florida, the fourth-generation family business is run by Sue Gordon, the granddaughter of founder Alfred Lieberman. Lieberman began his embroidery career embellishing pennants for sports teams, but he was shortly left jobless during the Great Depression. In return for Lieberman's labor, his employer offered him an embroidery machine. Utilizing his newfound moneymaking tool, Lieberman sought contract work doing embroidery wherever he could.
During one of his contract jobs, Lieberman was once again paid with supplies in lieu of wages. This time, the payment was two taxis full of sequins. Again making use of whatever he had, Lieberman took the sequins and figured out how to tool the embroidery machine to take sequins down the shaft. Lieberman's innovation was the force behind Algy Costumes, a business that would be producing costumes for years to come.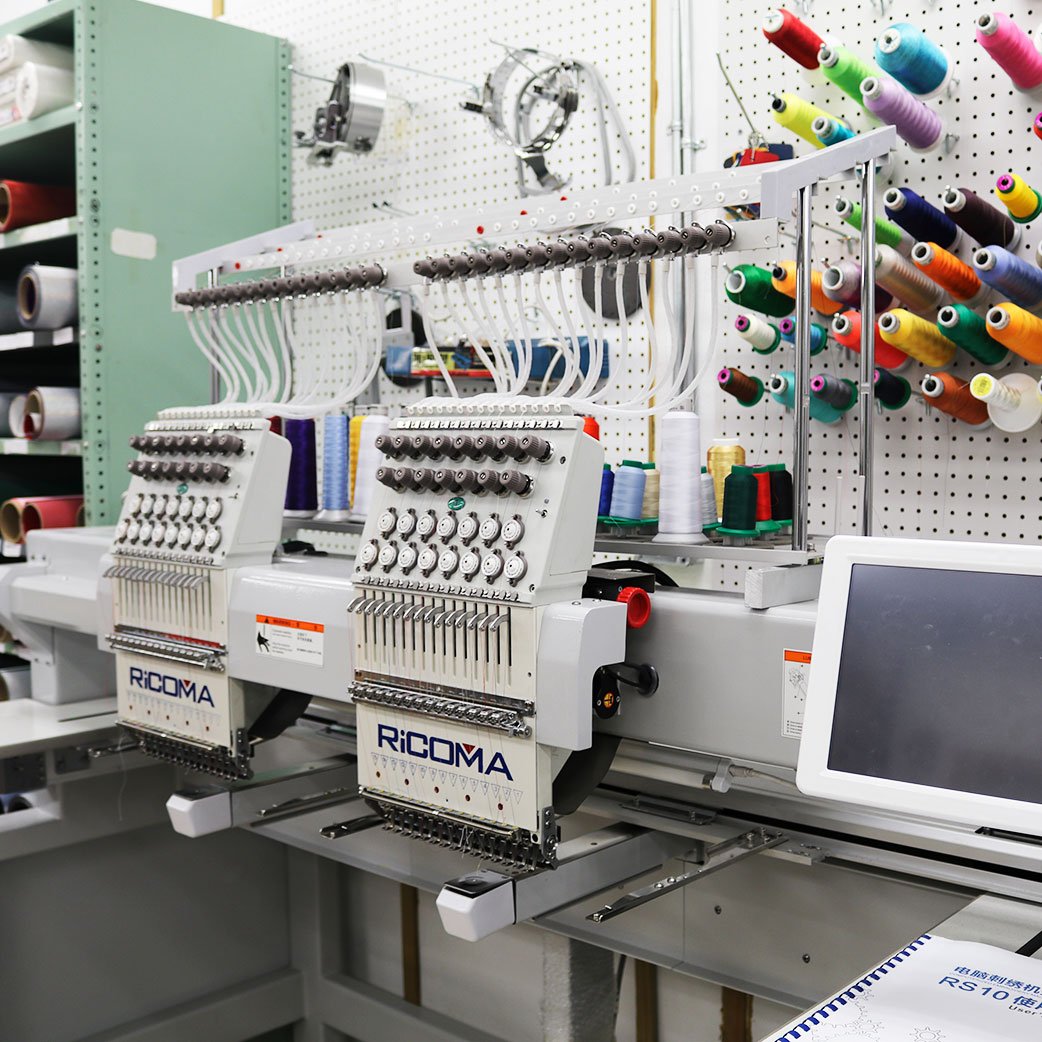 Still thriving, the 80-year-old company proves the everlasting need for decorated apparel. While Algy Costumes continues to manufacture show wear, it has also expanded its market to include more team uniform wear. The company embroiders jackets, bags, shirts, and more for marching bands, color guards, majorette groups and dance teams. The decision to expand its product line emerged from a basic marketing principle: providing clients with one-stop shopping.
"Marketing 101 tells you that you need to sell everything that your client needs," Gordon advises.
To address its customers' needs, Algy Costumes turned to Ricoma. Algy Costumes' Vice President of Operations Danny Mungra was introduced to Ricoma's CHT-1502 during a trade show in Atlanta. Impressed by the machine's quality and efficiency, Mungra decided to make the purchase on the spot. With Ricoma's two-head machine, Algy Costumes can complete orders in half the time it did before. The company has since shaved two weeks off each order.
To Mungra, the machine's most beneficial feature is the cap system. The company's previous embroidery machine wasn't capable of stitching on caps. Now, Algy Costumes can offer caps to its clients, making it a true one-stop shop. An embroidery expert for over 20 years, Mungra said the number one feature he seeks in embroidery machines is quality.
"I've seen many demonstrations of many machines, and this is the one that impressed me the most," Mungra said.
Gordon was pleased by how easily the machine operator was able to get the machine going. With Ricoma's training, the operator was fully capable of running the machine with ease from the moment it arrived.
With over 100 employees and the expansion of its team apparel line, the future looks bright for the longstanding company. Even after 80 years, Algy Costumes is still growing. Its Hialeah location just added another 2,000 square feet of space. At some points, the company has to turn away business because it needs more machine power. For that reason, Mungra said, management is planning on purchasing another Ricoma two-head within the next year.
"We have intentions of getting a couple more heads like every couple of years going forward," Mungra said. "We are totally satisfied."
Ricoma's dedication to customer satisfaction has made it one of the world's leading embroidery machine manufacturers. Like Ricoma, Algy Costumes' devotion to quality output and customer satisfaction is its priority.
Thousands of performers are slated to receive their team uniforms from Algy Costumes this year. Proudly displaying their emblems, the teams will be remembered by their customized gear during competition. As the performance concludes, the teams will receive their awards, take a bow, and flash a passionate smile.
That smile begins with Ricoma.