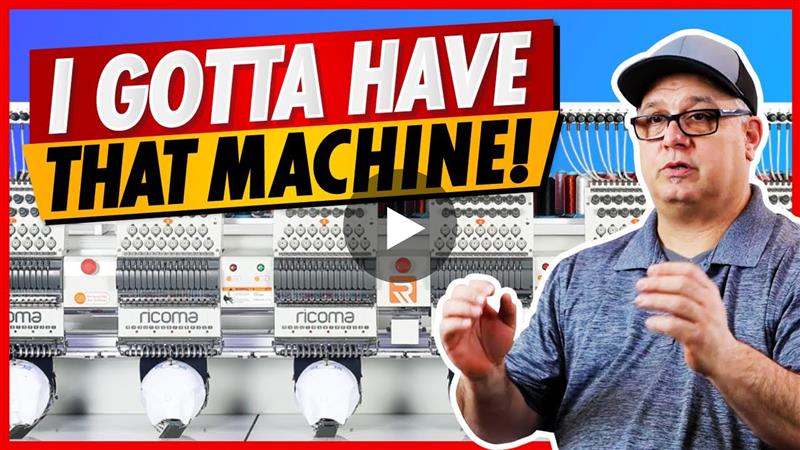 From humble beginnings to two MONSTER 8-head embroidery machines
When Orlando-based business owner Peter Cervone took over his parents' t-shirt shop, he had no idea how lucrative an embroidery business could be until he invested in two 8-head Ricoma CHT2 embroidery machines.

It all started when his father came home from a long shift at Burger King, threw two t-shirts on the dining room table and said, "we're going to open up a t-shirt shop." Since then, Peter said C&C Tee Shirts has found huge success selling custom sublimated sports apparel, such as t-shirts, jerseys, backpacks, towels and more.

But as the business grew, it became obvious to Peter that he would need to expand his brand to include other forms of apparel decorating like screen printing and embroidery.

That's when he purchased his first embroidery machine – a two-head Ricoma MT-1502. He was immediately impressed by its ability to create clean designs in just a few minutes.
But his journey didn't end there…
After receiving an order for 20,000 embroidered towels, Peter soon realized his trusty two-head wasn't going to cut it.
The machine that would transform his business…
The only solution was to upgrade to something that could not only quickly and efficiently complete the 20,000-towel order, but something that could keep up with the demand for custom embroidered merchandise in the future.
Without a second thought, he turned his attention to Ricoma's CHT2 series, which is available in four to 12 heads. After briefly considering the 6-head model, he ultimately decided to invest in two 8-head CHT2 machines.
Why?
Peter said it came down to time.
With more heads, he would be able to complete larger orders in less time.
But what really sold him on the CHT2 model was the fact that they can embroider Richarson caps. After that, he "fell in love."

Without hesitation, Peter said he would recommend Ricoma to anyone looking to start or expand a custom apparel business.

Not only did he attribute much of his success to his commercial embroidery machines, he also couldn't say enough about the unlimited lifetime training and technical support that came with them.
"The support system is phenomenal," he said. "The tech support is the number one reason I'm with Ricoma."

Click here to see our support team in action during a behind-the-scenes multi-head machine training at C&C Tee Shirts.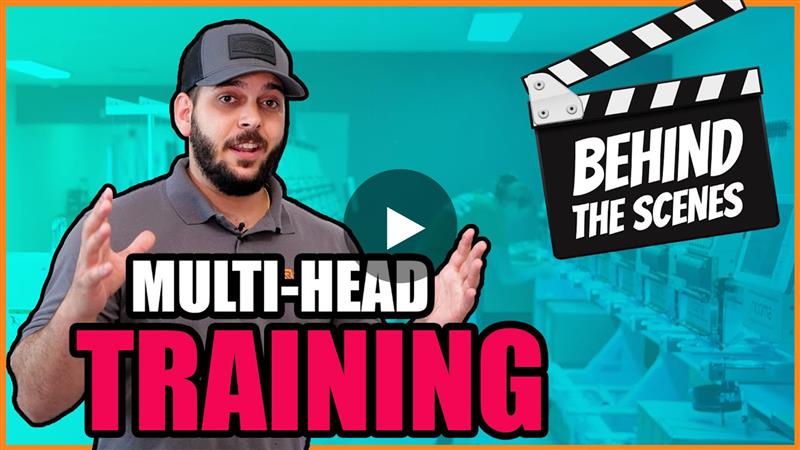 Peter said that it is crucial for those who are new to embroidery to have a reliable support system to deal with any issues along the way, otherwise it can be "deadly to your business."

But that's not the only important thing when starting or expanding a business.
The cutting-edge machine features that will skyrocket his business
Aside from attentive customer support, Peter is confident that these Ricoma embroidery machine features will bring him much success in the future.
Speed
Ease of use
Simple maintenance
"The time frame on getting one run done and then getting your next run up is very important," Peter said. "So, the faster you run, the more money you're going to make."

Truer words have never been spoken. Speed is crucial when it comes to the financial success of a business.

Let me explain…

Let's say it takes you 5 minutes to embroider one cap with a single-head machine. With an 8-head machine, like the CHT2-1508, you could embroider 8 caps in the same amount of time.

And at $25 per hat, that's $200 in your pocket in just 5 minutes!

Peter has taken full advantage of this and plans to take on more bulk orders in the future with the help of his two 8-head CHT2 Ricoma embroidery machines.

In addition to lightning-fast speeds, Peter praised Ricoma for its user-friendly machines.

C&C Tee Shirts receives a wide range of orders, from flat items like towels and t-shirts to non-flat items like caps, backpacks and more.

That means every time he needs to switch from flats to caps and vice versa, he has to swap the machine's brackets, which can often be very time-consuming.

But not with Ricoma.

Peter said it's easy to rotate between the cap and flat attachments, which has saved him both time and money in the few short weeks that he's owned the machines. He's also mentioned that it's easy to perform maintenance on his Ricoma machines.

Everything from oiling them to applying lithium grease to the back of the machine heads is a breeze, which allows him to spend more time on what's important – like fulfilling orders.

But don't just take our word for it. Click here and Peter will tell you exactly how the CHT2 series machine transformed his business.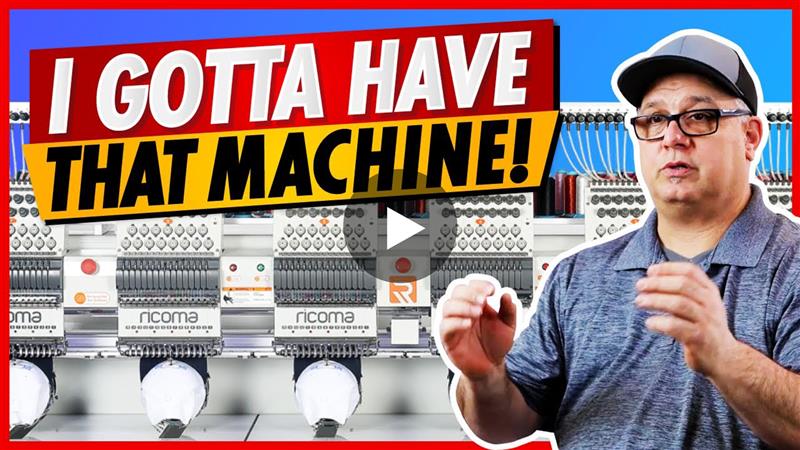 The bottom line
Since investing in his first Ricoma embroidery machine in 2019, Peter has seen his business grow to heights that he never thought possible. Every day he uses his passion for embroidery and custom apparel to provide high-quality products for his customers.

If C&C Tee Shirts' success has inspired you and you'd like to learn more about our embroidery machines and other custom apparel equipment, be sure to visit us at www.ricoma.com.

Please feel free to comment down below and tell us what you think about Peter's embroidery machine journey or if you have any questions about purchasing a multi-head embroidery machine of your own!