Have you been thinking about starting a printing business or expanding your custom apparel business into printing?
Making that kind of decision requires that you spend a good amount of time learning about printing and all the methods available. So, to help you save precious time, we've done all the work for you in this blog post.
We will teach you all about the five most popular printing methods and which ones will benefit your business and bring in more profits.
These printing methods are:
Each printing method has its pros and cons and not all of them will fit your needs, but we're here to give you the information you need to decide which printing method is right for your custom apparel business.
Let's get started!
#1: DTG Printing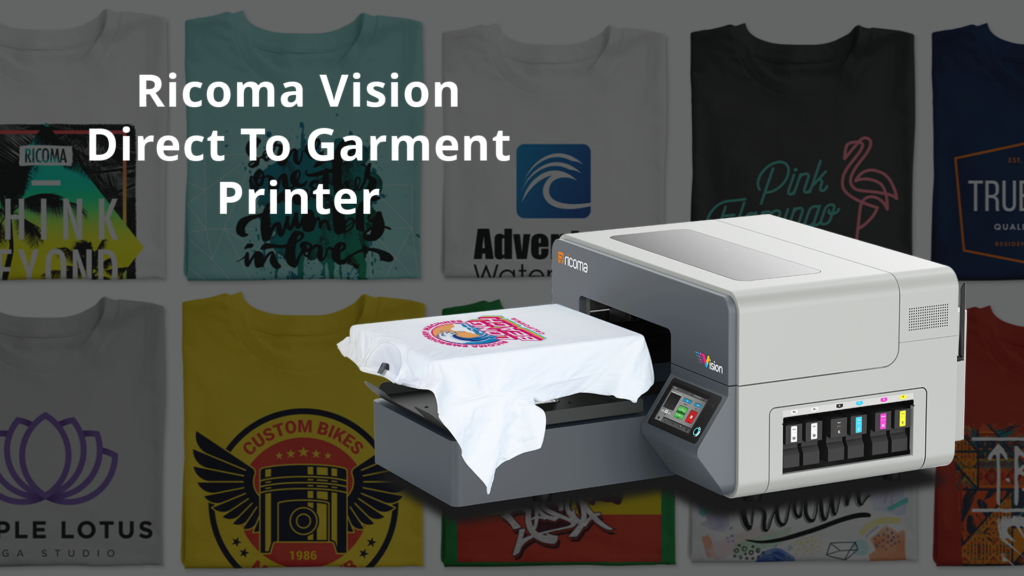 DTG, also known as direct-to-garment printing, is a newer printing method where you print directly onto garments like t-shirts, jacket backs, tank tops, and more. To create a custom design on a t-shirt, you need a DTG printer, pretreatment liquid, and a heat press.
A DTG printer works the same as an inkjet printer you would find at home or at an office. Instead of dropping ink onto paper like a regular printer, a DTG printer drops special garment ink directly onto the fabric. To use the DTG printing method, you first have to pretreat the garment, and then you can load it into the printer. Once it's loaded, the design is printed onto the garment. The last thing you need to do is cure the design, which is when you dry or harden the design's ink, so it adheres properly to the garment. You do this with a heat press to ensure the design can withstand many washes and prevent it from fading too quickly.
Pros
The pros of the DTG printer are that you can easily create customizable designs and products for your customers, and it's excellent for printing high-quality photorealistic designs. Not to mention, the designs should last about 50 washes and the printing process is practically mess-free.
Also, it's faster to do a bulk order with different designs, compared to other methods. With DTG printing, if you want to change the design you are printing, all you have to do is choose a different design on the printer and press go. For example, if a customer wants two t-shirts with a logo and four t-shirts with an artistic design, you can do it all quickly by switching the designs on the printer's control panel. Compared to a method like screen printing, where it's more cost-effective to make large quantities of the same print, it's cheaper to be versatile with a DTG printer.
If you are looking for a DTG printer that can quickly print high-quality images on different fabrics, check out Ricoma's game-changing Vision DTG printer!
Cons
A con of DTG printers is that you have to pretreat dark garments before printing on them, but this is necessary in order for the ink to adhere better to the fabric. Pretreating a garment prevents ink from soaking into the garment and helps the designs last longer.
Another downside is the cost of ink when using a DTG printer very frequently. Depending on the color, size, complexity of the design, and what product you're printing on, you could spend as low as $0.50 to as high as $8 on ink. However, you can make up for those ink costs by charging customers a bit more for the high-quality designs produced by the DTG printer. As long as you price your products right and have good profit margins, the cost of ink shouldn't affect you too much.
#2: Screen Printing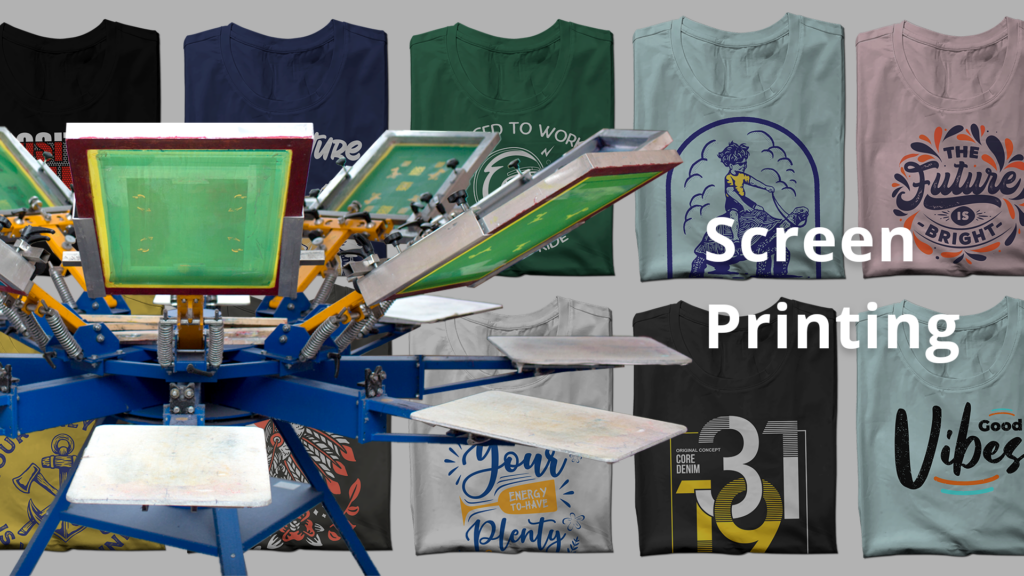 Screen printing is a very traditional printing technique that is a bit more labor-intensive than others. This is because you have to push ink through a stencil onto the fabric manually.
Here's how it works: First, you have to get a "screen" made, which is basically a stencil of the design you want. Once you have the screen, put it over your garment and push ink through the screen onto the fabric.
Pros
The advantage of screen printing is that it's very cost-effective for large batches of one design, especially if it's a simple design. If you need to print 50 t-shirts of the same design, all you need is to put the stencil over the shirt, push the ink through and repeat for 49 other shirts. Pretty simple. It's even faster if you have multiple screens of the same design. It's also easy to print on different areas of the garment, and you can print on many materials, like wood, glass, banners, and much more. In addition to the other advantages, screen printed designs can last as long as the garment it's on if printed properly.
Cons
The biggest disadvantage to screen printing is that you need to make a screen for each design and color, which can get expensive. It can cost up to $30 per screen, and if you have a complicated design with multiple colors, the expenses of all those screens mean you have to sell a lot of garments to make a profit. Not to mention the extra work it takes to have to use multiple screens and push ink through many times to do a colorful design on one garment.
Another negative of screen printing is you need the space for the equipment. Running a screen-printing business with a large machine with multiple stations out of a small room in your home isn't the best use of space. In addition to the other cons, screen printing is messy, since you are applying the ink yourself.
#3: Sublimation Printing
Sublimation is a printing method where special ink is transferred from paper to the garment using a heat press. To do this method, you need a printer that uses sublimation ink.
The way this method works is pretty simple. Once you print the design on the transfer paper, you place the paper on the garment and then transfer it with a heat press. When heated, the ink on the transfer paper goes from a solid to a gas and then embeds itself into the fabric. When it cools, it goes back to being a solid and becomes a permanent part of the material.
Pros
The best thing about sublimation printing is that the design embeds into the fabric, so it lasts much longer than designs using other printing methods. Sublimation embeds the ink so well that it lasts as long as the fabric itself. It also can print bright, high-quality designs and won't leave a layer on top of the fabric. You can also do sublimation on hard objects like mugs, but they need to be poly-coated first, which leads us to the cons of sublimation.
Cons
The biggest drawback to sublimation is that you can only use polyester or high poly-blend garments and white or light-colored garments. This limits the kinds of products you can print on, so you may only be able to sell polyester garments or polyester coated objects. Another con is you need a printer that can use sublimation ink cartridges.
#4: Vinyl Printing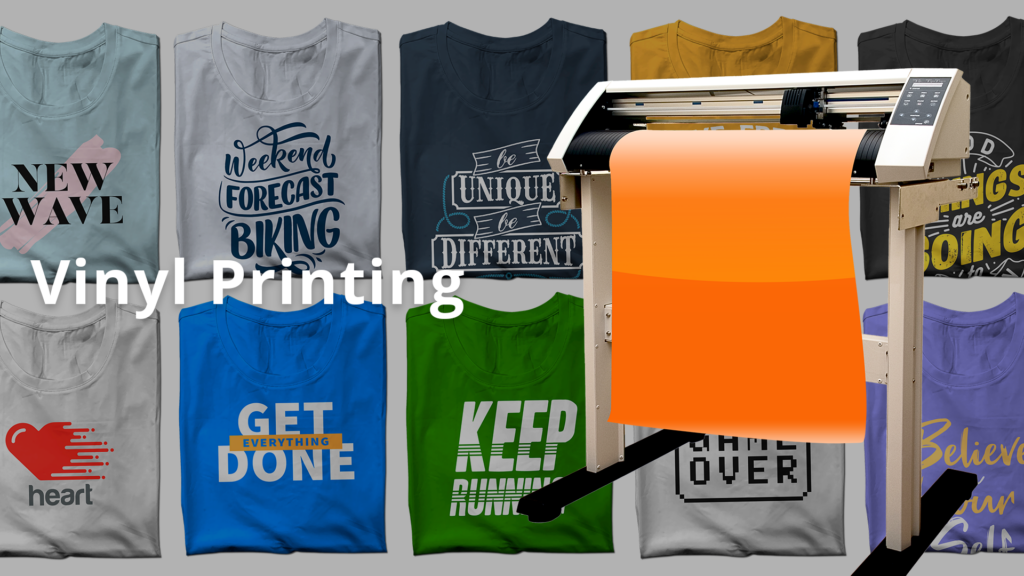 Vinyl printing is when you cut out a vinyl design and transfer it onto fabric with a heat press. You commonly see vinyl on sports jerseys, but they are used on pretty much anything, from t-shirts to totes.
To do vinyl printing, you start by connecting a vinyl cutter/plotter to your computer to cut out the designs. Once you print out the designs, you need to weed it, which is the process of removing the excess material from the design. Then you put it on your garment and heat press it to adhere it to the fabric.
If you want to cut vinyl, click here to check out Ricoma's line vinyl cutters!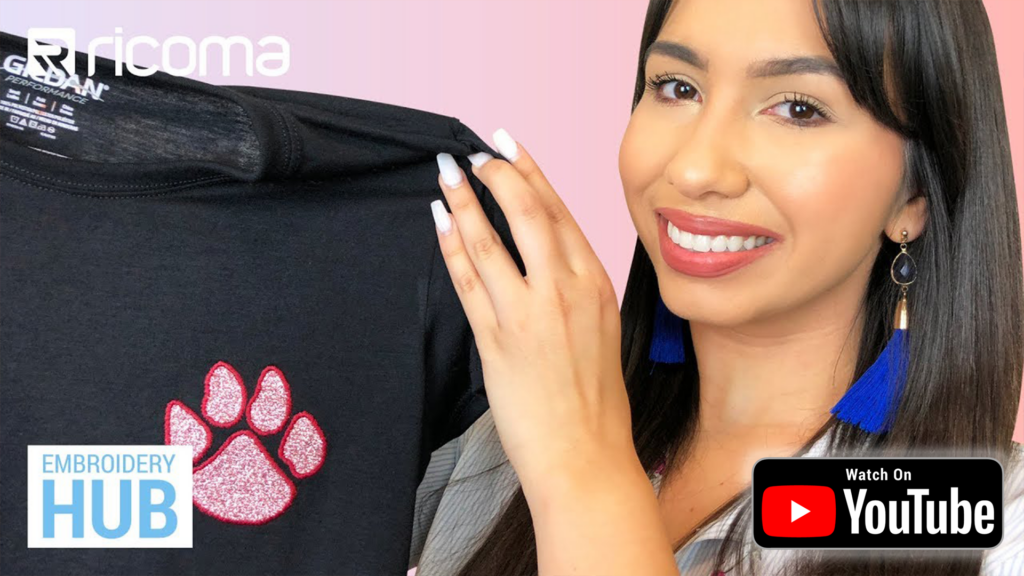 Check out this episode of Embroidery Hub, where we show you how to do heat transfer vinyl appliqué using our TC-1501 Ricoma embroidery machine.
Pros
One of the pros of vinyl printing is being able to place the vinyl design anywhere on the garment. In addition to that, it is relatively cheap to start vinyl printing, and you can do small batches of vinyl prints without losing money. With some methods, like screen printing, doing small orders is not profitable, but that isn't a problem with vinyl, making it an excellent choice for businesses just getting started.
Cons
One downside of vinyl is that it isn't scalable; It's very time consuming to do large orders because you have to cut the vinyl, weed it and heat transfer it.
This means that vinyl printing for 15 or more garments is not cost-effective for your time. Vinyl sheets are not expensive; you can get a yard for about $10. But printing, cutting, weeding, and heat transferring one to multiple pieces of vinyl on every shirt is very time-consuming, especially if you're doing many shirts. In the same amount of time you cut vinyl for a large order of 50 shirts, you could have done double that or more with a different printing method.
Also, vinyl is a hard material that sits on the surface of the fabric, so it will crack and fade over time. If washed correctly and taken care of, it can last about 30 washes. Another disadvantage to vinyl is that it's best used for simple designs and graphics. Not to mention the fact that you need to invest in multiple rolls of vinyl and a vinyl cutter/plotter.
#5: Heat Transfer Printing
Heat transfer printing is a method where you use a heat press to adhere designs onto products. Here's how it works: You print a design on a sheet of transfer paper, then transfer the printed design onto an adhesive paper using a heat press. After that, you peel away the adhesive sheet from the transfer sheet and then press the design onto the garment. Once that's done, the design is now adhered to the fabric.
Pros
The pro of heat transfer printing is that it can be done on many garments and surfaces like cotton, polyester, ceramic, wood, metal, etc. This means you can offer your customers a wider variety of customized products compared to other printing methods. Additionally, it's simple to do, and the designs come out sharp and vibrant. Heat transfer printing is also cost-efficient for small to medium-sized orders.
If you're looking for a versatile heat transfer printer that allows you to place designs onto soft and hard surfaces, check out our Luminaris 200 White Toner Transfer Printer! When you purchase this printer with one of our affordable bundles, you'll receive software, training, lifetime support, and all of the accessories you'll need to get started.
Cons
Like vinyl printing, heat transfer printing may not be the most efficient way to do large orders, but that doesn't mean you can't do it; it just might take a little more time. Also, because the designs sit on top of the fabric, they may only last about 40 washes, depending on how large the design is and how it's washed.
Bottom Line
DTG printing, screen printing, sublimation printing, vinyl printing, and heat transfer printing have their advantages and disadvantages. The most important thing is to make sure to do your research before investing in any printing method.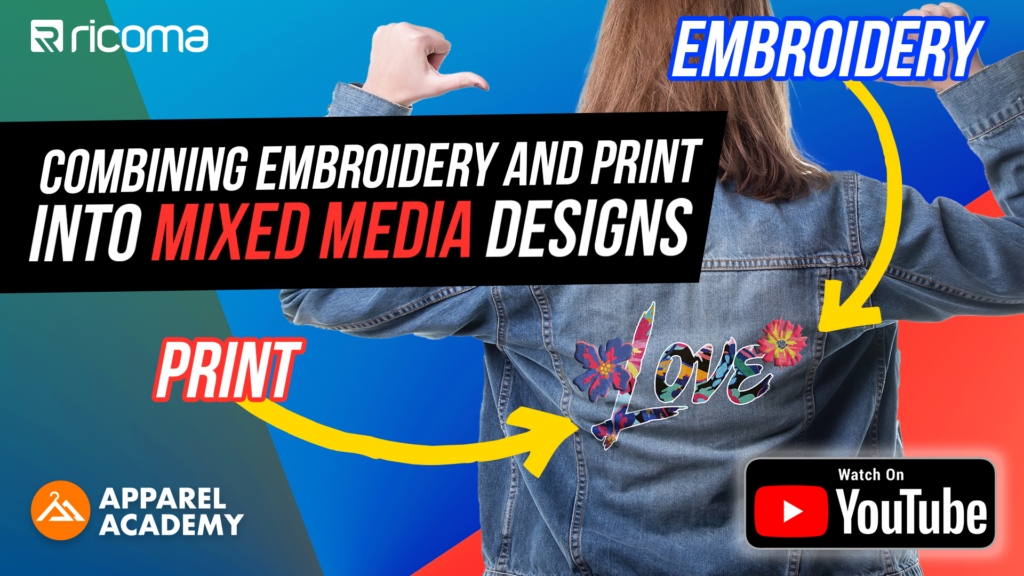 Click here to watch one of our newest episodes of Apparel Academy and learn about the benefits of combining printing and embroidery.
Reach out to experts and other printing business owners to see what their opinions are of each method.
Think about how much money and time you can afford to invest in your printing setup, what you want to print, and who your customer base is before coming to a final decision.
And if you have used any of these printing methods, make sure you tell us which ones are your favorites in the comment section below!
For a concise list of the pros and cons of each printing method we discussed in this blog, check out the chart below!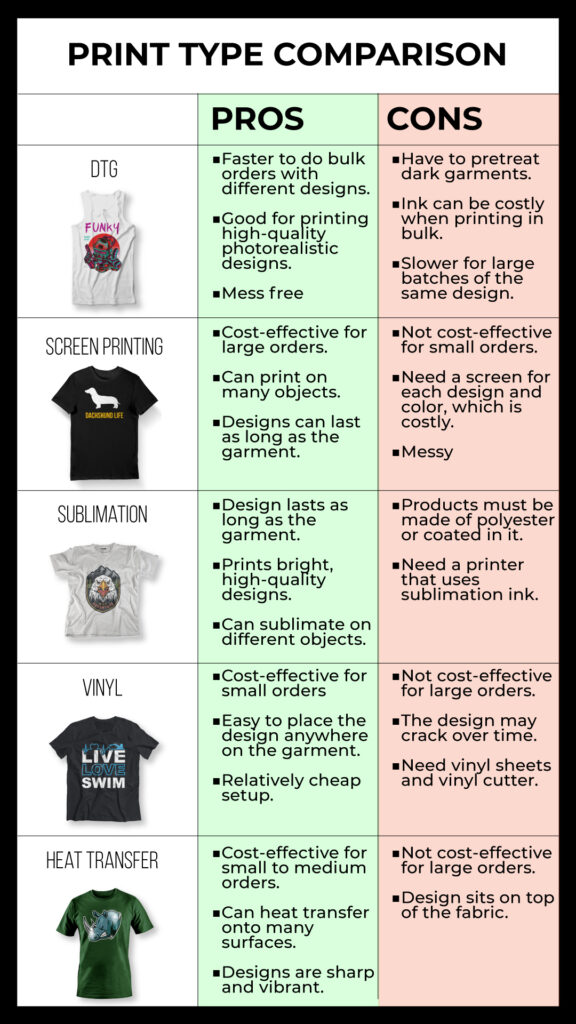 The #1 Factor in Determining Profitability: How to price for maximum profit in the embroidery business
Are you an entrepreneur, fashion lover, or embroidery enthusiast interested in starting or growing a profitable embroidery business? Do you want to be successful?
To guarantee maximum profit in your embroidery business, we've put together a webinar discussing the #1 factor in determining profitability. You will learn everything from achieving optimal profit margins for your products to common myths that are costing you money.