If you haven't heard already, Ricoma has some BIG news!
Designed with decorators in mind, Ricoma's first-ever custom apparel conference, DecoSummit, will be coming to sunny Miami, Florida, October 11-12!
The event will consist of two action-packed days filled with guest speakers, training courses, master classes and prize raffles.
Here's some of what you can expect to see at DecoSummit this year:
But that's only half of what you will experience at DecoSummit, and we've got all the insider details that prove DecoSummit is the place to be this October!
#1: Content that will transform Your business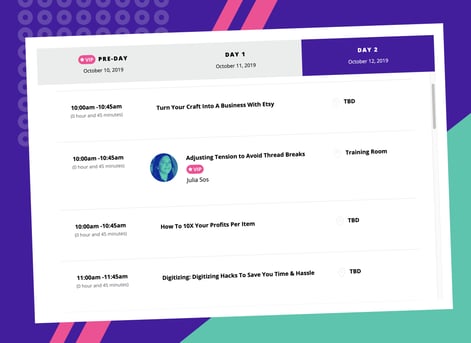 DecoSummit is all about educating decorators in the custom apparel industry.
The conference will focus on educating decorators on business practices like crafting a great customer experience, effective product pricing and even hiring staff.
The exhibition will also include one-on-one question and answer sessions, opportunities for networking, as well as first-hand exposure to the new products and technology driving the custom apparel trade.
Custom apparel decorators, from business owners to at-home crafters, are encouraged to attend the event to gain knowledge on how the industry is expanding and the proper tools needed to succeed!
Expect to leave DecoSummit with a new understanding of the following topics:
#1: Embroidery
Learn everything you need to know about embroidery, from how to use your machine to how to properly price your embroidery orders! DecoSummit will be holding embroidery sessions for not only veteran embroiderers but newcomers intrigued by the craft.
#2: DTG (Direct-to-Garment)
Ever considered adding DTG as a service in your custom apparel business? Speakers will be sharing their experience with DTG and providing an exclusive hands-on training with Ricoma's very own DTG machines.
#3: HTV (Heat Transfer Vinyl)
HTV is a hot topic in the custom apparel industry, which is why DecoSummit will be featuring an exclusive session on how to start your very own HTV business!
Click here to learn all about Ricoma's line of vinyl cutters!
#4: Selling Platforms: Etsy vs. Pinterest vs. Shopify
Want to start selling your craft on sites like Etsy or promote your business on Pinterest? DecoSummit will be hosting multiple sessions discussing best practices for selling your work on platforms like Etsy and how to make the most profit!
#5: Best Business Practices
To run a smooth, productive custom apparel business, there have to be certain business practices in place. Ensure that you are using the best business practices by attending these sessions and learn key business strategies!
#6: Pricing for Profit
One of the most important aspects about growing your custom apparel business is learning how to maximize your profit potential. Not sure how to do this? You can find out at DecoSummit during an exclusive session with Ricoma COO, Henry Ma!
Check out this webinar for an exclusive sneak peek!
#7: Proper Machine Maintenance
Proper care of your machine is key to its longevity, but many people don't know the correct maintenance procedures. DecoSummit will have a whole session showing guests exactly how to maintain their machine, how often to do it and how to know when it's time contact support!
#8: Digitizing
Tired of outsourcing your digitizing? Using Ricoma's brand new digitizing software, Chroma, guests will be able to learn how to digitize their embroidery designs first-hand!
#9: Sewing
Ever wanted to learn how to sew? At DecoSummit, guests will have access to an exclusive hands-on sewing session, hosted by a special guest.
#10: Marketing Your Custom Apparel Business
In order to get customers, you have to market your custom apparel business somehow. Whether you choose to do it by word-of-mouth or through a social platform, DecoSummit will provide actionable strategies for exposing your business to the right audience.
With all of the different topics being shared at DecoSummit, there is something for everyone to learn!
"What makes this event different is that it's not about selling products, rather, it's all about the practical matters," said DecoSummit's founder and Ricoma COO Henry Ma.
Check out our full schedule to see all of the sessions being held at DecoSummit!
*schedule subject to change
#2: Decorated apparel experts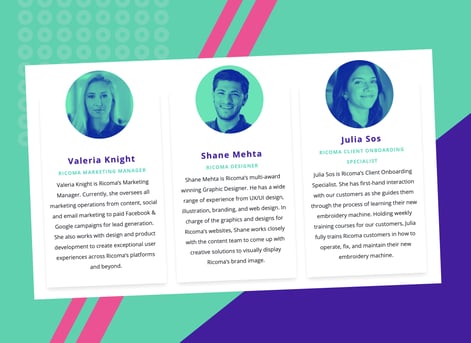 An event can't be held without bringing on a team of incredible expert speakers in the custom apparel industry.
From sewing to DTG and much more, our speakers come equipped with knowledge and experience that decorators won't be able to get anywhere else!
As our COO, Henry Ma, so greatly put it, "For the first time ever, decorated apparel professionals are teaming up to create the decorated apparel educational experience."
DecoSummit will feature the following industry expert speakers:
Apart from these guest speakers, several Ricoma professionals will also be lecturing on a variety of subjects from creating a business on Etsy, to at home embroidery machine maintenance!
Click here to find a full list of speakers on the DecoSummit website!
#3: YouTube sensations!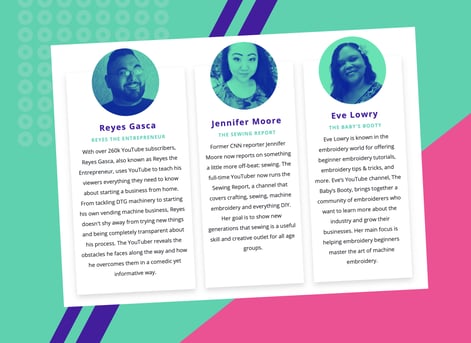 …and even more speakers! Your favorite custom apparel YouTubers are also coming to share their knowledge with DecoSummit attendees!
YouTube Sensations include:
Reyes Gasca from "Reyes the Entrepreneur"
With over 260k YouTube subscribers, Reyes uses YouTube to teach his viewers everything they need to know about starting a business from home. From tackling DTG machinery to starting his own vending machine business, Reyes doesn't shy away from trying new things and being completely transparent about his process.
He shares the obstacles he faces along the way and how he overcomes them in a comedic, yet informative way. You can expect to see Reyes not only teaching a class or two, but lending his expertise for a "Ask Me Anything" panel!
Subscribe to Reyes' channel here
Former CNN Reporter, Jennifer Moore from "The Sewing Report"
Jennifer Moore started off as a CNN Reporter and is now focused on something well- known to decorators all over: sewing. The full-time YouTuber now runs "The Sewing Report," a channel that covers crafting, sewing, machine embroidery and everything DIY.
With the intention to show new generations that sewing is a useful skill and a creative outlet for all age groups, Moore is ready to teach us the basics of sewing!
Sneak peek: She will also be hosting a Quilting 101 class!
Subscribe to Jennifer's channel here
If you want to see who else is speaking at DecoSummit, click here to find a full list of speakers on the event website!
#4: A cocktail party (VIP guests only)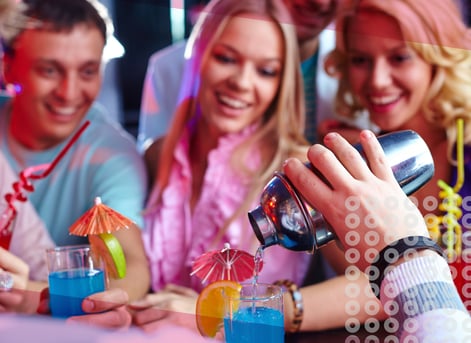 You can upgrade your experience by becoming a DecoSummit VIP!
One of the main perks?
You get to attend an exclusive VIP cocktail party on Friday night, October 11th! Enjoy drinks, food, networking opportunities and more as you finish off your second day at DecoSummit.
VIP guests also receive:
Two ballots to win Ricoma EM-1010
Hands-on training with embroidery machines and DTG printers
A technical certification course
VIP guests will have the opportunity to get more of a hands-on approach to learning about the industry.
Have questions during your training? No problem! VIPs will get the chance to ask questions on the spot and learn the best tips and practices for running a smooth production system.
We guarantee that after this event, you will have full mastery of your machine, inside and out!
If you want to read all about our VIP perks, click here to head to the DecoSummit website and find out more!
#5: Vendor area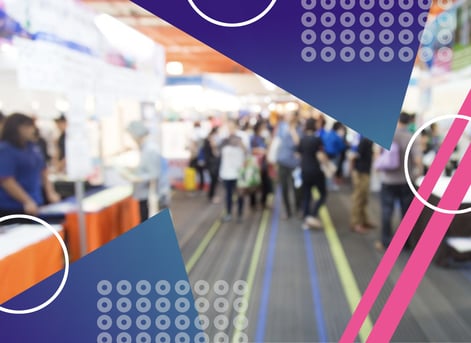 While the main focus of DecoSummit is education, you'll still get to see vendors and real-time demonstrations with the equipment and materials you need to succeed.
From blank apparel to our very own embroidery machines, DecoSummit will feature multiple vendors that decorators can use to jumpstart or expand their business. This will be a great opportunity for decorators to develop relationships with vendors to make an informed decision before investing in their business.
#6: Delicious Miami bites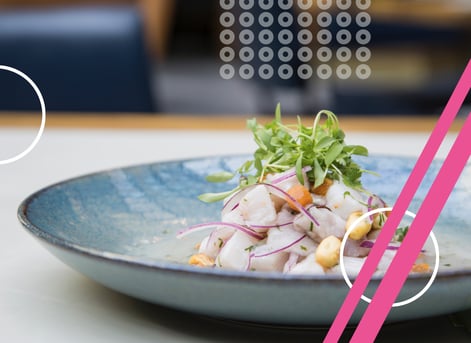 When you think of Miami, what comes to mind?
Probably great beaches, fun nightlife and…amazing food!
There is nothing better than coming back to your hotel after a fulfilling day at DecoSummit and sitting down for a delicious meal at one of Miami's local eateries.
From seafood to hispanic delicacies, Miami has so many tasty options down every block. With Miami Beach just a short drive away, our attendees can experience the sunny beaches and have a nice cold drink as well.
#7: Networking opportunities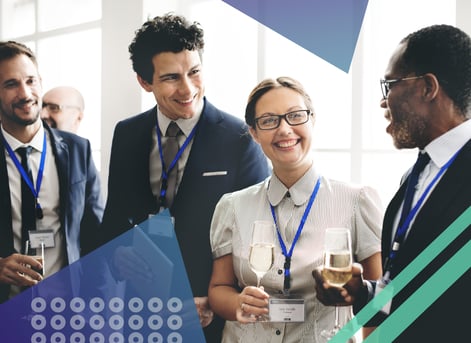 Most startup businesses thrive from word-of-mouth. You have to make connections with vendors, suppliers, other businesses and, most importantly, your customers.
With 200 decorators and 10+ speakers attending DecoSummit this year, you will have the ability to meet business owners from all areas of the custom apparel industry.
A great way to expand your business and the services you offer is by developing relationships with other decorators.
Don't offer printing services? Outsource it to the decorator you'll meet at DecoSummit.
And vice versa.
If you provide printing and an embroiderer mentions they get a lot of printing requests, give them your business card!
Use these two days to meet as many people as you can, expand your network, and increase your business' exposure!
Check out who's speaking at DecoSummit so you can be sure to reach out to them at the event!
#8: Hands-on training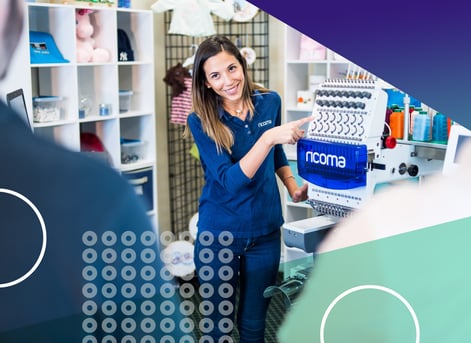 One of the most valuable and sought after DecoSummit experiences are the hands-on training sessions that will be taking place throughout the duration of the event.
DecoSummit VIP guests will get exclusive access to technical classes and hands on training. You will be able to learn how to use embroidery machines, DTG printers and more first-hand from industry experts.
As a decorator, this is the perfect opportunity to get to know the equipment and ask questions as you're learning. In most trade shows, you can only look at the machine; you never actually get to use it.
If you want the chance to train with industry experts, be sure to purchase a VIP package! This training is only available to VIP guests and is first-come, first-serve!
#9: Chance to win a FREE embroidery machine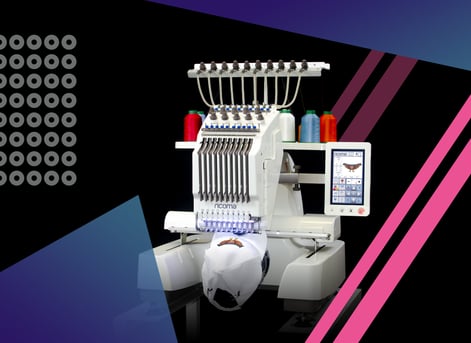 Who doesn't like free stuff?! Whether it's a mug or a movie ticket, you will see people lining up to score the prize, just because it's free.
So just imagine winning a FREE embroidery machine. (It's actually quite possible since it's limited to 200 attendees.)
That's right; at DecoSummit, all of our guests will have the opportunity to put their name in a raffle for a chance to win Ricoma's EM-1010 embroidery machine!
If you have been thinking of expanding your business to embroidery or simply want to start embroidering as a hobby, this is the raffle to be a part of.
The embroidery machine winner will also get all of the tools they need to succeed like…
Free hands-on training certification course
Chroma digitizing software
Starter kit
Tool kit
Hoops/Cap driver
Steel stand
Everything that a customer would normally get when purchasing a Ricoma machine, the winner will be getting it for FREE.
Double your chances of winning by purchasing a VIP package here!
#10: Exclusive First Look at Ricoma's New Headquarters

If you haven't already heard, Ricoma is moving to its new headquarters in a few short weeks!
This brand-new, state-of-the-art headquarters will be the home of DecoSummit 2019!
All DecoSummit guests will have an exclusive first look at the headquarters and will get to see where all of the Ricoma action is! The event's training courses, sessions and VIP party will all be held in the building.
You will also gain access to areas of the headquarters that are not normally open to the public.
What better way to learn about Ricoma machines than to see where they are processed and prepared for shipment to customers?
The opening of the headquarters is a special moment for Ricoma, which is why DecoSummit is the perfect introduction to its new home.
Now You Know About The Event… What's the Ticket Info?!
Event attendees always want to make sure that they are getting the most bang for their buck.
That's why DecoSummit will be hosting great speakers and providing content that can actually help your custom apparel business grow, no matter the decoration method you've chosen.
With that said, if you are ready to purchase your ticket, you're in luck!
Tickets for the event are on sale now and can be purchased through the event website.
Ticket prices:
General admission: $695
VIP admission: $995
If you want to save $500 on your tickets, click on this link to get your tickets secured today! They will sell out fast!
Bottom Line: Why Attend DecoSummit?
DecoSummit was designed to create an experience that trade shows so often fail to deliver to decorators: the opportunity to gain knowledge.
It is a space that decorators can come together for a common cause: to learn what's new, what's hot, and what's actually working RIGHT NOW in their industry.
No one is left behind! Whether you're a first-time business owner, a crafter, an operator, a technician or even a decorating mogul, DecoSummit is YOUR event.
These resources and expertise should be available to anyone who wants to learn more and succeed in their industry.
Henry Ma said it best: "We believe success shouldn't be just for the select few. We want to make sure you succeed in your business."
If you want to be a part of this special event, be sure to check out the event website to read about the event, check the schedule and buy your tickets!
Ultimate Embroidery Cheat Sheet: 50 Popular Fabrics & How-To Embroider Them for Best Quality
Did you know that you can improve the quality of your embroidery no matter which fabric you're embroidering on?
To guarantee your embroidery success, we've put together a cheat sheet of 50 of the most popular fabrics used for embroidery and the combination of materials that you'll need to give you the best possible results for your projects.